Do you ever feel like "healthy" food just doesn't taste as good? It's hard to stick to our New Year's resolutions after being spoiled all holiday season with super rich and flavorful foods. It takes time to transition to "regular" food that doesn't include half a stick of butter in each serving.
Enter lemon chicken quinoa soup. I know this may be a rather bold claim but this stuff is so flavorful that even the most anti-diet tastebuds will be tricked into loving it. The zesty lemon, caramelized veggies, and little bit of kick from the jalapeños mingle together beautifully. The fluffy quinoa and abundance of tender chicken help make this a hearty and filling meal. (You would never guess that the ENTIRE POT OF SOUP only has 1,700 calories. That comes to about 85 calories per cup!)
To top it all off, it is super quick and easy to make and uses just one pot for the entire process. I like to make a bigger batch because we love soups at my house and it lasts us a couple of days. If there are any leftovers though, you can just transfer to a tupperware container and freeze for later.
Ingredients for Lemon Chicken Quinoa Soup:
1 large sweet onion, chopped
2 medium carrots peeled and thinly sliced
4-6 medium stalks of celery, chopped
1-2 jalapeños, chopped
2 tablespoons olive oil
3 quarts (12 cups) chicken broth
1 cup uncooked quinoa
2 10 oz. cans chicken breast (or 2-3 cups cooked and diced chicken of choice)
juice from two small lemons
salt and pepper to taste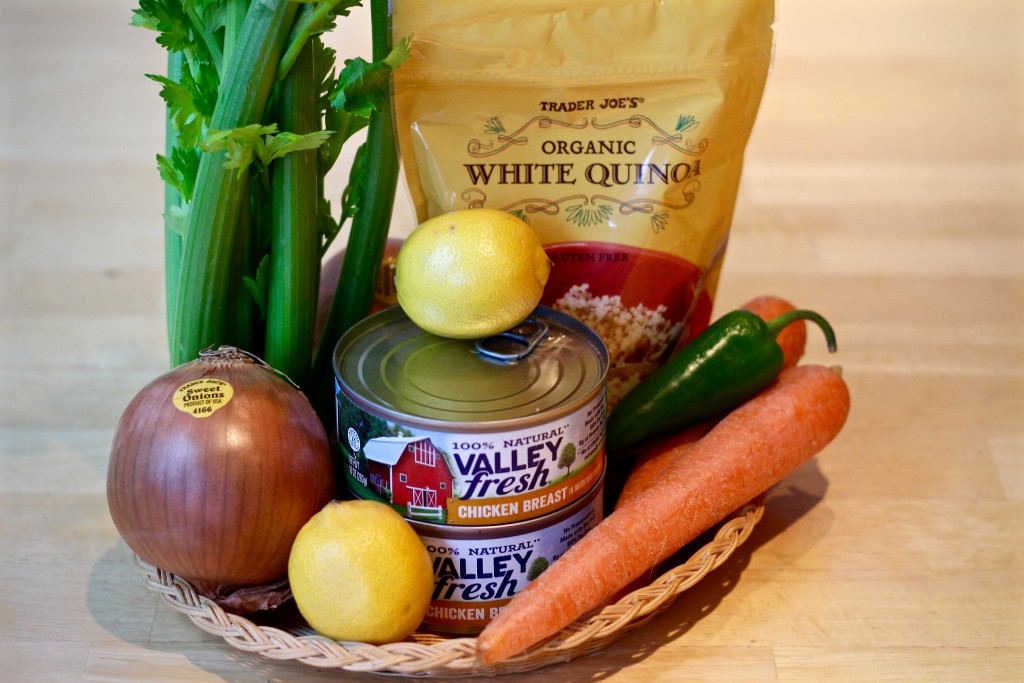 Directions:
Peel and chop all the veggies. I removed the seeds and ribs from the jalapeño because I didn't want too much spiciness in the soup, but you can choose to leave those intact if you prefer more heat.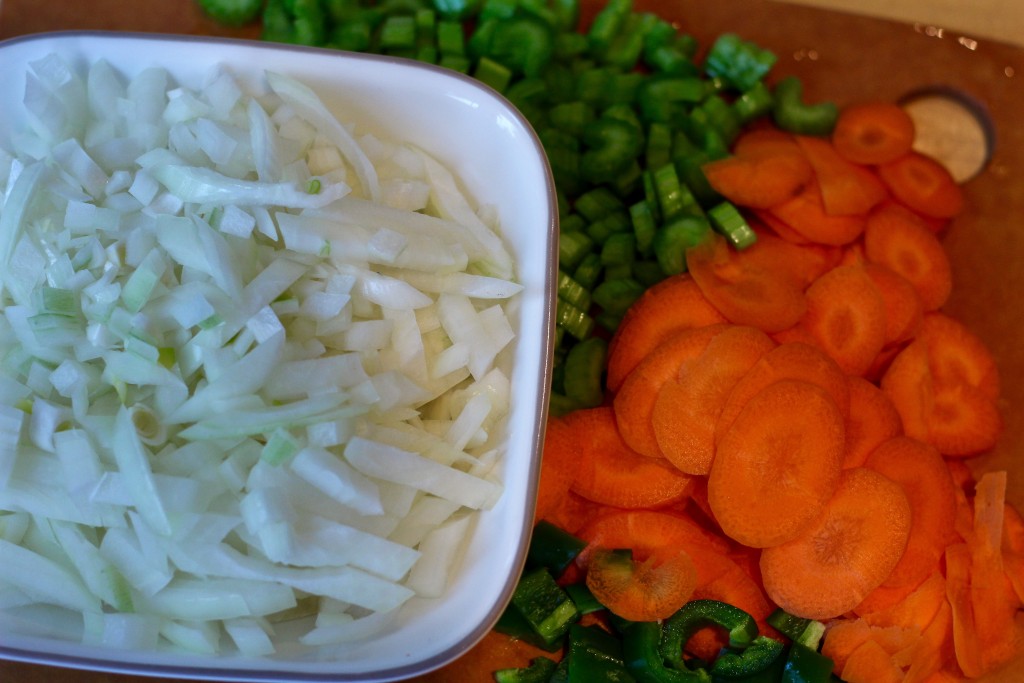 Preheat a dutch oven or soup pot on medium heat. Make sure it will be big enough for this recipe (5 quarts) since you will be adding 3 quarts of chicken broth still! Add two tablespoons of extra virgin olive oil and all chopped vegetables.
If you don't currently own an enameled cast iron dutch oven, I highly recommend that you invest in one! They are a great tool to have in your kitchen and are great for one-pot soups (roasted garlic red wine beef stew), stovetop-to-oven recipes, and tons of other delicious recipes that we will be sharing with you!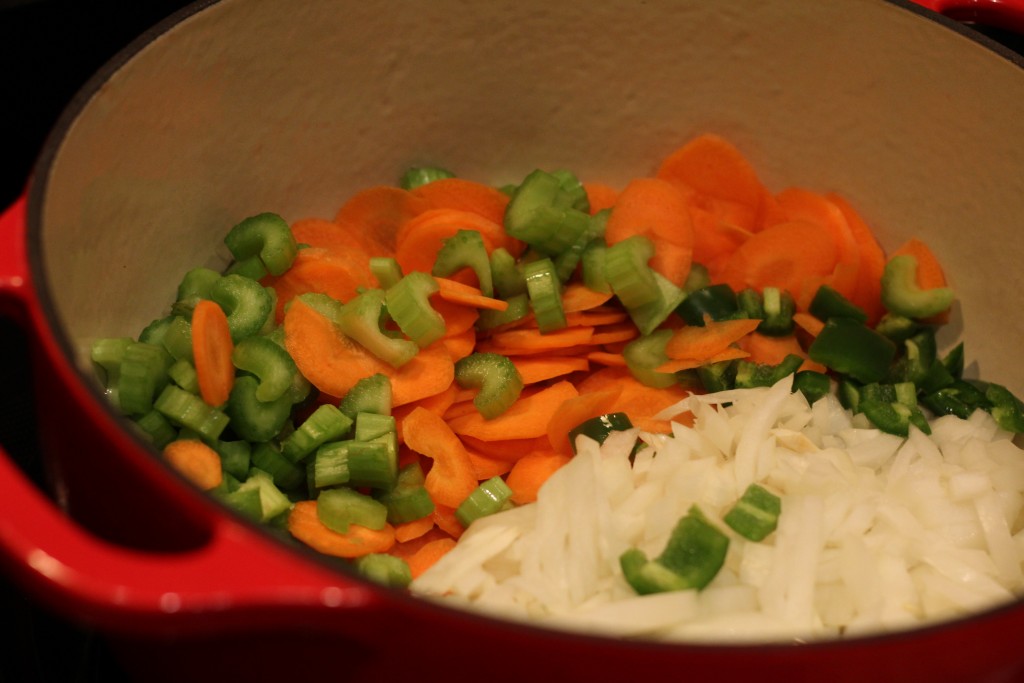 Sautée vegetables until cooked through and starting to caramelize. This will add great flavor to the soup. Don't forget to stir!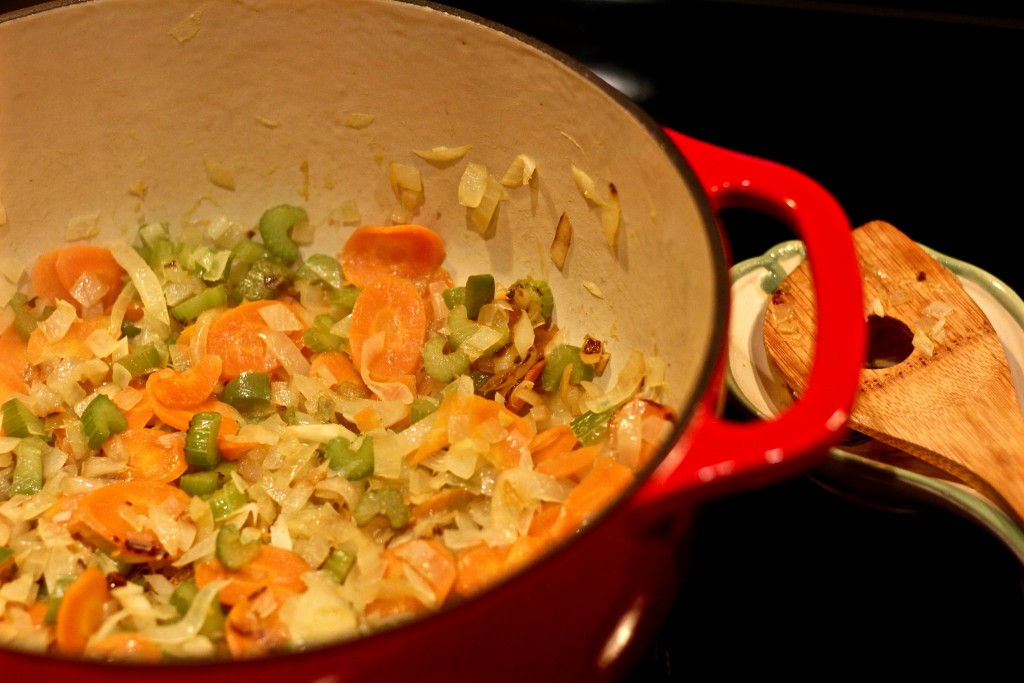 Add in 3 quarts (12 cups) of chicken broth, bring to a boil, then stir in the cup of uncooked quinoa and reduce heat to medium. The one cup may not seem like much, but it really expands and absorbs a lot of liquid when cooked.
Cook quinoa for about 30 minutes over simmering heat until soft and fluffy, stirring occasionally.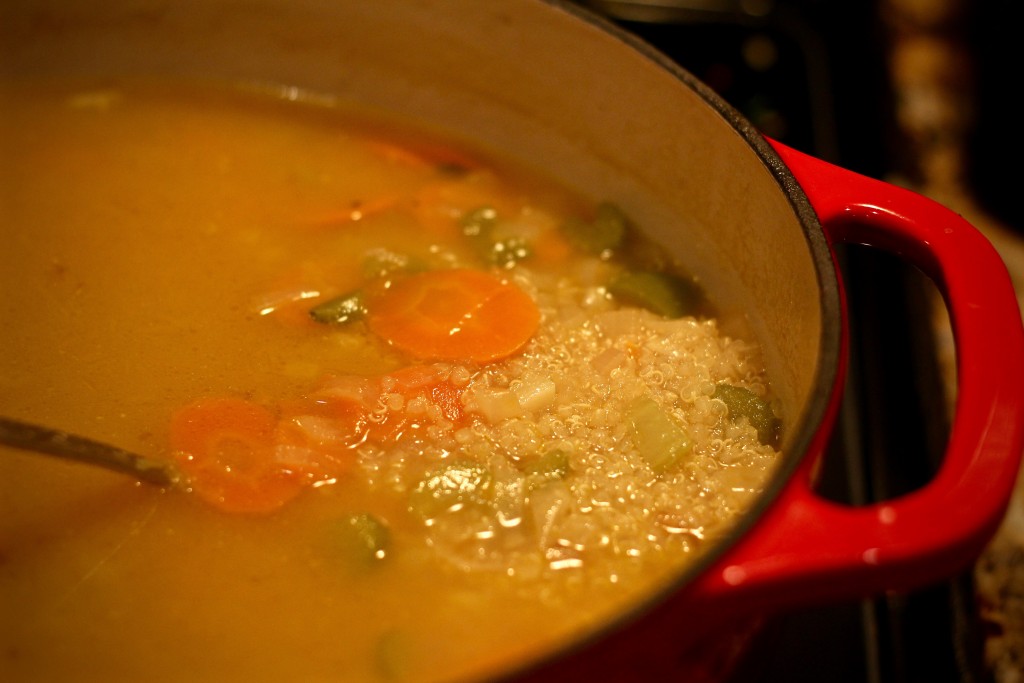 When quinoa is cooked, add in the canned chicken breast (or your own pre-cooked chicken). I love using the canned chicken breast because it makes this recipe so quick and easy.
I was a bit weary of trying it at first, but it is delicious and very tender–perfect for soups! I usually get the 6 pack of canned chicken from Costco because it's a great price and good quality, but it can be found in all grocery stores!
Use a citrus reamer to extract the juice from two small lemons and add to soup. Make sure to strain out any lemon seeds.
If you're not really into lemon, try juicing just one and seeing how you like the flavor before adding the second. On the other hand, if you LOVE lemon, add some zest to the soup to really make the lemon flavor stand out. 
Season with fresh cracked pepper and salt to taste. Keep in mind that the chicken broth is already salty, so you may not need any additional salt– totally depends on your taste preference.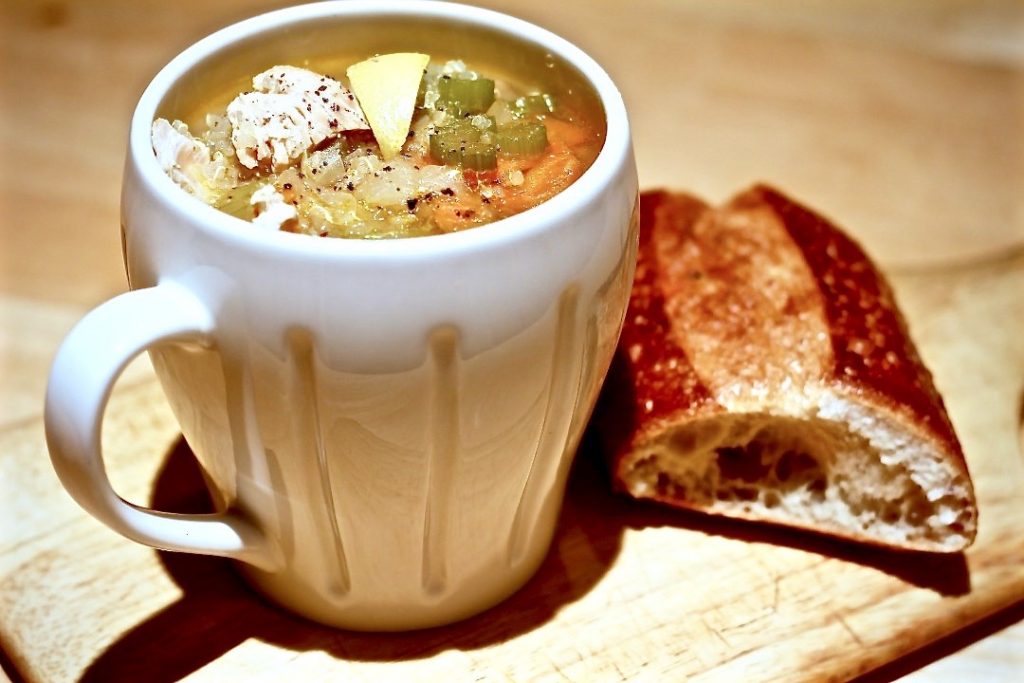 My favorite way to serve this soup is with warm crusty bread, especially since it's so low calorie! It's one of those foods that fills you up without making you feel stuffed and lethargic. I love it when I find food that not only tastes great but makes you feel great. Whether you're trying to change up your eating habits this new year, or are just looking for a quick and easy dinner to make tonight, this lemon chicken quinoa soup is the perfect solution!
Don't forget that you can easily freeze leftovers for later! 
What are some of your go-to foods when you're trying to clean up your eating and get into a healthier mode?
xoxo,
Yuli
Ingredients
1 large sweet onion, chopped
2 medium carrots peeled and thinly sliced
4-6 medium stalks of celery, chopped
1-2 jalapeños, chopped
2 tablespoons olive oil
3 quarts (12 cups) chicken broth
1 cup uncooked quinoa
2 10 oz. cans chicken breast (or 2-3 cups cooked and diced chicken of choice)
juice from two small lemons
salt and pepper to taste
Instructions
Preheat dutch oven or soup pot on medium heat. Add two tablespoons of olive oil and all chopped vegetables.
Sautée vegetables until cooked through and starting to caramelize. This will add great flavor to the soup.
Add in 3 quarts (12 cups) of chicken broth and bring to a boil then stir in the cup of uncooked quinoa.
Cook quinoa for about 30 minutes until soft and fluffy, stirring occasionally.
When quinoa is cooked, add in the canned chicken breast (or your own pre-cooked chicken).
Use a citrus reamer to extract the juice from two small lemons and add to soup.
Season with fresh cracked pepper and salt to taste. (Chicken broth is already salty, so you may not need any additional salt.)