I've been making this incredible flaky pie dough since my sister first checked out "Baking With Julia" from the public library ten years ago. Julia Child is an amazing chef, baker, author, and even had her own cooking show on TV. She is recognized for bringing French cuisine to the American public. (I fell in love with her story after watching Julie & Julia, a sweet drama/comedy based on the life of Julia Child and Julie Powell who wrote a book about cooking through her recipes. I'd highly recommend this movie to just about anyone!). Needless to say, when it comes to baking, Julia knows what's up. I have used this recipe to make countless pies, tarts, and galettes (including this amazing Strawberry-Peach Galette); both sweet and savory and have received countless compliments on it. My husband (who considers himself a pie connoisseur) claims that this is the best crust he's ever had. I've tried taking shortcuts many times and using store-bought crust, but it never turns out to be anything close to as good as this flaky pie dough.
The thing that makes this flaky pie dough so great is the mix of butter and shortening used to make it. I couldn't put it any better than Julia Child does in her book;
"If you have only one pie dough in your repertoire (heaven forbid), it would have to be this one, the classic dough that earns blue ribbons at county fairs and stars at esteemed pastry shops. The mix of butter and shortening guarantees that the dough will be flaky, flavorful, and tender. You can use this dough to use any kind of pie or tart, sweet or savory, plain or fancy. It is easy to roll and crimp and is made quickly by hand, in a mixer, or food processor."
-Julia Child, Baking With Julia P. 31
This recipe makes enough dough for FOUR 9" pie crusts. If you really only want one, you can quarter the ingredients but I highly recommend making the full batch, it freezes really well for later and you won't regret having more of this delicious flaky pie dough on hand!
Ingredients For Flaky Pie Dough
(makes 4 crusts)
5 1/4 cups pastry flour or all-purpose flour
1 tablespoon kosher salt
1 1/2 sticks (6 ounces) cold unsalted butter, cut into small pieces (I ran out of unsalted and had to use salted butter this time, but it still turned out okay)
1 3/4 cup solid vegetable shortening, chilled (I like to use the "butter flavor" kind)
1 cup ice water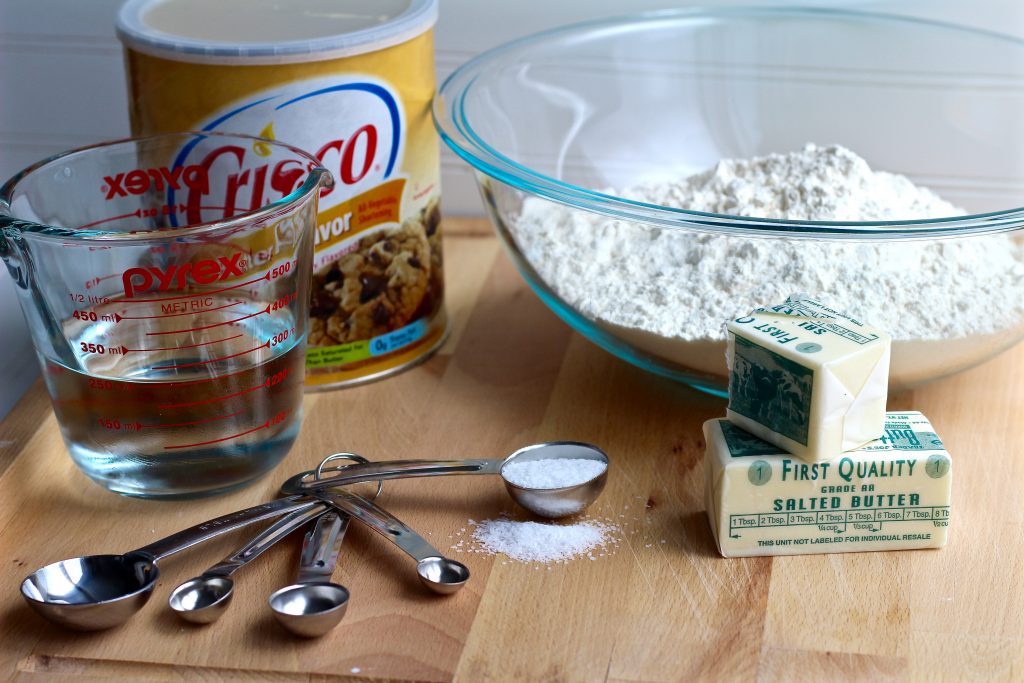 Directions For Flaky Pie Dough
My favorite way to make this flaky pie dough is using my KitchenAid stand mixer, so I will focus on this method. But you can also make it by hand or using a food processor. I'll include directions for those methods as well.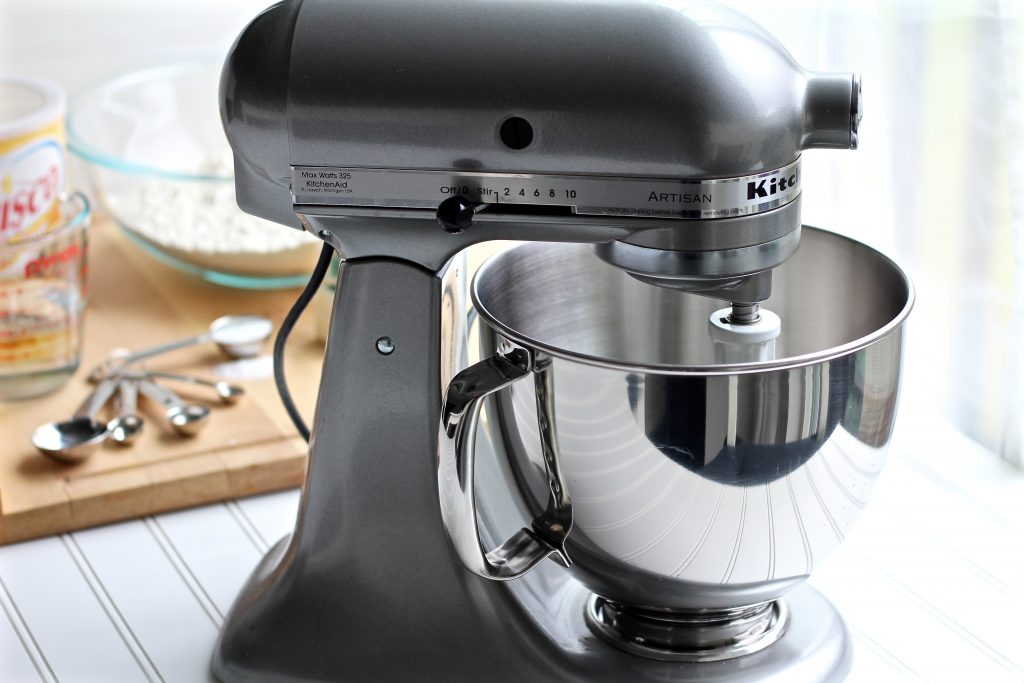 In A Stand Mixer (using paddle attachment)
Mix the flour and salt in the bowl using the paddle attachment. You will be using the "stir" setting (or lowest speed setting available) for all of these steps.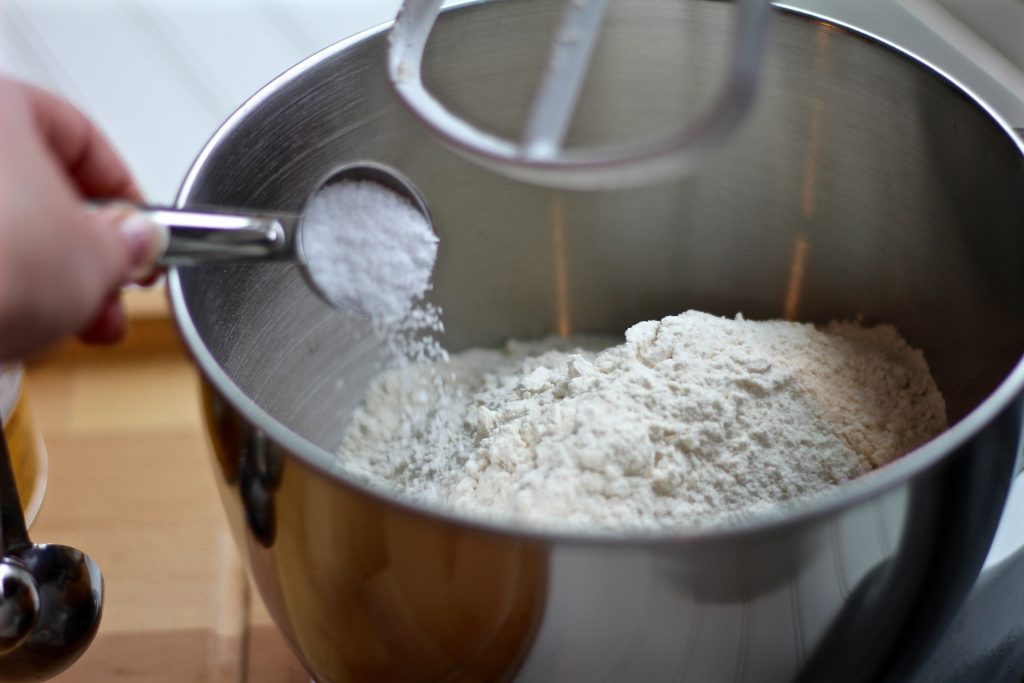 Add the chilled butter and mix on low until mixture looks coarse and crumbly. I actually like to use frozen butter; it works great because it stays really cold throughout the whole process. (You don't want the butter to melt because the crust won't have the right texture then.)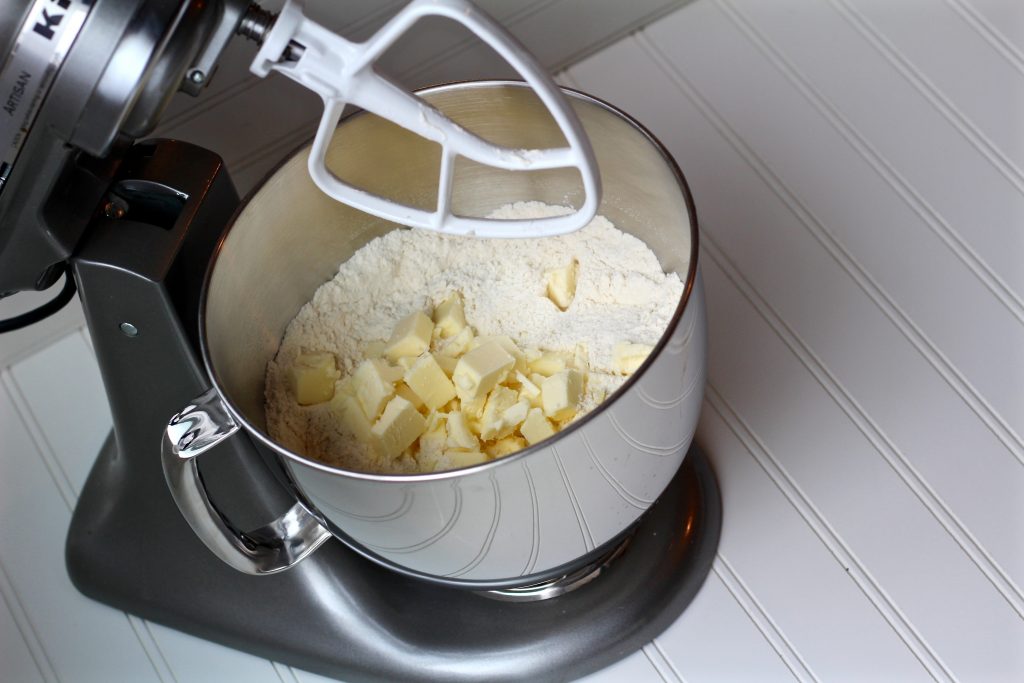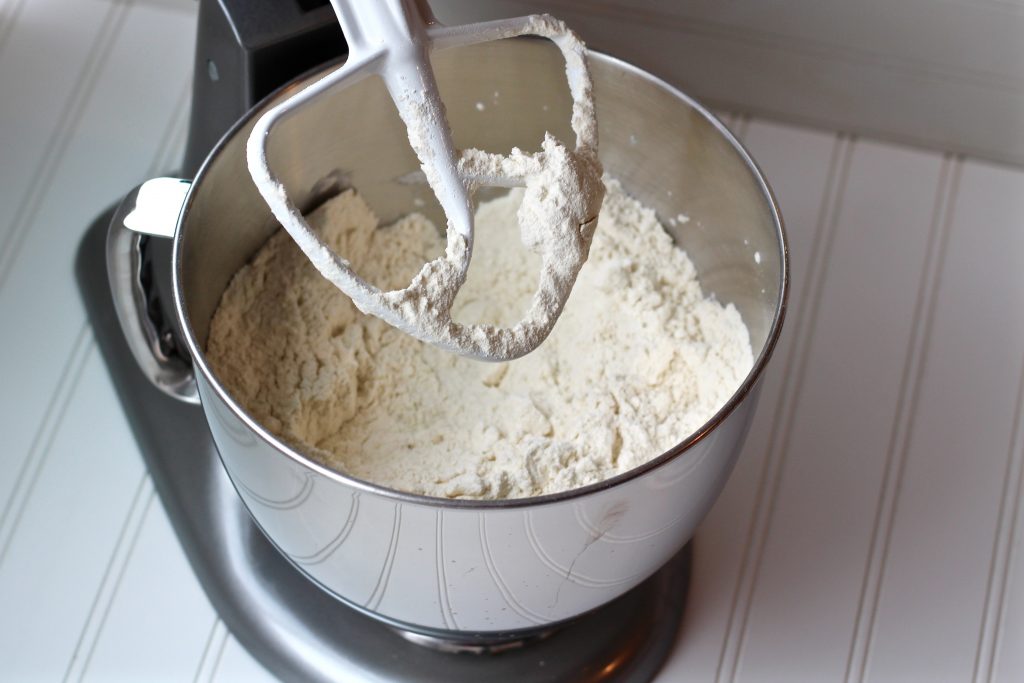 Add chilled shortening in small bits and continue to mix on low.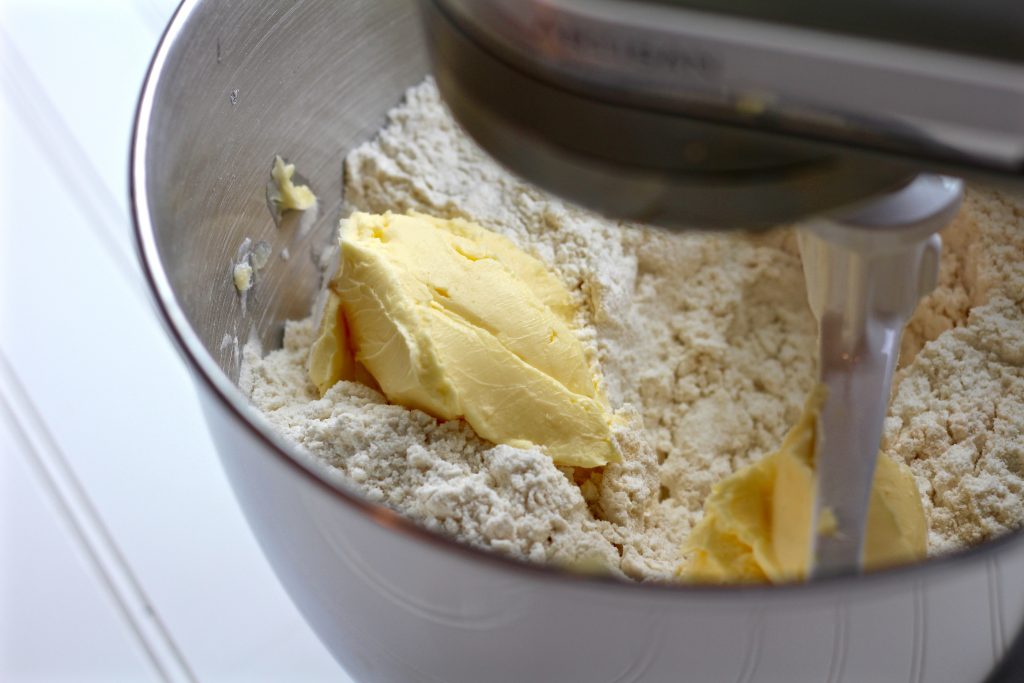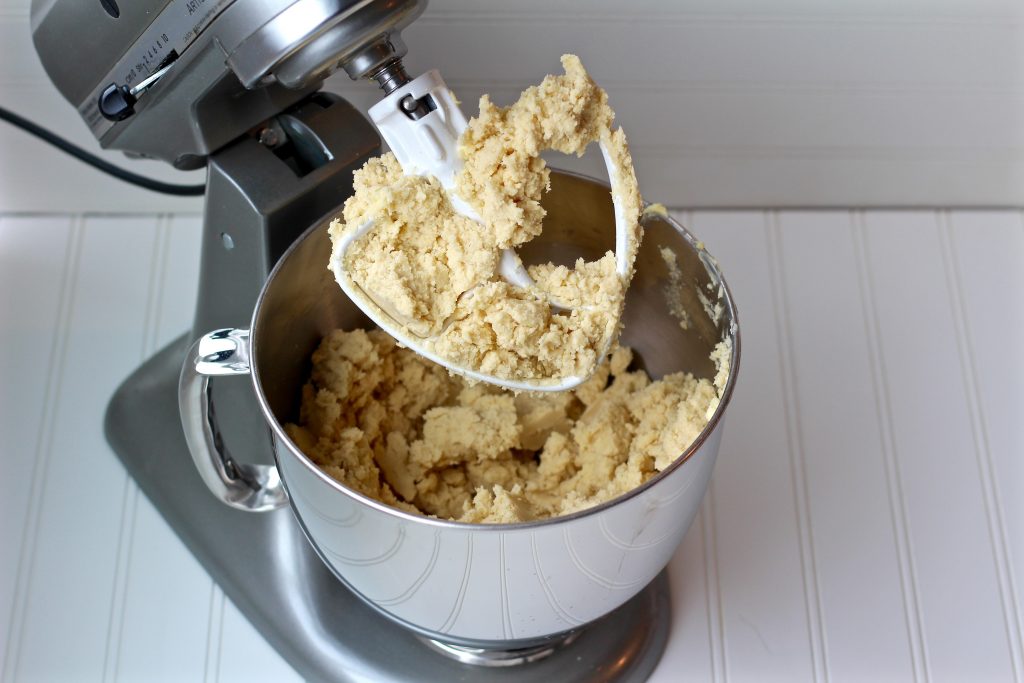 When shortening is mixed in and the texture is clumpy and starts to stick together, gradually add the ice water.
Mix only until water is just incorporated. You might find that the dough sticks to your paddle, this is normal!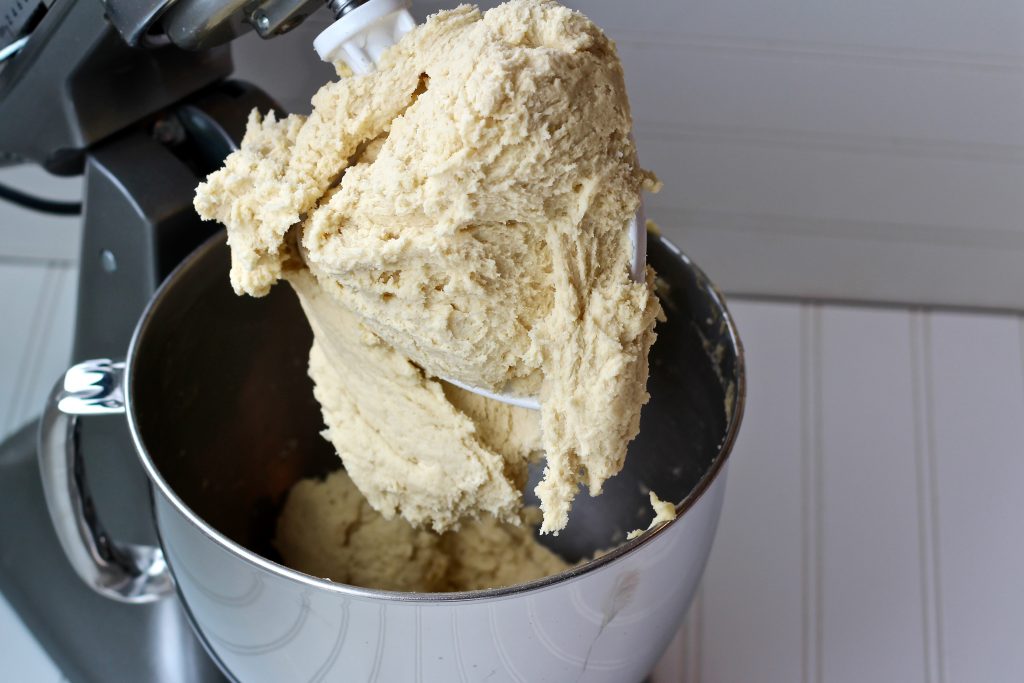 Use a small spatula to scrape off dough from the paddle attachment, flatten dough, and cut into quarters.
(One quarter of this recipe is enough flaky pie dough for one 9″-10″ pie crust or shell)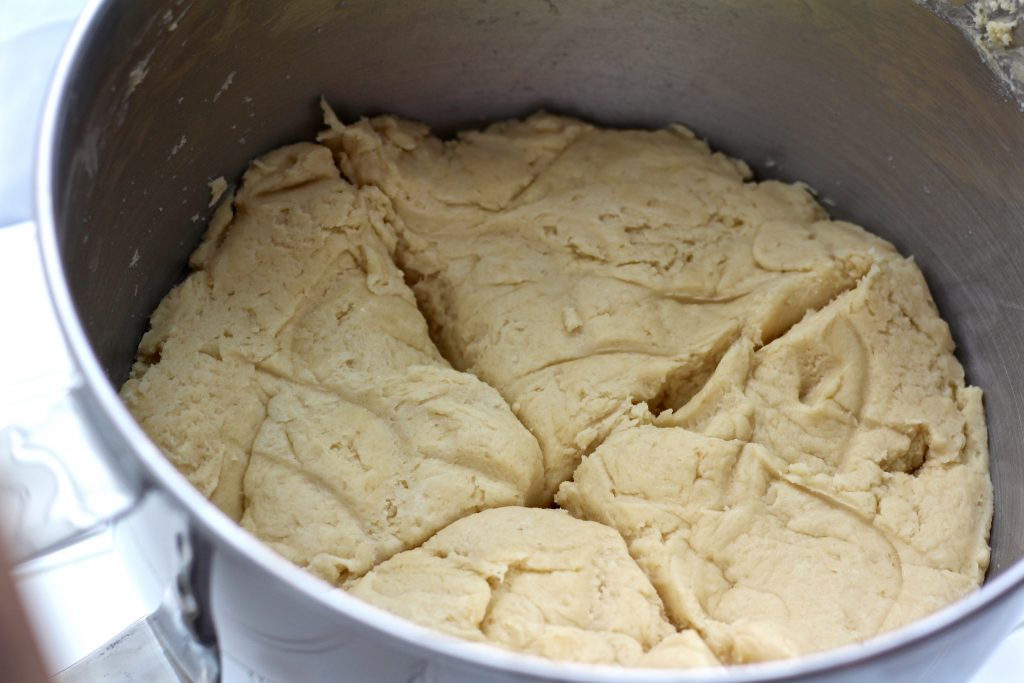 Place each piece in a separate zip lock bag, flatten, and chill for 2 hours before use or freeze for later.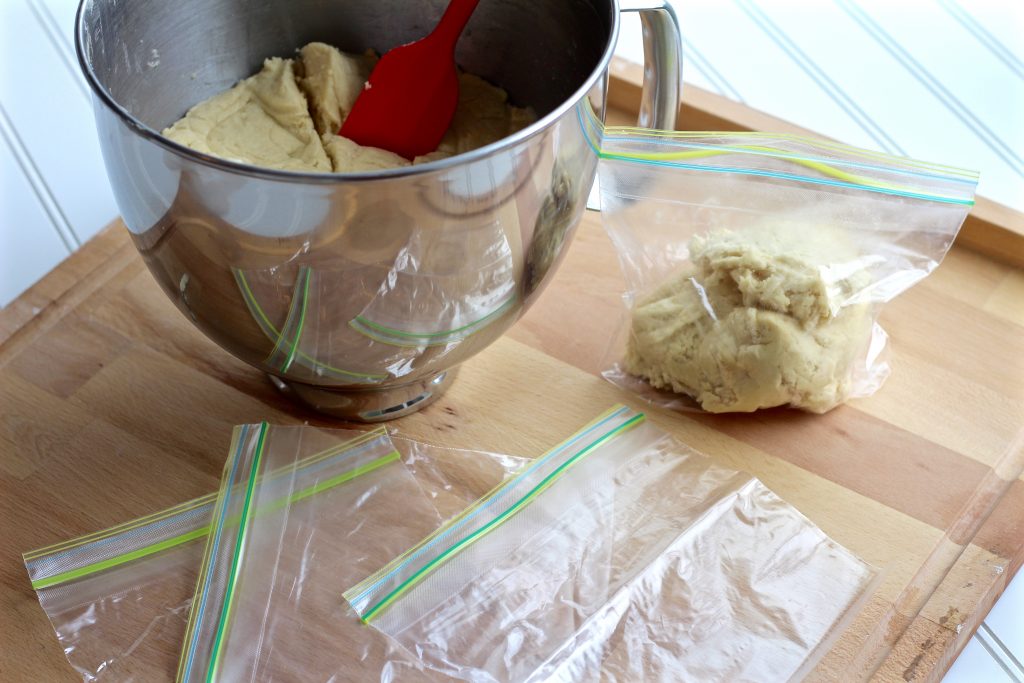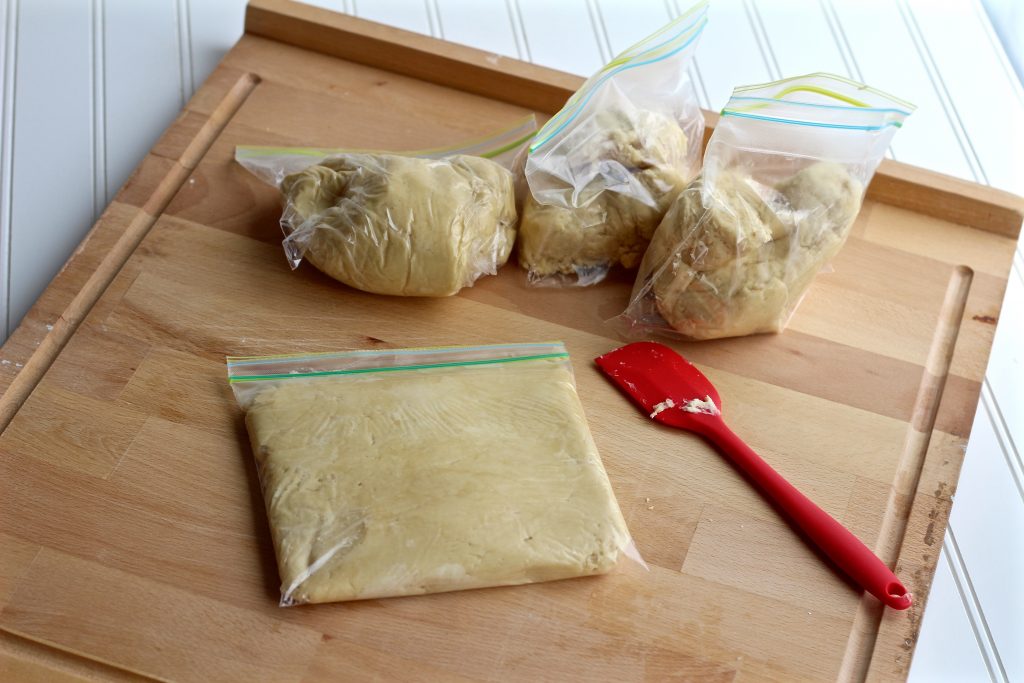 By Hand
Mix the flour and salt together in a large bowl
Add the butter using your hands or a pastry blender (or two forks)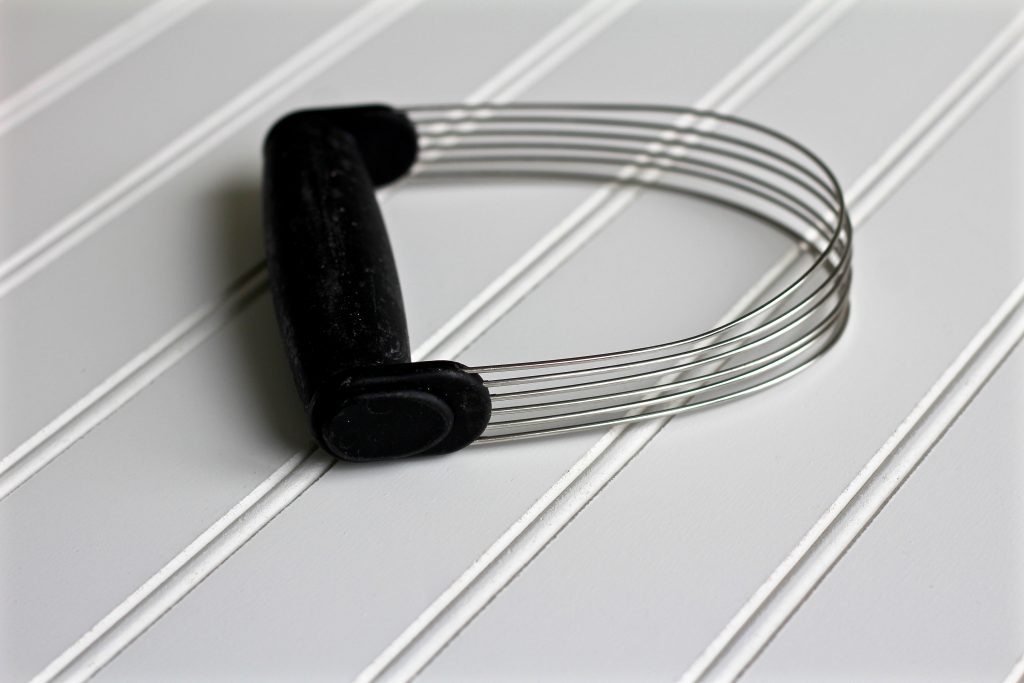 Cut in chilled shortening and mix until mixture forms clumps
Use a wooden spoon to mix in ice water
In A Food Processor
Start with very cold ingredients and be careful not to overwork them
Place flour and salt in food processor fitted with metal blade and pulse to mix
Remove lid and scatter chilled butter and shortening over dry ingredients
Cover and pulse just until fats are cut in
Add ice water in little bits, pulsing a few times after each addition until water is incorporated
(Don't process until the dough forms a ball that rides on the blade–that's overdoing it)
This flaky pie dough turns out great every time and is so easy to make that I just cant justify buying pre-made dough. I always make the full recipe and sometimes even double it (especially during the holidays when I'm baking a lot of pies). This way you have it ready to go in your freezer. Just remove the dough form the freezer and have it sit on the counter for about 30 minutes before rolling it out to make your favorite pie, tart, or galette. My current favorite use for the flaky pie dough is this strawberry peach galette; so delicious and easy to make!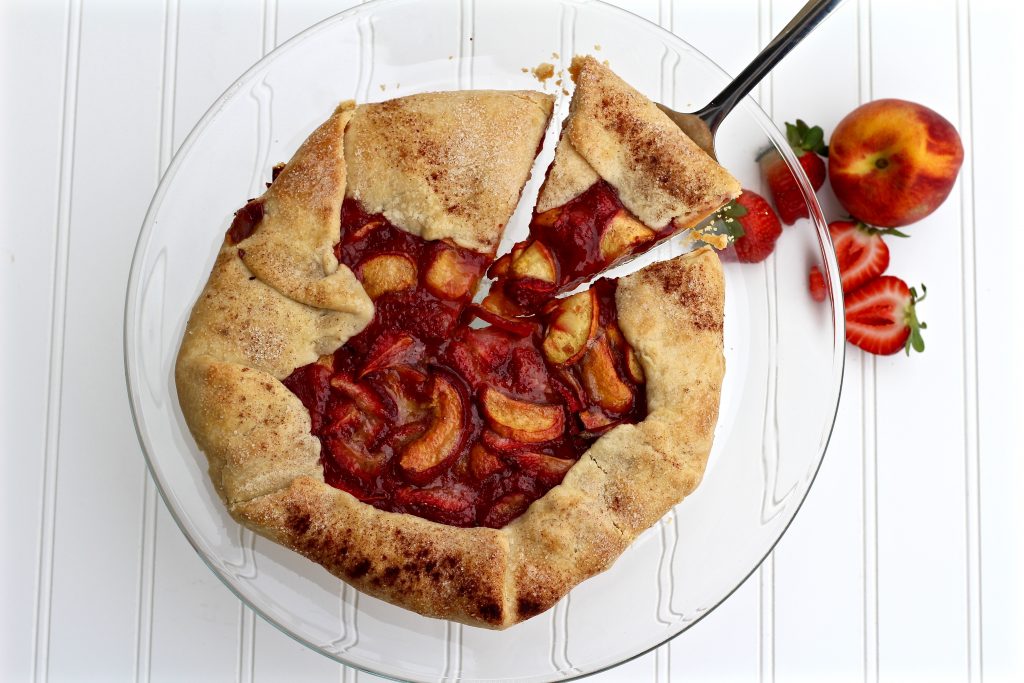 xoxo,
Yuli
How To Make Flaky Pie Dough Like Julia Child

Ingredients
5 1/4 cups pastry flour or all-purpose flour
1 tablespoon kosher salt
1 1/2 sticks (6 ounces) cold unsalted butter, cut into small pieces
1 3/4 cup solid vegetable shortening, chilled

(butter flavor)

1 cup ice water
Instructions
In A Stand Mixer (using paddle attachment)
Mix the flour and salt in the bowl
Add the chilled butter and mix on low until mixture looks coarse and crumbly
Add shortening in small bits and continue to mix on low
When shortening is mixed in and texture is clumpy and starts to stick together, gradually add the ice water
Mix only until water is just incorporated
Use a small spatula to scrape off from the paddle attachment, flatten dough, and cut into quarters

One quarter of this recipe is enough flaky pie dough for one 9"-10" pie crust or shell

Place each piece in a separate zip lock bag, flatten, and chill before use or freeze for later
By Hand
Mix the flour and salt together in a large bowl
Add the butter using a pastry blender (or your fingers)
Cut in chilled shortening until mixture forms clumps
Use a wooden spoon to mix in ice water
In A Food Processor
Start with very cold ingredients and be careful not to overwork them

Place flour and salt in food processor fitted with metal blade and pulse to mix
Remove lid and scatter chilled butter and shortening over dry ingredients
Cover and pulse just until fats are cut in
Add ice water in little bits, pulsing a few times after each addition until water is incorporated

(Don't process until the dough forms a ball that rides on the blade--that's overdoing it)