I am out-of-this-world excited about this rustic strawberry peach galette right now. No joke, it just changed my life. I'm not much of a baker and one of the only things I will bake is pies. I love that there is a little more wiggle room and opportunity to improvise when it comes to fillings. And when you have the perfect pie crust recipe down and a few pie crusts stocked in your freezer at all times, putting it all together is actually quite simple. But the ONLY thing I never liked about baking pies is that despite their deliciousness, mine always turn out a little ugly. (Maybe you can call it "rustic" or something?) I simply don't have the patience to crimp the edges and make a perfect lattice on top. It's just not me. And this is why this rustic strawberry peach galette changed my life. It's just like a pie but totally freeform! No need to worry about rolling out the perfect circle with the crust, fitting it into a pie dish, then laboring over the top crust trying to make the pie look as good as it tastes. It basically takes out the most unpleasant (for me) part of baking a pie.
So all this talk of pies got me to thinking…why do we reserve pie for the autumn? What about all these delicious spring and summer fruits that are coming into season? Don't they deserve to be baked into a pie also?! They do. Especially strawberries and peaches because the combination is ahh-mazing. This is where improvisation came in handy. I used my favorite apple pie recipe as a guide for this filling and added some cardamom to spice up the peaches. You can use just about any summer fruit for this rustic freeform pie, and once you see how easy it is to make, you'll be trying out all sorts of combinations. This one just so happens to be my favorite.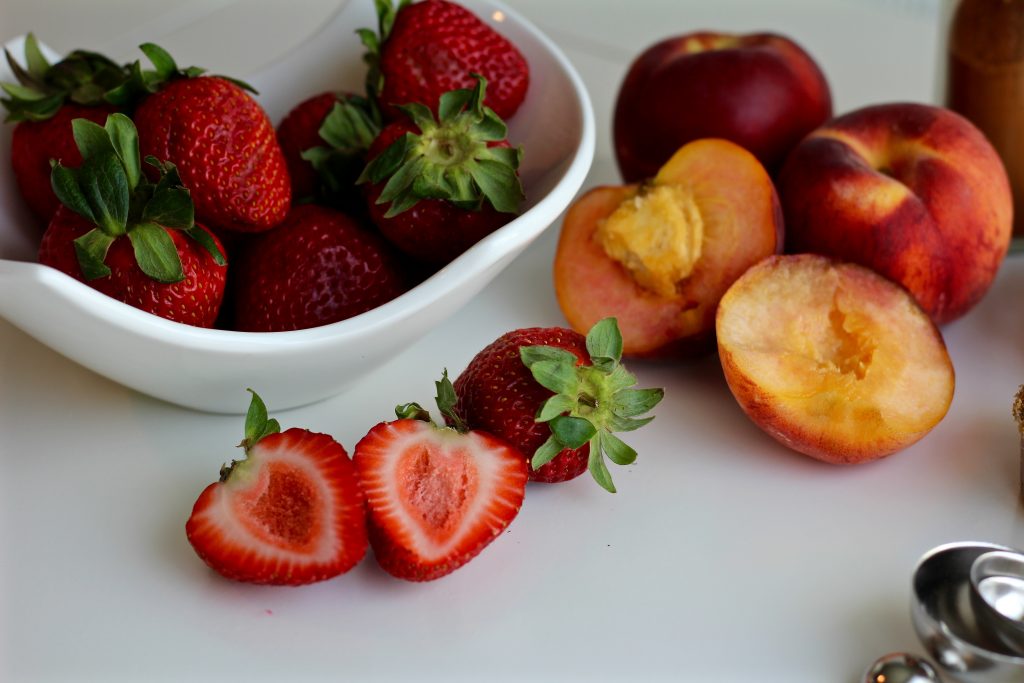 Ingredients For Rustic Strawberry Peach Galette
1 chilled pie crust
8 oz. strawberries, sliced
2-3 peaches, pitted and sliced
1/4 cup brown sugar
3 tablespoons granulated sugar
3 tablespoons flour
1/4 teaspoon cardamom
1/4 teaspoon cinnamon
1/8 teaspoon kosher salt
1 teaspoon vanilla extract
1 tablespoon lemon juice
1 tablespoon salted butter, cubed
1 tablespoon half & half or heavy cream (to brush over dough)
1 tablespoon sugar (to sprinkle on top)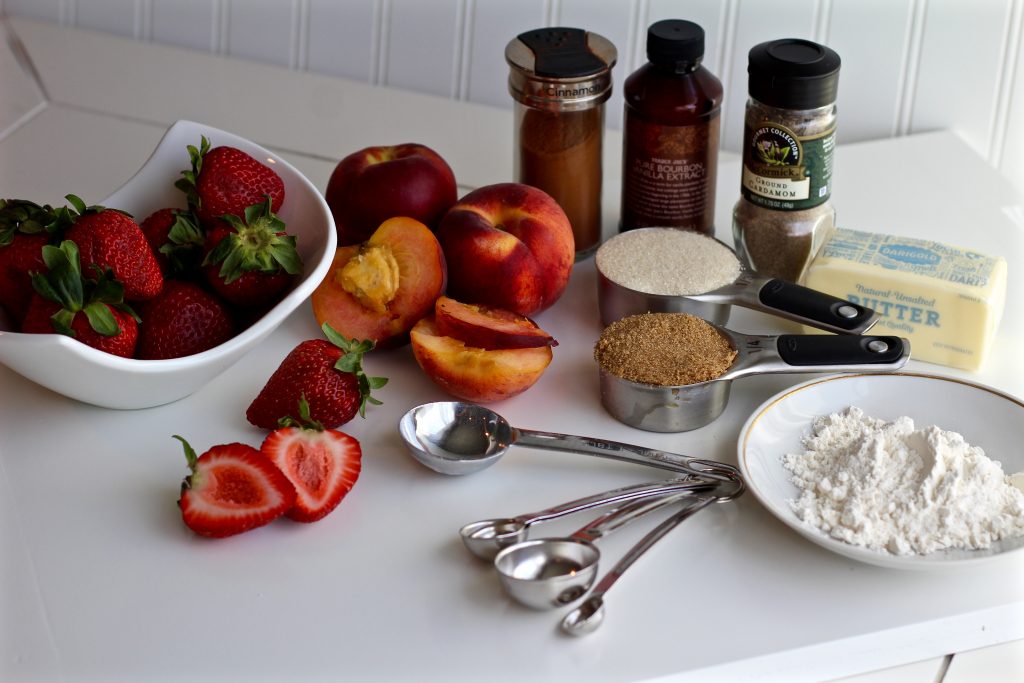 Directions For Rustic Strawberry Peach Galette
Preheat oven to 375°.
Rinse and slice the strawberries and peaches. Make sure that the peaches are soft and ripe to get maximum flavor and juiciness out of them! I love the texture of the skin on the peach so I leave it on, but if you're not a fan, you can either peel it before slicing or use nectarines. 
Combine sliced fruit in a medium bowl with sugars, flour, cardamom, cinnamon, salt, vanilla, and lemon juice.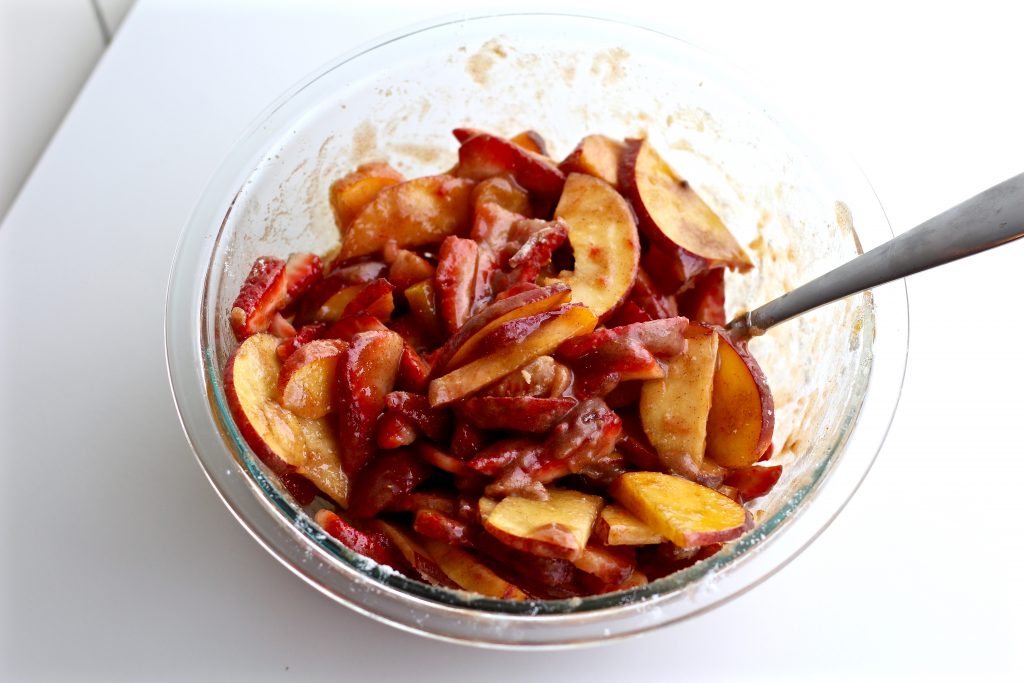 Set aside to allow the fruit to release some juices while preparing crust.
On a floured surface, roll out one chilled pie crust (find my go-to pie crust recipe HERE) into a large (imperfect) circle that is about 1/8″ thick. Make sure you are working with well chilled dough (at least an hour in the refrigerator after making the dough) or else it will be a lot more difficult to handle.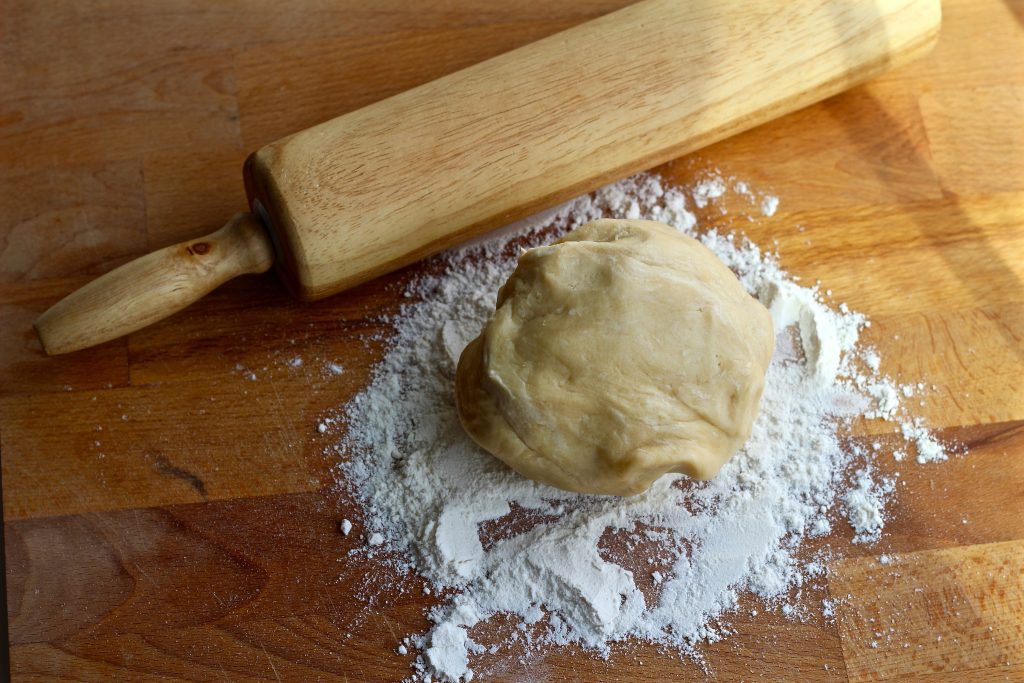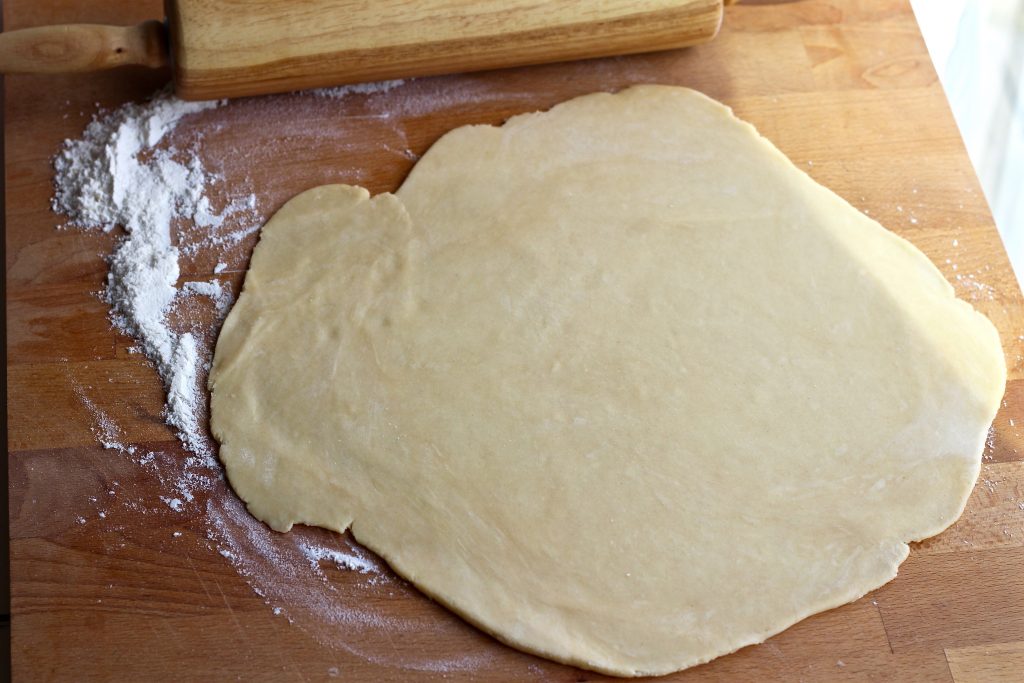 Use rolling pin to transfer dough to a parchment or silicone mat lined pan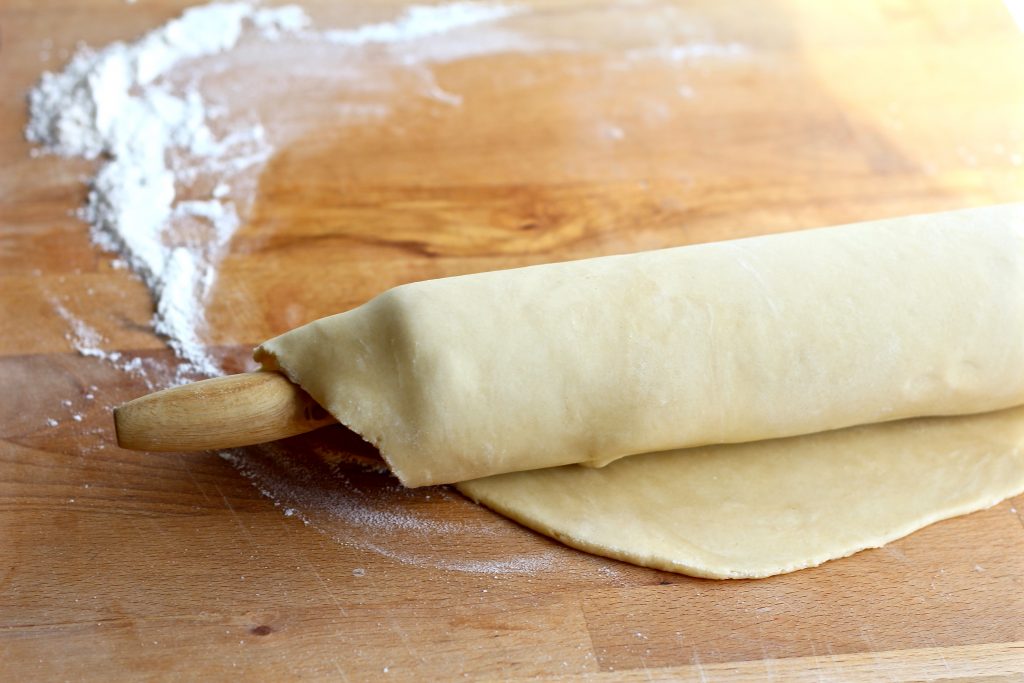 Using a slotted spoon, scoop filling onto the center of the crust leaving behind the extra juices. This helps keep the pie crust from getting soggy and is especially helpful when you're using juicy summer fruits as these for your filling.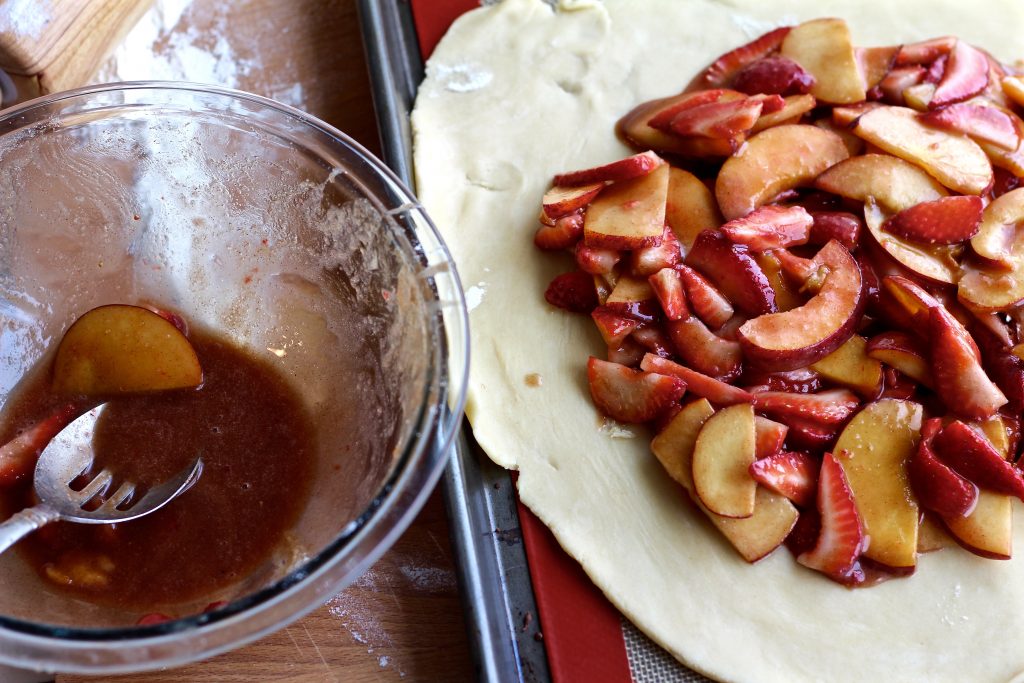 Spread the filling out evenly and thinly rather than piling it all in the center. 
Gently fold the dough over all around.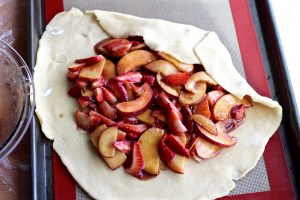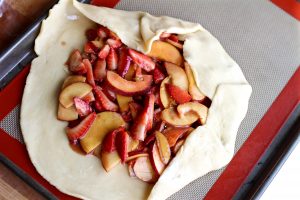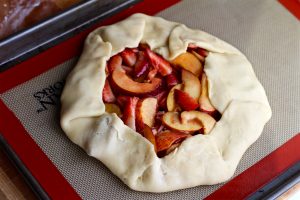 Dot the filling with cubed butter. This will keep it looking pretty and glazed rather than dried out after baking.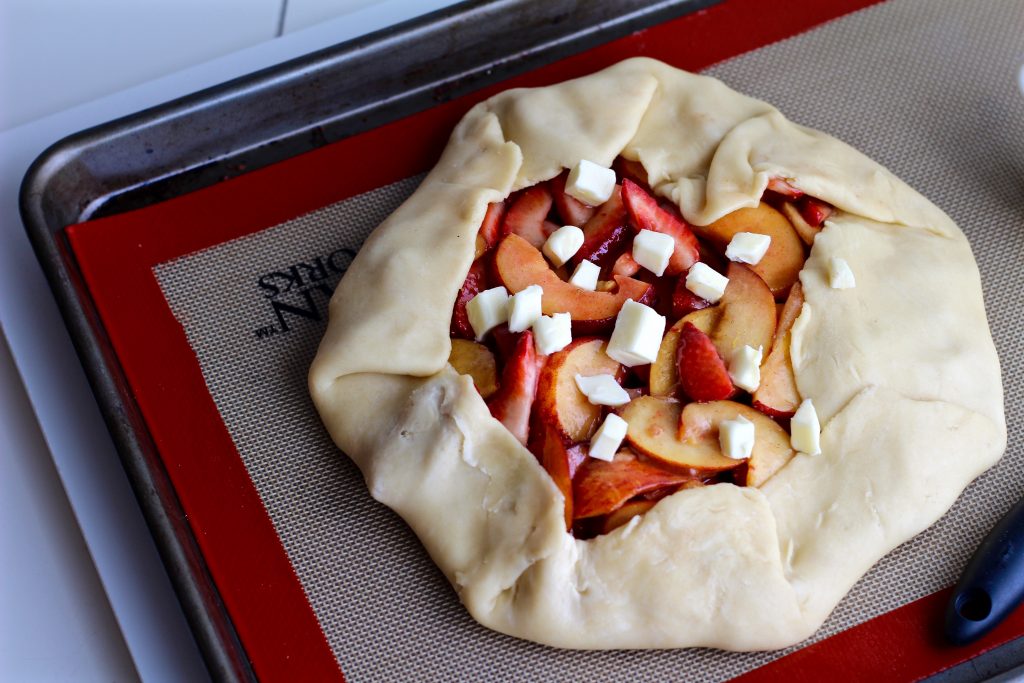 Using a pastry brush, spread some half & half or heavy whipping cream on the dough and sprinkle with additional sugar, cinnamon, and cardamom.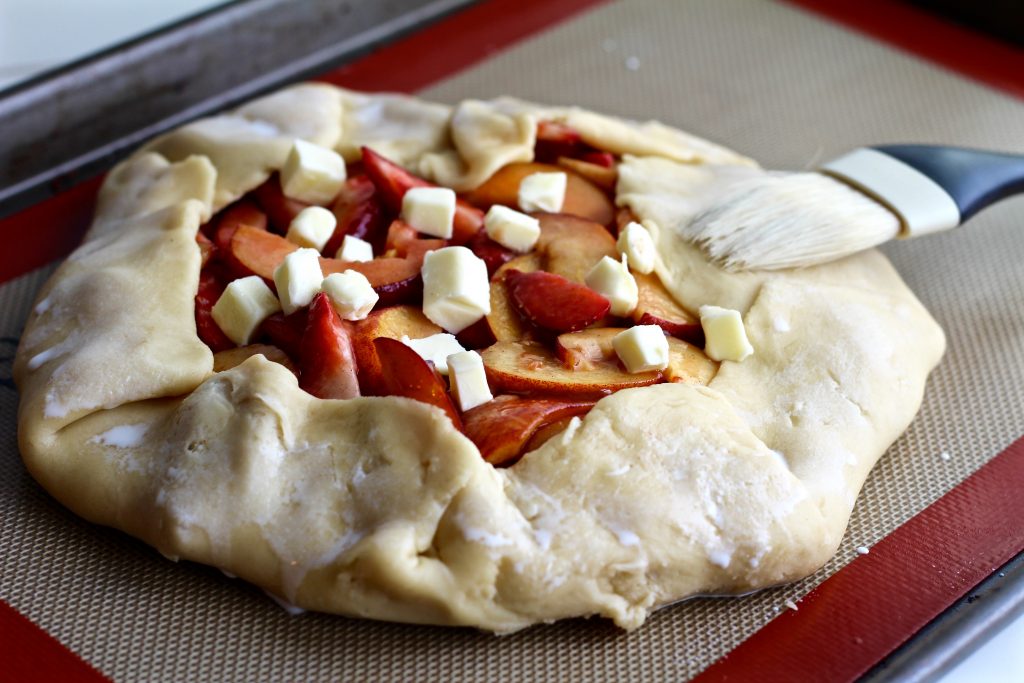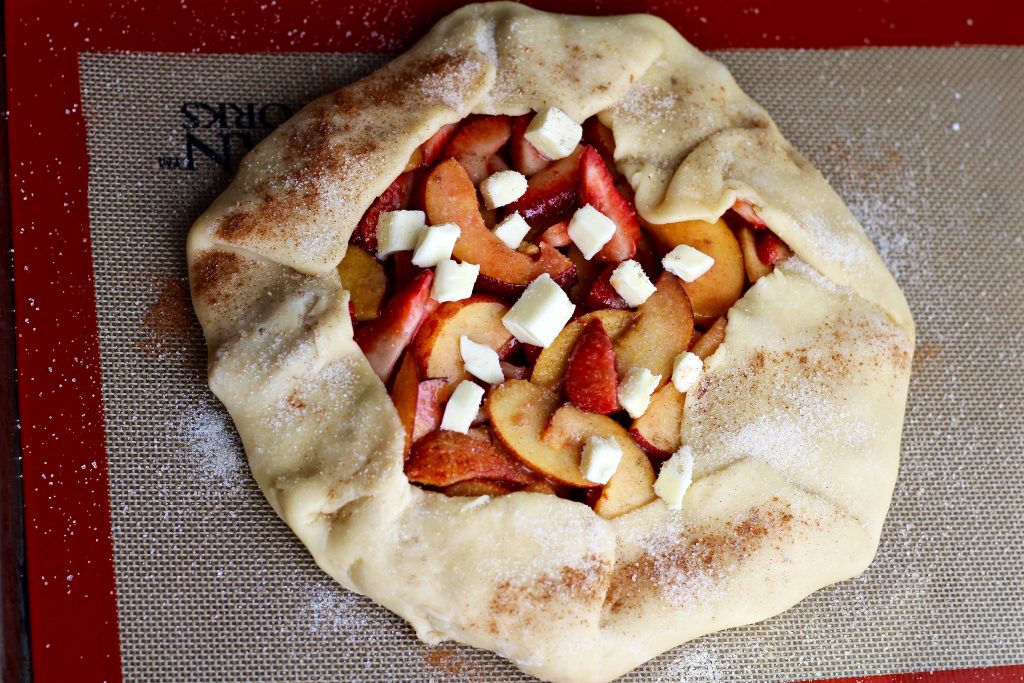 Bake on the middle rack at 375° for 40-50 minutes until crust is golden and starting to brown.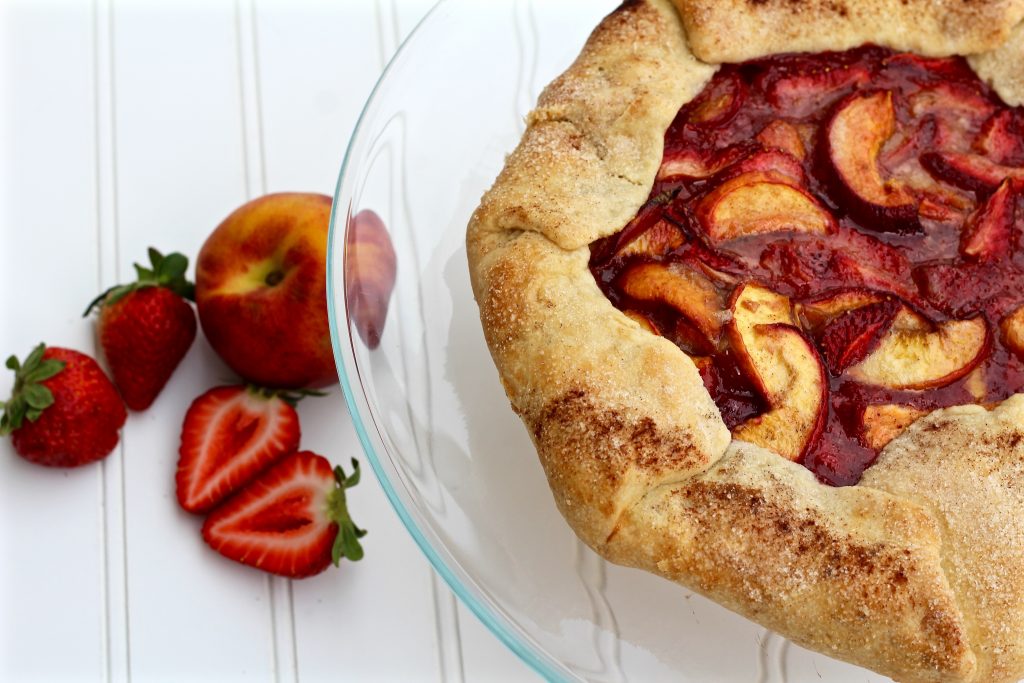 Let the rustic strawberry peach galette cool for a bit until filling sets before slicing and serving.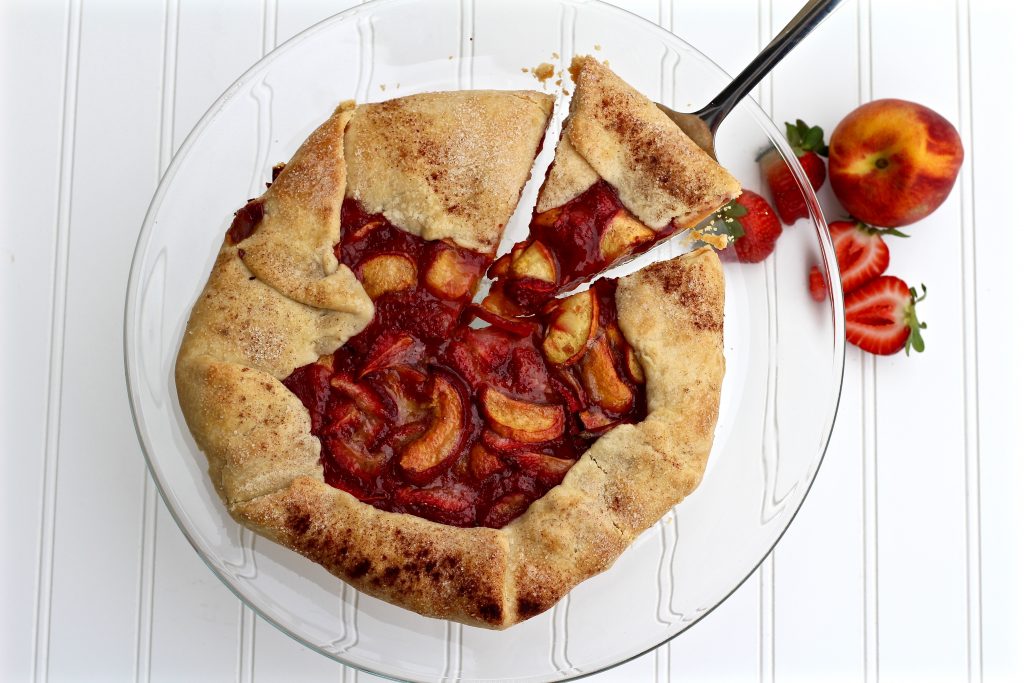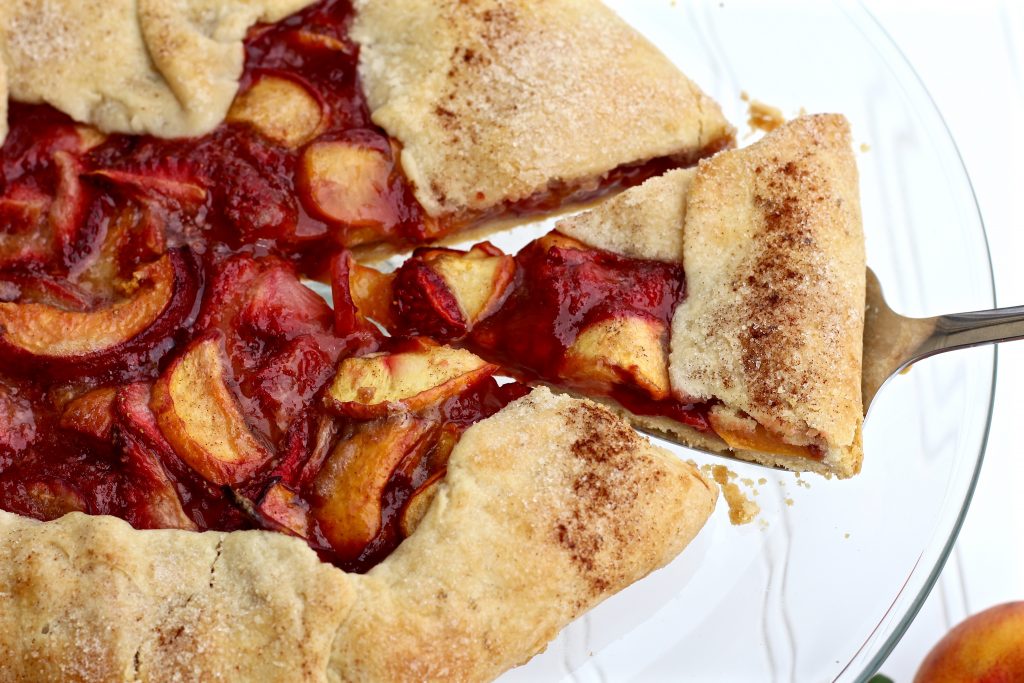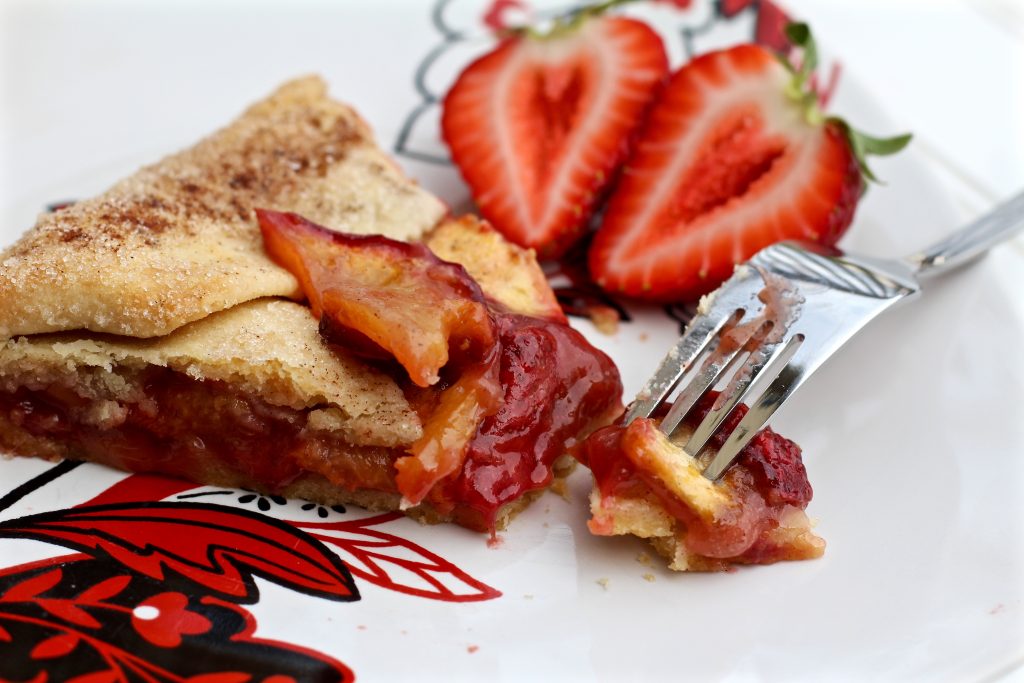 This amazing summer dessert goes especially well with vanilla bean ice cream or some homemade whipped cream. This rustic strawberry peach galette is simple yet delicious and will have you going back for seconds!
xoxo,
Yuli
Impressive But Easy Rustic Strawberry Peach Galette

Ingredients
1 chilled pie crust
8 oz. strawberries, sliced
2-3 peaches, pitted and sliced
1/4 cup brown sugar
3 tablespoons granulated sugar
3 tablespoons flour
1/4 teaspoon cardamom
1/4 teaspoon cinnamon
1/8 teaspoon kosher salt
1 teaspoon vanilla extract
1 tablespoon lemon juice
1 tablespoon salted butter, cubed
1 tablespoon half & half or heavy cream (to brush over dough)
1 tablespoon sugar (to sprinkle on top)
Instructions
Preheat oven to 375°
Rinse and slice the strawberries and peaches
Combine sliced fruit in a medium bowl with sugars, flour, cardamom, cinnamon, salt, vanilla, and lemon juice
Set aside to allow the fruit to release some juices while preparing crust
On a floured surface, roll out one chilled pie crust into a large (imperfect) circle that is about 1/8" thick
Use rolling pin to transfer dough to a parchment or silicone mat lined pan
Using a slotted spoon, scoop filling onto the center of the crust leaving behind the extra juices
Gently fold the dough over all around
Dot the filling with cubed butter
Using a pastry brush, spread some half & half or heavy whipping cream on the dough and sprinkle with additional sugar, cinnamon, and cardamom
Bake on the middle rack at 375° for 40-50 minutes until crust is golden and starting to brown
Cool for a bit until filling sets
Slice and serve
Optional: top with vanilla bean ice cream or whipped cream