These fried smashed potatoes are such a delectable side dish that they may just steal the show and be the star of your dinner! The potatoes have a crisp and buttery exterior with the fluffy interior you'd expect from baked potatoes.  The zesty fresh lemon juice, savory bacon, and creamy parmesan cheese come together to make this the yummiest potato dish you've ever tried! It's is a great side for steak, salmon, or chicken, but it can also be served as an appetizer– just add a little extra bacon and parmesan to dress it up. Either way, these fried smashed potatoes will get eaten up faster than you can say the name three times!
Ingredients for Fried Smashed Potatoes
1 1/2-2 lbs. baby potatoes
olive oil
2 tbsp. butter
1/2 cup shredded parmesan cheese
1/2 cup crumbled bacon
juice from 1/2 a lemon
salt, pepper, and garlic powder to taste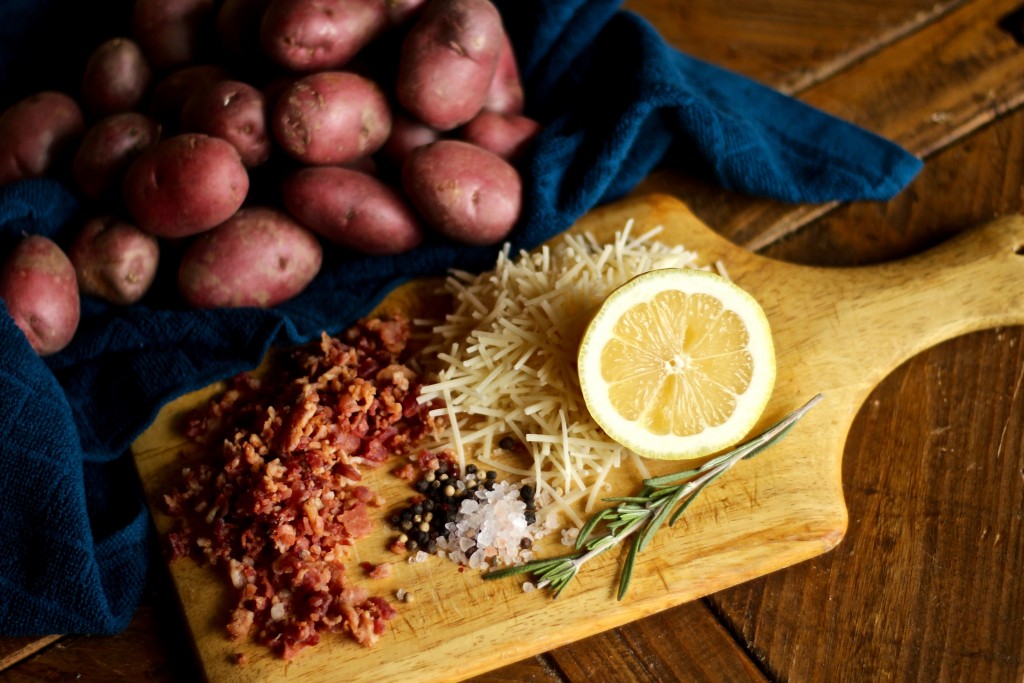 Directions for Fried Smashed Potatoes
Rinse baby potatoes and boil in salted water for approximately 30 minutes until they are fork-tender. Don't cook them for too long because they will start falling apart!
Remove potatoes from water and allow to cool (for just a couple of minutes until they can be handled) before using the back of a large spoon to gently press down and smash the potatoes. Careful not to press too hard and split them (kind of like I did on some of them). You want just a little bit of the fluffy insides coming out of the skin. Then season generously with salt, pepper, and garlic powder.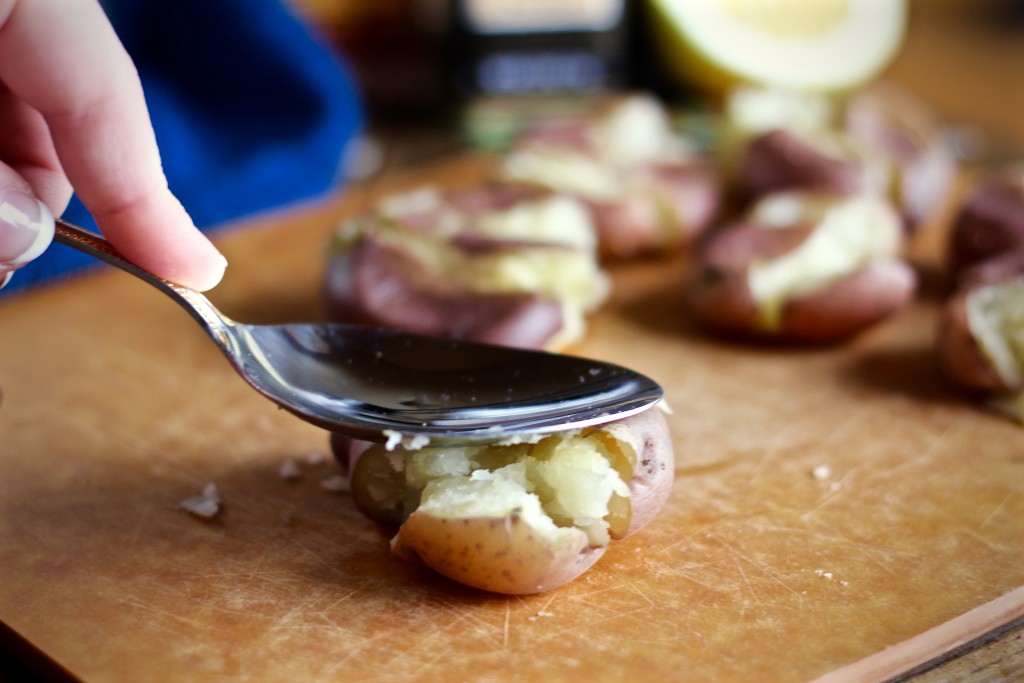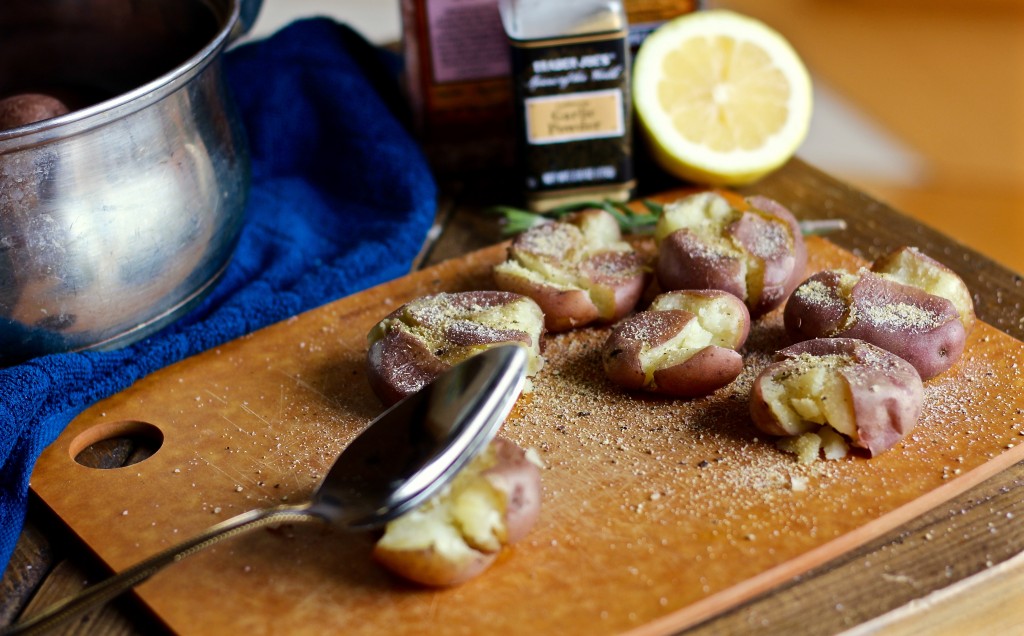 In a large skillet, add a few tablespoons of olive oil and 2 tablespoons of salted butter. Preheat on medium-high until butter is melted and pan is hot.
Place seasoned smashed baby potatoes in the pan and brown on each side until crisp (about 3 minutes each side). Turn them just once so they keep their shape a little better.

Remove fried potatoes and place on paper towel lined plate to absorb excess oil (optional), then transfer to a serving dish.
Top each layer of fried smashed potatoes with fresh-squeezed lemon juice, parmesan, and crumbled bacon. If you are serving these fried smashed potatoes as an appetizer, add more parmesan, bacon, and maybe a side of sour cream for dipping. Use some chopped parsley as a garnish to add some color contrast and a fresh flare to the dish.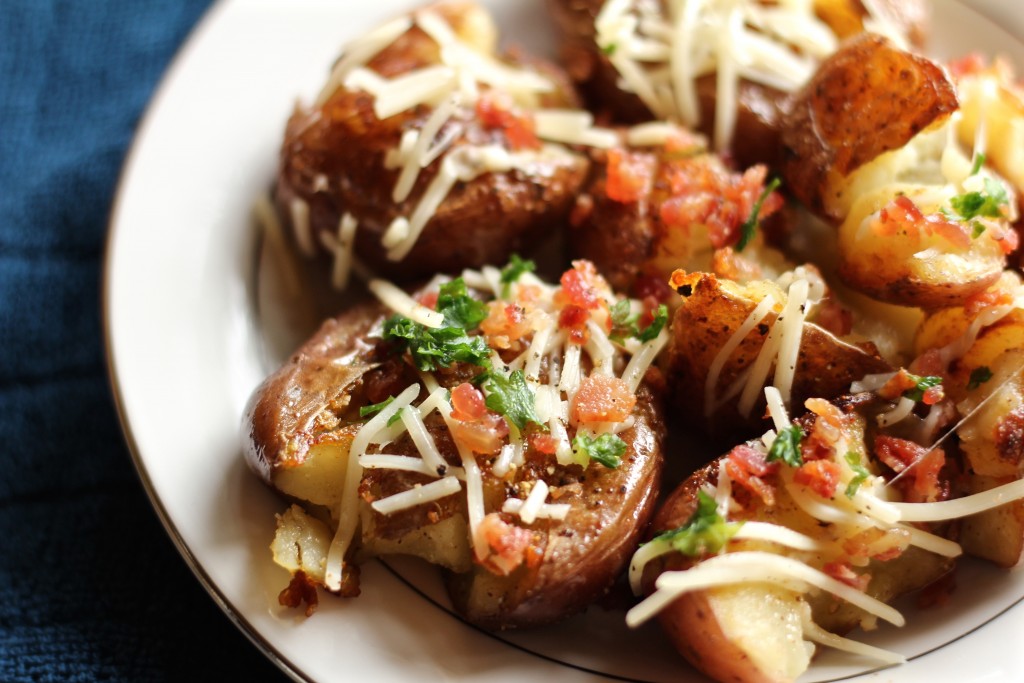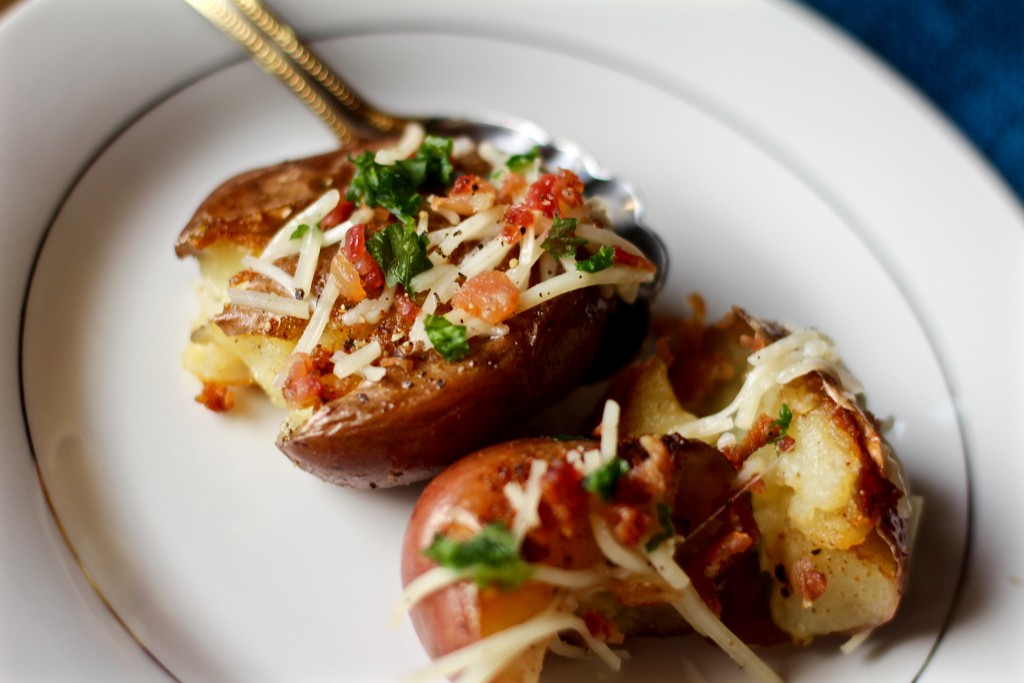 Serve these savory fried smashed potatoes while they are hot and fresh. Enjoy!
happy cooking,
Yuli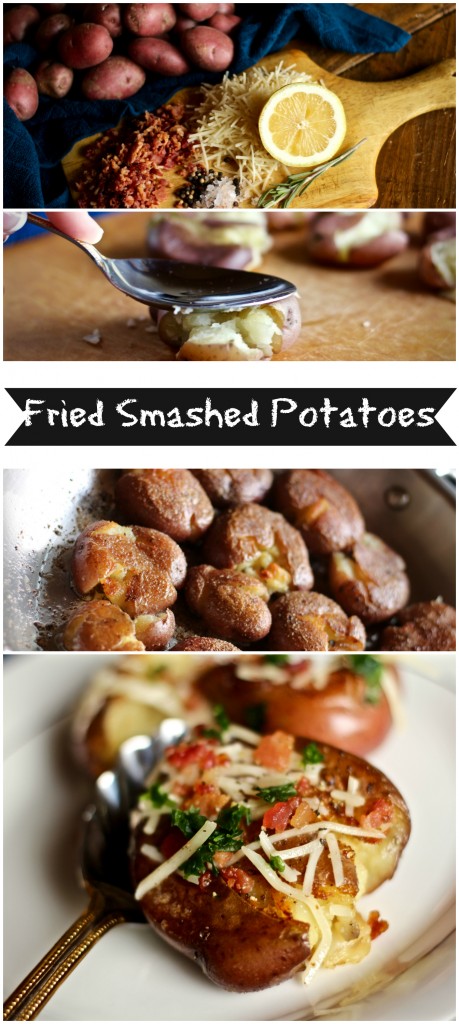 Fried Smashed Potatoes

Ingredients
1 1/2-2 lbs. baby potatoes
olive oil
2 tbsp. butter
1/2 cup shredded parmesan cheese
1/2 cup crumbled cooked bacon
juice from 1/2 a lemon
salt, pepper, and garlic powder to taste
Instructions
Rinse baby potatoes and boil in salted water for approximately 30 minutes until fork-tender
Remove potatoes from water and allow to cool a bit before using the back of a large spoon to gently press down and smash the potatoes, then season generously with salt, pepper, and garlic powder
In a large skillet, add a few tablespoons of olive oil and 2 tablespoons of salted butter, heat on medium-high until butter is melted and pan is hot
Place seasoned smashed baby potatoes in the pan and brown on each side until crisp (about 3 minutes each side)
Remove fried potatoes and place on paper towel lined plate before transferring to serving dish
Top each layer of fried smashed potatoes with fresh-squeezed lemon juice, parmesan, and crumbled bacon
Serve while hot and fresh