If you've been over to my house for dinner in the past few months, chances are you've eaten these crispy baked chicken thighs. I can't help it, I'm just a little obsessed. This is literally the easiest entree I've ever cooked that's come out perfectly every time. The skin on the chicken is crispy and flavorful with a slight smoky flavor from the mesquite seasoning (that is also a current obsession of mine). And the meat is so tender it falls right off the bone.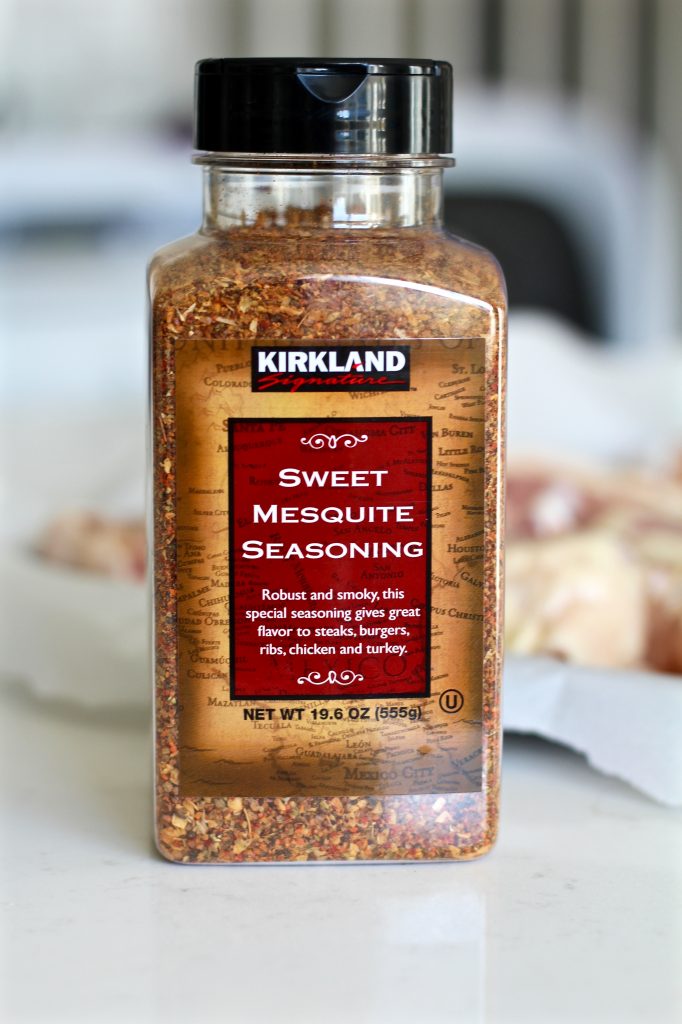 A lot of people shy away from bone-in skin-on meats. Either it seems too intimidating to cook with (I know that's what I thought before), you're worried about getting it off the bone to eat, or you're not sure what to do with the skin to make it crispy and not soggy. But none of those things are an issue with these crispy baked chicken thighs. They are super easy to prep, fall right off the bone when cooked right (you don't even need to get your hands dirty), and the skin is super crunchy and crispy.
The skin on these crispy baked chicken thighs keeps the meat underneath juicy and moist, so even if you don't like the skin, leave it on until after the chicken is cooked. Chicken thighs naturally have more fat and are more juicy and flavorful than chicken breasts, so make sure you use the right meat for this recipe!
Ingredients For Crispy Baked Chicken Thighs:
8-10 chicken thighs (about 5 pounds), skin on and bone in
4-6 tablespoons sweet mesquite BBQ seasoning
Directions For Crispy Baked Chicken Thighs:
Preheat the oven to 415°. The high heat is part of what makes this chicken so crispy and delicious.
Pat dry the chicken thighs and place skin side down on parchment lined pan.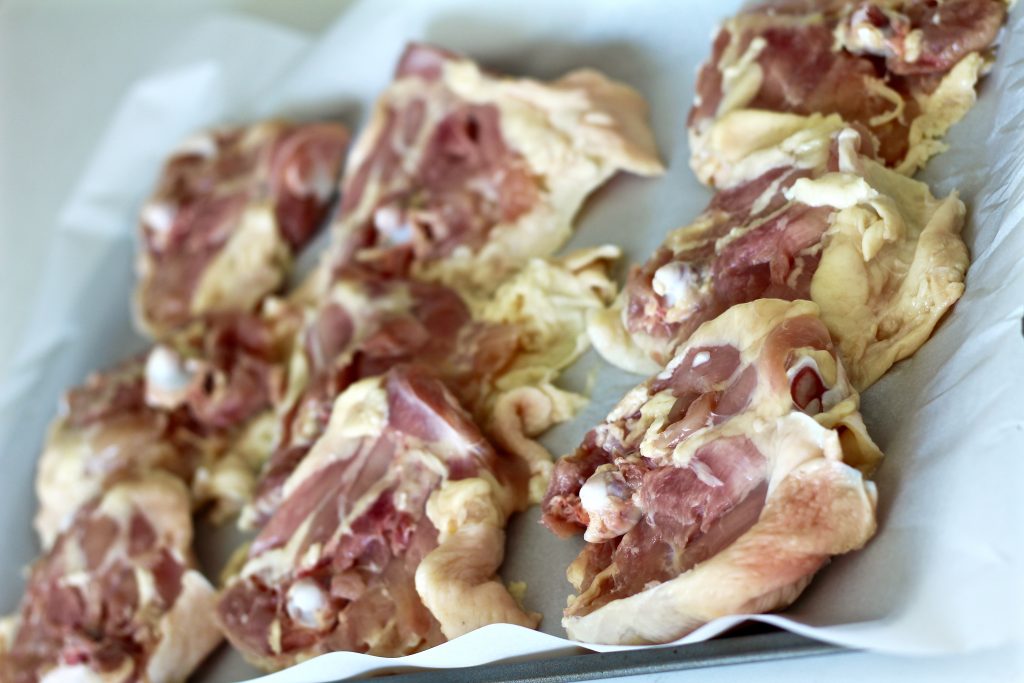 Season generously with BBQ seasoning. See how much I used? Don't be shy with it!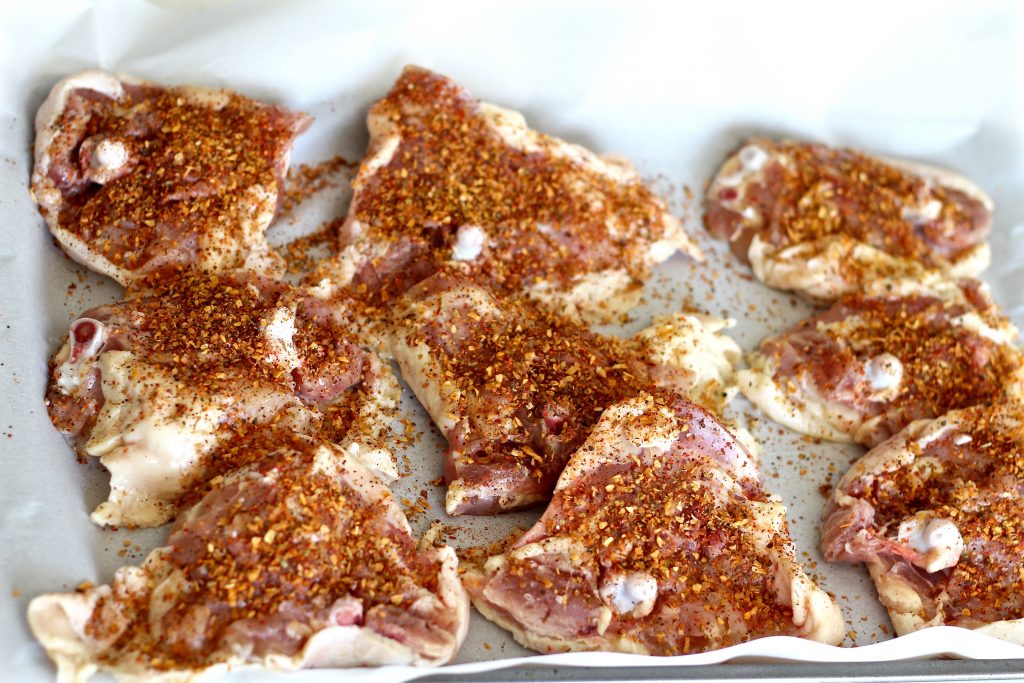 Turn the chicken thighs over and season the top generously. Rub the seasoning in a little to help distribute it evenly.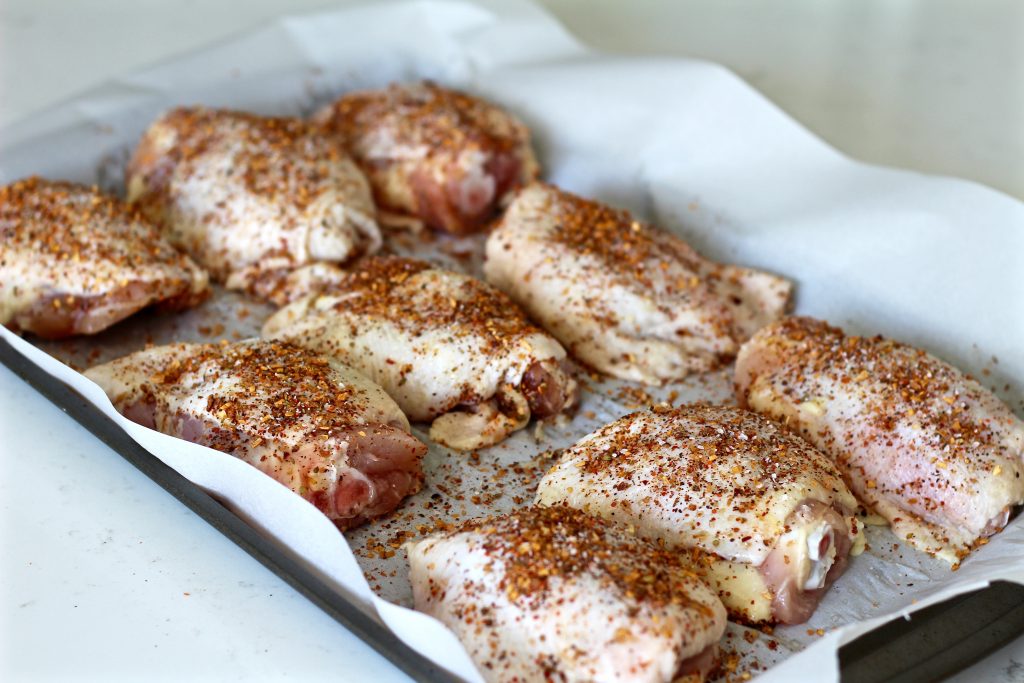 Cover loosely with foil and bake for about 75-85 minutes. The seasoning and high heat do all the work for you here!
Remove foil and bake for an additional 15 minutes until the skin is browned and crispy.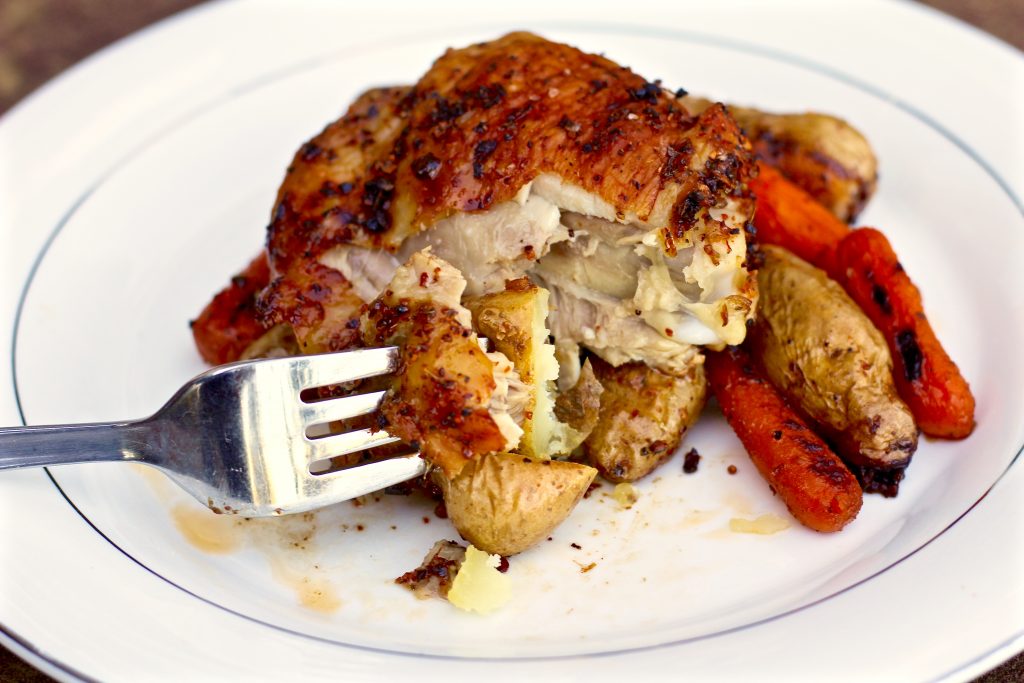 These crispy baked chicken thighs are perfect to make for dinner when we have friends over because they are so easy! No need to keep checking on them, adding ingredients, or turning the meat. You can focus on the the side dishes and make something a little fancier. Maybe these fried smashed potatoes or this delicious Joey's strawberry quinoa salad?
Try making this chicken in one pan with some root vegetables to make a complete meal. It takes just two minutes to prepare! Check out our quick and easy 4 ingredient dinner recipe and see why it's my most popular dish on the blog!
xoxo,
Yuli
Easy Crispy Baked Chicken Thighs

Ingredients
8-10 chicken thighs (about 5 pounds), skin on and bone in
4-6 tablespoons sweet mesquite BBQ seasoning
Instructions
Preheat oven to 415°
Pat dry the chicken thighs and place skin side down on parchment lined pan
Season generously with BBQ seasoning
Turn the chicken thighs over and season the top generously
Cover loosely with foil and bake for about 75-85 minutes
Remove foil and bake for an additional 15 minutes until the skin is browned and crispy
Serve with your favorite side dish