Restaurant worthy filet mignon…on a budget. Those two phrases sound pretty unbelievable when put together, but it is possible! If you love steak (and love to cook), chances are, you've tried to re-create some of your favorite restaurant recipes. I still remember the first time I tried filet mignon at Ruth's Chris Steakhouse…I almost couldn't believe that I was actually eating BEEF– it was so tender that it practically melted in my mouth, and there was zero grisly-fat pieces. Needless to say, I fell in love with it, but unfortunately I don't have the time OR the money to drive out to a fancy steak house every time I wanted filet mignon.
So I started trying to find the best way to make restaurant worthy filet mignon at home. When you get the basics right (such as seasoning, cooking method, and time), making a great filet mignon isn't that hard. This cut of beef is perfectly tender and delicious on it's own. But the whole budget problem is still there. Filet mignon steaks are cut from the tenderloin and usually run $20-$30 per pound at the grocery store. If you want to make enough for 4-6 people, you're looking at spending upwards of $80 on just the meat! Unless you're celebrating an extra special occasion like a big promotion, you're probably not going to drop that kind of money on steak regularly. But with this trick you won't have to…
Next time you are at the grocery store, look for an entire tenderloin rather than cut-up steaks.
(It will typically be packaged in a clear, plastic, vacuum sealed bag.) Although it may not look as appetizing as the fancy steaks at the butcher's counter, with just a little knife work at home, you will turn it into just that. And the best part? It runs about $8-$10 a pound! (The store that I've found it at consistently for a good price is WinCo Foods.) When you buy a whole tenderloin, it only takes a little extra prep work and you can make enough filet mignon to feed a crowd for around $30! In this recipe I will guide you step-by-step through how to prepare the tenderloin and cook it so that you can get amazing, restaurant worthy filet mignon at home (and on a budget)!
Ingredients For Restaurant Worthy Filet Mignon
1 whole beef tenderloin (3-5lb)
steak seasoning (salt, pepper, garlic blend)
4 sprigs of fresh rosemary
1 stick of butter (softened)
4-6 cloves of garlic
Butcher's twine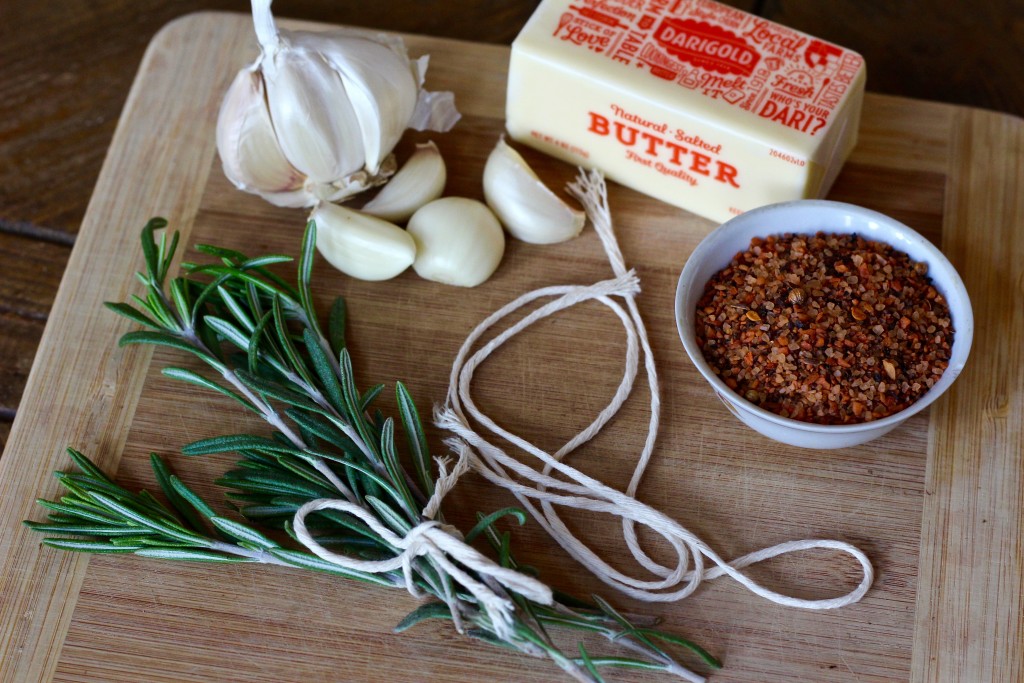 Directions For Restaurant Worthy Filet Mignon
Preheat your oven to 400°. (You will be finishing the tenderloin in the oven after searing on a pan.)
Remove whole tenderloin from packaging and pat dry thoroughly with paper towels. I know it doesn't look all that appetizing yet, but bear with me!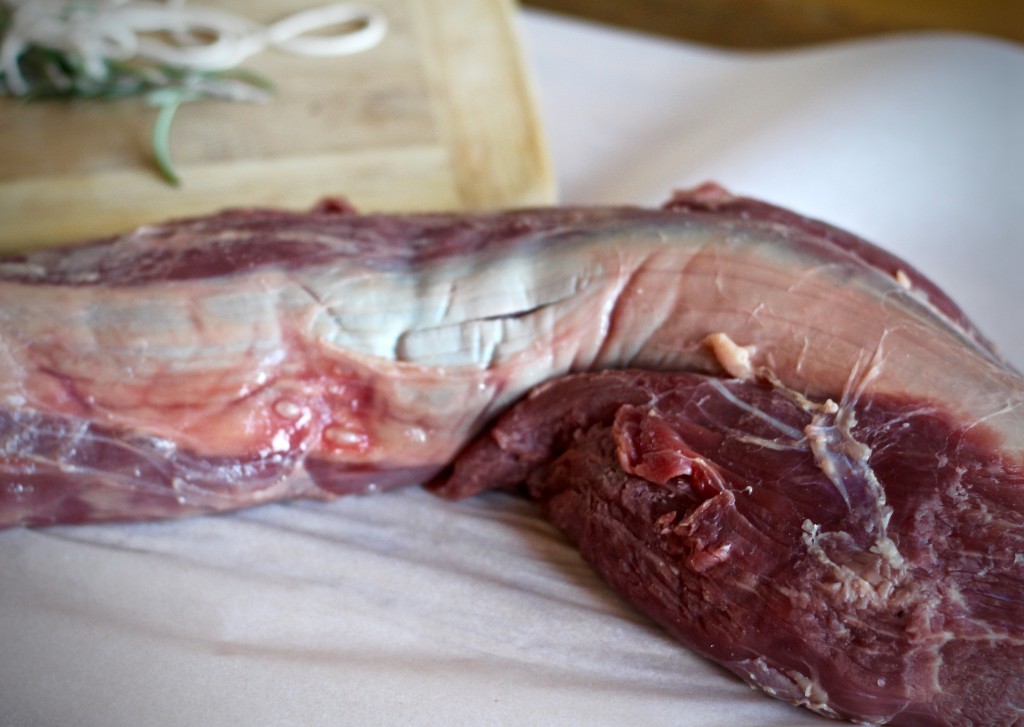 Using a sharp knife, remove the chain (fat-covered portion of meat at the bottom of the tenderloin) and the silverskin (very tough, chewy piece of connective tissue that covers more than half the top portion of the tenderloin). Try to cut off as little of the actual meat as possible. If you aren't planning on finishing the whole roast  in one sitting, cut off half of it and freeze for later.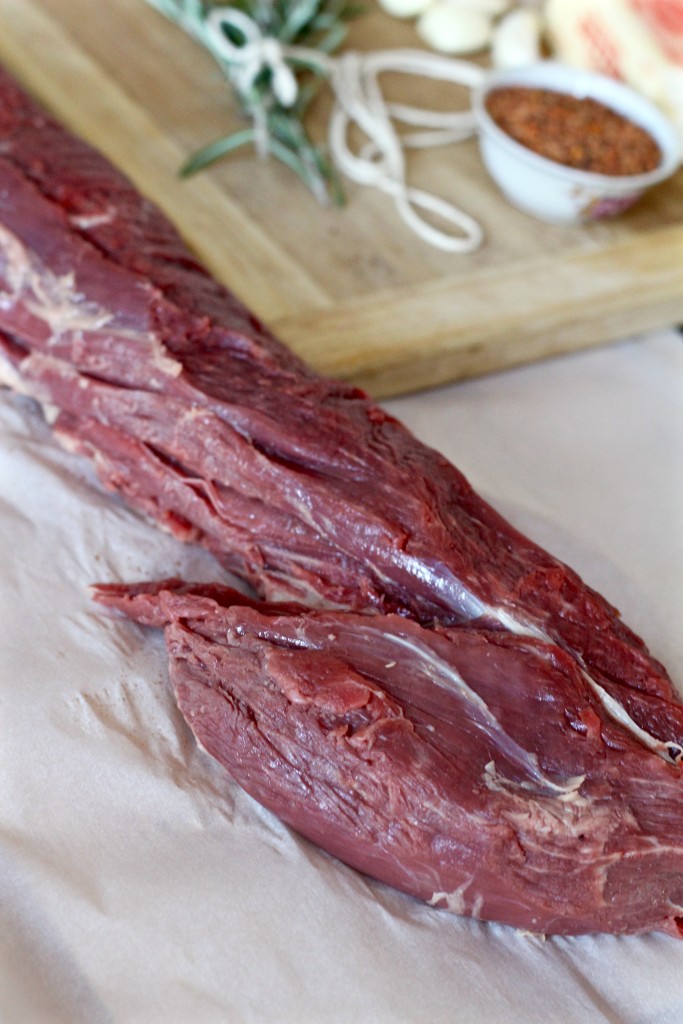 Once you've cut off the extra fat and the thin membrane covering the tenderloin (silverskin), rub a generous amount of steak seasoning all over the meat. My favorite seasoning is still the one I buy in the bulk section at WinCo Foods– "Pepper Steak Seasoning". It's got a perfect blend of coarse ground pepper, salt, and garlic. This is ALL that you will need to season your tenderloin and let it's juicy flavor shine through. (No marinading is needed!)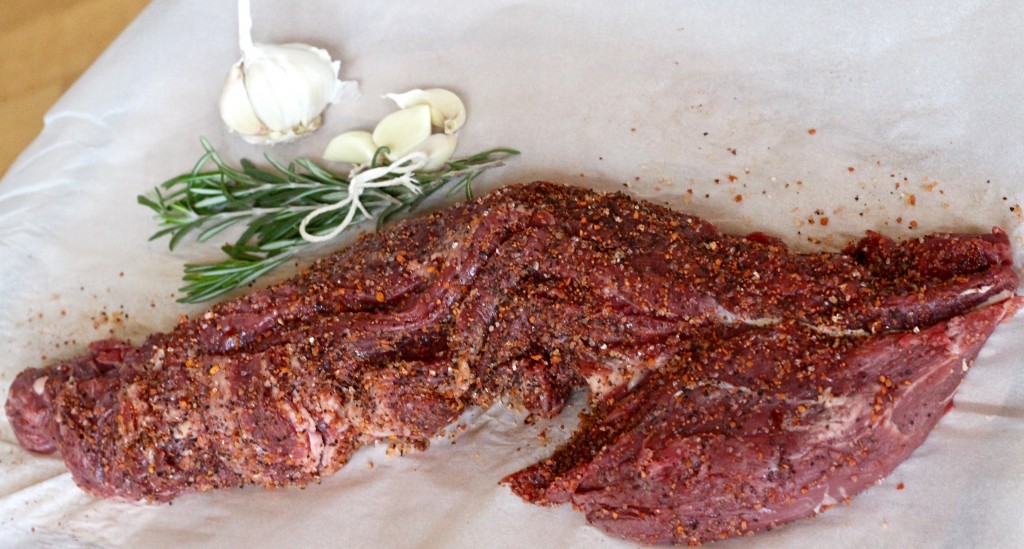 As you probably noticed, one end of the tenderloin is pretty narrow while the other side is much bigger. In order to ensure even cooking, you need to bring up and fold the narrow end to about the center of the tenderloin then use butcher's twine to tie it up. This way you won't have one end of it overcook before the thicker side is done. (I bought this butcher's twine on Amazon, but you can also find it in grocery stores, or even ask the person working in the meat department to cut some off for you!)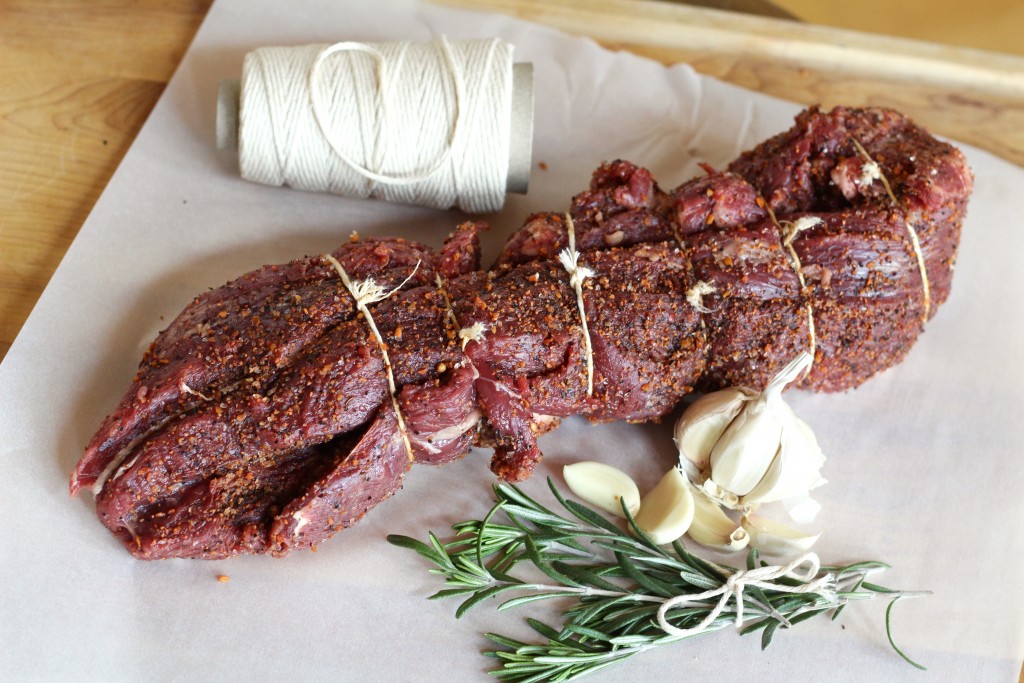 Preheat a stainless steel pan on high heat with some oil. Since the tenderloin doesn't have a whole lot of fat on it, you will need this to keep it from sticking to the pan.
Add a whole sprig of rosemary and a couple cloves of garlic to the pan as it heats to infuse some flavor into the oil (remove these before adding the tenderloin).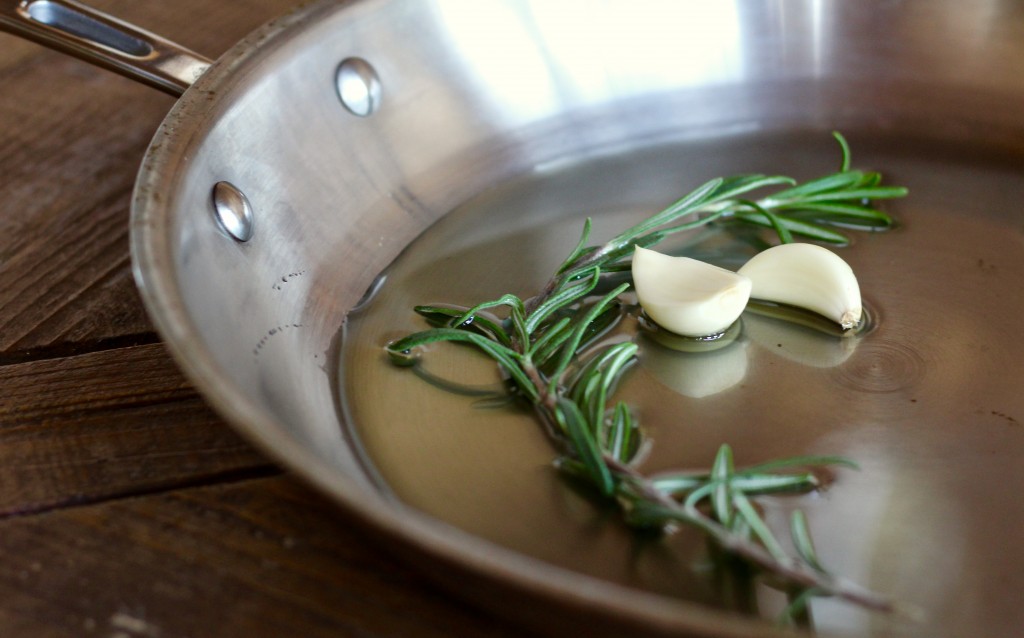 Brown the tied tenderloin roast on all sides; about three minutes on each side. As always, expect some smoke and lots of sizzle!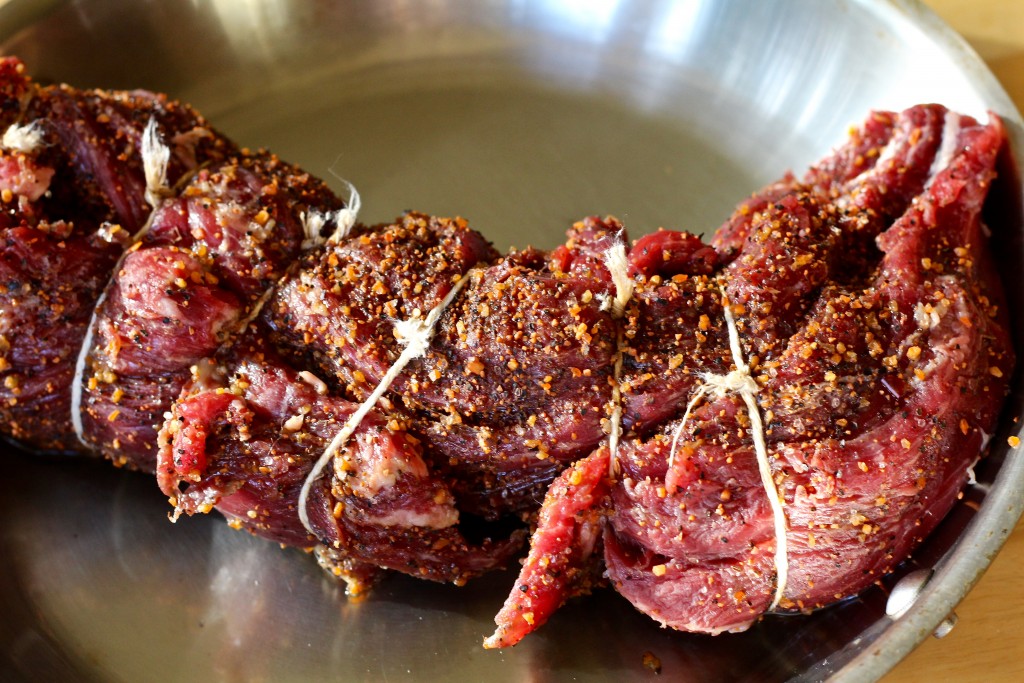 Transfer the seared tenderloin to a parchment-lined roasting pan.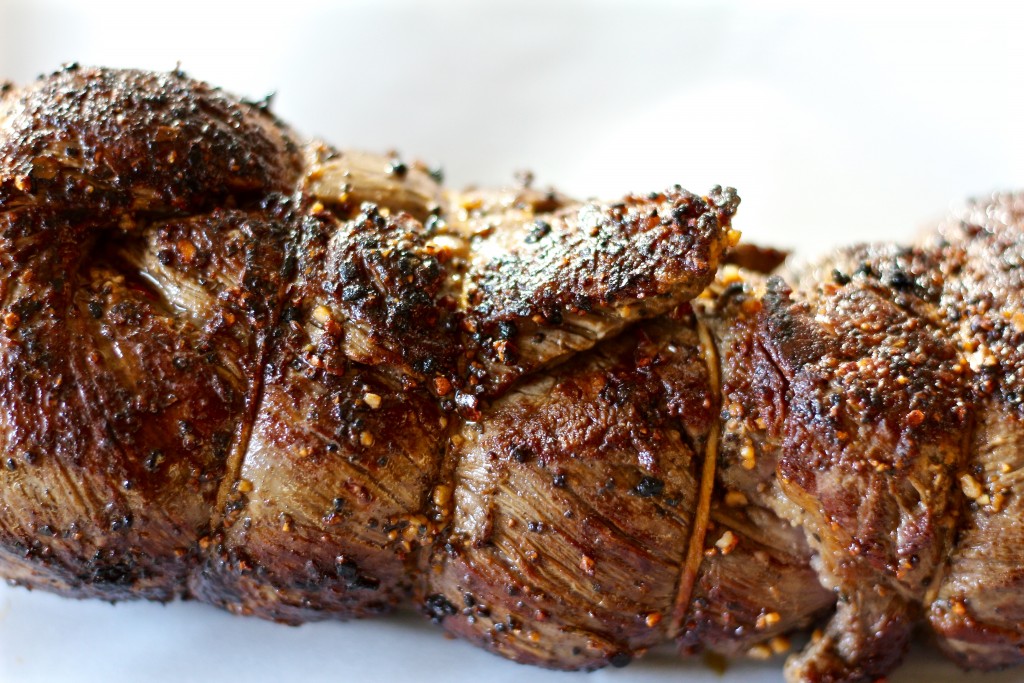 In a small bowl, combine 1 stick of softened butter, 4 cloves of finely chopped or crushed garlic, and 3 sprigs of chopped rosemary (remove the needles off of the sprig by holding one end and sliding you fingers down).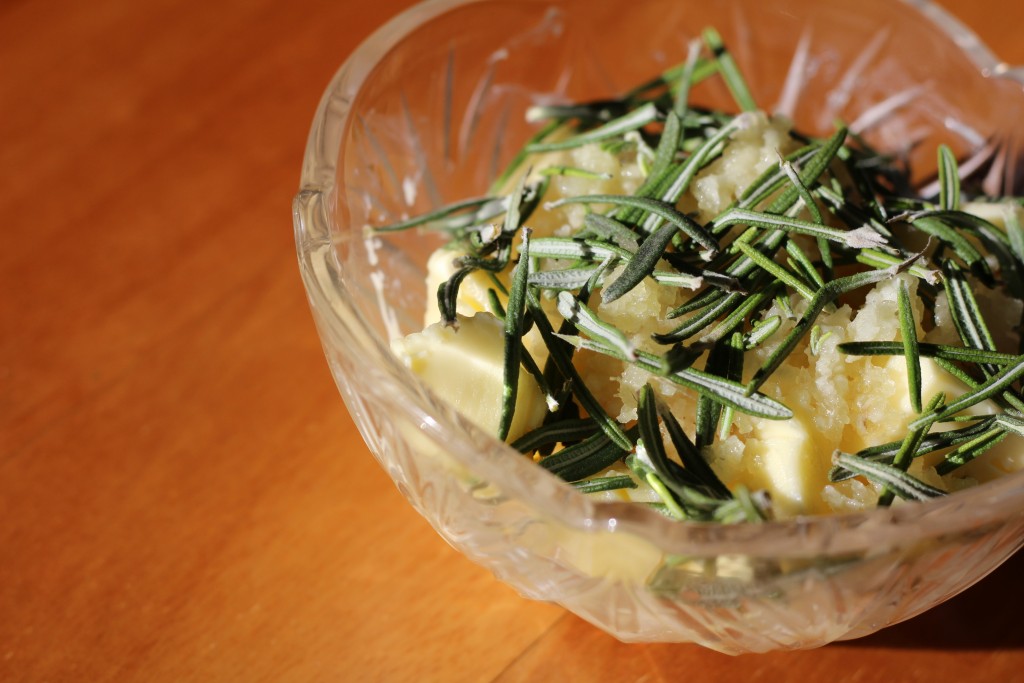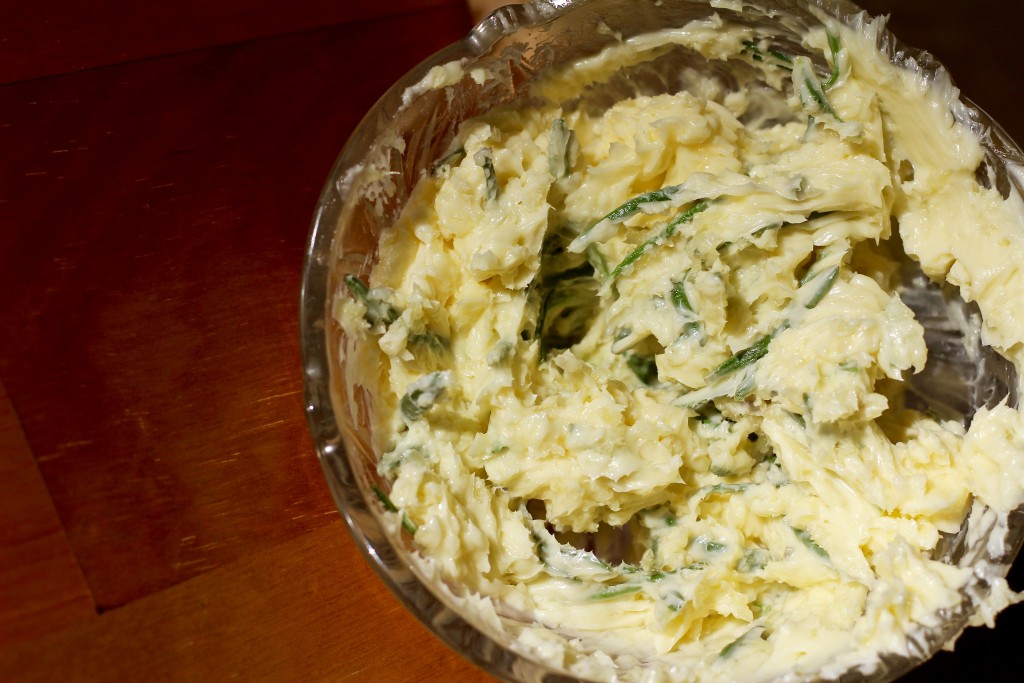 Top the seared tenderloin with the garlic, butter, and rosemary mixture. As it bakes in the oven, the butter will melt and coat the roast to keep it juicy and moist, this is important because as I mentioned earlier, the tenderloin doesn't have a lot of fat of it's own to keep it from drying up. Although the butter melts, the garlic and rosemary will stay on top of the roast and brown beautifully.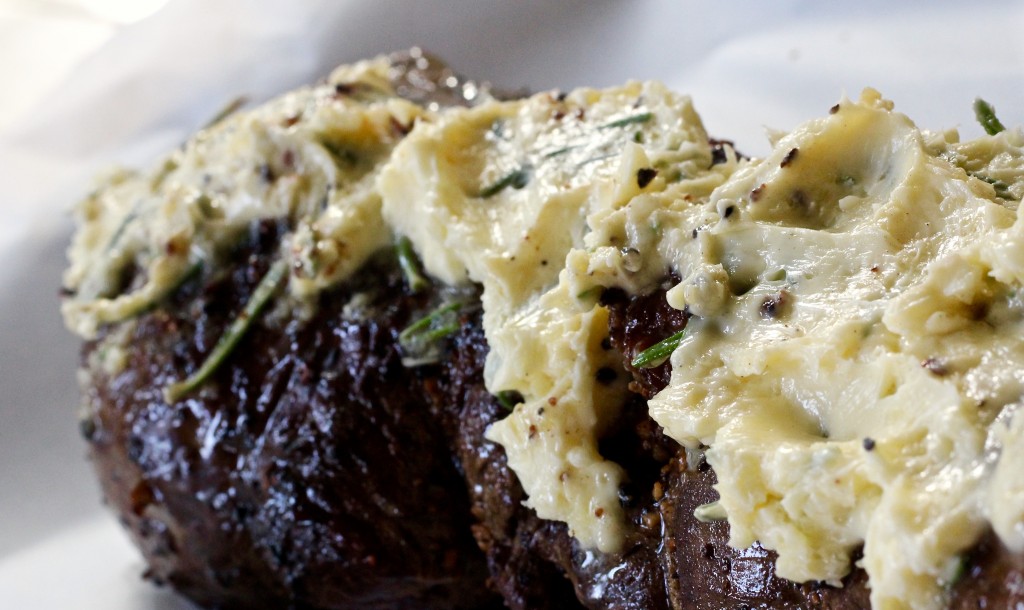 Place the tenderloin in your preheated oven and bake for 25 minutes to medium-rare or about 30 minutes for medium doneness. Careful not to overcook your tenderloin and risk making it dry!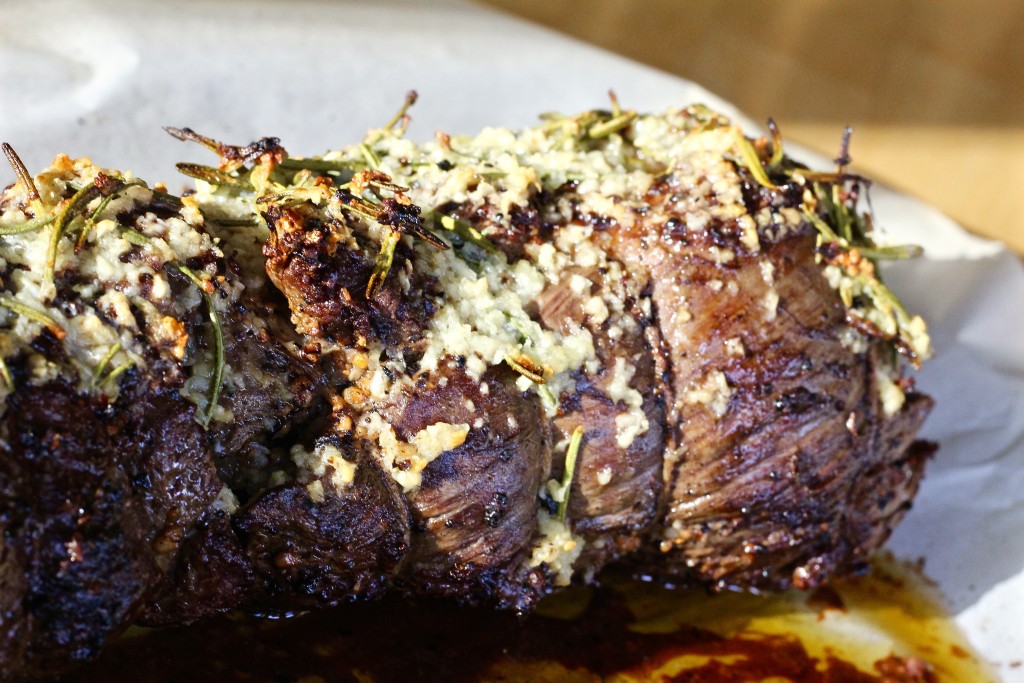 Remove roast from the oven and let it rest for about ten minutes before slicing into 1 1/2-2 inch-thick steaks. This will allow all the juices to stay in the meat. The thing I love about cooking the tenderloin whole (aside from how easy it is) is that some of the portions closer to the ends will be more well done for those who don't like as much pink in their steak, and the thicker, center pieces will be more rare.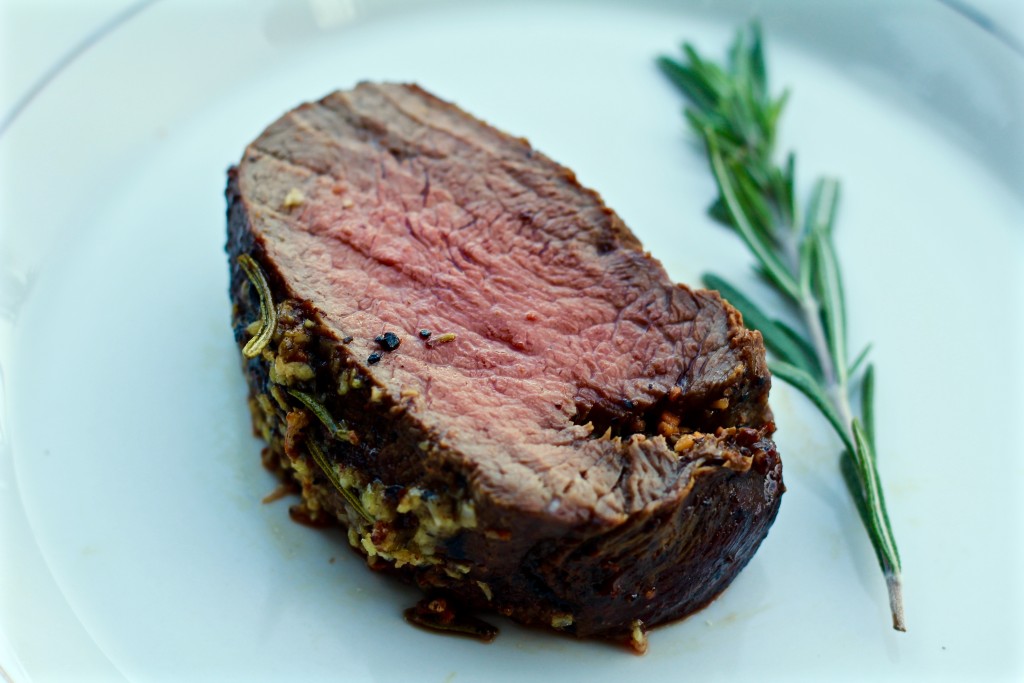 Serve your delicious, juicy, restaurant worthy filet mignon with a side of roasted veggies and your favorite side salad. Simple sides are all that you need to let this fancy dish shine!
xoxo,
Yuli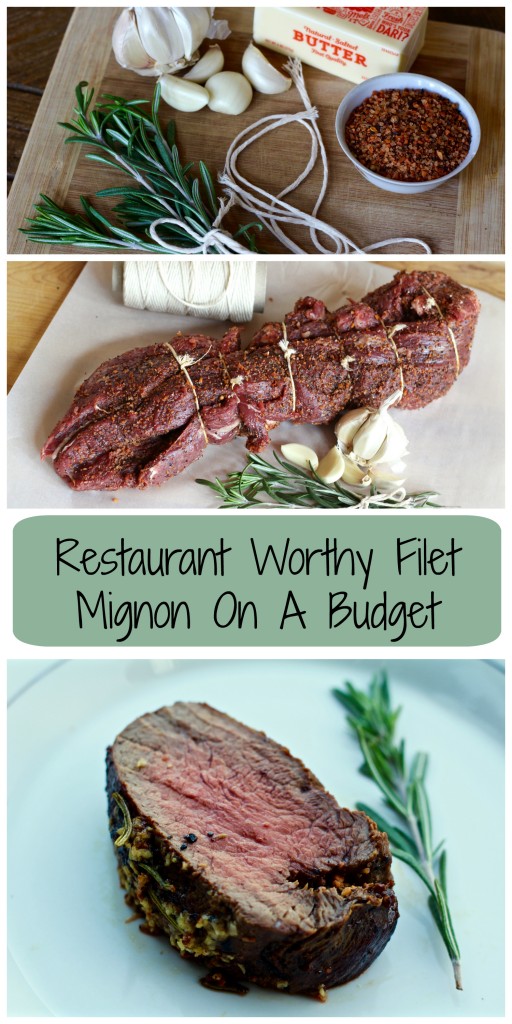 How To Make Restaurant-Worthy Filet Mignon (On A Budget)

Ingredients
1 whole beef tenderloin (3-5lb)
steak seasoning (salt, pepper, garlic blend)
4 sprigs of fresh rosemary
1 stick of butter (softened)
4-6 cloves of garlic
Butcher's twine
Instructions
Preheat oven to 400°
Remove whole tenderloin from packaging and pat dry thoroughly with paper towels
Using a sharp knife, remove the chain (fat-covered portion of meat at the bottom of the tenderloin) and the silverskin (very tough, chewy piece of connective tissue that covers more than half the top portion of the tenderloin)
Rub a generous amount of steak seasoning all over the tenderloin
Bring up and fold the narrow end to about the center of the tenderloin then use butcher's twine to tie it up (for even cooking)
Preheat a stainless steel pan on high heat with some oil
Add a sprig of rosemary and a couple cloves of garlic to the pan as it heats to infuse flavor into the oil (remove these before adding the tenderloin)
Brown the tied tenderloin roast on all sides
Transfer tenderloin to a parchment-lined roasting pan
In a small bowl, combine 1 stick of softened butter, 4 cloves of finely chopped or crushed garlic, and 3 sprigs of chopped rosemary (remove the needles off the sprig by holding one end and sliding you fingers down)
Top the seared tenderloin the with garlic, butter, and rosemary mixture
Place in oven and bake for 25 minutes to medium-rare or about 30 minutes for medium (don't overcok it!)
Remove from oven and let it rest for about ten minutes before slicing into 1 1/2-2 inch-thick steaks