Many of my favorite foods are tied to special memories and this loaded baked potato soup is no exception…
A few months ago we were in the middle of packing up our entire house and preparing for a move. It was time for us to look for a bigger house that would have more room to grow and require a little less maintenance than our current one. It didn't feel right to leave the house behind without throwing one more big farewell party. You've heard of housewarmings, right? How about a house cooling? I don't know if it's a real thing, but we had one anyway!
I wanted to be able to serve a hot delicious meal to a large group of people but still have it be laid back and not stressful for me.
So the night before the party I made two HUGE pots of this delicious loaded baked potato soup! It was an absolute lifesaver to have these prepared ahead of time. All I had to do the day of the party was re warm the soup on the stove. Served with a side of warm, crusty bread and creamy caesar salad, it was a huge hit!
I've been tweaking my recipe for the loaded baked potato soup for a while now, and this is my favorite version of it.
The best part is that you won't have to use up a bunch of dishes to make this and it can be prepared in advance. This recipe makes a full-to-the-brim 5 quart dutch oven (and I wouldn't have it any other way). The soup is delicious whether it's freshly made or re-heated in the next few days. I like making this when I know I have a busy week ahead and won't get around to making dinner every night. It's a perfect busy weeknight meal! The thick and creamy consistency of the soup matched with crispy bacon, sharp cheddar, sour cream, and a bit of freshness and color from the green onion makes this the ultimate one-pot loaded baked potato soup!
(You can of course make a half portion of this recipe if you're not sure that it will all get eaten, but you might regret not making more!)
Ingredients for Ultimate Loaded Baked Potato Soup:
1 16oz package of bacon
1 small or medium onion
2 medium carrots
6-8 medium red or gold potatoes
4 tablespoons all purpose flour
2.5 quarts (10 cups) chicken or vegetable broth
2 cups milk (I prefer whole milk for this recipe)
1 cup sour cream
2 cups shredded sharp cheddar
3-4 chopped green onions
salt and pepper to taste
Directions for Ultimate Loaded Baked Potato Soup:
Cook the entire package of bacon in a dutch oven until it is very crispy. I like to criss-cross it to make it all fit, then rotate the slices to make sure they all get crisped up evenly. It is essential that you cook the bacon until it is VERY crispy (borderline burned) so that you can easily crumble it to add to the soup later. If the bacon is still chewy, it will end up getting soggy once added back into the soup and not very pleasant to eat.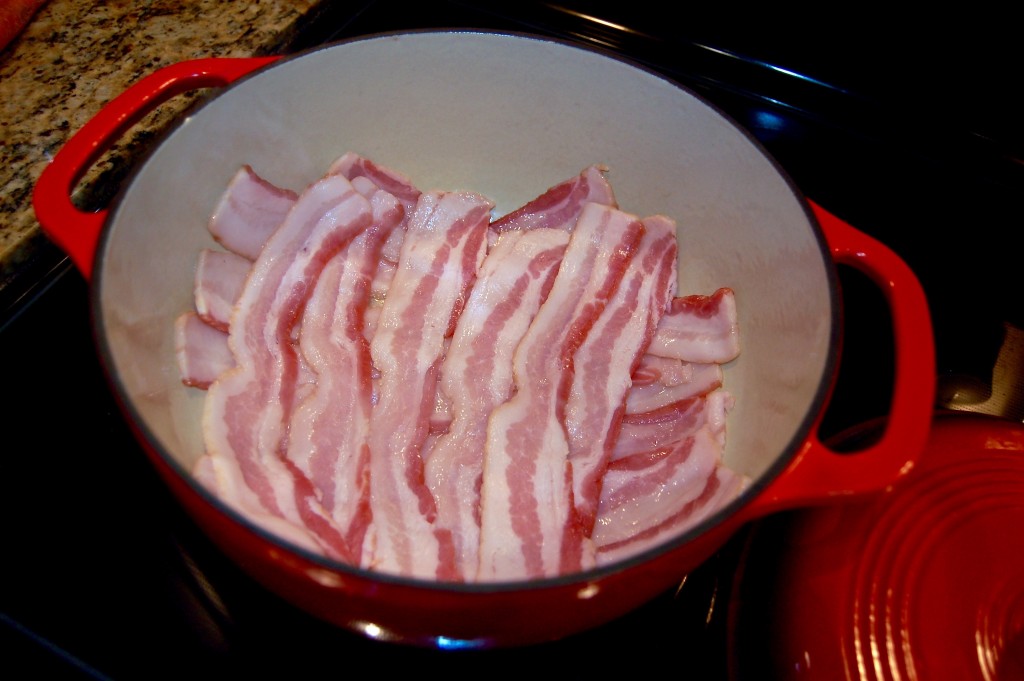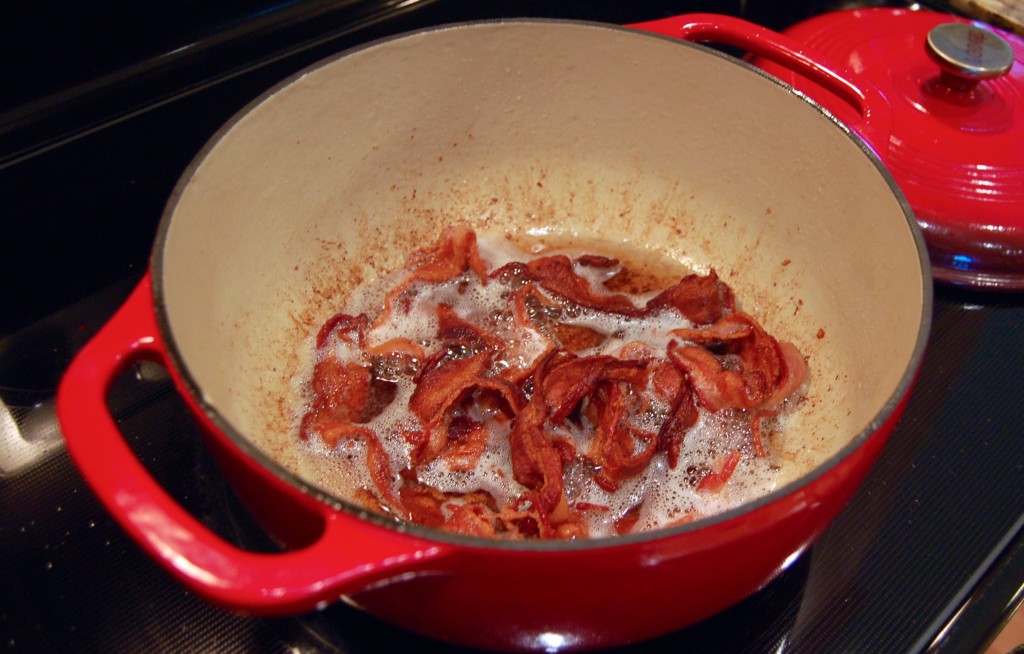 Remove the bacon and set it aside on a paper towel for later.
Pour out half of the grease that remains in the pot, then add in finely chopped onion and shredded carrots.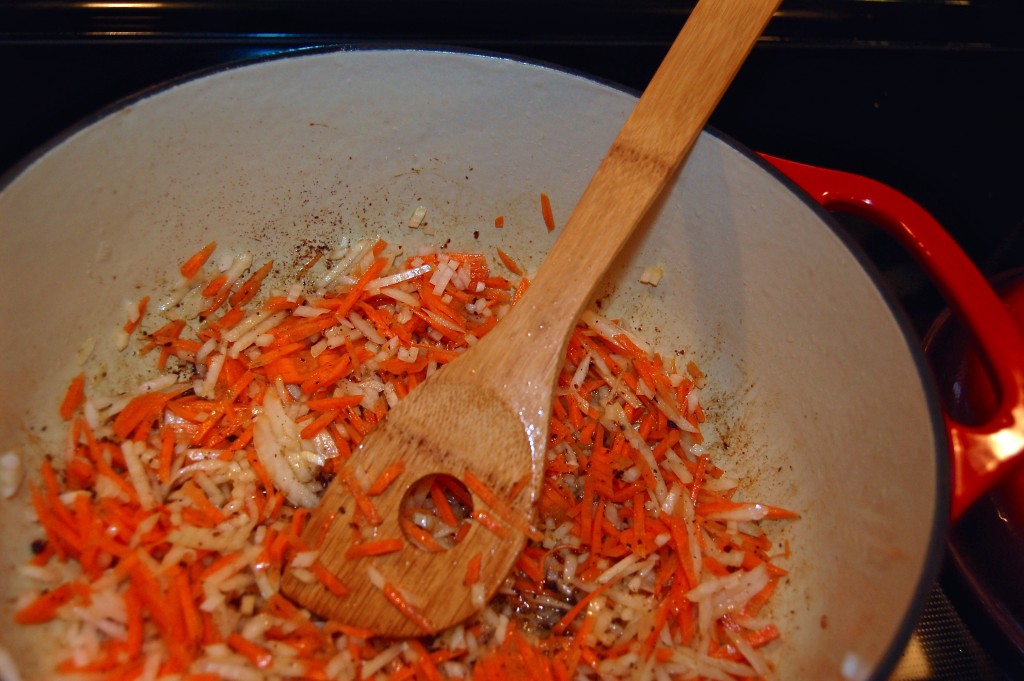 Cook the onion and carrots on medium heat for 3-4 minutes until the onion becomes translucent and the carrots soften.
Add in peeled and cubed potatoes and cook for 5 more minutes stirring occasionally.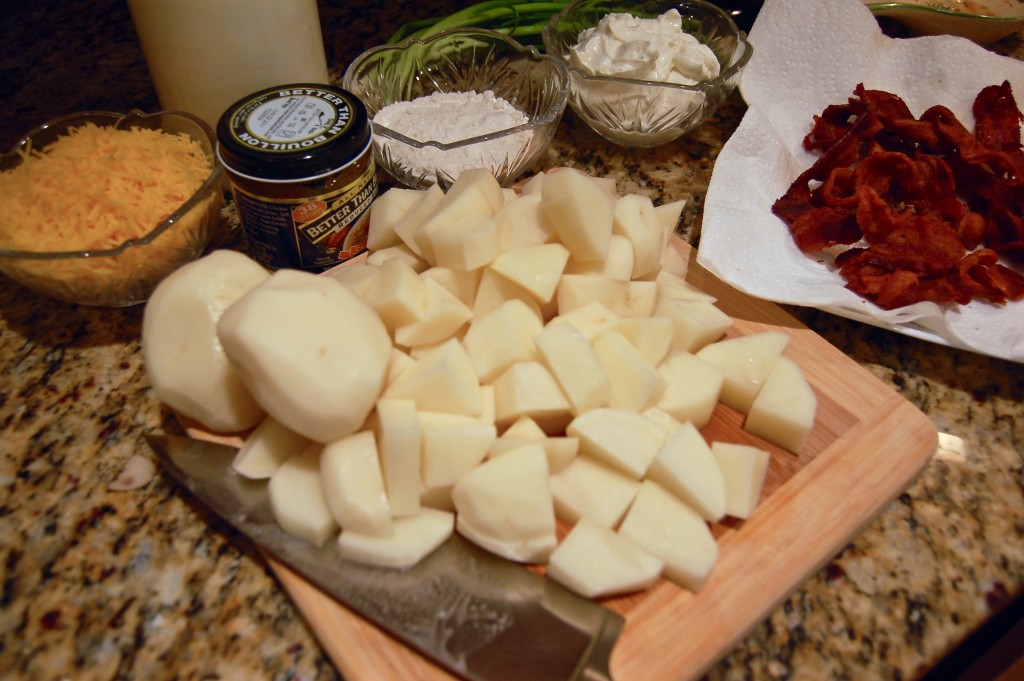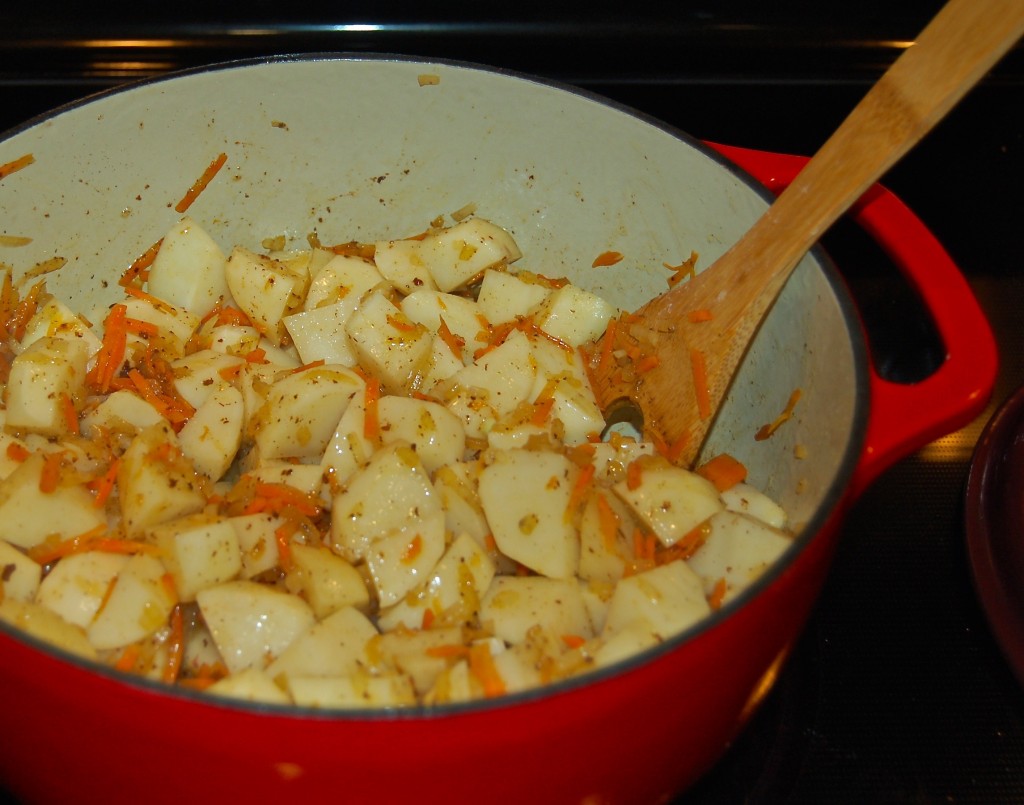 Sprinkle in 4 tablespoons of flour and mix to evenly coat the vegetables. This will help to thicken the soup later on and will prevent the flour from clumping up.
Let the vegetables cook for another 2-3 minutes then add the chicken or vegetable broth. As I have mentioned before, I LOVE to use Better Than Bullion for all my soups. It's so easy and tastes like fresh homemade broth. In this case I used the chicken one to add more savory flavor to the soup.

Cook with the lid on for 20-25 minutes until potatoes are fork-tender and break apart easily.
Use a potato masher or immersion blender to mash up most of the potatoes in the broth (but still leave a few chunks).
Add the 2 cups of milk. I prefer to use whole milk for this to make it really creamy, but you can use whatever you have on hand.
Next, Whisk in the sour cream. Don't freak out if the sour cream separates into clumps rather than blending in smoothly, this happens to me every time. It will just take a bit more whisking/stirring to get it melted in completely. You can also whisk it together in a bowl with the milk before adding to make it easier to blend.
Mix in the shredded sharp cheddar and stir until it's melted. I like to use the sharp cheddar because it goes a really long way in adding that yummy cheddar flavor. (Whereas the mild cheddar just gets lost in all the other flavors.)
Add the chopped green onions. You can add more than the suggested amount if you really love green onion, but definitely don't skip out on this ingredient, it adds so much fresh flavor to the soup!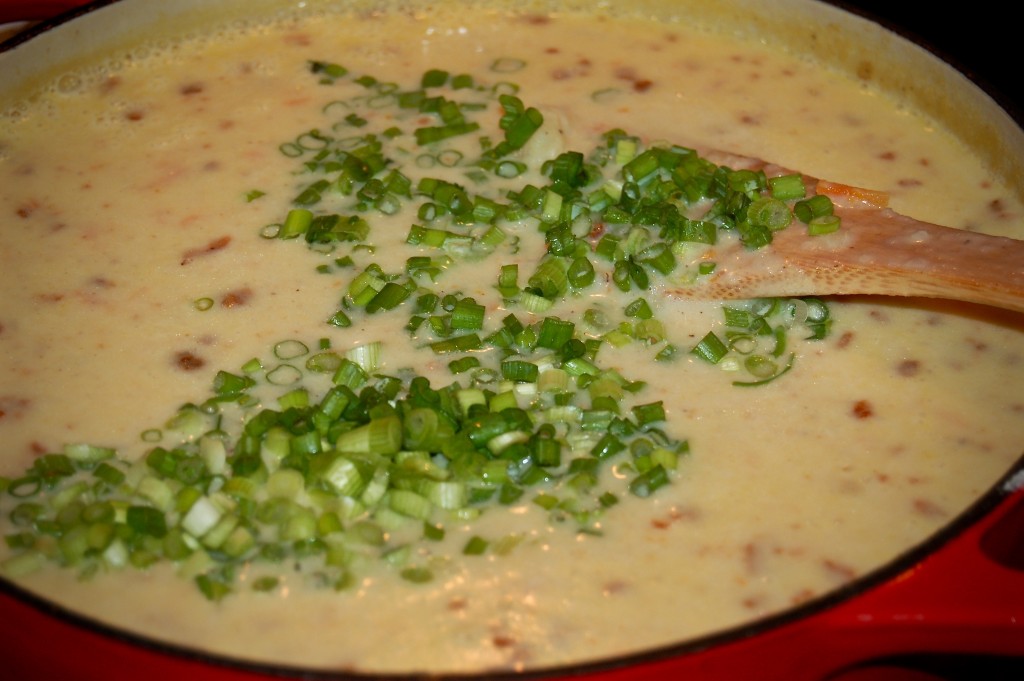 Remove from heat. Crush the crispy bacon within the paper towel to create bacon bits and add it back into the soup.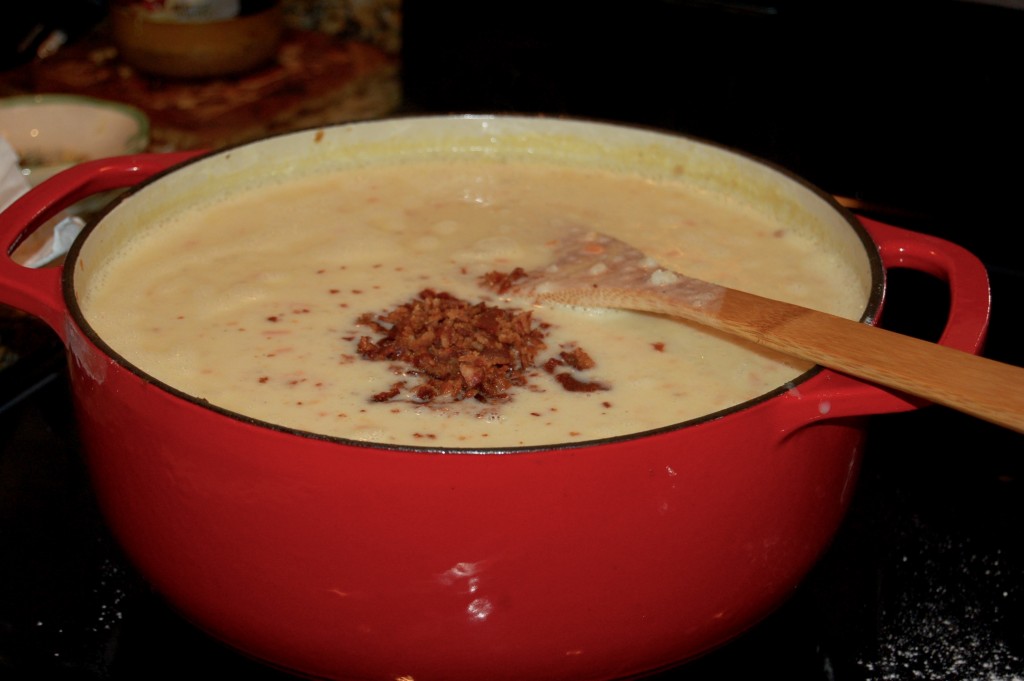 Taste the soup and season with additional salt and pepper. There is some saltiness from the bacon and broth, so make sure you taste it first before adding in more salt. The fresh ground pepper is delicious as well. (I'm a big fan of it as you can tell from this photo…)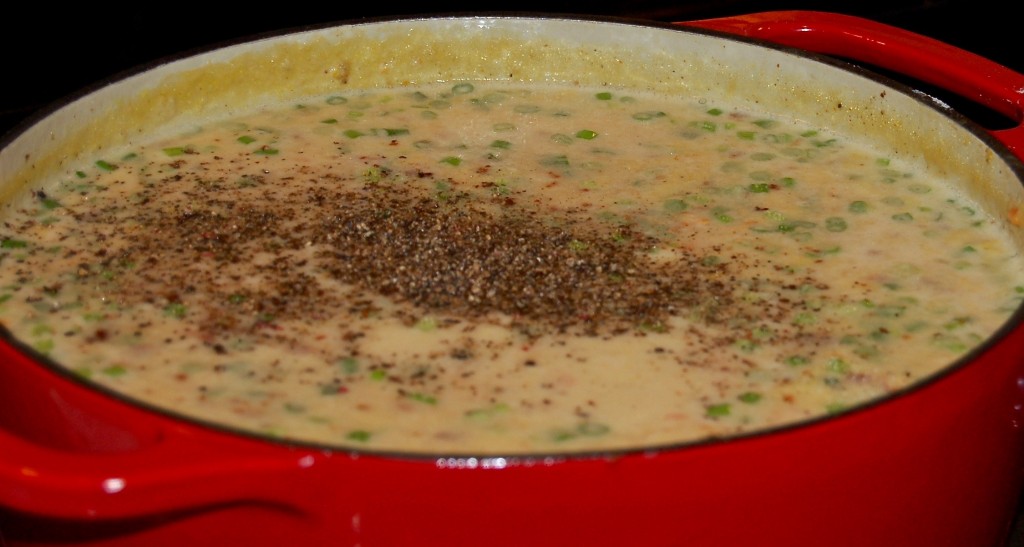 Serve the loaded baked potato soup with crusty bread or just on it's own. I like to set out additional toppings such as sour cream, cheddar cheese, bacon bits and green onions so people can add more.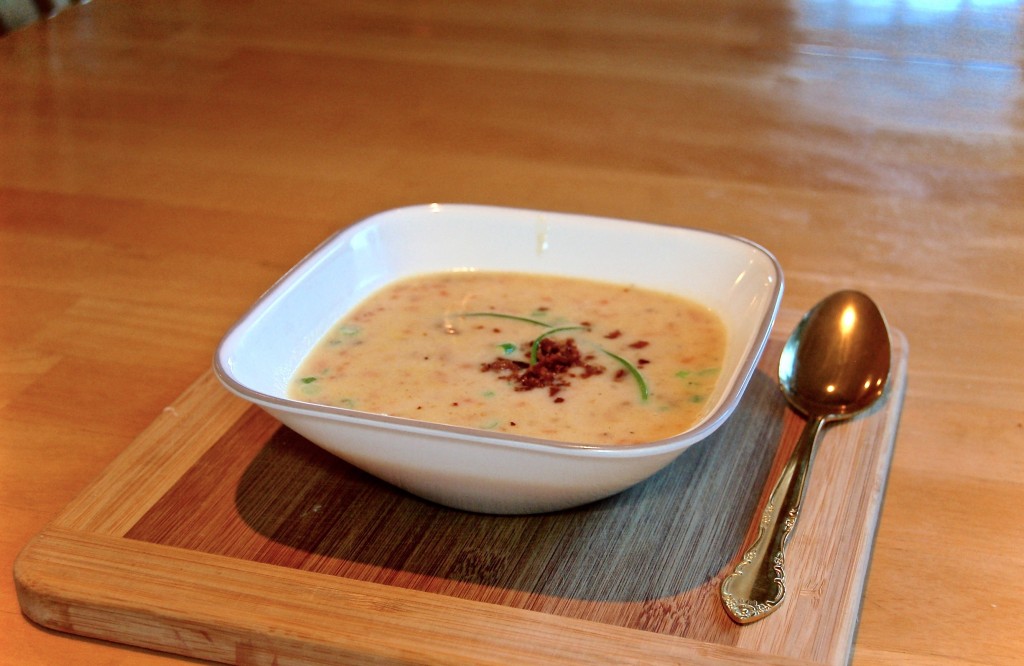 This recipe took me a couple years to perfect, but is my absolute favorite one for a loaded baked potato soup! It's great for lunch, dinner, potlucks, parties, and can really feed a crowd. Try it out for yourself and see how fast it goes.
xoxo,
Yuli
Ingredients
1 16oz package of bacon
1 small or medium onion
2 medium carrots
6-8 medium red or gold potatoes
4 tablespoons all purpose flour
2.5 quarts (10 cups) chicken or vegetable broth
2 cups milk
1 cup sour cream
2 cups shredded sharp cheddar
3-4 chopped green onions
Salt and pepper to taste
Instructions
Cook entire package of bacon in a dutch oven until it is very crispy
Remove bacon (set it aside on a paper towel) and at least half of the grease then add in finely chopped onion and shredded carrots
Cook onion and carrots on medium heat for 3-4 minutes
Add peeled and cubed potatoes, cook for 5 more minutes stirring occasionally
Sprinkle in 4 tablespoons of flour and mix to evenly coat the vegetables
Let it cook for 2-3 minutes then add 2.5 quarts (10 cups) chicken or vegetable broth
Cook with the lid on for 35-40 minutes until potatoes are fork-tender
Use a potato masher or immersion blender to mash up most of the potatoes (but still leave a few chunks)
Add the 2 cups of milk
Whisk in cup of sour cream
Mix in the shredded cheddar and stir until melted
Add chopped green onions
Crush the crispy bacon within the paper towel to create bacon bits and add back into the soup
Taste the soup and season with additional salt and pepper to taste
Serve with crusty bread and additional toppings if desired