Grown up mac and cheese is the best way that I could describe this recipe. It sounds like a childhood classic, but it is so far from the stuff that comes in a little blue box. Here are three secrets to making a gourmet and delicious grown up mac and cheese:
Make your own cheese sauce from scratch
Add bacon
Bake for the perfect cheese topping
My love for smoked gouda cheese and bacon is what led me to start experimenting with this recipe in the first place. Over the years I have perfected it… down to the smallest details like which pasta type to use for maximum cheesiness in each bite. If you've never made your own cheese sauce it's probably because you've been fooled into believing that it's really difficult. It's not! If you follow my recipe and instructions, you'll be a pro at making cheese sauce. But beware…you might start making this ALL the time. It's that good! When you make your own cheese sauce for this grown up mac and cheese you have the flexibility to choose what kind of cheese you use and what flavors you want to have. I love to go to the cheese section at the supermarket and spend time browsing all the different fancy cheeses I could add to this sauce. I've had a lot of fun experimenting with different blends but I prefer to buy the chunk of cheese and shred it myself. You have a lot more options this way than if you were picking from pre-shredded cheeses.
Adding bacon is a no-brainer to me; everyone knows bacon makes everything better! The meatiness it adds to this dish makes it more substantial and filling (and more adult!).
Taking the extra step to top the mac and cheese with parmesan and baking it in the oven creates the perfect crunch and cheesy topping for this mac and cheese. The variety of flavors and textures that it creates really makes this grown up mac and cheese gourmet and tasty!
So go ahead, scroll through and let the pictures make your mouth water. Then go out to the grocery store and buy what you need to make this for dinner tonight!
Inspired by this recipe and looking for something else cheesy and gourmet? Check out our recipe for gourmet crab stuffed mushrooms!

Ingredients For Grown Up Mac And Cheese
For The Smoked Gouda Cheese Sauce:
4 tablespoons salted butter
4 tablespoons all purpose flour
4 cups of whole milk (or 2%)
8 oz. smoked gouda cheese, shredded
8 oz. sharp white cheddar (smoked if you can find it), shredded
8 oz. jack cheese, shredded
1 1/2 teaspoon Worcestershire sauce
1 teaspoon dijon mustard
1/2 teaspoon garlic powder
Salt and pepper to taste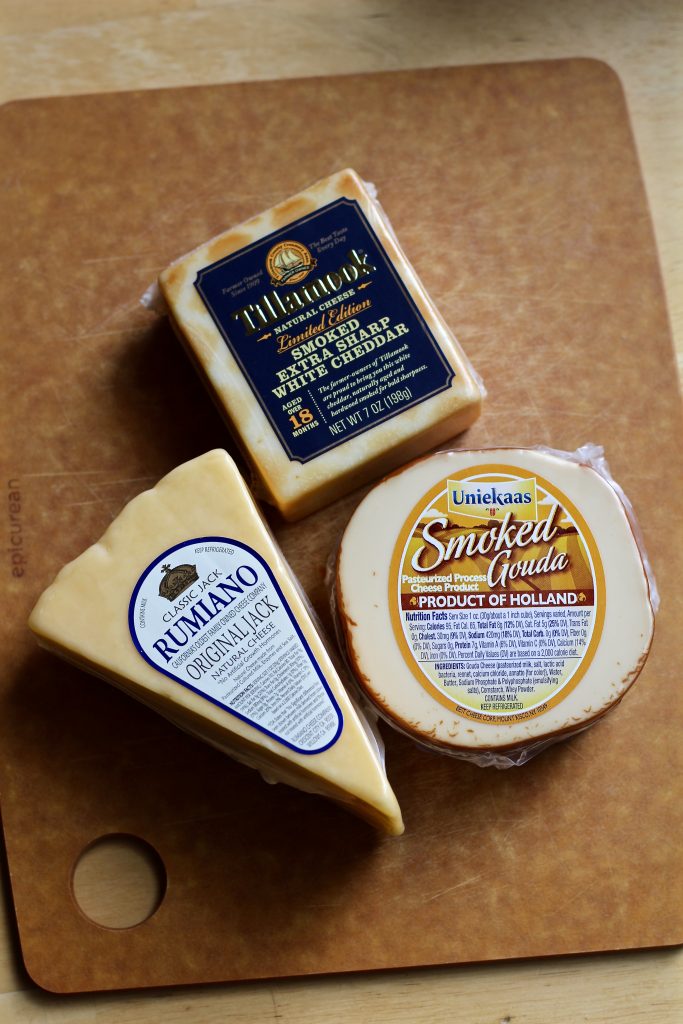 For The Mac & Cheese:
24 oz package of large shell pasta cooked al dente
Full batch of smoked gouda cheese sauce
1 cup cooked bacon crumbles
1 cup shredded parmesan cheese
Paprika to sprinkle on top (to taste)
Directions For Grown Up Mac And Cheese
For The Smoked Gouda Cheese Sauce:
In a large pot, melt the butter on medium heat being careful not to let it brown.
Whisk in flour to make a blonde roux (cook for about 4 minutes whisking regularly until color is golden/blonde).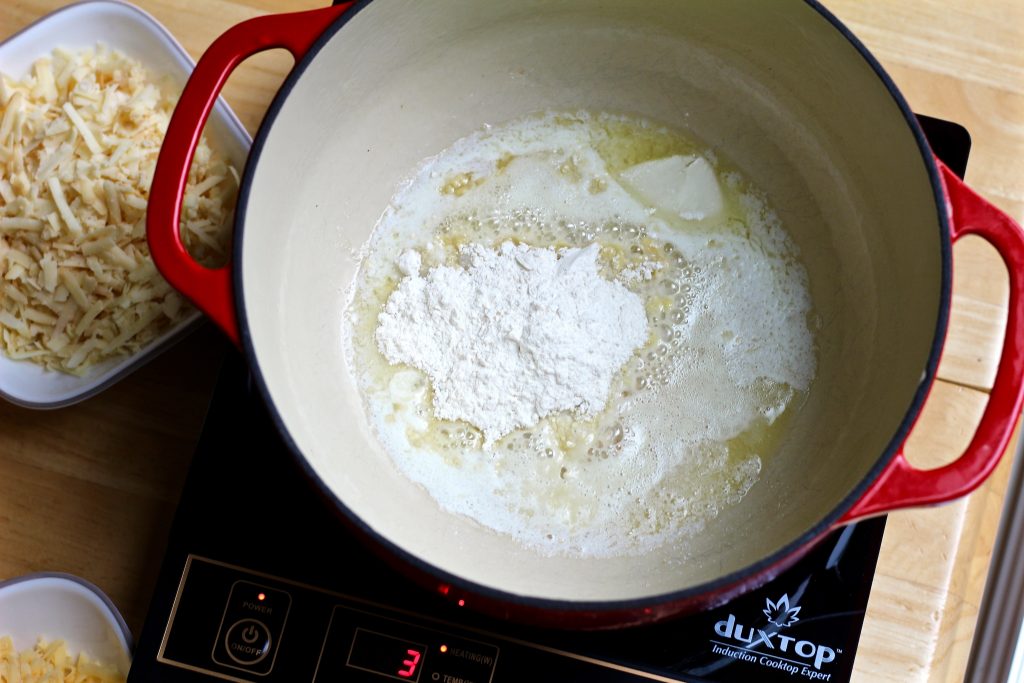 Whisk in 4 cups of whole milk. You can also use 2% milk, but I like the creaminess you get from using full fat milk.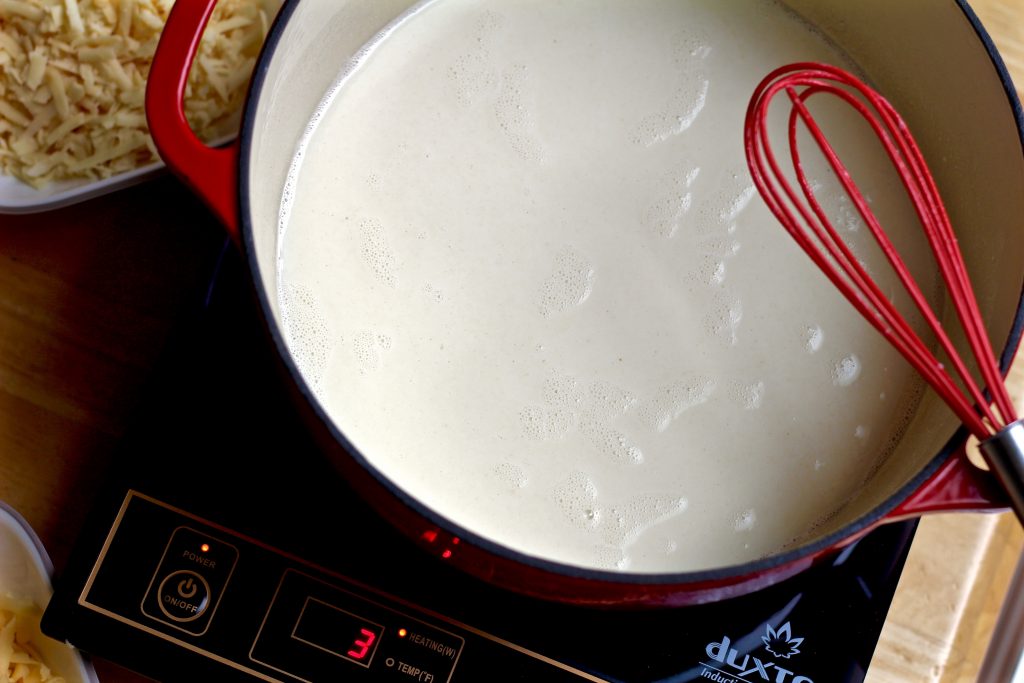 Whisk the mixture intermittently until milk is hot but not quite boiling yet.
Add in shredded cheeses in 1/2 cup batches, whisking until each batch is melted in. This cheese sauce is the secret to making this a gourmet grown up mac and cheese. I love experimenting with different cheeses but I always include smoked gouda, some kind of sharp cheddar, and a really creamy cheese like the jack cheese I used this time. If you love the smoky flavor from the gouda, try to find a smoked white cheddar for this sauce; it makes the smoky flavor pop even more and goes amazingly with the bacon.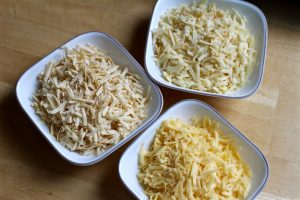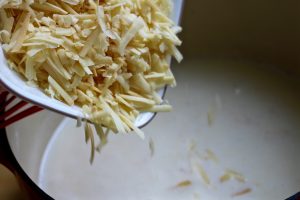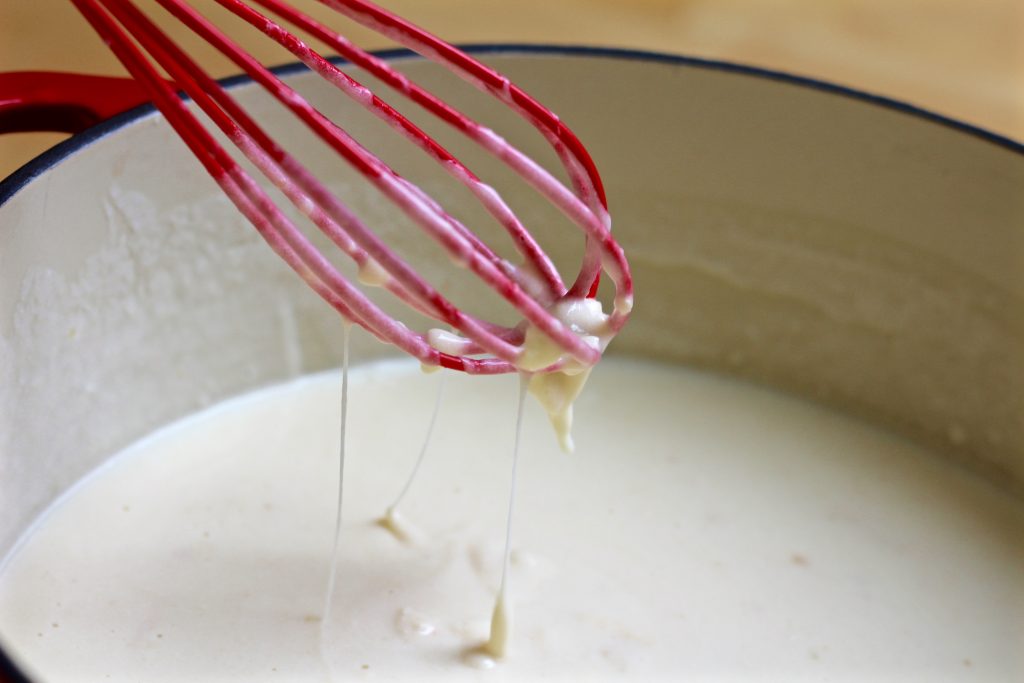 Optional: reserve about 1/2 cup of the cheese mixture for the topping.
Whisk in Worcestershire sauce, dijon mustard, and garlic powder. The worcestershire sauce and mustard help balance the flavors by adding some acidity.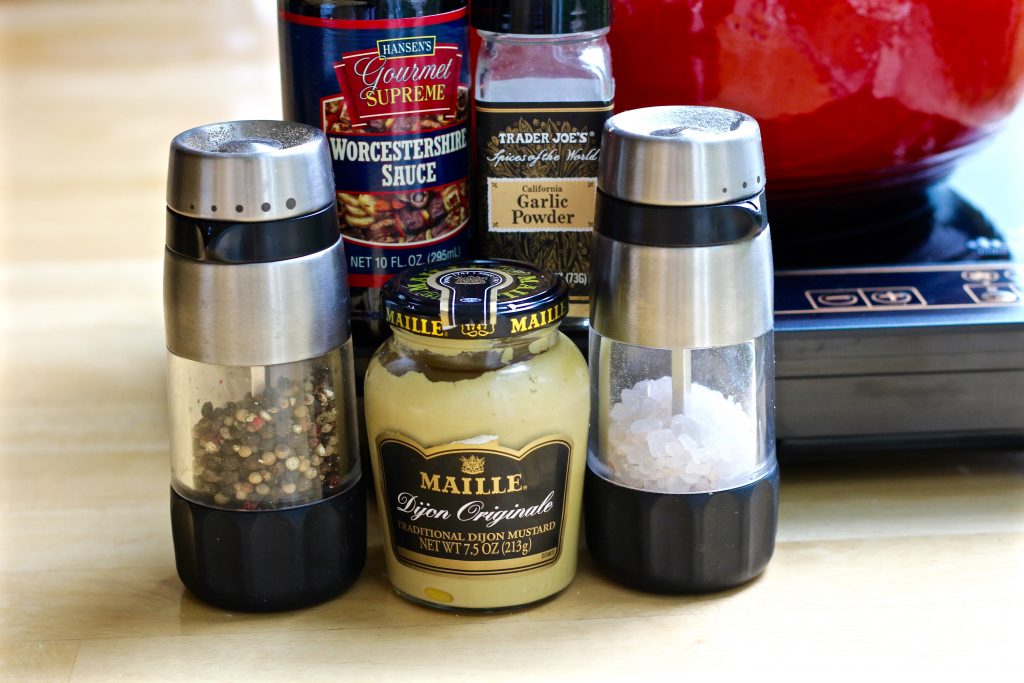 Season with a little bit of salt and fresh cracked pepper, taste the sauce and add more if needed. (I like a lot of black pepper in my cheese sauce.)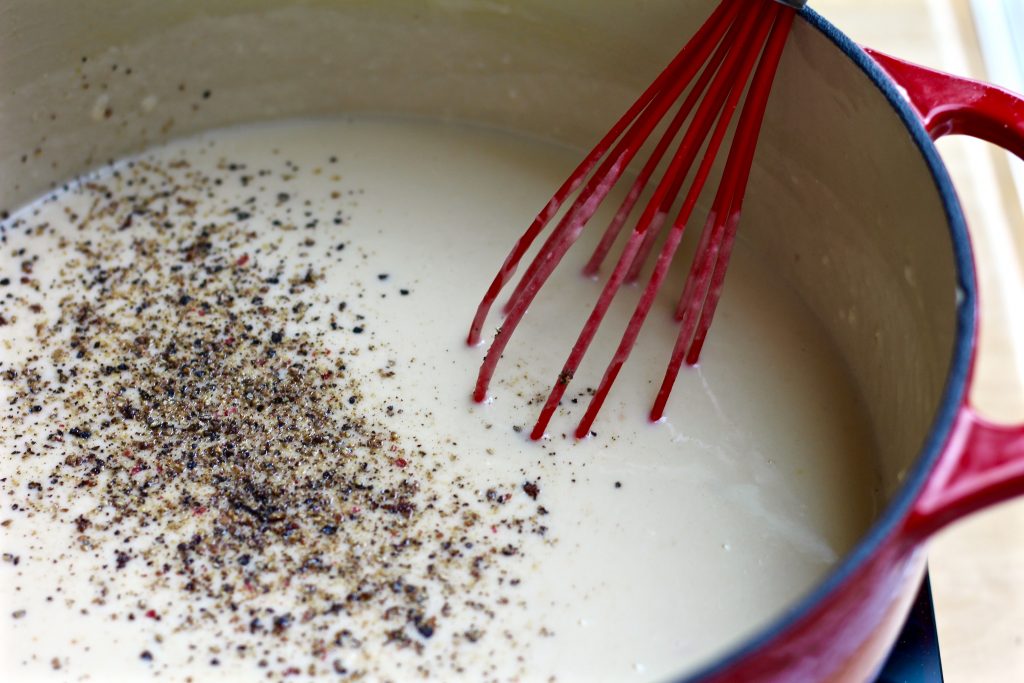 For The Mac & Cheese:
Preheat oven to 375°.
Cook the large shell pasta in boiling, salted water for about 8 minutes until it's al dente (a little firm in the center still). It will continue to absorb some of the milk in the cheese sauce and get more tender and you don't want it to get limp and soggy by overcooking. Large shells are my favorite pasta to use for this grown up mac and cheese because the shells fill up with the cheese sauce so every bite is super creamy and flavorful!
Drain and transfer to an extra large oven safe glass casserole dish (you may want to split this between two dishes if you don't have a really big one). This is a large batch, so if you don't have a crowd to feed, this grown up mac and cheese is great for freezing (or simply cut the recipe in half!). For freezing–just split it between two glass casserole dishes, mix with the sauce and topping, cover tightly with plastic wrap and freeze.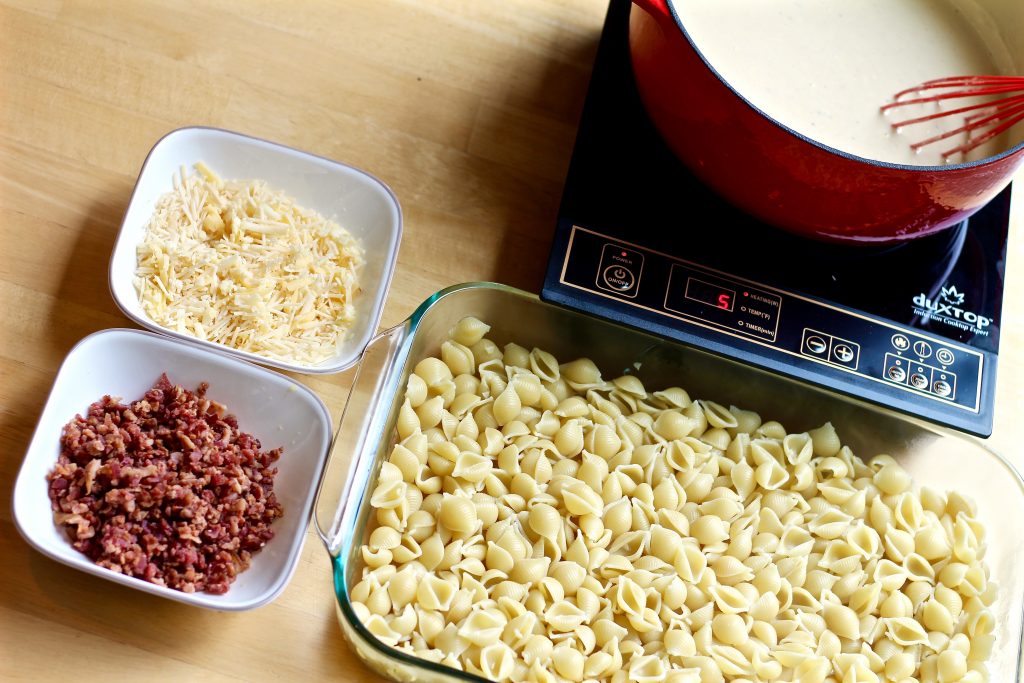 Add the smoked gouda cheese sauce to the dish and mix.
Add in the crumbled bacon and mix.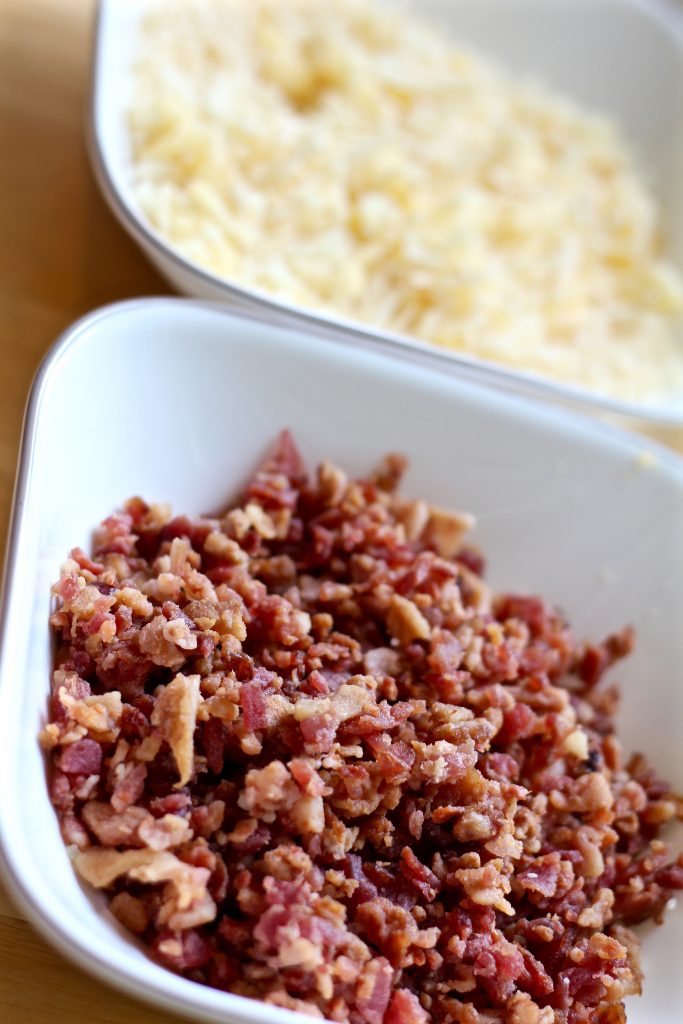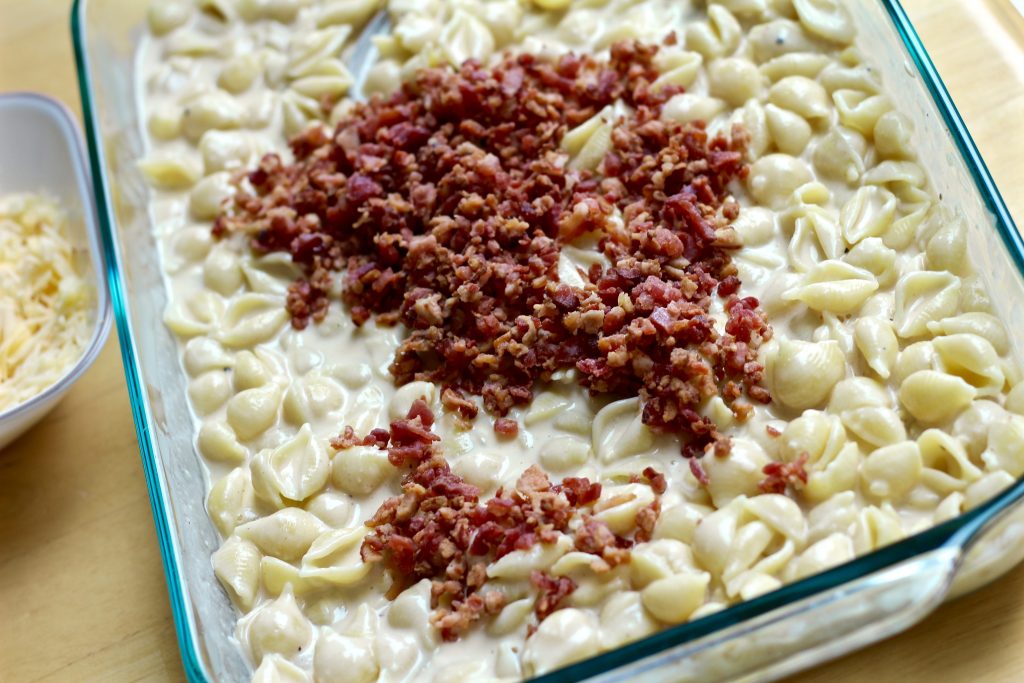 Top with remaining shredded cheese mixed with 1 cup of parmesan cheese.
Sprinkle paprika to taste on top of the parmesan cheese topping.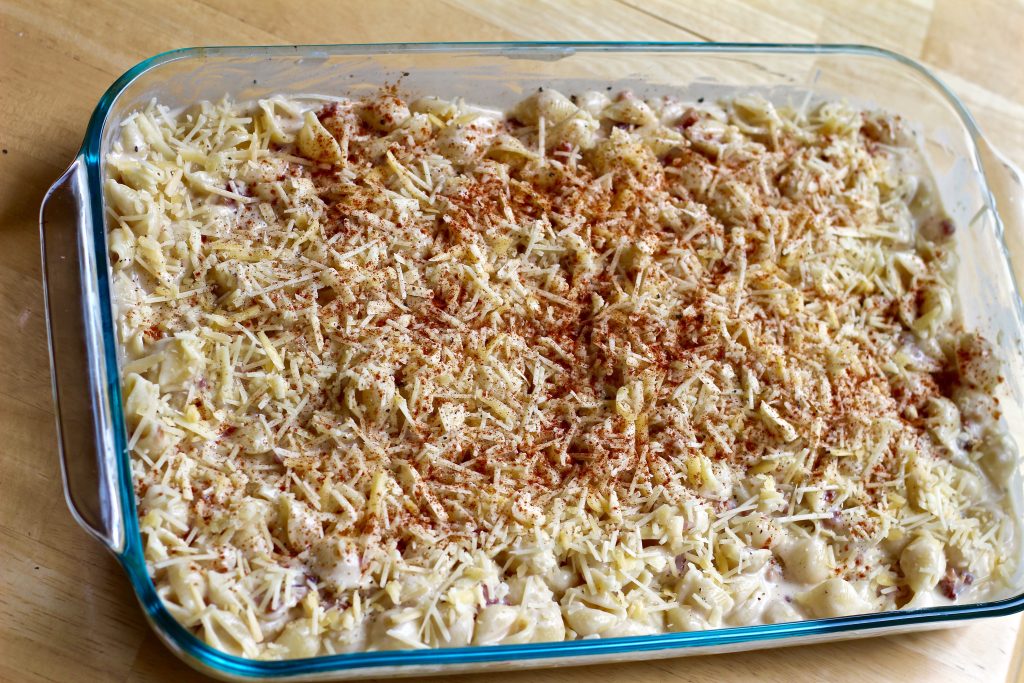 Bake uncovered for just 10 minutes until cheese topping is melted. If you leave it in too much longer the pasta will absorb too much of the moisture and the dish won't be as creamy and saucy. This is also a great recipe to make ahead of time. Cover and store in the refrigerator then bake when needed for an additional 10 minutes so that it is fully melted and reheated before serving.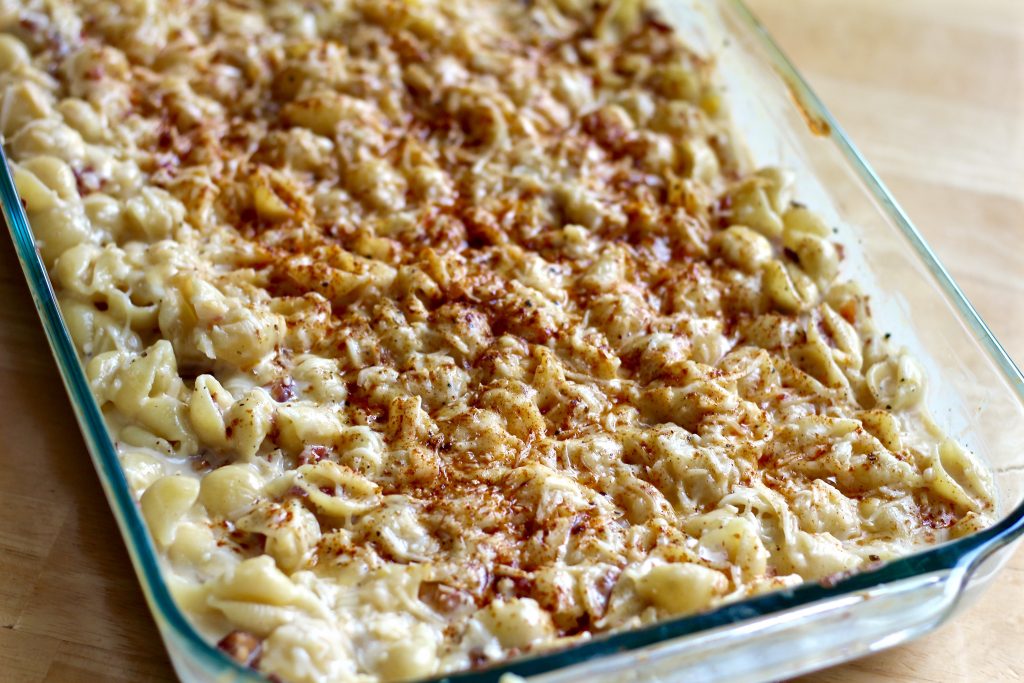 I love to serve this grown up mac and cheese with a side of steamed veggies like broccoli or a fresh green salad. To reheat leftovers just add a few teaspoons of milk before microwaving and you'll have that same creamy, saucy flavor!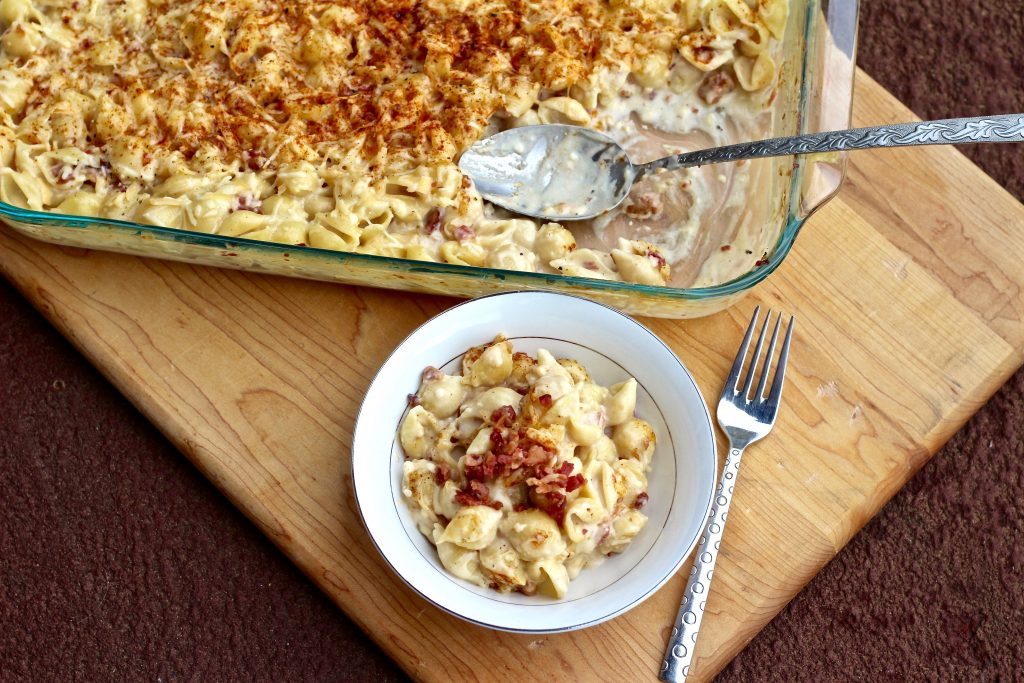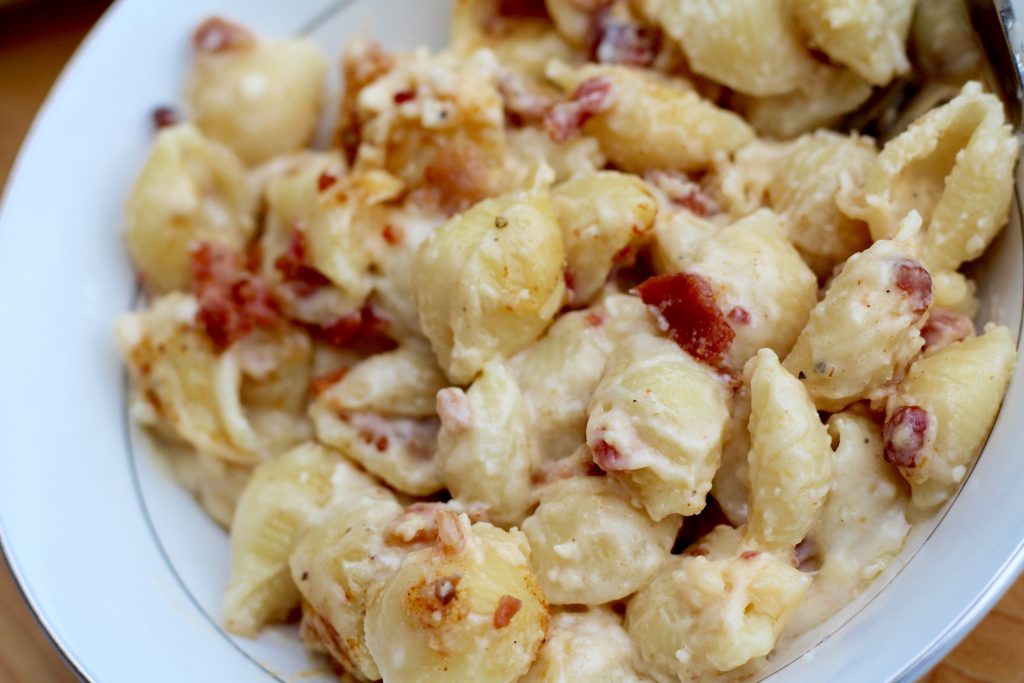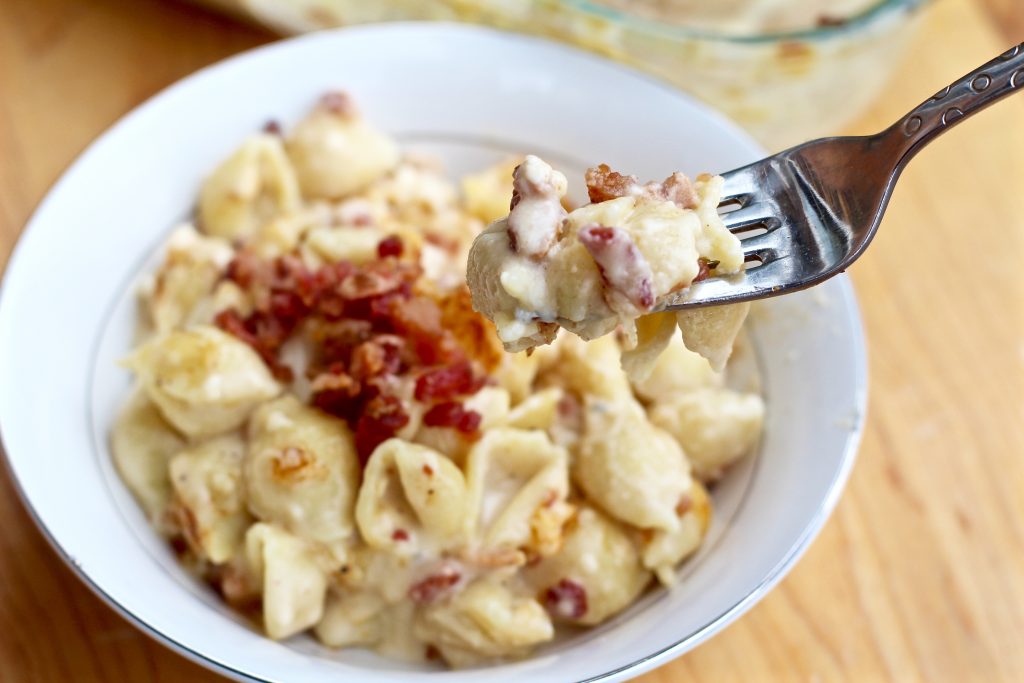 xoxo,
Yuli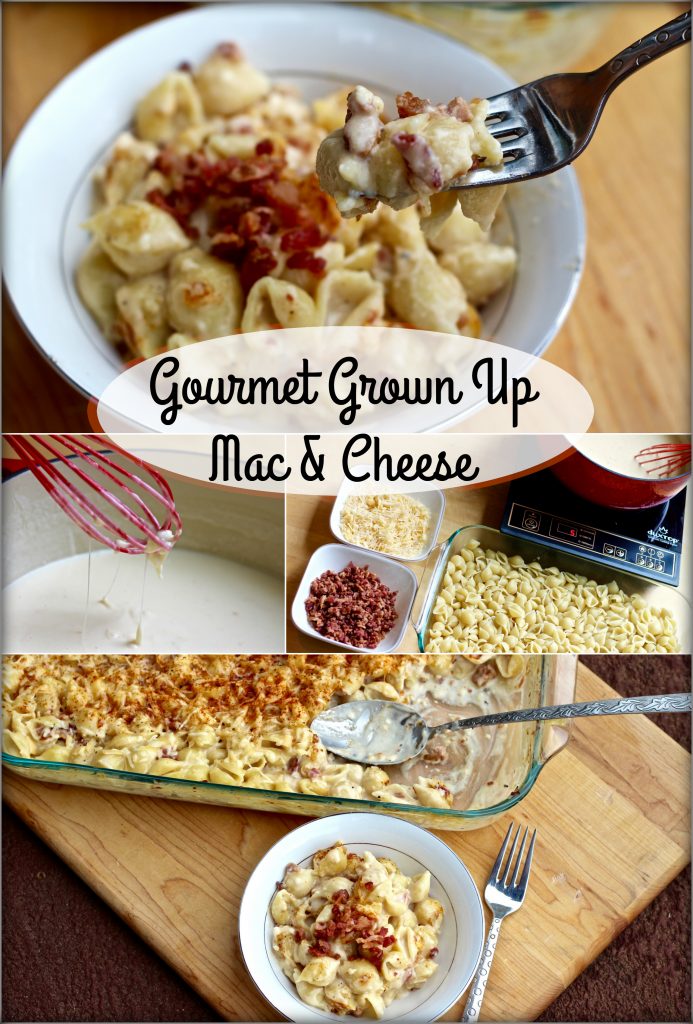 Grown Up Mac And Cheese With Smoked Gouda And Bacon

Ingredients
For The Smoked Gouda Cheese Sauce
4 tablespoons salted butter
4 tablespoons all purpose flour
4 cups of whole milk (or 2%)
8 oz. smoked gouda cheese, shredded
8 oz. sharp white cheddar (smoked if you can find it), shredded
8 oz. jack cheese, shredded
1 1/2 teaspoon Worcestershire sauce
1 teaspoon dijon mustard
1/2 teaspoon garlic powder
Salt and pepper to taste
For The Mac & Cheese
24 oz package of large shell pasta cooked al dente
Full batch of smoked gouda cheese sauce
1 cup cooked bacon crumbles
1 cup shredded parmesan cheese
Paprika to sprinkle on top (to taste)
Instructions
For The Smoked Gouda Cheese Sauce
In a large pot, melt the butter on medium heat being careful not to let it brown
Whisk in flour to make blonde roux (cook for about 4 minutes whisking regularly until color is golden/blonde)
Whisk in 4 cups of milk
Whisk intermittently until milk is hot but not quite boiling yet
Add in shredded cheeses 1/2 cup batches, whisking until each batch is melted in
Optional: reserve about 1/2 cup of the cheese mixture for the topping
Whisk in Worcestershire sauce, dijon mustard, and garlic powder
Season with a little bit of salt and fresh cracked pepper, taste the sauce and add more if needed
For The Mac & Cheese
Preheat oven to 375°
Cook the large shell pasta in boiling, salted water for about 8 minutes until it's al dente (a little firm in the center still)
Drain and transfer to an extra large oven safe glass casserole dish (you may want to split this between two dishes if you don't have a really big one)
Add the smoke gouda cheese sauce to the dish and mix
Add in the crumbled bacon and mix
Top with remaining cheese mixed with 1 cup of parmesan cheese
Sprinkle paprika to taste on top of the parmesan cheese topping
Bake uncovered for just 10 minutes until cheese topping is melted
*If making ahead, cover and store in the refrigerator and bake for an additional 5-7 minutes so that it is fully reheated before serving