These chicken salad croissants are hands down my favorite way to enjoy chicken salad. There are tons of different recipes out there for chicken salad but this one combines my favorite flavors and ingredients and is still really easy and quick to put together. You don't have to worry about having ten different things to mix in, just the basics; chicken, mayo, green onion, grapes, and celery. The crunch from the celery is perfect without being too overpowering and the juicy grapes add just the right touch of sweetness. Then of course, who doesn't love flaky, buttery croissants?!
These chicken salad croissants only take 10 minutes from start to finish and require no heat, so you can stay cool in the kitchen on hot days like today. Just make a plate of these and head outside for a picnic lunch/dinner!
Ingredients For Chicken Salad Croissants
2 12.5 oz. cans chicken breast
2-3 stalks of celery
3-4 green onions
1 cup grapes, sliced in half
1/2 cup mayonnaise
1 dozen mini croissants
black pepper to taste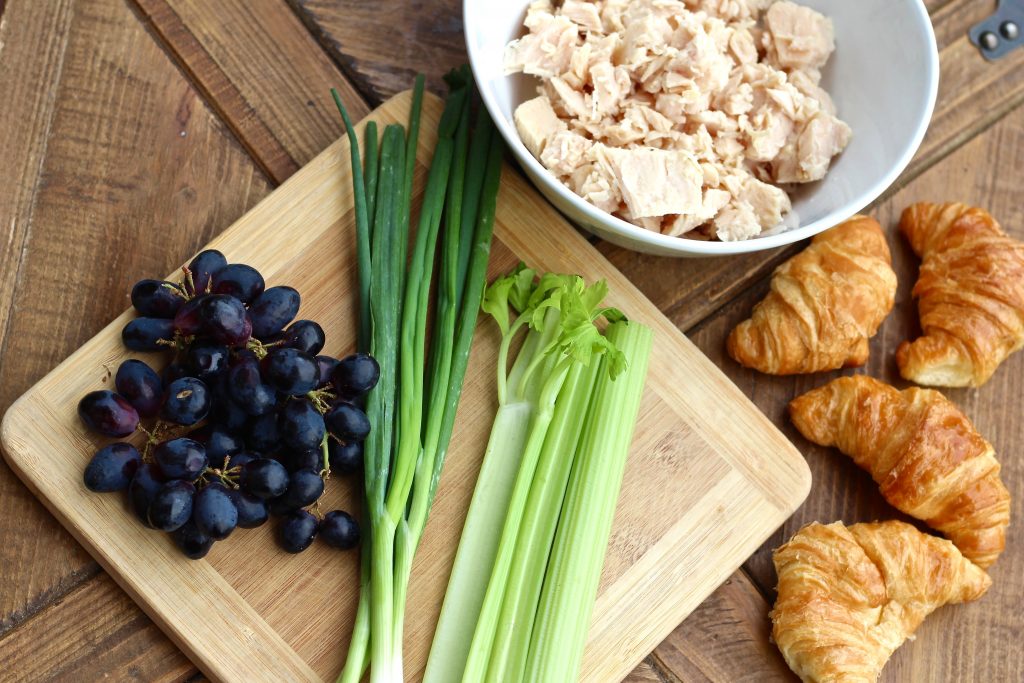 Directions For Chicken Salad Croissants
Drain the canned chicken breast and empty into a mixing bowl. This was the first recipe that I ever tried using canned chicken for. I used to be weirded out by it, but now I pretty much can't live without it. So tender, delicious, and EASY! So if you haven't tried it, you absolutely have to! (And while you're at it, try these other recipes that use canned chicken: lemon chicken quinoa soup & cheesy buffalo chicken dip.) My favorite is this one from Costco: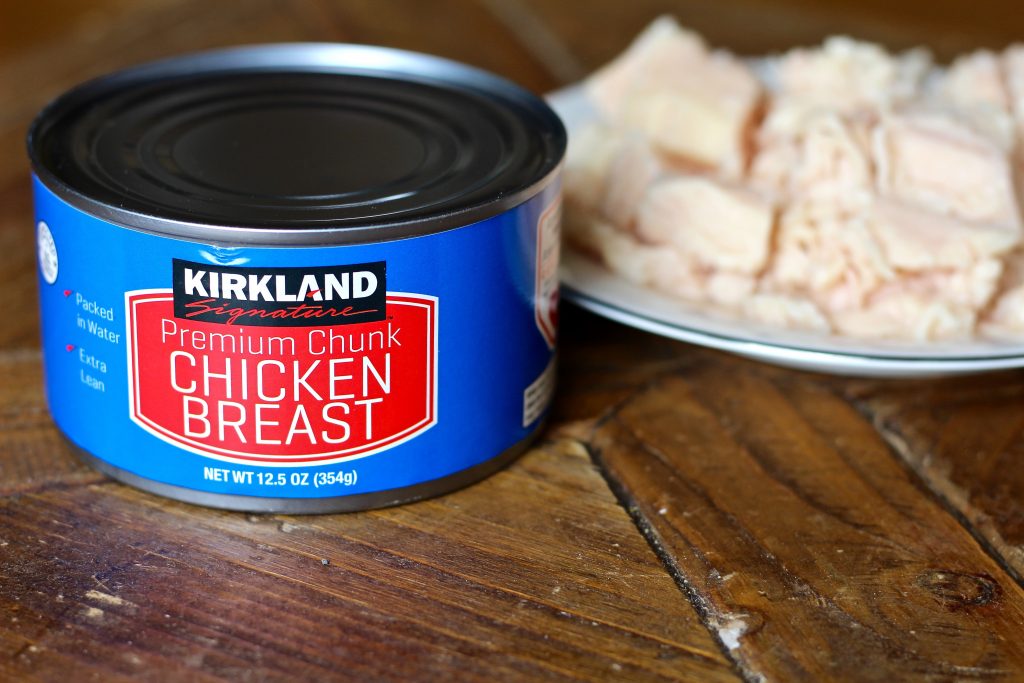 Dice celery, slice green onions and grapes, and add to the bowl. Dice the celery very finely to avoid getting big chunks in one bite and overpowering the other flavors. You can also use green grapes for this recipe but I love the color contrast that the black and red grapes add.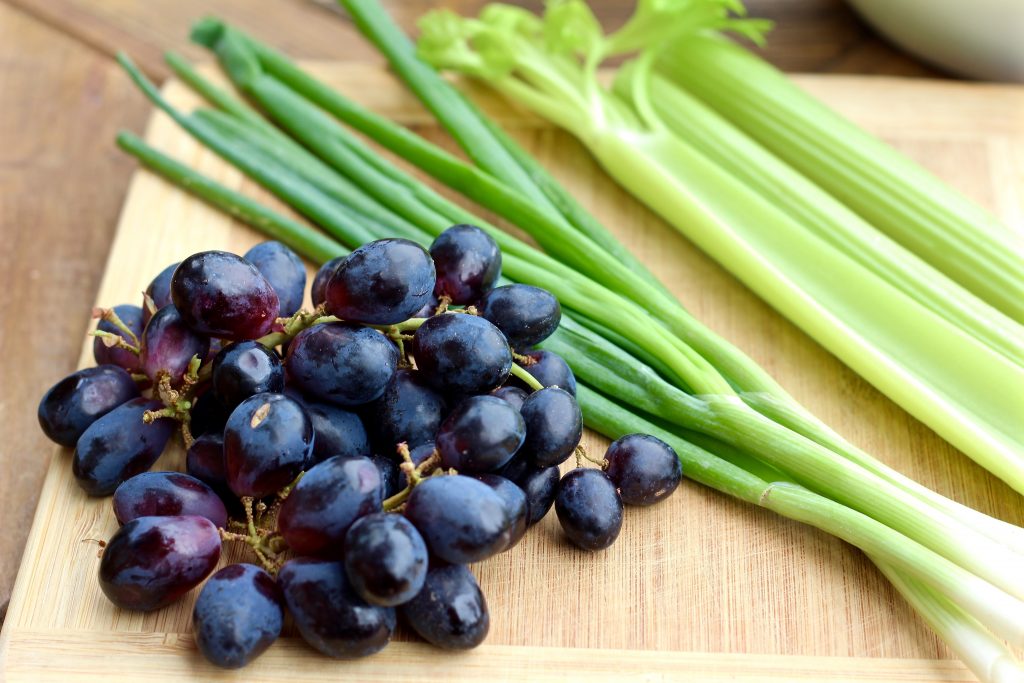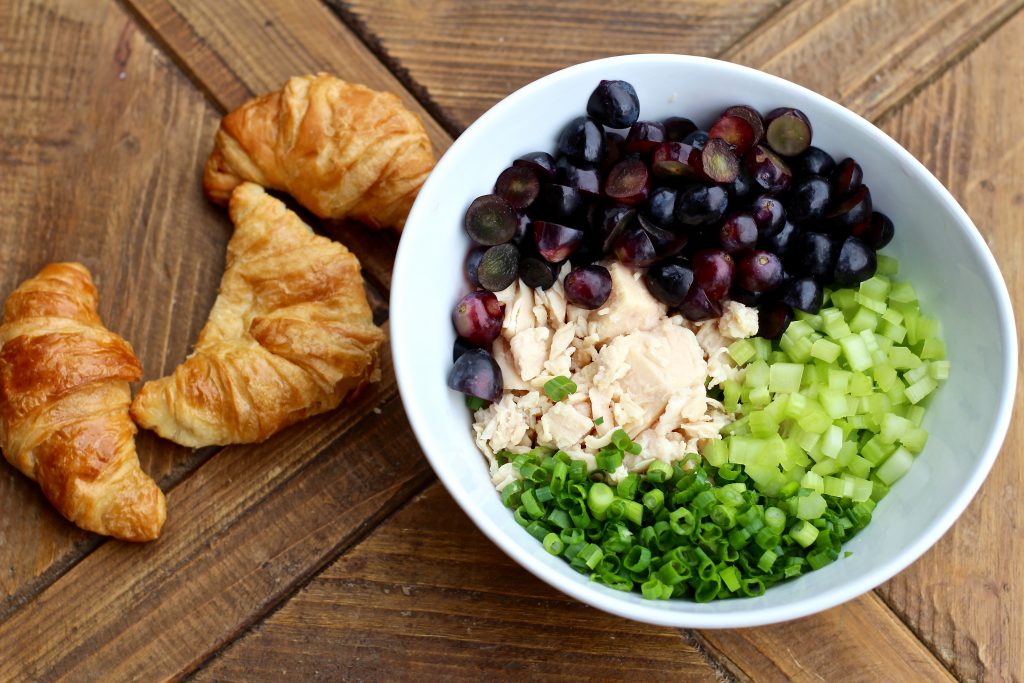 Mix everything together with 1/2 cup of mayonnaise.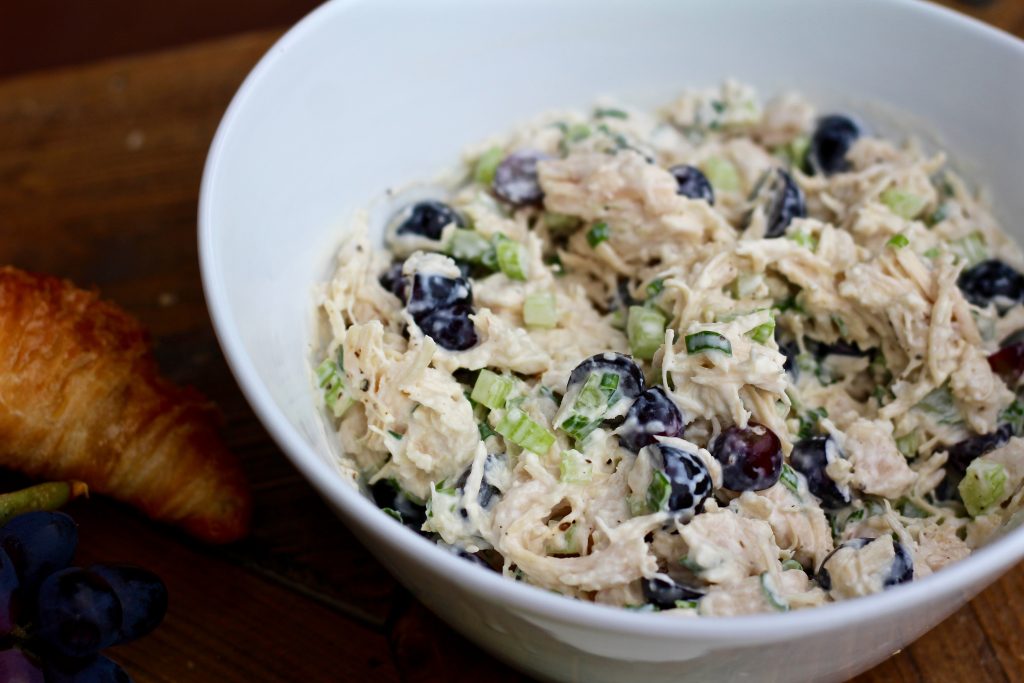 Season the chicken salad with a little bit of fresh ground black pepper.
Slice mini croissants in half and spoon a generous portion of chicken salad in each one.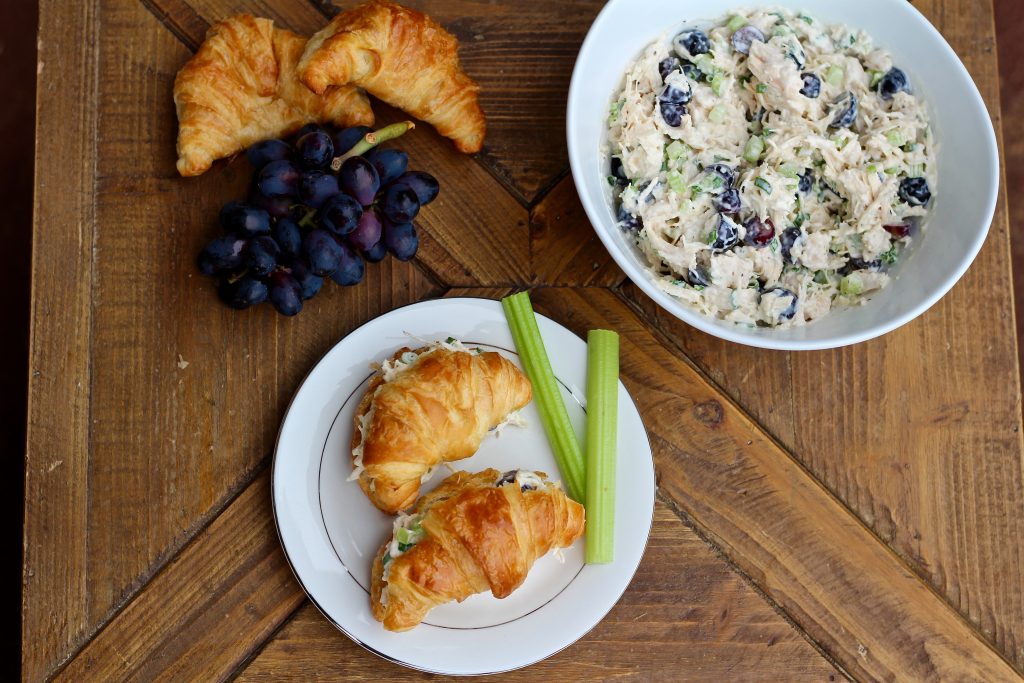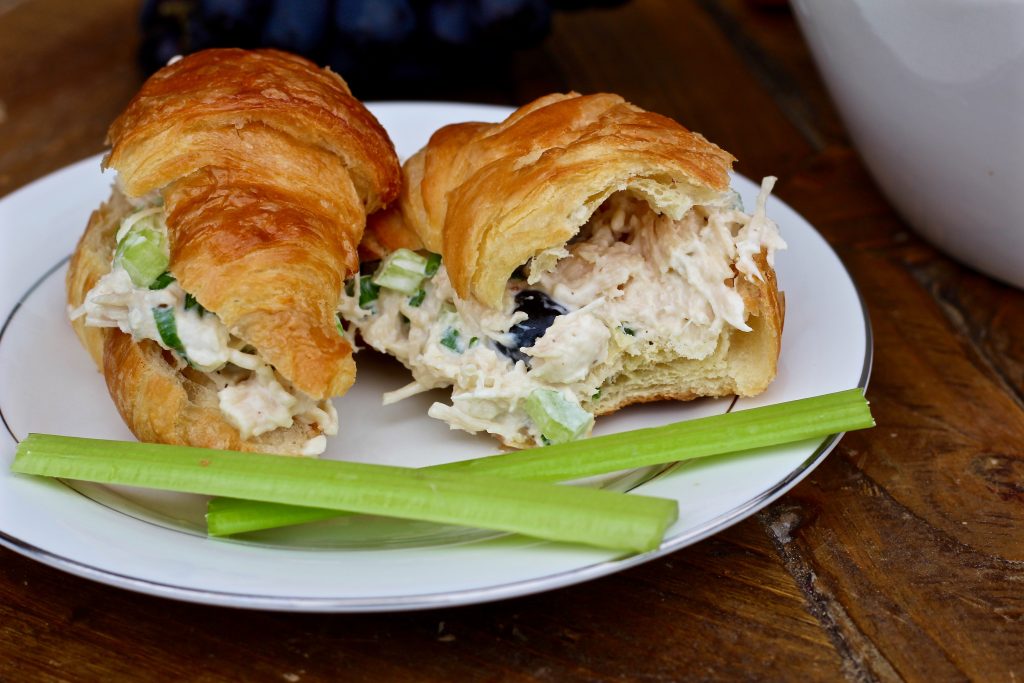 Serve with additional celery sticks and grapes to snack on. You can cover and refrigerate any chicken salad you don't use up, just make sure you enjoy it within the next few days! This is a perfect lunch or appetizer to enjoy on a hot day or make ahead and serve these at a tea party or baby shower.
xoxo,
Yuli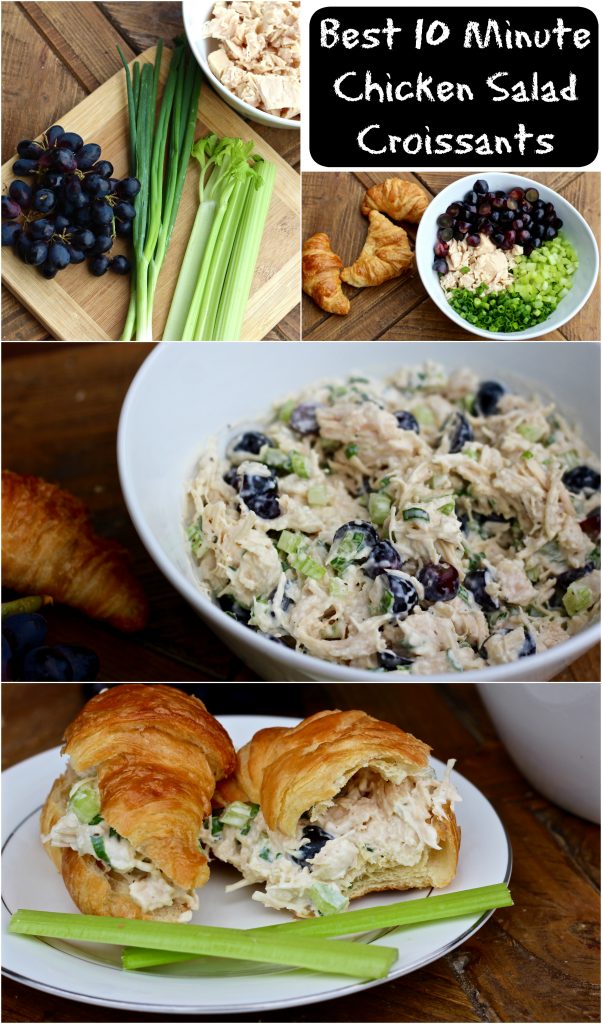 The Best 10 Minute Chicken Salad Croissants

Ingredients
2 12.5 oz. cans chicken breast
2-3 stalks of celery
3-4 green onions
1 cup grapes sliced in half
1/2 cup mayonnaise
1 dozen mini croissants
black pepper to taste
Instructions
Drain canned chicken breast and empty into mixing bowl
Dice celery, slice green onions and grapes, and add to bowl
Mix everything together with 1/2 cup mayonnaise
Season with a little bit of black pepper
Slice mini croissants in half and spoon a generous portion of chicken salad in
Serve with additional celery sticks and grapes to snack on