This fresh cucumber radish egg salad is a very nostalgic dish for me. I grew up calling it "spring salad" or "весенний салат" (in Russian). You know that special feeling when your mom made you your favorite dish? It was one of my favorites growing up and that's probably what makes it so nostalgic. I loved it because it was fresh, creamy, and had hardboiled eggs in it (my childhood favorite). But also, because it meant spring was here.
The cucumber and radishes are crunchy and refreshing– perfectly paired with the creaminess of the egg yolks and sour cream. Every time I make this fresh cucumber radish egg salad, I think of my childhood in Ukraine. I think of my mom in our small kitchen with the open window letting in the warm spring breeze, chopping up veggies and letting me have some small radishes to crunch on. I also think of my grandma who was the one that taught me how to peel hardboiled eggs. With every bite of this salad I taste a bit of home, a little bit of spring, and an irresistibly fresh crunch and creaminess.

Ingredients For Fresh Cucumber Radish Egg Salad
1 large English cucumber
2 small bunches of radishes
3-4 green onions
4-5 hardboiled eggs
1 cup of sour cream (or Greek yogurt)
salt and pepper to taste
Optional: 1 teaspoon fresh chopped dill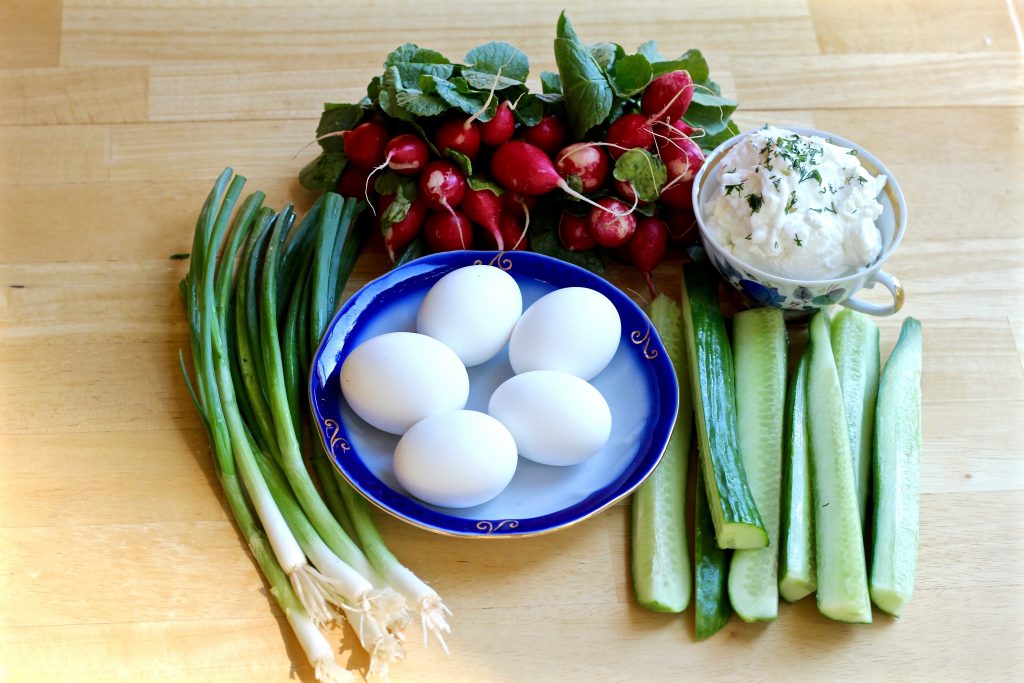 Directions For Fresh Cucumber Radish Egg Salad
Quarter then slice the cucumber.
Detach radishes from green stems and rinse thoroughly, then slice thinly. Radishes are root vegetables so they have a good amount of dirt on them and the best way to wash it off is to remove the greens first. If you haven't tried radishes before, this is a great time to do so! They are crunchy and a little bit peppery and go perfectly in this salad.
Thinly slice green onions. If you like a stronger onion flavor, use the white part of the onion too. If not, chop just the greens. 
Peel and dice the hardboiled eggs.
4 Steps To Make Perfect Hardboiled Eggs:
place eggs in a pot and fill with tap water so all eggs are covered
place on the stove on medium-high heat and bring to a boil
when water is at a rolling boil, turn off the heat and set them aside for 6 minutes
dump out the hot water and fill the pot with ice cold water and let stand for about ten minutes
Combine all ingredients in a bowl and mix with sour cream or Greek yogurt. I like to use fat free Greek yogurt to make this a lighter recipe, but full fat sour cream or Greek yogurt is delicious of course.
Sprinkle in fresh chopped dill, season with salt and pepper to taste, and adjust seasoning. I like quite a bit of salt in this to bring out all the flavors. Keep adding salt, stirring, and tasting until you get the perfect balance of flavors.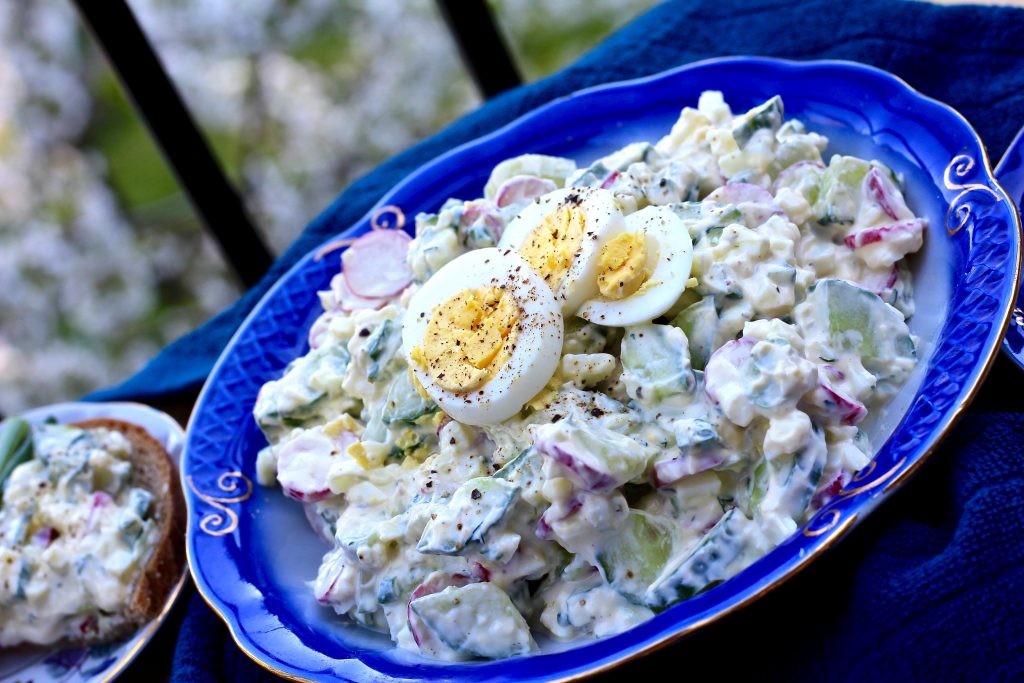 Serve this fresh cucumber radish egg salad as a side dish or use it to make sandwiches. My favorite way to eat this salad is on toasted rye "Russian" bread. It's refreshing and light, but also filling and has a great amount of protein from the eggs. I also love it as a side for this quick and easy 4 ingredient dinner.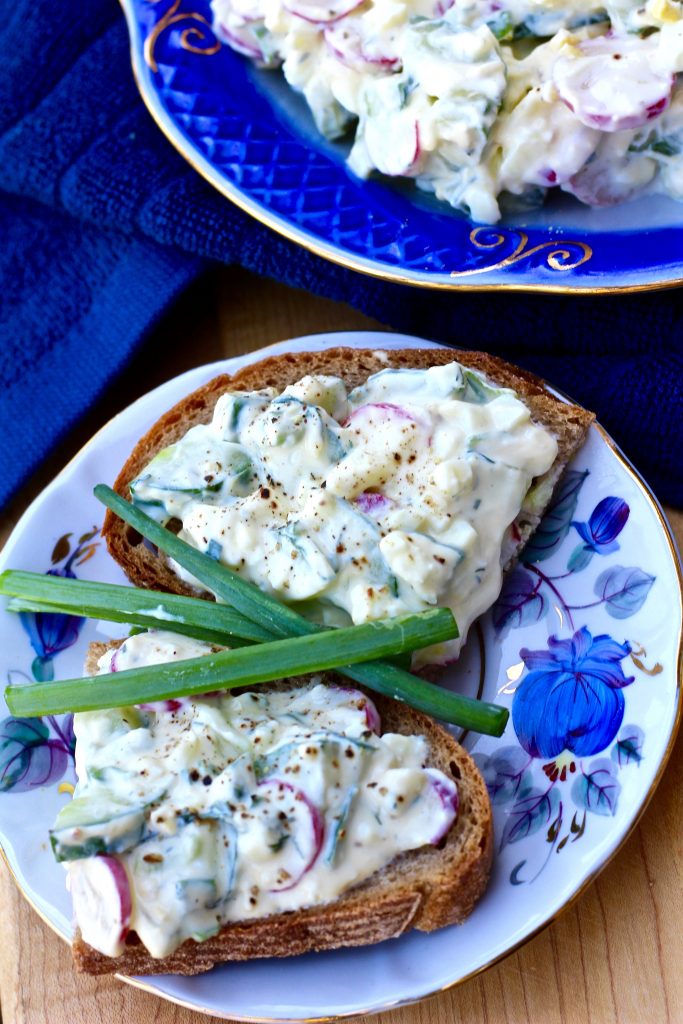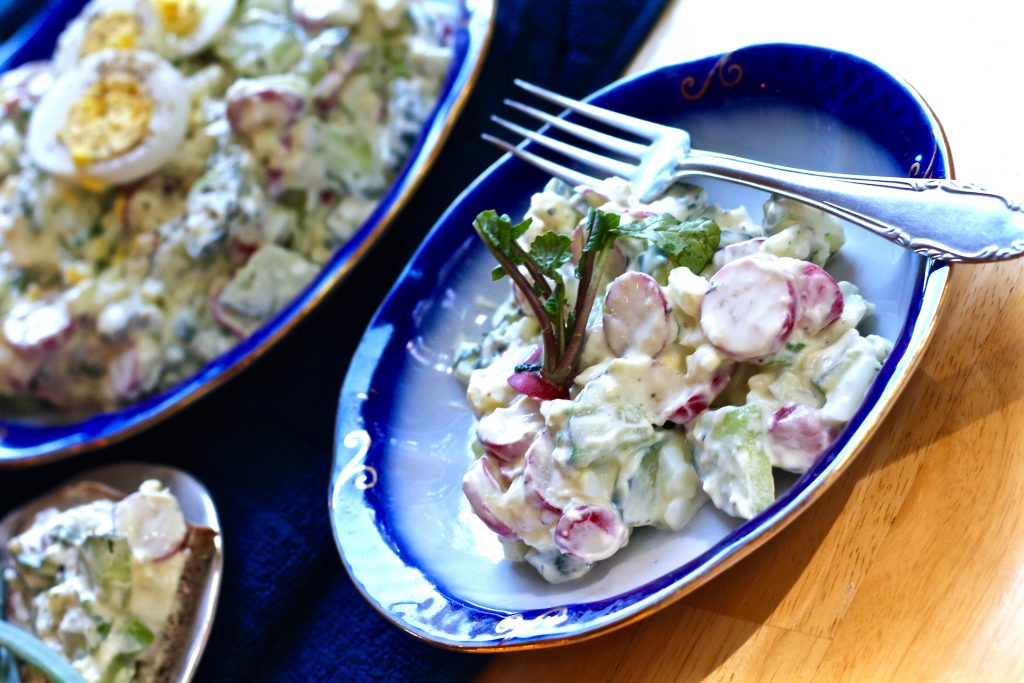 What was your favorite springtime dish as a child? Do you still make it yourself? I'd love to try it, so leave me a comment!
xoxo,
Yuli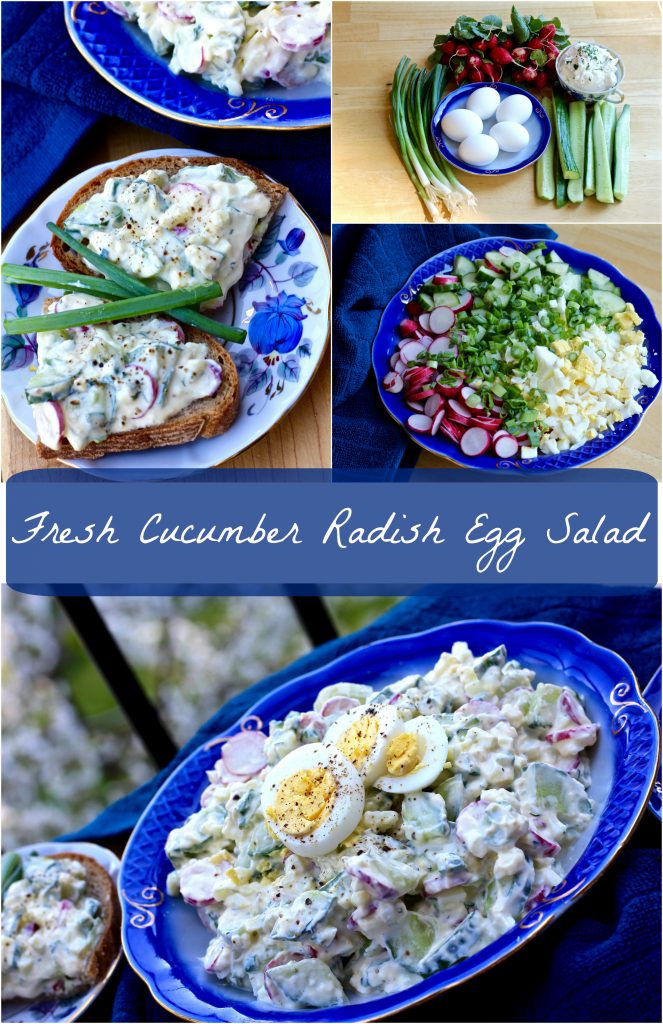 Light And Fresh Cucumber Radish Egg Salad

Ingredients
1 large English cucumber
2 small bunches of radishes
3-4 green onions
4-5 hardboiled eggs
1 cup of sour cream (or Greek yogurt)
salt and pepper to taste
Optional: 1 teaspoon fresh chopped dill
Instructions
Quarter then slice the cucumber
Detach radishes from green stems and rinse thoroughly, then slice thinly
Thinly slice green onions
Peel and dice the hardboiled eggs
Combine all ingredients in a bowl and mix with sour cream or Greek yogurt
Sprinkle in fresh chopped dill, season with salt and pepper, taste, and adjust seasoning
Serve as a side dish or use to make sandwiches