I first made these baked rosemary chicken tenders a few months ago when I was trying to use up the ingredients in my pantry and fridge. They turned out to be a hit with my family and have become my favorite way to use chicken tenders. The tenders are (as you may have guessed from the name) the most tender part of the chicken breast. They are also very easy to work with because there is hardly any fat to trim off, so if you're not a fan of handling raw meat, they are perfect for you! Using fresh rosemary gives these an extra pop of flavor and unique taste that is perfect for dipping in ranch. And you won't feel guilty about dipping these in ranch because they are baked rosemary chicken tenders! Not only does that make them more health conscious, but a whole lot easier to cook than frying! I absolutely love using my oven to cook meat; the strategic use of parchment paper makes for quick clean up and it hardly feels like I put any work in. Plus, you can cook them all at once this way rather than frying in batches. Try these baked rosemary chicken tenders for lunch or dinner served with a side salad and these amazing rosemary roasted potatoes to compliment the flavors!
Ingredients For Baked Rosemary Chicken Tenders:
3 pounds chicken tenders
1/2 cup flour
1 tablespoon salt
2 teaspoons ground black pepper
1 teaspoon garlic powder
1-2 tablespoons fresh chopped rosemary
1 cup Italian breadcrumbs
2 eggs
1/2 cup Greek yogurt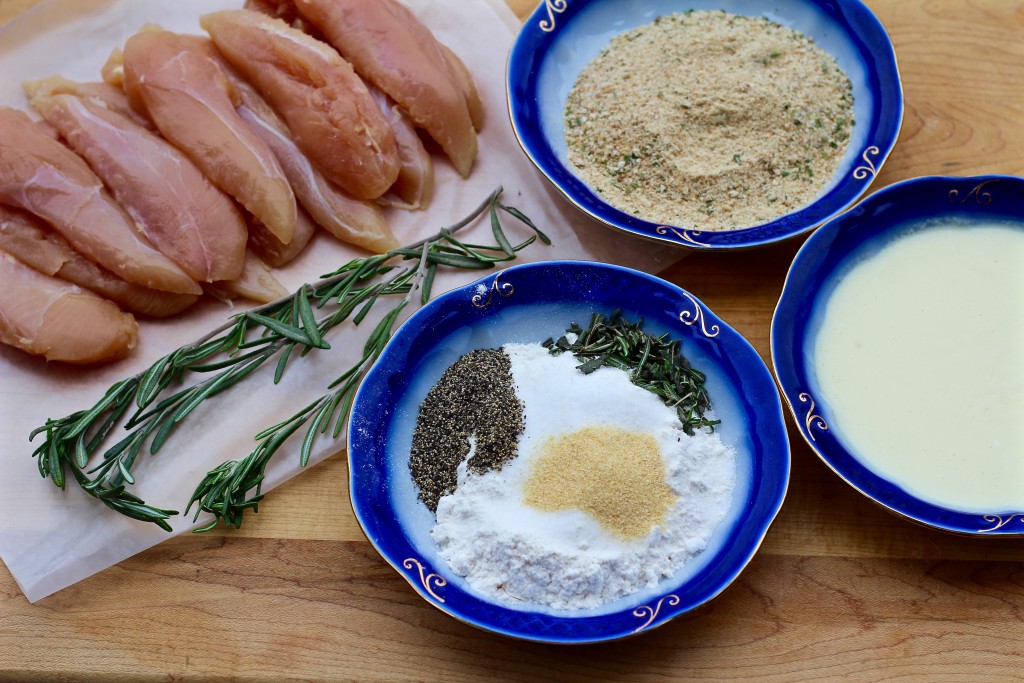 Directions For Baked Rosemary Chicken Tenders:
Preheat oven to 425°.
Trim the tendon and any fat from chicken tenderloins, there usually isn't any so this only takes a couple minutes. You can use a sharp knife of kitchen shears to get the job done. 
Pat dry the chicken tenders.
Next you're going to set up your batter "station" as I like to call it. You will need 3 medium/small bowls for this.
In the first bowl, mix 1/2 cup flour, salt, pepper, garlic powder, and fresh rosemary.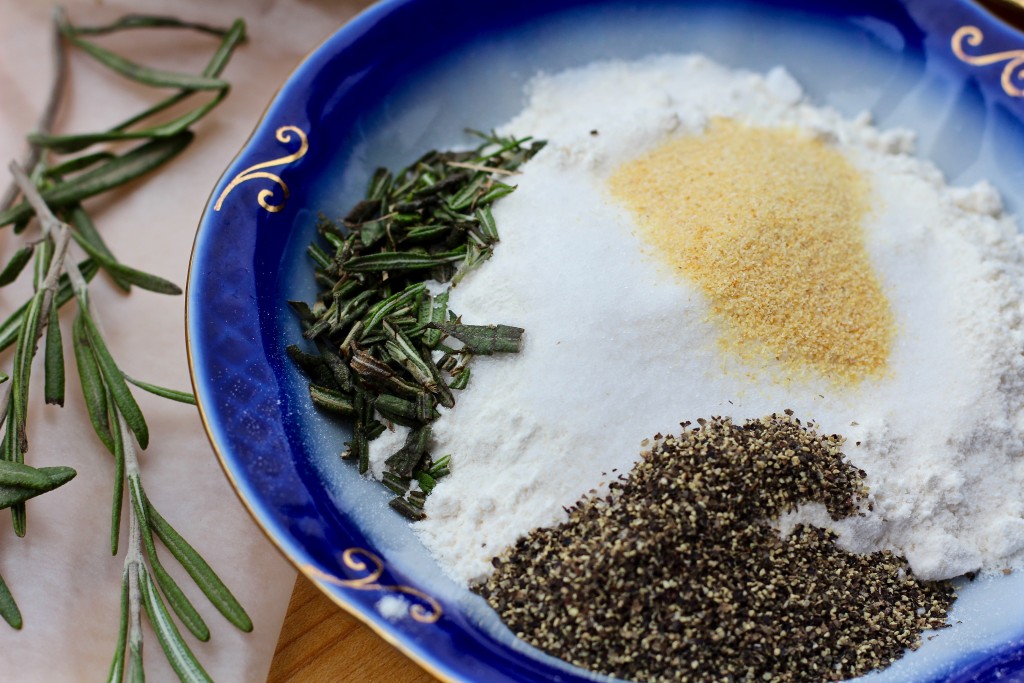 Whisk together eggs and Greek yogurt in second bowl.
Place Italian breadcrumbs in the third bowl.
Prepare your parchment-lined cookie sheet so you have a place to set the battered chicken tenders on. There is no need for any oil when using parchment paper. Seriously, I don't even know what I did before I discovered the magic of parchment paper!
Dip a chicken tender in flour, then egg/yogurt mixture, flour AGAIN, egg/yogurt mixture AGAIN, and finish with dipping in the Italian breadcrumbs. This way you will have a good amount of the seasoning (especially the larger pieces of rosemary) sticking to the meat and a nice, thick layer of crunchy batter.
Repeat with all chicken tenders.
Spread evenly on parchment-lined cookie sheet. Sprinkle some fresh rosemary on top for a stronger rosemary flavor.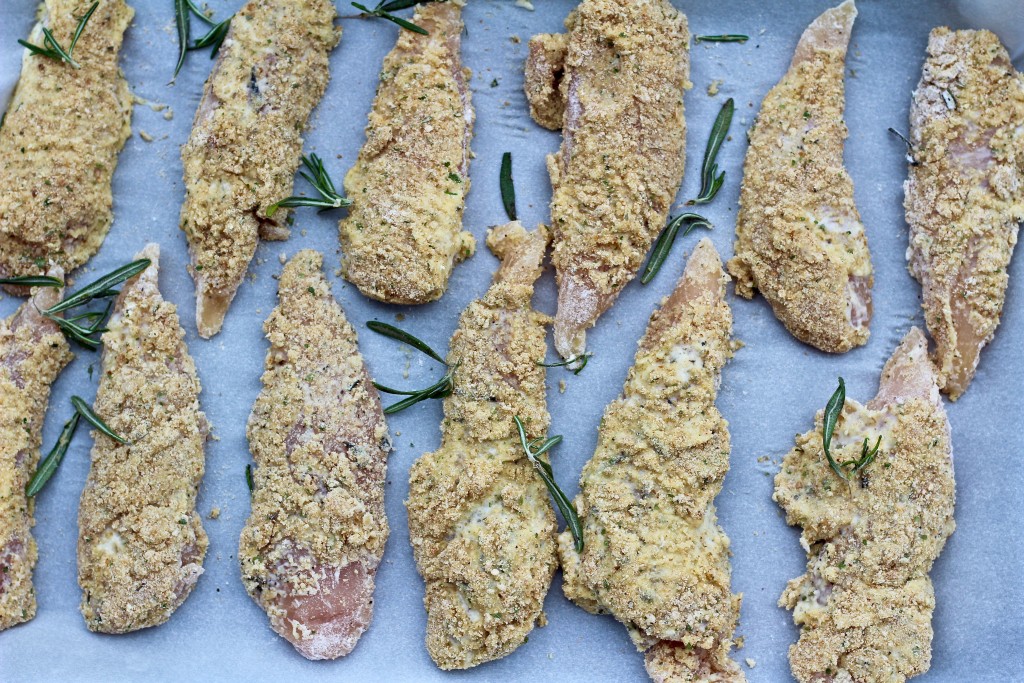 Bake for 25-30 minutes at 425° until internal temperature has reached 165° F.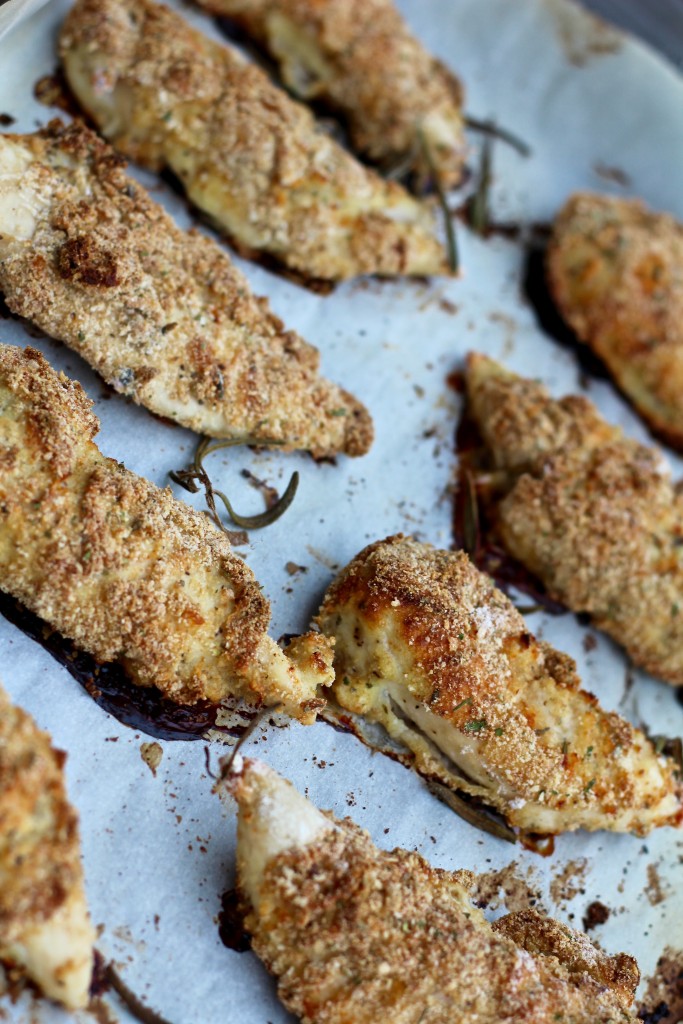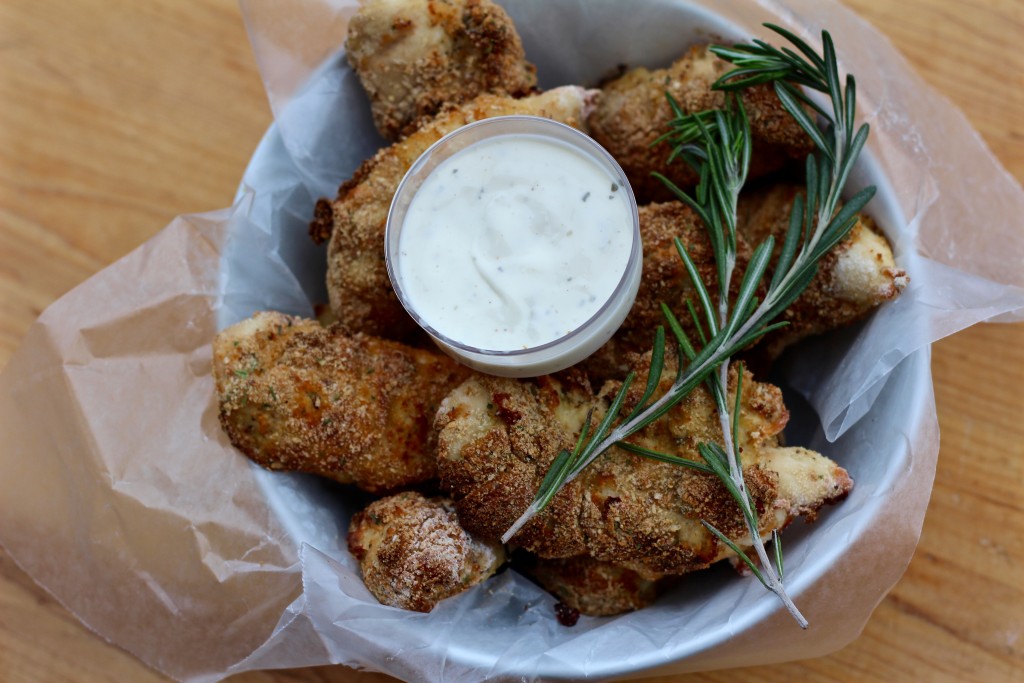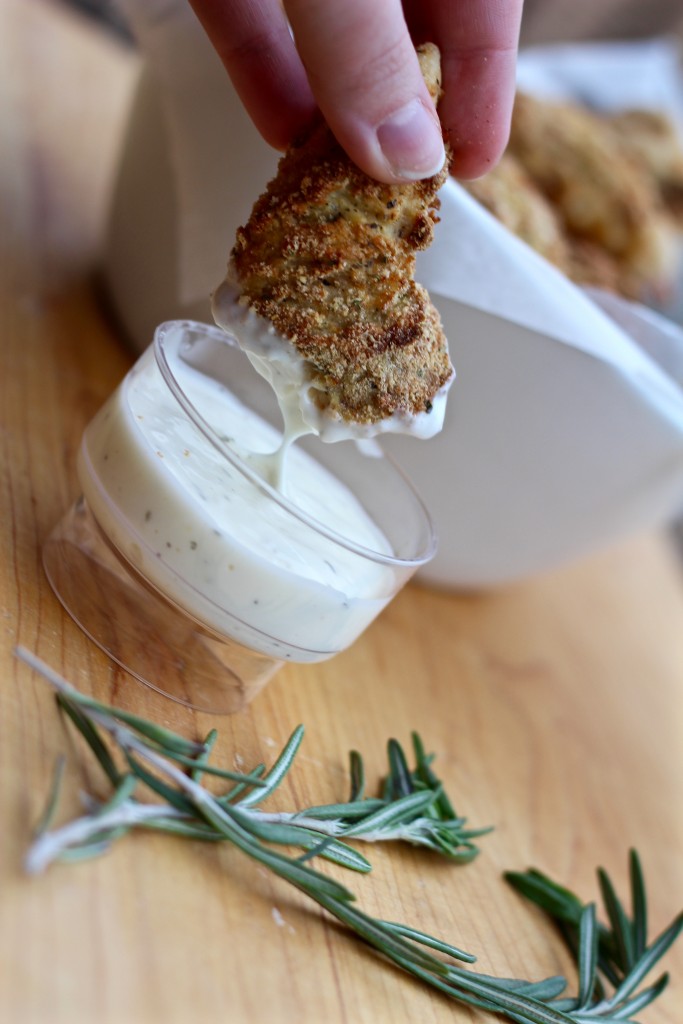 Serve the baked rosemary chicken tenders with ranch or your favorite dipping sauce. I like to whisk in a little bit of the greek yogurt to store-bought ranch to make it a bit more zestier and thicker. Enjoy!
xoxo,
Yuli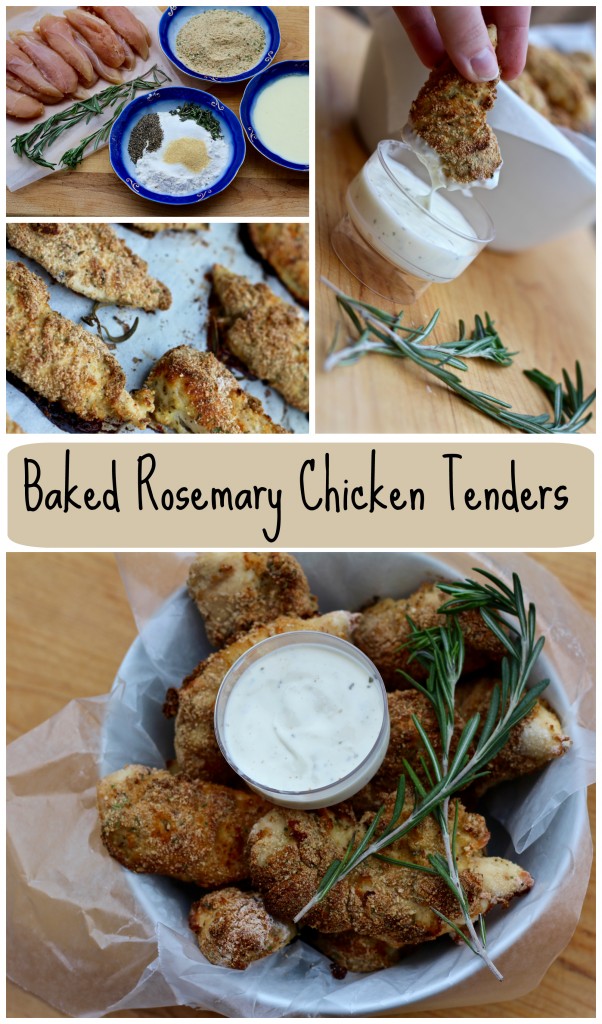 Ingredients
3 pounds chicken tenders
1/2 cup flour
1 tablespoon salt
2 teaspoons ground black pepper
1 teaspoon garlic powder
1-2 tablespoons fresh chopped rosemary
1 cup Italian breadcrumbs
2 eggs
1/2 cup Greek yogurt
Instructions
Preheat oven to 425°
Trim the tendon and any fat from chicken tenderloins
Pat dry chicken
Mix 1/2 cup flour, salt, pepper, garlic, and fresh rosemary in a small bowl
Whisk together eggs and Greek yogurt in second bowl
Place Italian breadcrumbs in the third bowl
Dip chicken in flour, then egg/yogurt mixture, flour AGAIN, egg/yogurt mixture, and finish with dipping in breadcrumbs
Spread evenly on parchment-lined cookie sheet
Bake for 25-30 minutes at 425°
Serve with ranch or favorite dipping sauce