If you ask me, chicken stuffed sweet potato boats are probably one of the best uses of sweet potatoes. I first made them a couple years ago when I was experimenting with healthier, low-calorie recipes. The crazy thing is, when you're eating these, it doesn't taste like something that's supposed to be healthy. The richly seasoned chicken filling is creamy and satisfying, perfectly nestled in a roasted sweet potato– you're not giving up ANY flavor with this dish. These chicken stuffed sweet potato boats are also naturally gluten free! I've found that one of the best ways to make these is to bake the sweet potatoes earlier in the day or the night before so that you don't have to wait the full time for them to cook and then cool. I will also go into a little more detail about some of my favorite seasonings and spices, as well as share an AMAZING use for your stand mixer, so stick with me!
Ingredients For Healthy Chicken Stuffed Sweet Potato Boats:
4 large sweet potatoes
3 lb chicken tenders or breast
salt & pepper
1 tsp cumin
1 tsp garlic powder
1/2 tsp chili powder
1 shallot (or small onion)
1-2 jalapeños
2/3 cup fat free greek yogurt
6-8 oz. shredded sharp white cheddar (If you know me, you know I'm a huge fan of anything with a smoky flavor. So you can probably imagine how thrilled I was when I stumbled across this treasure at the grocery store–smoked black pepper white cheddar from Tillamook! If you can find some at your local grocery store, try it for this recipe…it's amazing!) 
1/3 cup parmesan cheese
Optional: additional greek yogurt or sour cream and sliced green onions for serving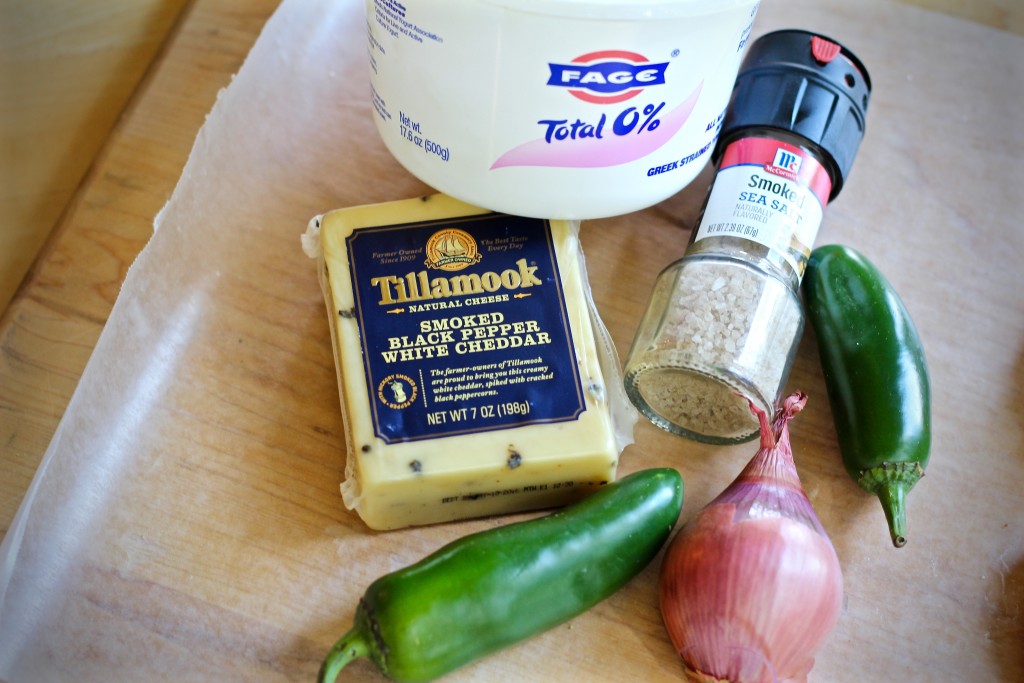 Directions For Healthy Chicken Stuffed Sweet Potato Boats:
For the sweet potatoes:
Preheat oven to 400°.
Thoroughly wash and dry the sweet potatoes then poke holes with a fork (so the skin doesn't puff up too much).
Bake the sweet potatoes on a parchment-lined dish covered with foil for 1.5 hours until potatoes are tender. The sweet potatoes release some sugar as they bake making them all sticky and syrupy on the bottom. If you aren't using parchment paper or a silicone mat, they will be nearly impossible to scrape off the pan, so don't skip this step! (Cooking times will vary depending on the size of potatoes you're using, these were pretty big so they took a while! As I mentioned earlier, you can bake these ahead of time to make the process go faster.)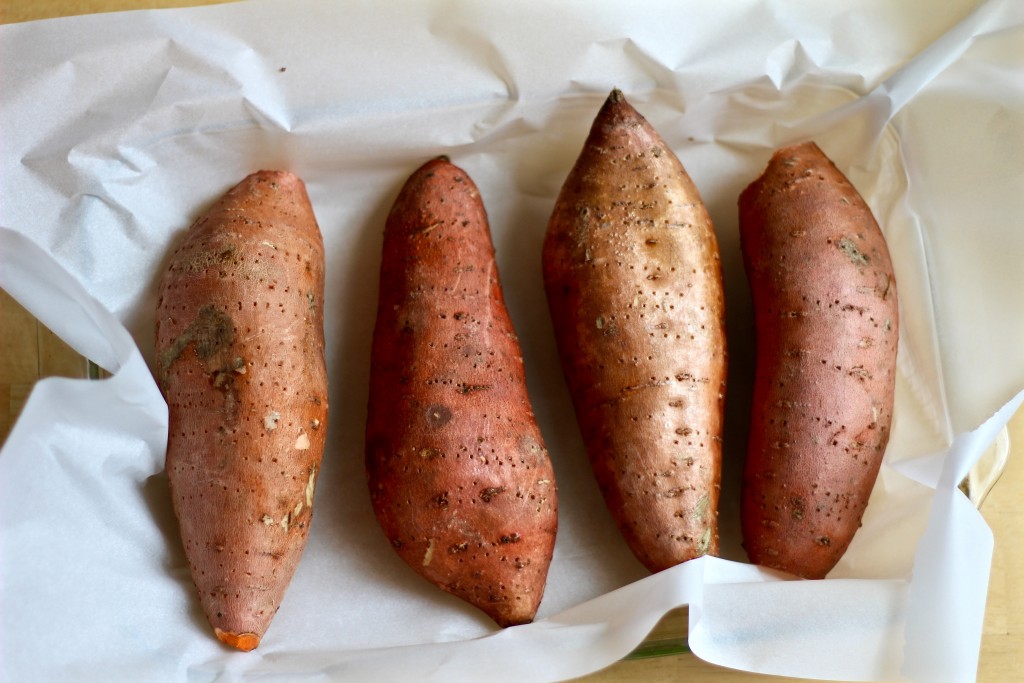 Let the potatoes cool slightly, slice in half, scoop out (and set aside) the insides using a spoon, leaving enough on the bottom and sides to hold its shape.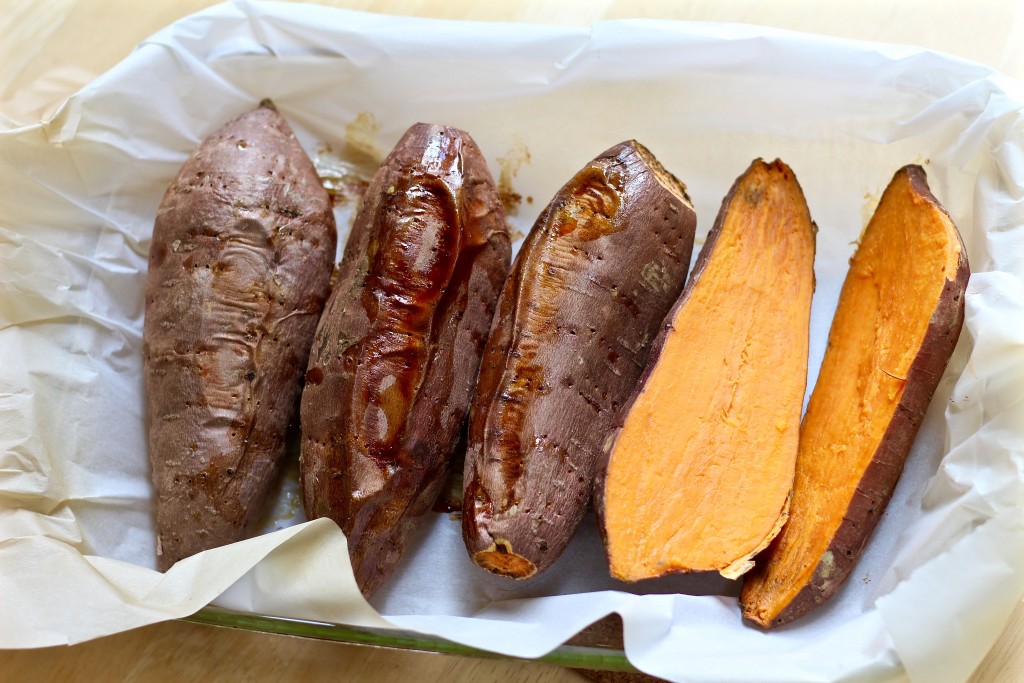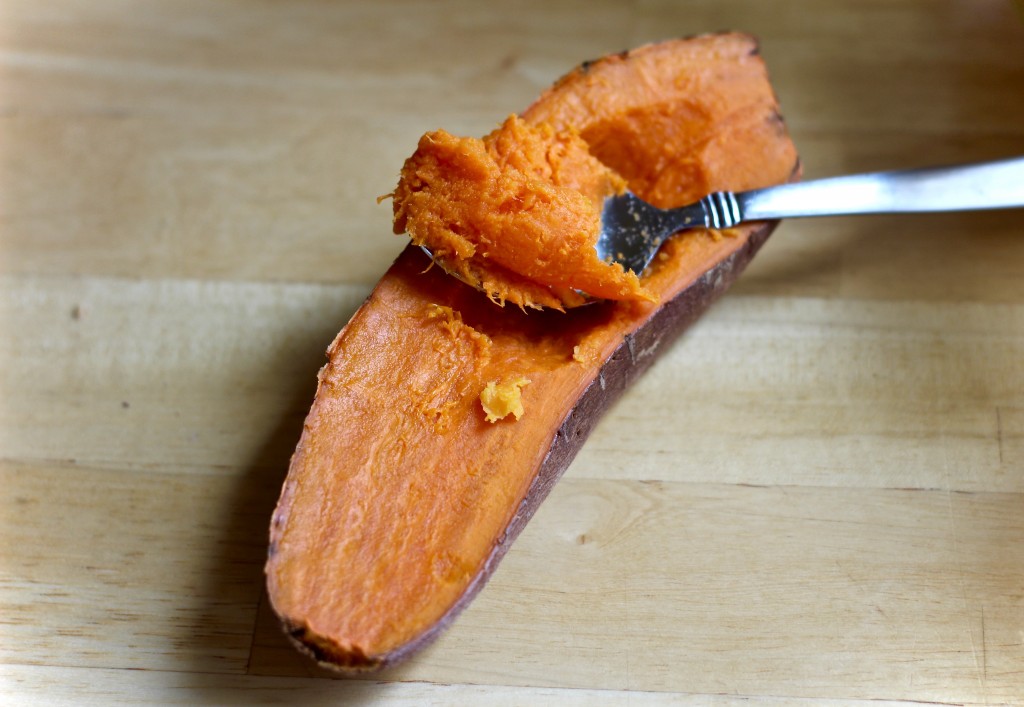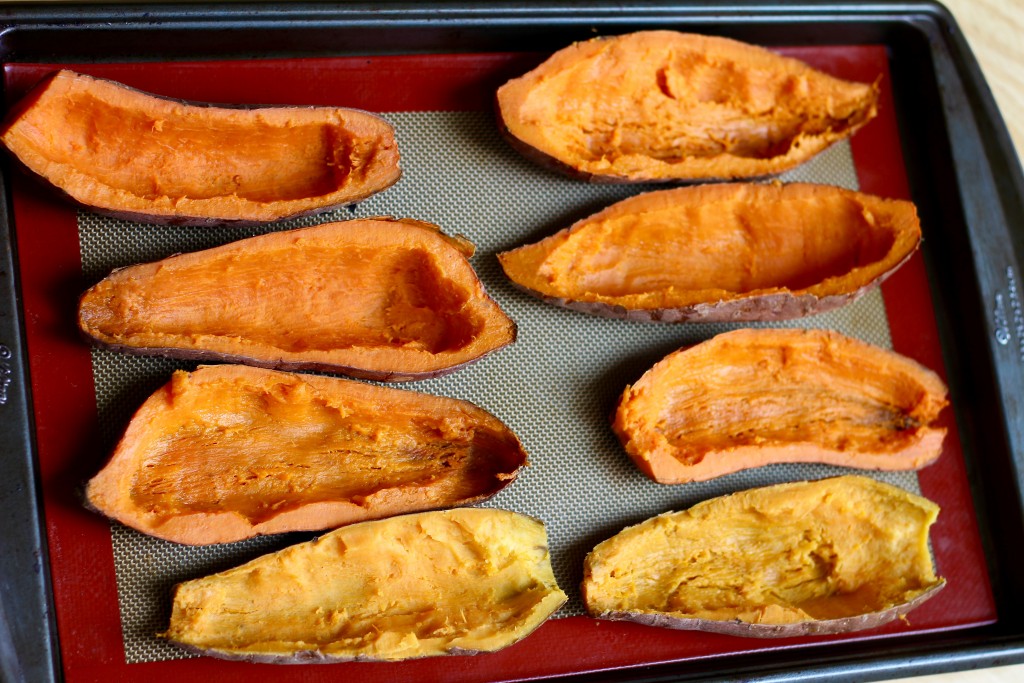 For the chicken filling:
Season chicken tenders with salt, pepper, cumin, garlic powder, and chili powder. Cumin is one of sweet potato's best friends. It brings a warm, earthy taste to the fluffy sweet potato…just like any good friends; the two really bring out the best in each other. Now let's talk about garlic…I can't seem to cook without it. Basically all the meats I cook start off with the "SPG" seasoning base (salt, pepper, and garlic). But when it comes to garlic powder, you can go wrong. At it's worst, it's a salty, almost flavorless powdery substance that hardy resembles the aroma and flavor of fresh garlic cloves. But at its best, it's like this California garlic powder from Trader Joe's–almost sweet in flavor and totally garlicky! The perfect addition to any seasoning mix.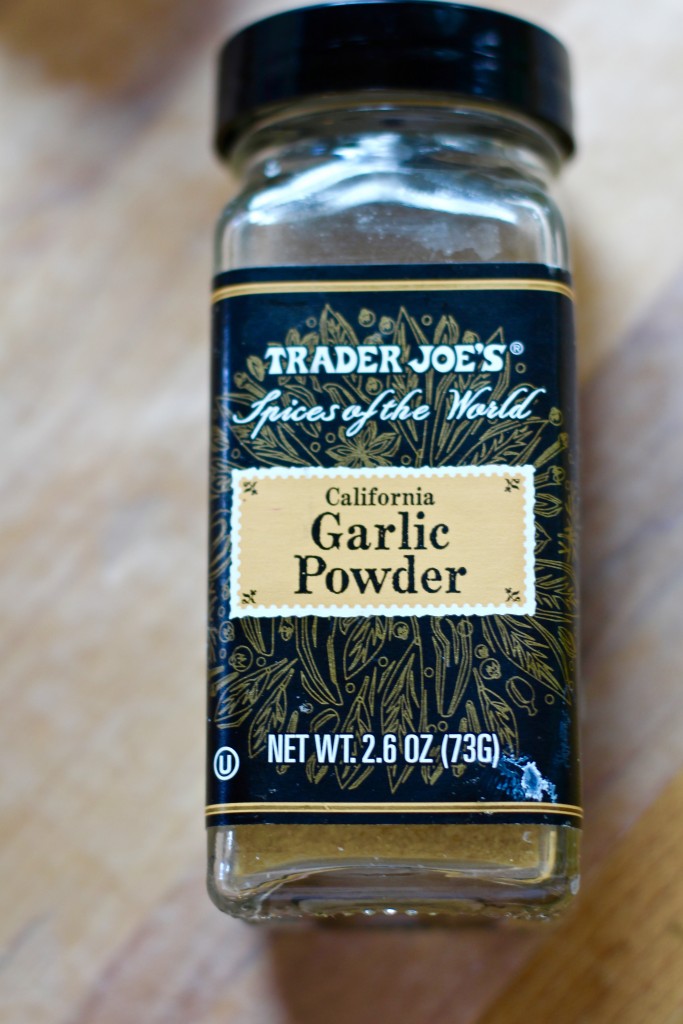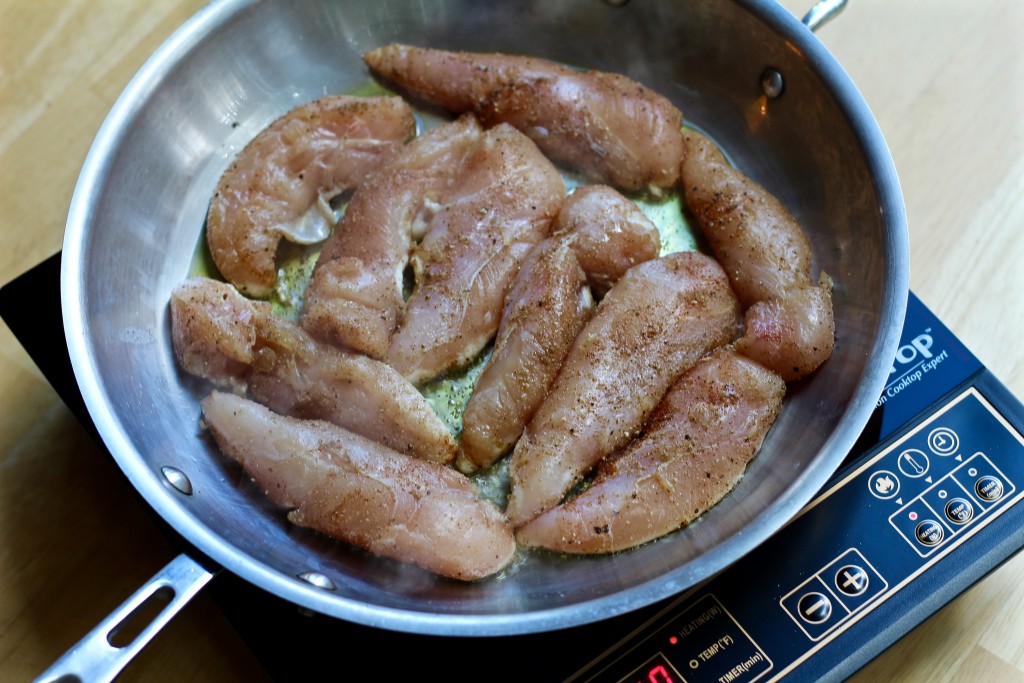 Brown tenders on high heat until fully cooked (165° internal temperature). While they are cooking, prep and dice the shallots and jalapeños.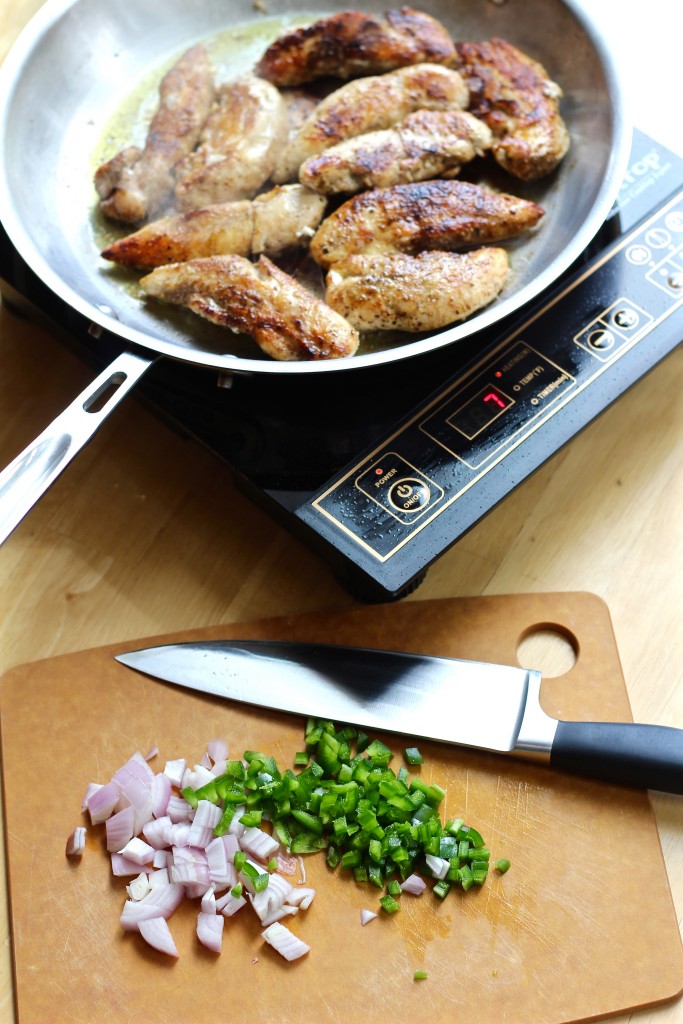 Remove chicken tenders from pan and set aside. In the same pan, sauté chopped shallot and jalapeños. Don't be afraid to use new seasonings and ingredients. I used to always avoid things that I thought would be too spicy, but I realized that you could experiment and add just little bits to see how the flavor will open up and change. Before you know it, you'll have new favorite go-to spices and ingredients (like jalapeños for me) that will change the way you cook!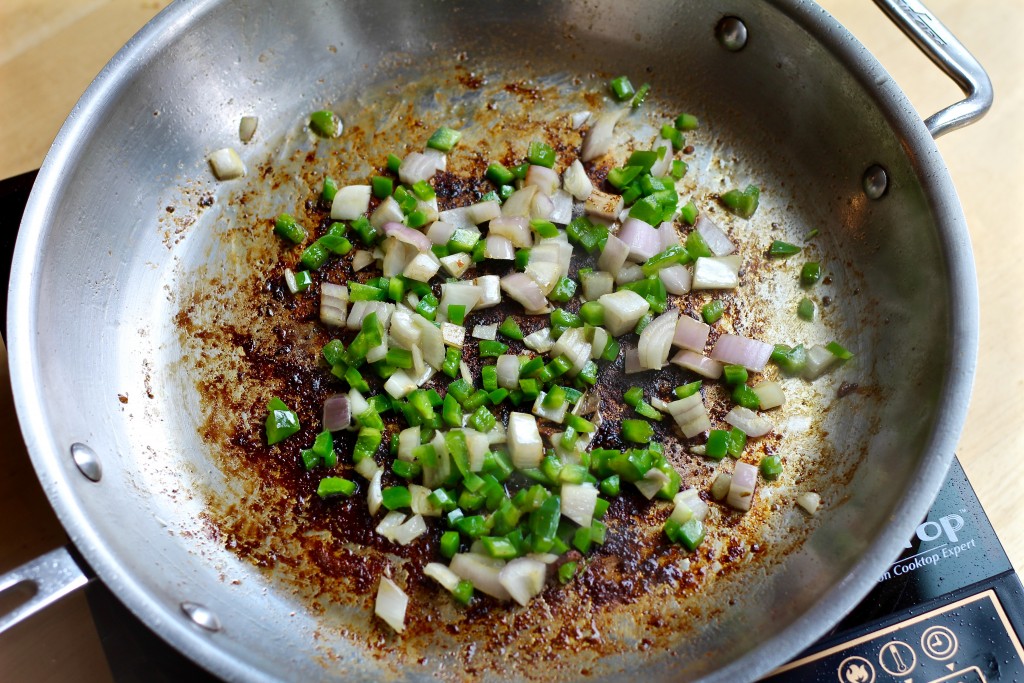 So here is the amazing new use for your stand mixer: you can use it to shred meat! Place the cooked chicken in the bowl of a stand mixer with paddle attachment, and turn on low to shred. (Make sure the mixer is locked down.) It only takes about a minute to achieve the perfect shredded texture without having to bother with shredding 10 individual pieces with a fork. It's also super handy because you can mix in the rest of the filling ingredients quickly and easily.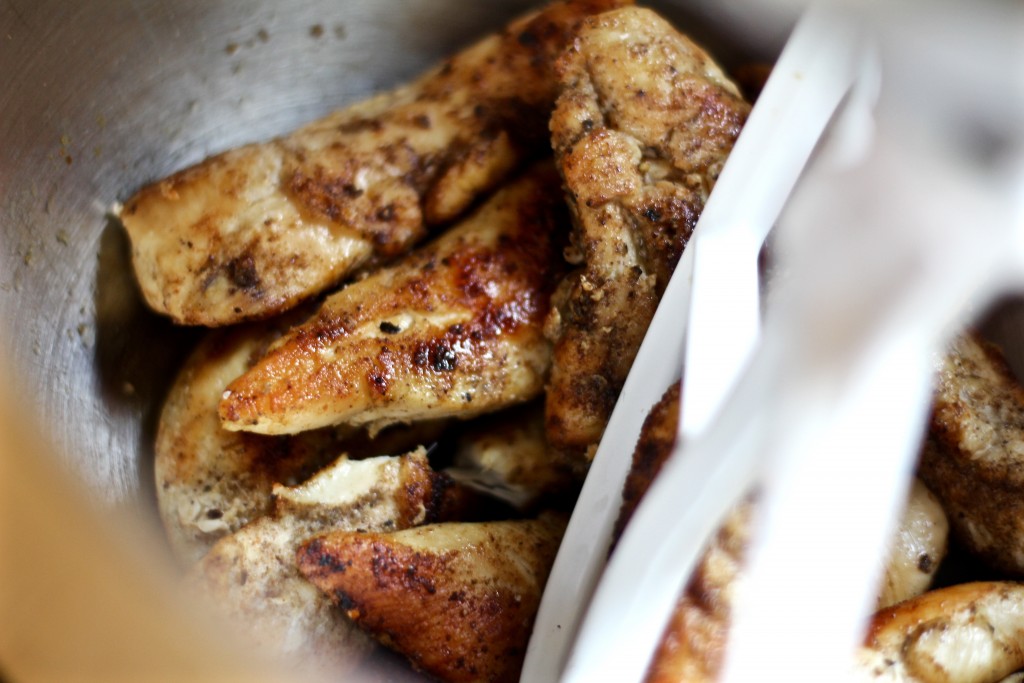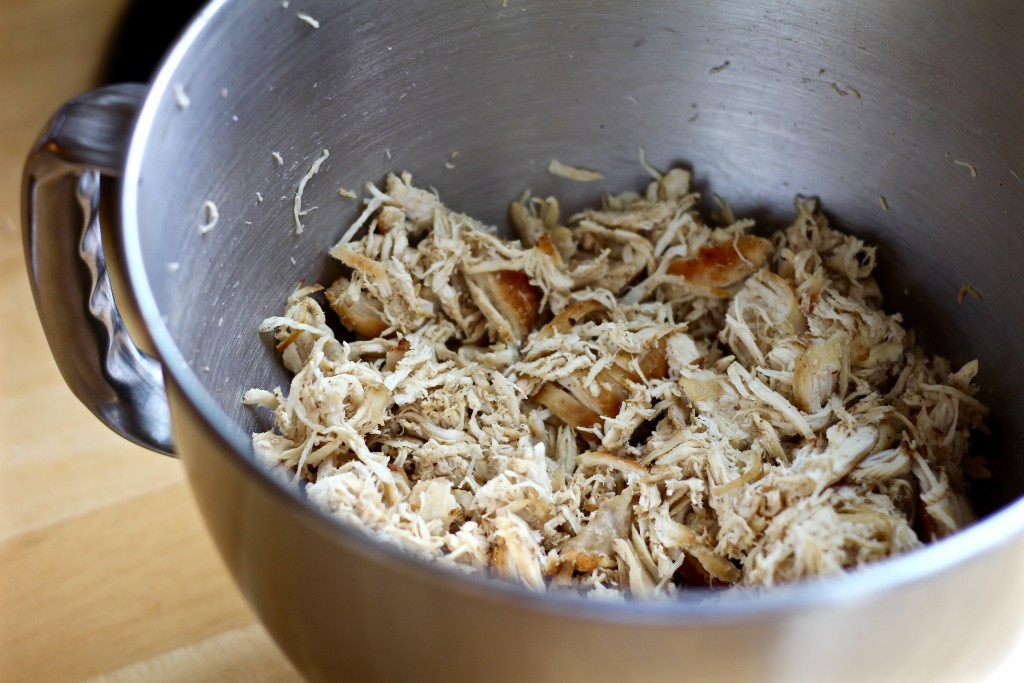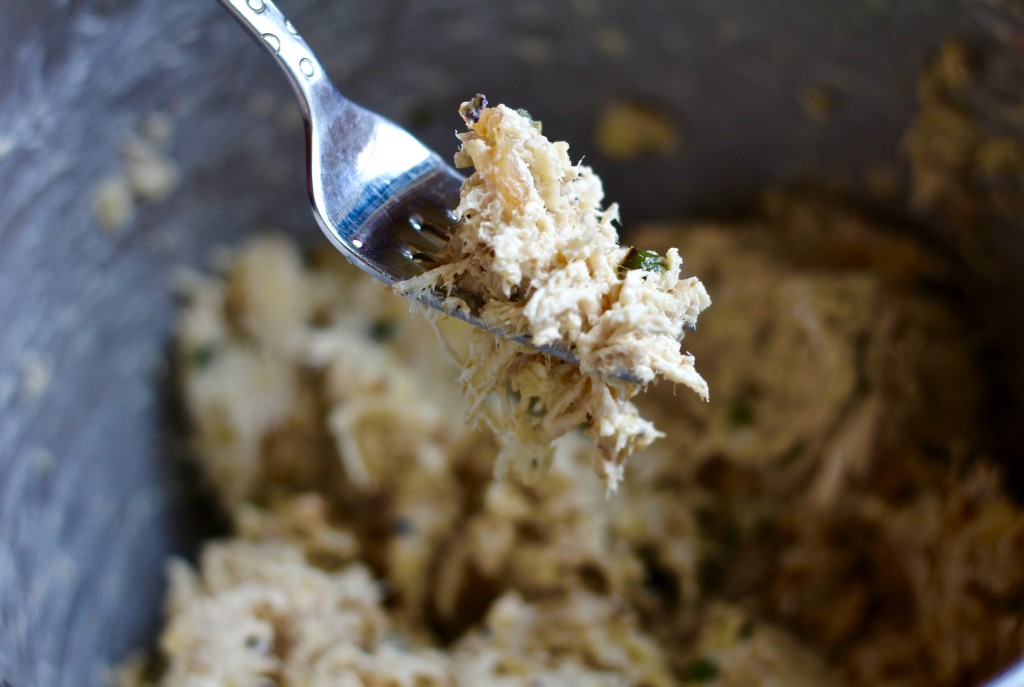 When the chicken is shredded, add in sautéed shallot and jalapeños, greek yogurt, shredded white cheddar, and flesh you scooped out of the sweet potatoes and mix on low until just incorporated.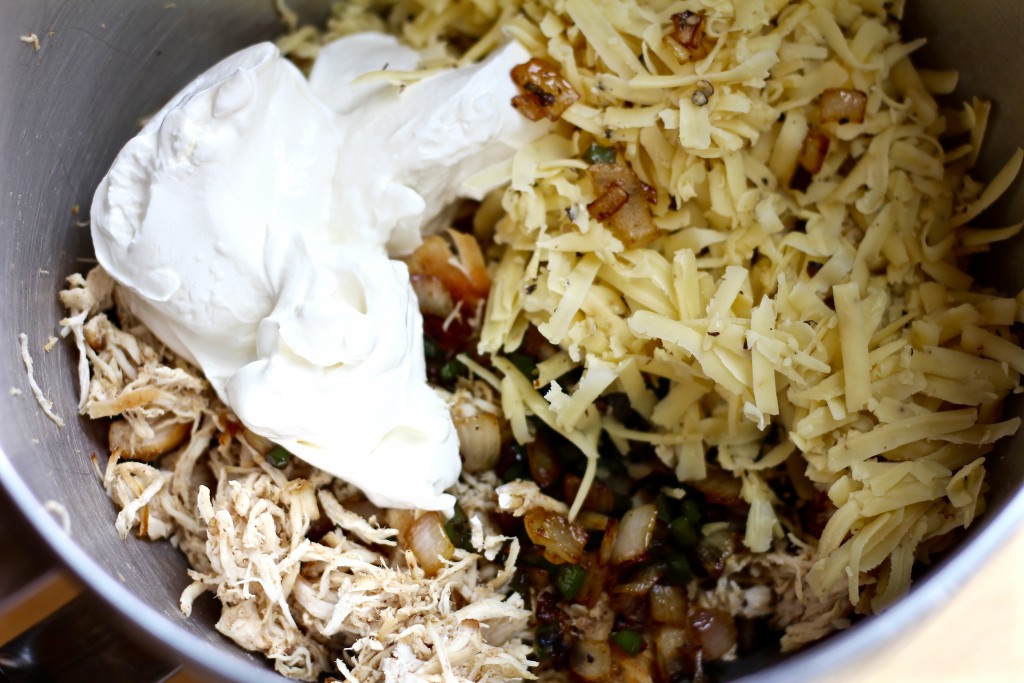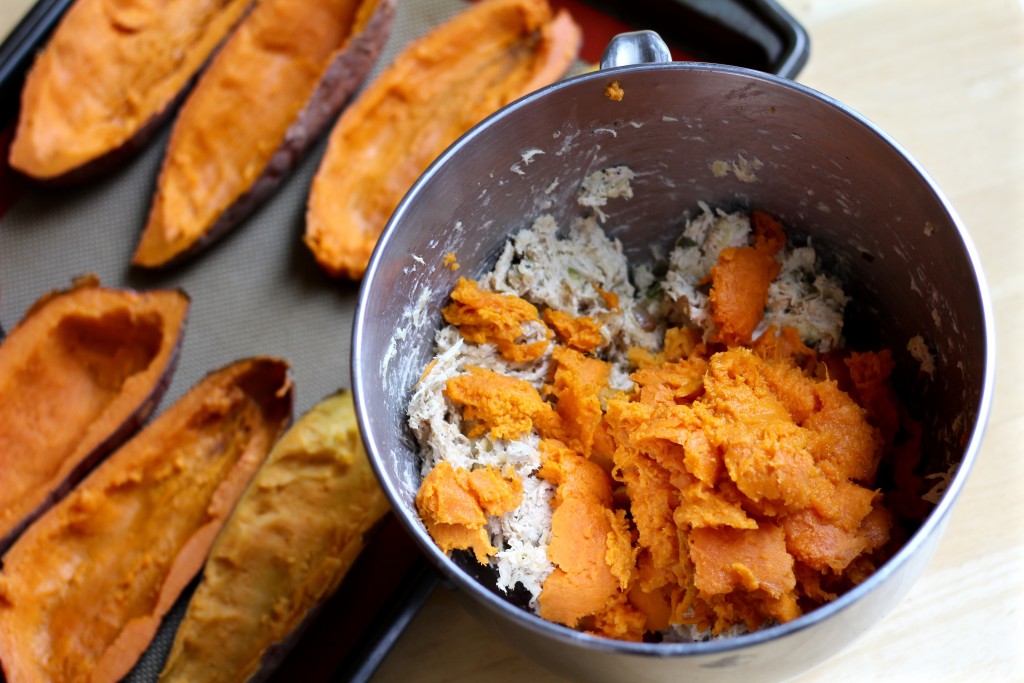 Taste the mixture and adjust seasoning if needed.
Fill sweet potato boats with chicken mixture and sprinkle parmesan cheese on top.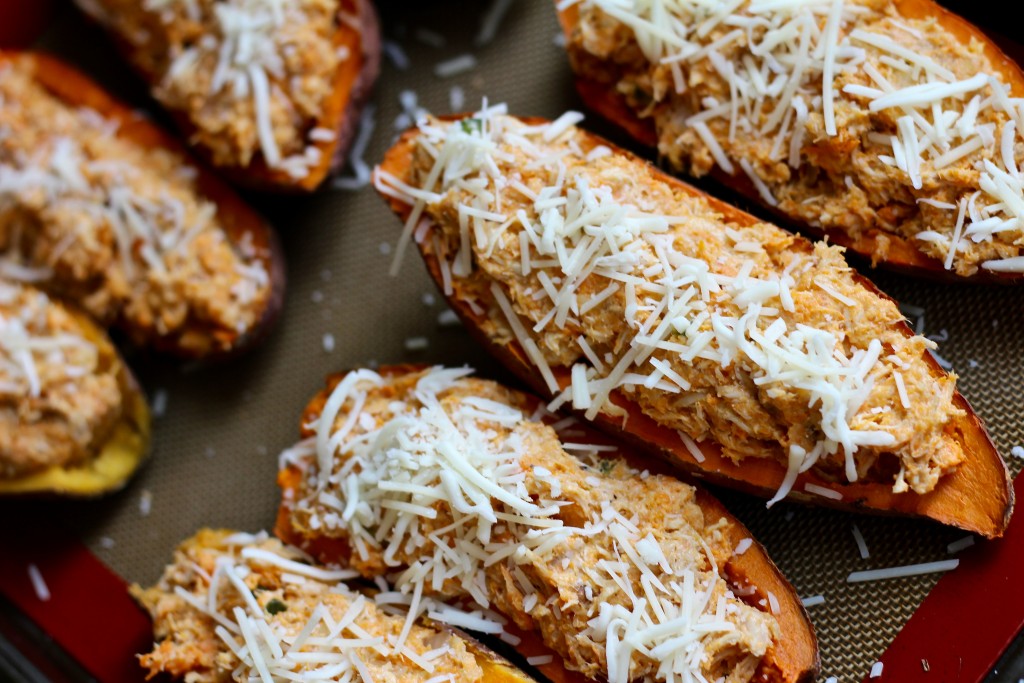 Place on parchment or silicone mat lined pan.
Bake uncovered at 400° for 10-15 minutes until heated through and cheese is melted.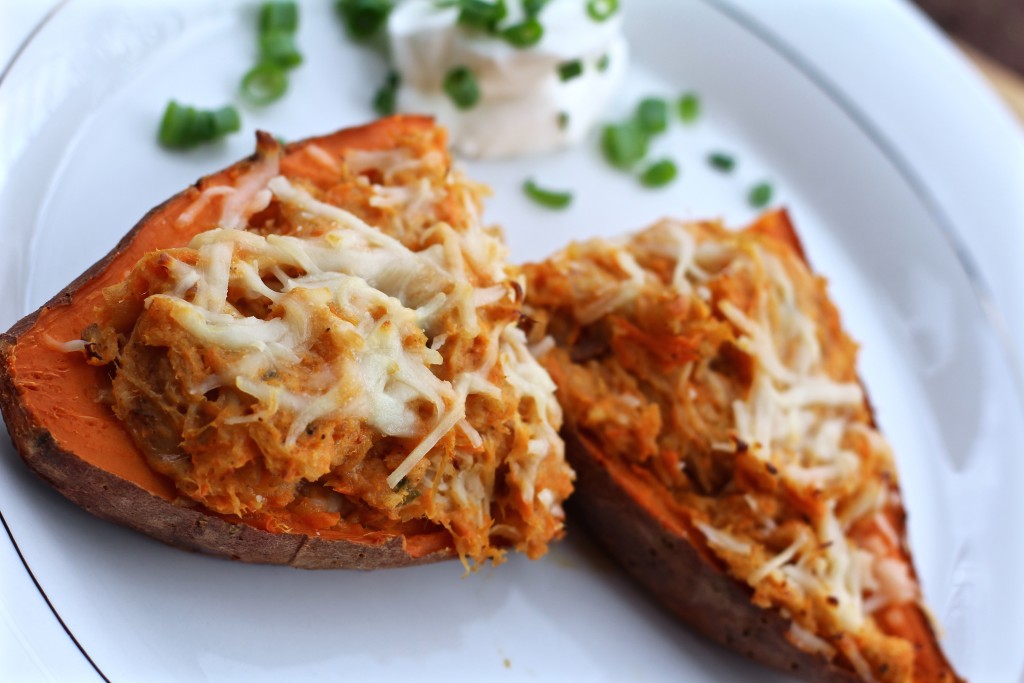 Serve with greek yogurt and sliced green onions on the side. These chicken stuffed sweet potato boats are delicious served with a green salad for dinner and are great as leftovers for lunch the next day!
xoxo,
Yuli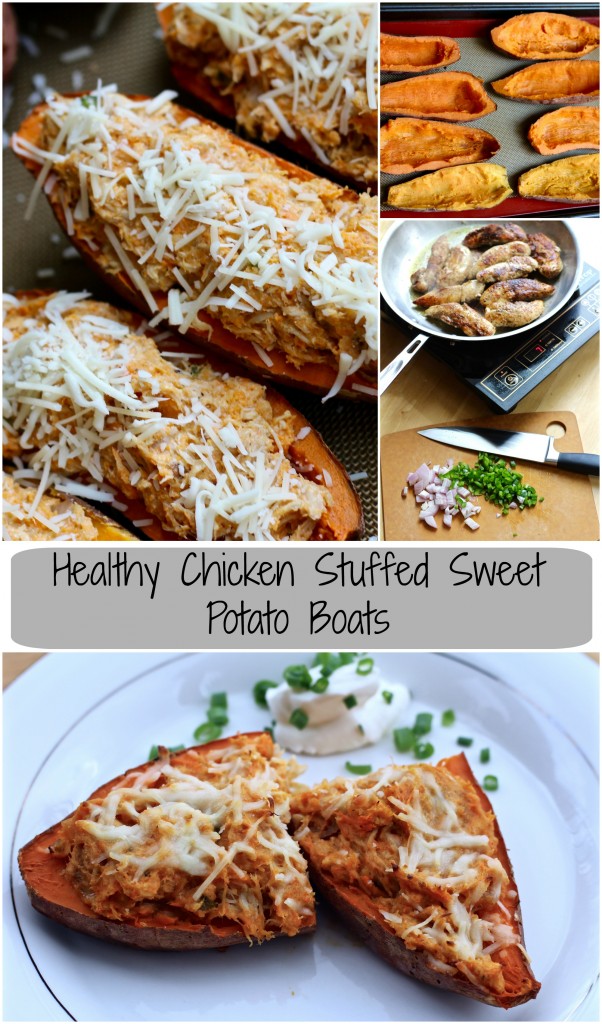 Ingredients
4 large sweet potatoes
3 lb chicken tenders or breast
salt & pepper
1 tsp cumin
1 tsp garlic powder
1/2 tsp chilli powder
1 shallot (or small onion)
1-2 jalapeños
2/3 cup fat free greek yogurt
6-8 oz. shredded sharp white cheddar
1/3 cup parmesan cheese
Optional: additional greek yogurt and sliced green onions for serving
Instructions
Preheat oven to 400°
Thoroughly wash the sweet potatoes then poke holes with a fork
Bake on parchment-lined dish covered with foil for 1.5 hours until potatoes are tender
Cool slightly, slice in half, and scoop out (and set aside) the insides using a spoon, leaving enough on the bottom and sides to hold its shape
Season chicken tenders with salt, pepper, cumin, garlic powder, and chili powder
Brown tenders on high heat until fully cooked (165° internal temperature)
In the same pan, sauté chopped shallot and jalapeños
Place cooked chicken in the bowl of a stand mixer with paddle attachment, turn on low to shred
When the chicken is shredded, add in sautéed shallot and jalapeños, greek yogurt, shredded white cheddar, and flesh you scooped out of the sweet potatoes and mix on low until just incorporated
Taste and adjust seasoning if needed
Fill sweet potato boats with chicken mixture and sprinkle parmesan cheese on top
Place in parchment or silicone mat lined pan
Bake uncovered at 400° for 10-15 minutes until heated through and cheese is melted
Serve with greek yogurt and sliced green onions on the side