This sweet potato hash is becoming one of my favorite breakfasts for several reasons; first, it's healthy and well balanced, second, it's really easy to make (and you can make a large batch in advance to reheat for another morning), and finally, it's topped off with a poached egg–my favorite! Poached eggs aren't just for Eggs Benedict; they are a perfect pairing for almost any breakfast dish. They are soft and fluffy with a runny yolk that tastes almost buttery. And let's be honest, there's just something about poached eggs that feels fancy and "special occasion". But it doesn't have to be a rare occasion, you can have poached eggs over toast, an english muffin, hash browns, bacon, sausage, veggies…just about anything! It's funny that it took me years to work up the nerve to finally try making them myself. Poaching eggs seemed like a crazy idea– just crack an egg into a pot of boiling water?! How does that even stick together? How long does it need to be cooked for? Won' it be all watery? After a bit of research (and some practice), I discovered the tips and tricks that make it super easy to make the perfect poached egg. Just follow my simple video tutorial and you'll be poaching eggs like a pro in no time. And once you've mastered that, definitely try topping this sweet potato hash with a poached egg for an amazing breakfast!
(This recipe is 2-4 servings depending on how big you like your portions to be, double the recipe for a larger group or if you want leftovers.)
Ingredients For Sweet Potato Hash With Poached Eggs
For The Sweet Potato Hash
1 medium/small sweet potato (fine julienne)
1/2 medium onion (chopped)
1/2 medium bell pepper (chopped)
8-12 turkey breakfast sausage links (sliced)
1 tbsp olive oil
4 poached egg (1 per serving)
salt & pepper to taste
For The Poached Eggs
1-2 quarts of boiling (salted) water
1 tablespoon of white distilled vinegar (or lemon juice)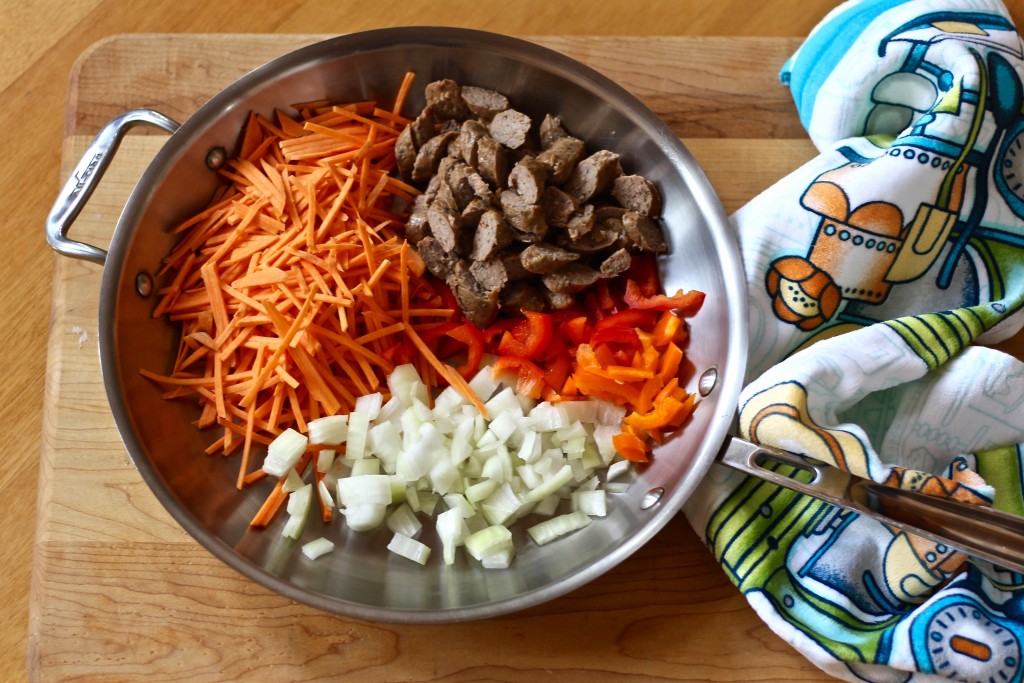 Directions for Sweet Potato Hash With Poached Eggs
For The Sweet Potato Hash
Peel and julienne one medium/small sweet potato (using a mandolin slicer for quickest result).
Peel and chop half of a medium onion. (I like to use sweet onion for this sweet potato hash.)
Remove stem and seeds from bell pepper and chop up half of it.
Slice 8-12 turkey breakfast sausage links (you can also use patties). Turkey breakfast sausage is flavorful and delicious (and can be a healthier alternative to pork sausage). I used the Jimmy Dean brand turkey breakfast sausage links.
Pre-heat a skillet over medium-high heat and add a tablespoon of olive oil.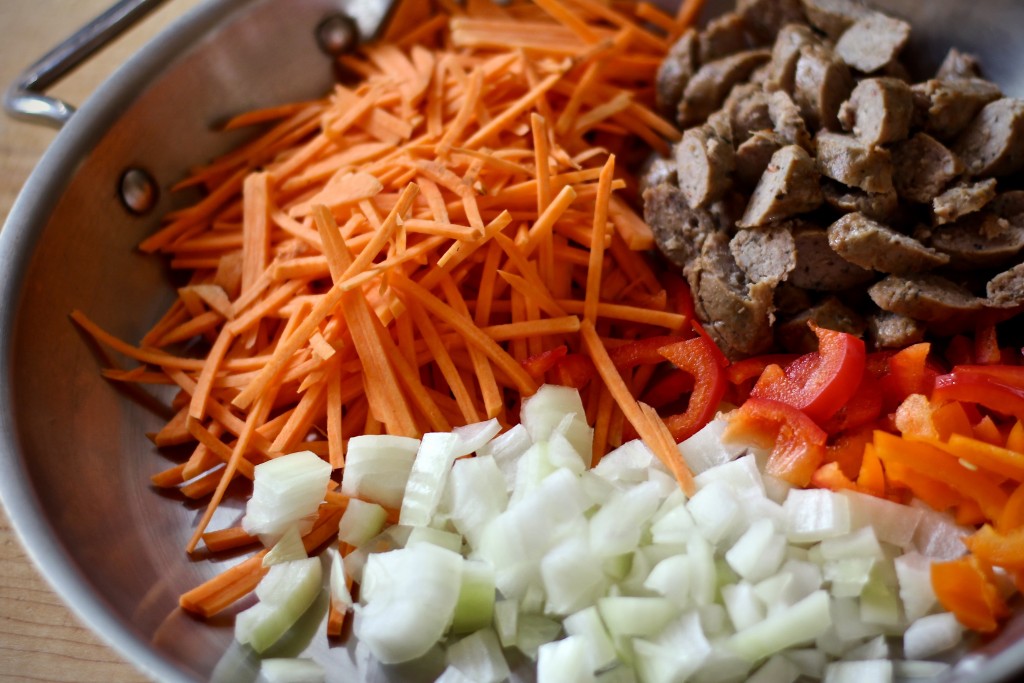 Add all vegetables and turkey breakfast sausage to the heated skillet and cook for about 15 minutes (until vegetables are softened and lightly browned), stirring occasionally. Season with salt and pepper as it's cooking.
Transfer an individual serving to a plate and top with a poached egg (or two). Season the poached egg with some salt and pepper and garnish with fresh dill or parsley to dress it up. Slice into the egg yolk to let all the deliciousness run over the sweet potato hash before digging in.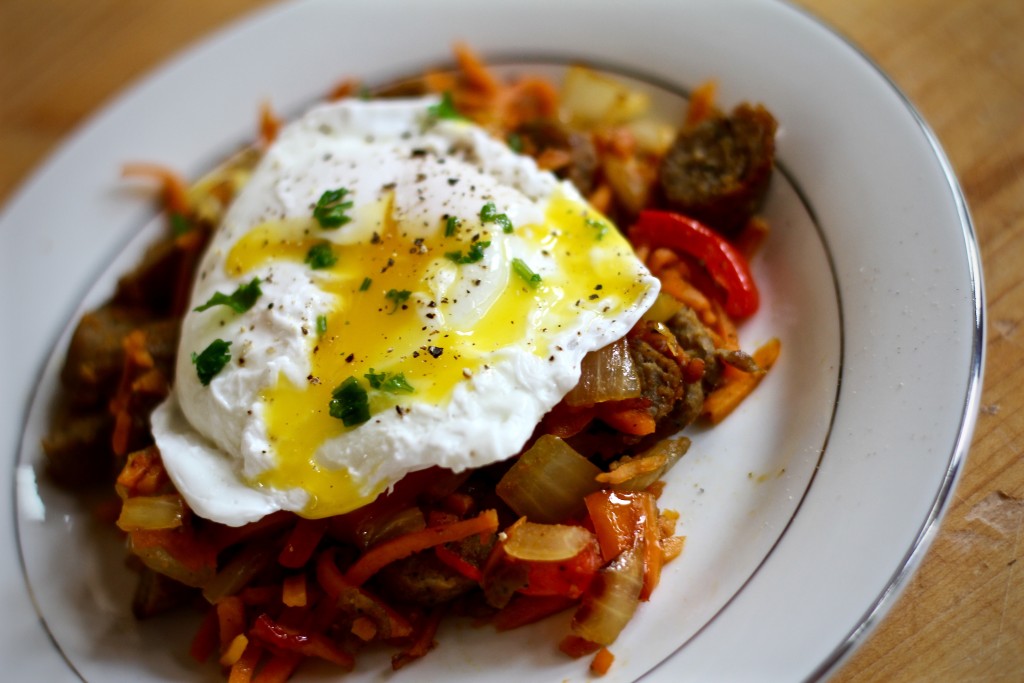 If needed, cover and refrigerate leftover sweet potato hash to reheat in microwave for another breakfast. All you'll need to do is make a fresh poached egg to top it with. Double this recipe to have leftovers for a quick breakfast throughout the week. It saves a ton of time to not have to chop and cook the veggies every morning!
For The Poached Eggs
Bring water to a boil in a small pot.
Add salt and 1 tablespoon of vinegar or lemon juice. The acidity will help the egg whites stick together better.
Reduce heat until the water is at a light simmer– if it's boiling too hard, the egg will fall apart when added.
Crack the egg into a small bowl, then lower the bowl to water level and drop the egg in. It may look like it spread out a lot, but this is totally normal, you didn't do anything wrong!
Monitor the water temperature and adjust if needed so it doesn't come to a rolling boil. Cook for 3-5 minutes, depending on how set you want the yolk to be.
Remove the egg using a slotted spoon and place on a paper towel to remove excess water before serving over the sweet potato hash. Top with fresh cracked pepper and salt.
You can poach multiple eggs at once, but if it's your first time, I recommend sticking to one at a time. The water can be reused to poach another egg after the first one is done.
Watch my quick video tutorial for how to make the perfect poached eggs!
If you're looking for something sweet to enjoy for breakfast, try out this crispy Russian buttermilk pancake recipe!
xoxo,
Yuli

Sweet Potato Hash With Poached Eggs

Ingredients
For The Sweet Potato Hash
1 medium/small sweet potato (fine julienne)
1/2 medium onion
1/2 medium bell pepper
6-8 turkey breakfast sausage links (sliced)
1 tbsp olive oil
4 poached egg (1 per serving)
salt & pepper to taste
For The Poached Eggs
1-2 quarts of boiling (salted) water
1 tablespoon of white distilled vinegar (or lemon juice)
Instructions
For The Sweet Potato Hash
Peel and julienne one medium/small sweet potato (using mandolin slicer for quickest result)
Peel and chop half of a medium onion
Remove stem and seeds from bell pepper and chop half of it
Slice 8-12 turkey breakfast sausage links (you can also use patties)
Pre-heat skillet over medium-high heat and add a tablespoon of olive oil
Add all vegetables and turkey breakfast sausage to heated skillet
Cook for about 15 minutes (until vegetables are softened and lightly browned) stirring occasionally
Transfer individual serving to a plate and top with poached egg
If needed, cover and refrigerate leftover hash to reheat in microwave later (but poach a fresh egg after reheating)
For The Poached Eggs
Bring water to a boil in a small pot
Add salt and 1 tablespoon of vinegar
Reduce heat until at a light simmer
Crack egg into a small bowl
Lower bowl to water level and drop the egg in
Monitor water so it doesn't come to a rolling boil and cook for 3-5 minutes
Remove egg using a slotted spoon and place on paper towel to dry before serving over sweet potato hash