This savory breakfast casserole is the perfect make ahead option for any occasion. It tastes like a savory french toast bake or bread pudding, which may sound odd if you haven't tried it before, but it's so delicious! Brimming with smoky bacon, sharp cheddar, and green onions, it's tender and creamy on the inside and golden and crisp on top. If you love the savory side of breakfast and want something that's quick and easy to prepare, look no further. This dish can be made the night before and baked in the morning, or you can whip it up and bake it that same morning. The prep work only takes about 15 minutes and before you know it, delicious smells of breakfast will be filling your home. It's really just a few common ingredients, but they come together so well and make a filling and delicious breakfast!
If you are looking for a sweet make-ahead breakfast dish, try this overnight french toast casserole!
Ingredients For Savory Breakfast Casserole
1 loaf crusty/rustic bread
10 eggs
4 cups milk
1 teaspoon salt
pepper to taste
8 oz shredded sharp cheddar
1 cup bacon crumbles
1 bunch green onions, thinly sliced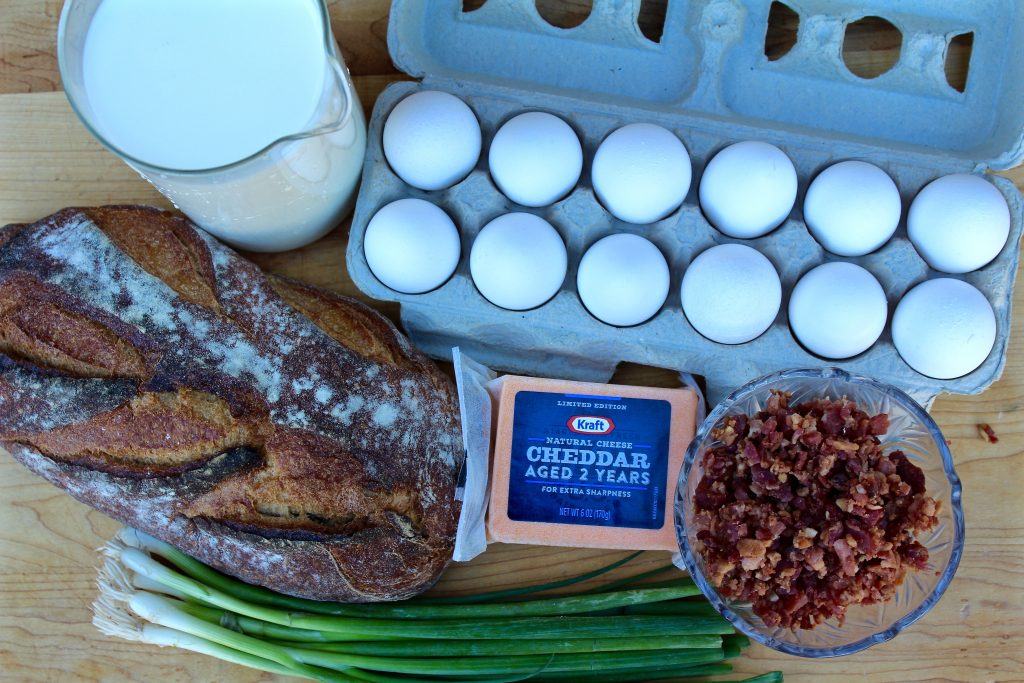 Directions For Savory Breakfast Casserole
Cut bread into cubes and place in a large glass baking dish. Make sure you're using bread that has a little more texture and a thicker crust, it turns out better this way and won't get too soggy. Sourdough bread is a great option.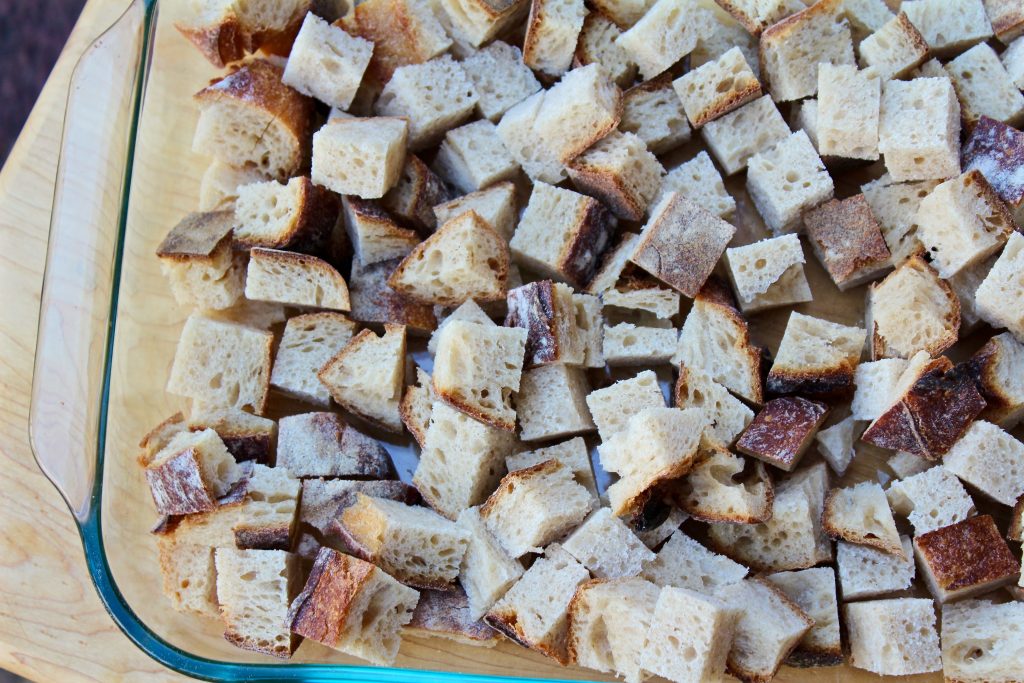 In a large mixing bowl, whisk the eggs until yolks and whites are fully combined. Then add milk, salt, and pepper and whisk again. This may seem like a lot of liquid, but the bread will absorb it all and it'll be delicious!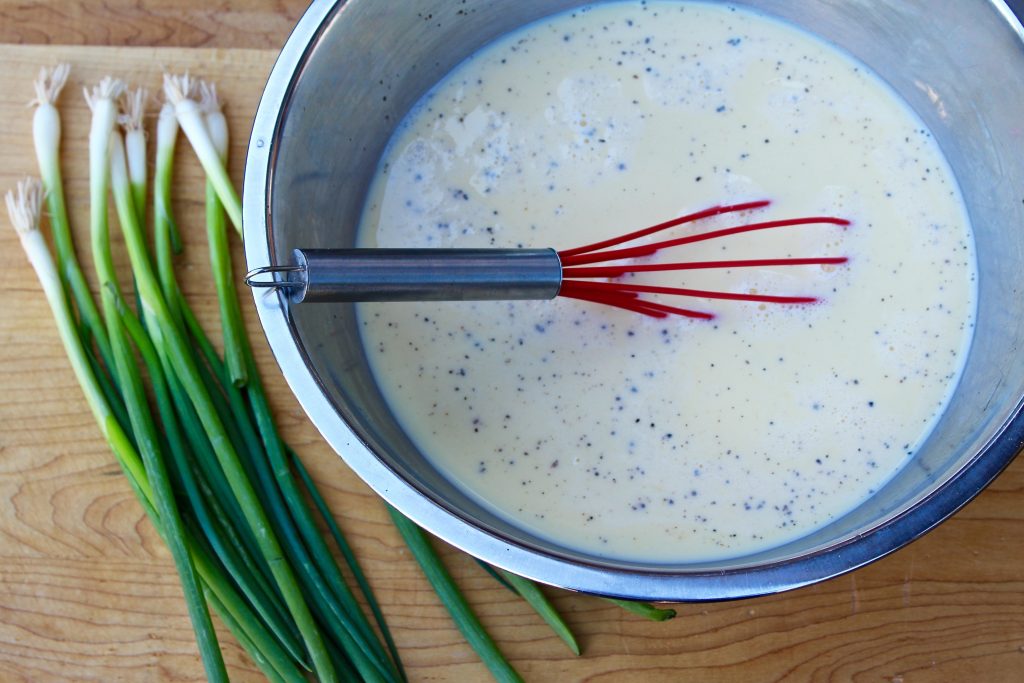 Pour the egg/milk mixture over the bread cubes and stir to make sure all of the pieces absorb some liquid.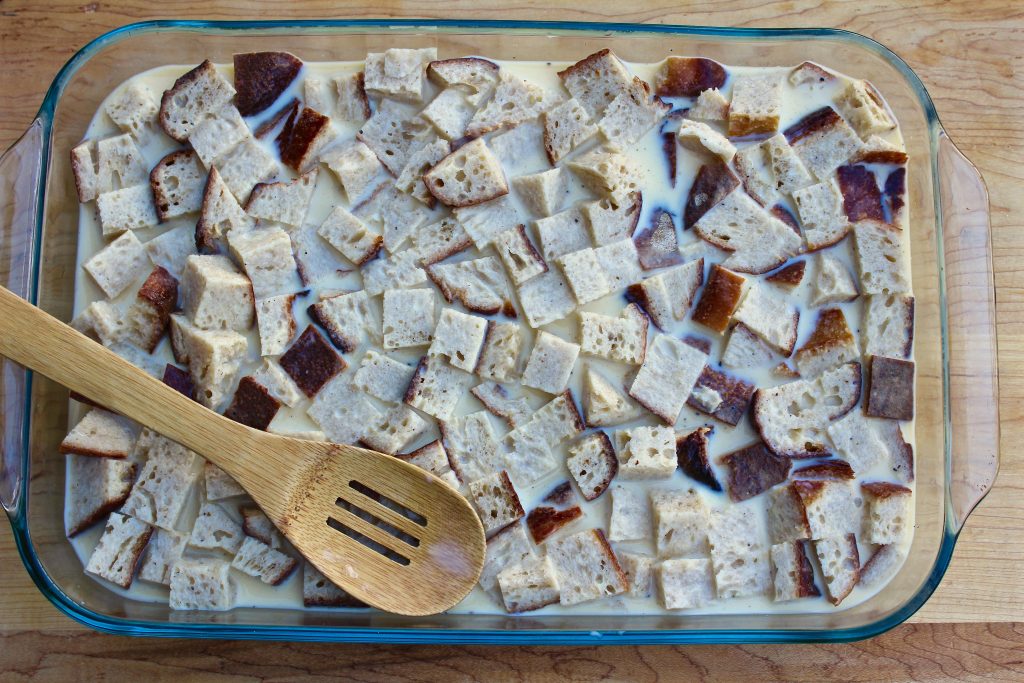 Mix in about 2/3 of the shredded cheddar, bacon crumbles, and sliced green onion, reserving the rest for topping.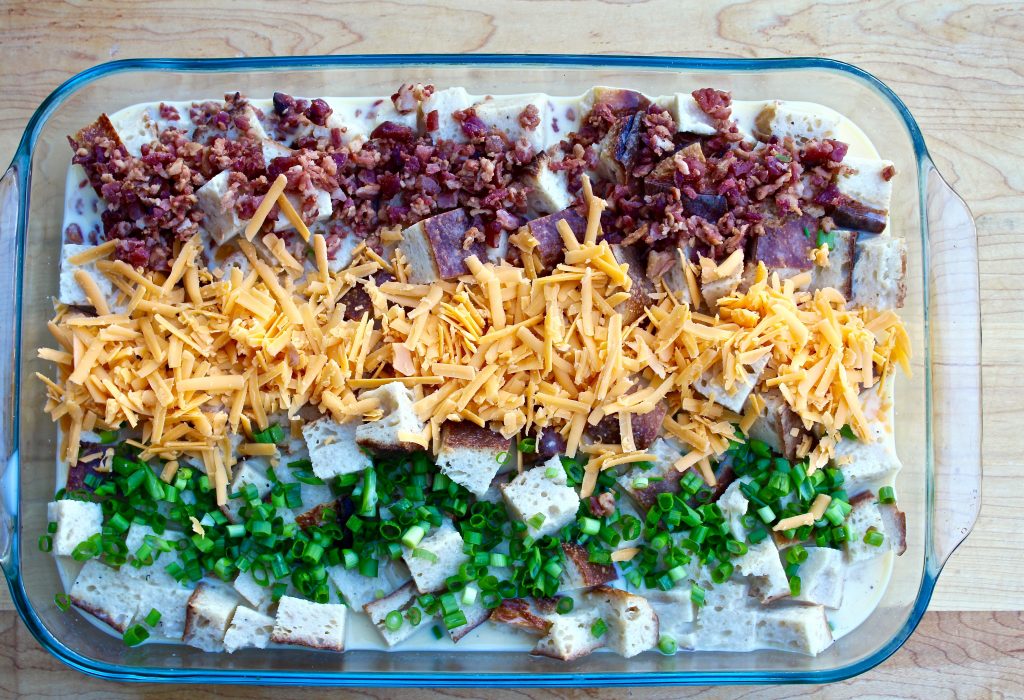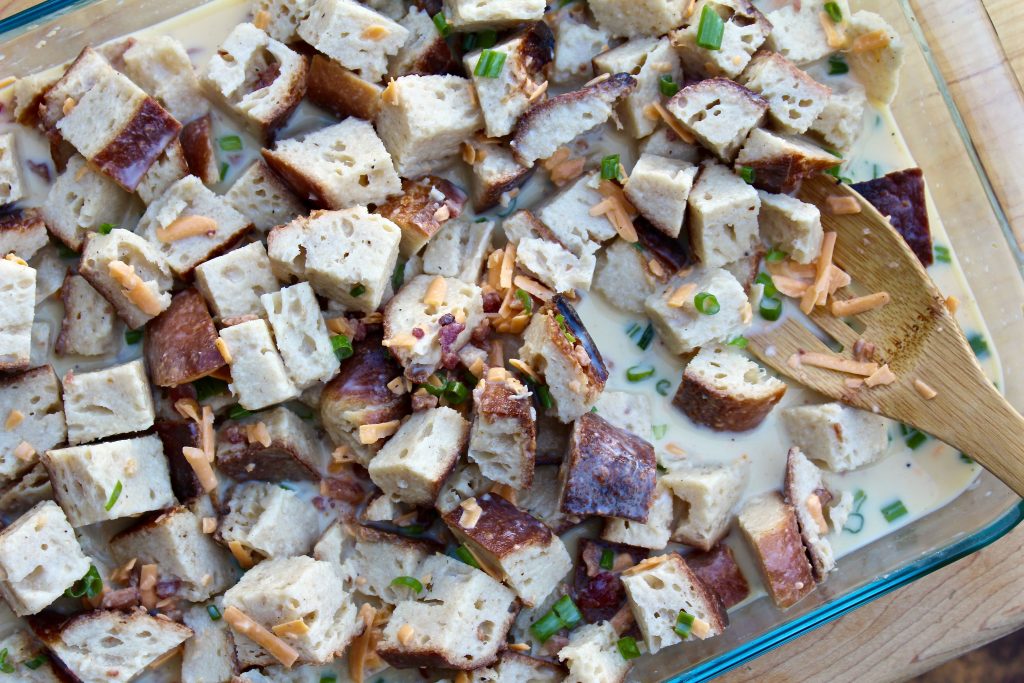 Top with remaining mixture of shredded cheddar, bacon crumbles, and green onion.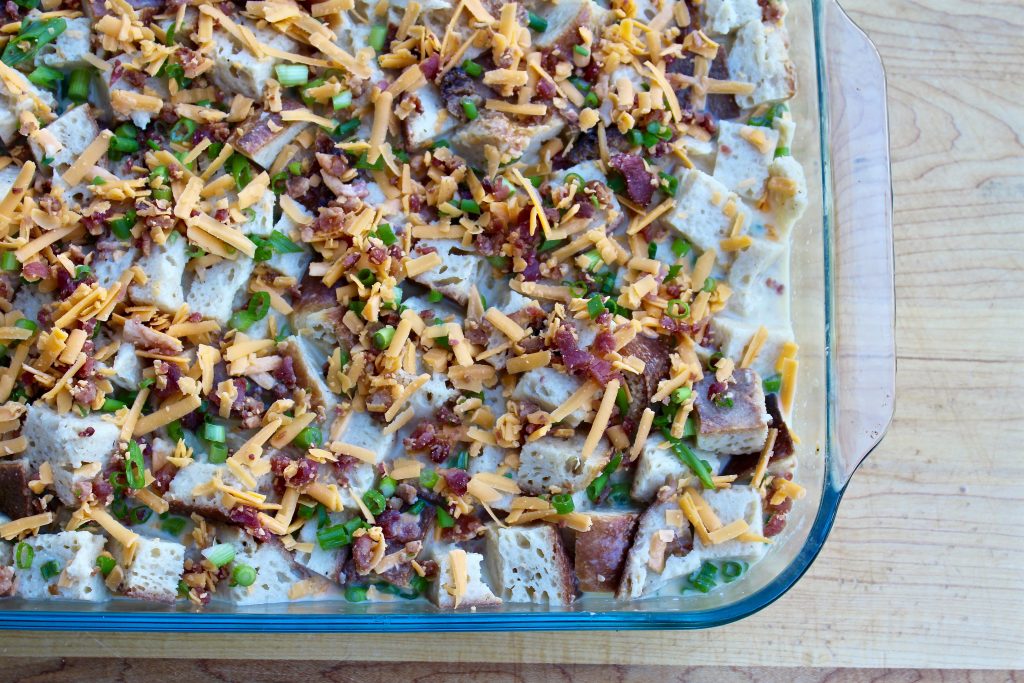 Cover with foil and bake for 1 hour at 375° or refrigerate overnight and bake in the morning.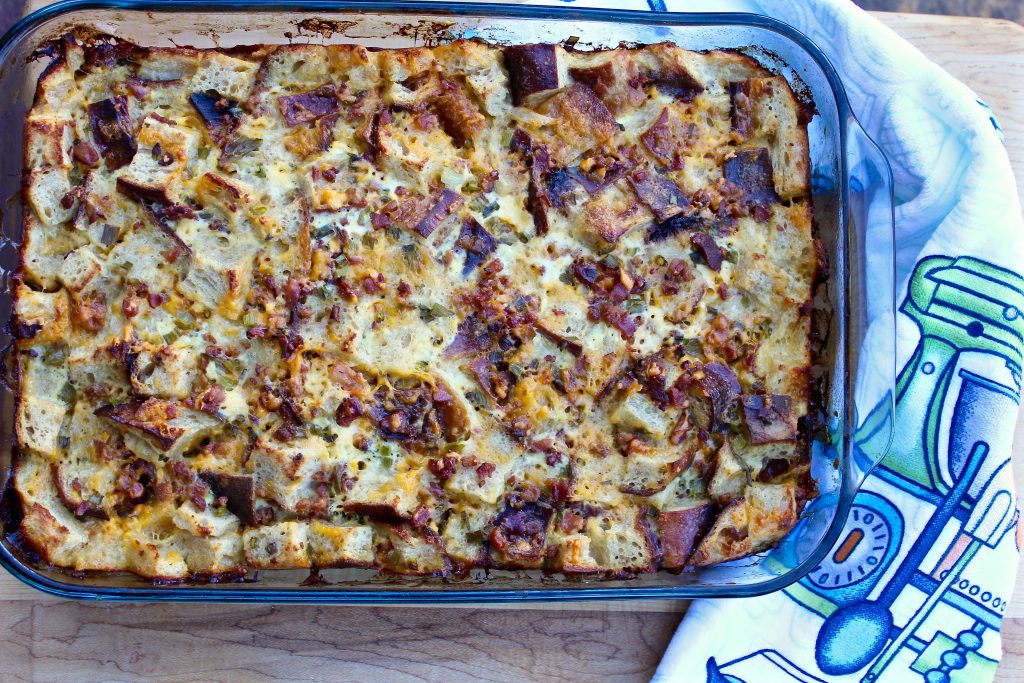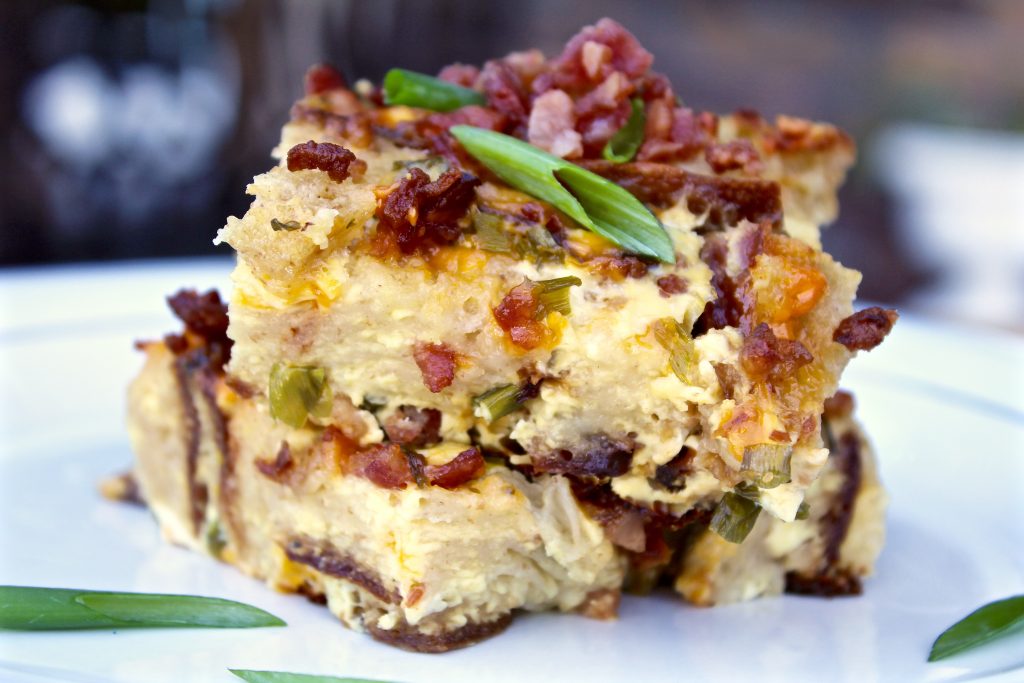 This savory breakfast casserole is all of my favorite breakfast ingredients in one. The fluffy, tender, cheesy,  and crunchy goodness is a great dish to serve for brunch or even a "breakfast for dinner" type meal. I'm a big fan of ketchup and like to serve some on the side, but it's also great on its own. Just cut into squares and enjoy!
xoxo,
Yuli
PS- Love savory breakfasts? Try this sweet potato and sausage hash with simple poached eggs.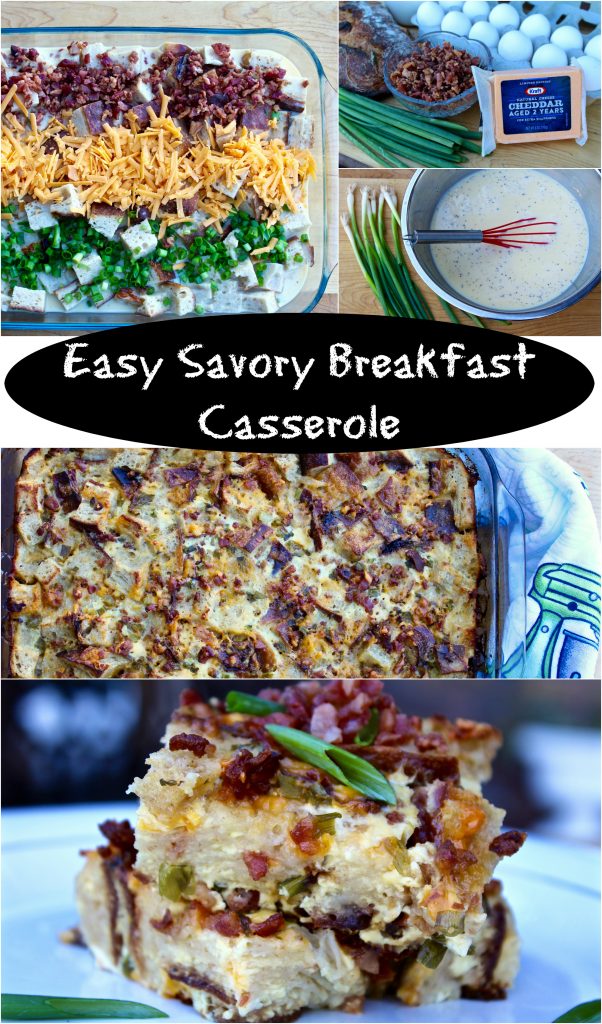 Easy Savory Breakfast Casserole With Bacon And Cheddar

Ingredients
1 loaf crusty/rustic bread
10 eggs
4 cups milk
1 teaspoon salt
pepper to taste
8 oz shredded sharp cheddar
1 cup bacon crumbles
1 bunch green onions, thinly sliced
Instructions
Cut bread into cubes and place in large glass baking dish
In a large mixing bowl, whisk eggs then add milk, salt, and pepper and whisk again
Pour the egg/milk mixture over the bread cubes and stir to make sure all of the pieces absorb some liquid
Mix in about 2/3 of the shredded cheddar, bacon crumbles, and sliced green onion
Top with remaining mixture of shredded cheddar, bacon crumbles, and green onion
Cover with foil and bake for 1 hour at 375° or refrigerate overnight and bake in the morning