Caesar salad has been my favorite salad for as long as I can remember. I love the creaminess and saltiness of the dressing and the crunch and sweetness of romaine hearts. I'm not usually a huge fan of leafy greens, so the crisp texture of the romaine is perfect for me. But despite this, there are two other things that I never liked about a basic Caesar salad:
1.) It only has one vegetable in it– romaine lettuce (and in my opinion, a good salad needs more vegetables than that).
2.) I don't like the greasy and super dry store bought croutons that usually come with the salad.
So I've started experimenting with the classic recipe by adding in some ingredients that I love such as olives, artichoke hearts, and pickled red onions. I also found a super easy and quick way to make my own croutons. These little changes and additions will take your basic Caesar salad to the next level. There are so many more flavors and textures with the added vegetables and the homemade croutons are crunchy and buttery on the outside and yet chewy on the inside– absolute perfection. Try making your Caesar salad this way and you'll never go back to the boring basic!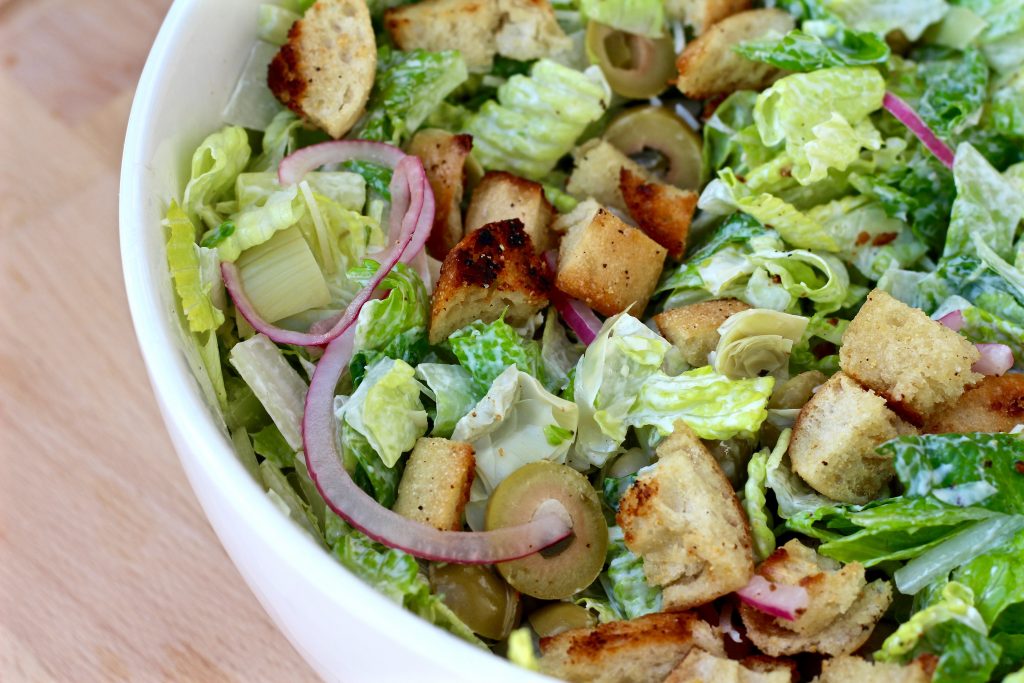 Ingredients For Upgraded Caesar Salad:
3 romaine hearts
1/3-1/2 cup Caesar salad dressing
1/4 cup shredded parmesan cheese
1/3 cup marinated artichoke hearts, rough chopped
1/3 cup sliced green olives
1/4 cup pickled red onions
1 lemon cut into wedges for serving
2 cups homemade garlic croutons
Optional: grilled salmon for topping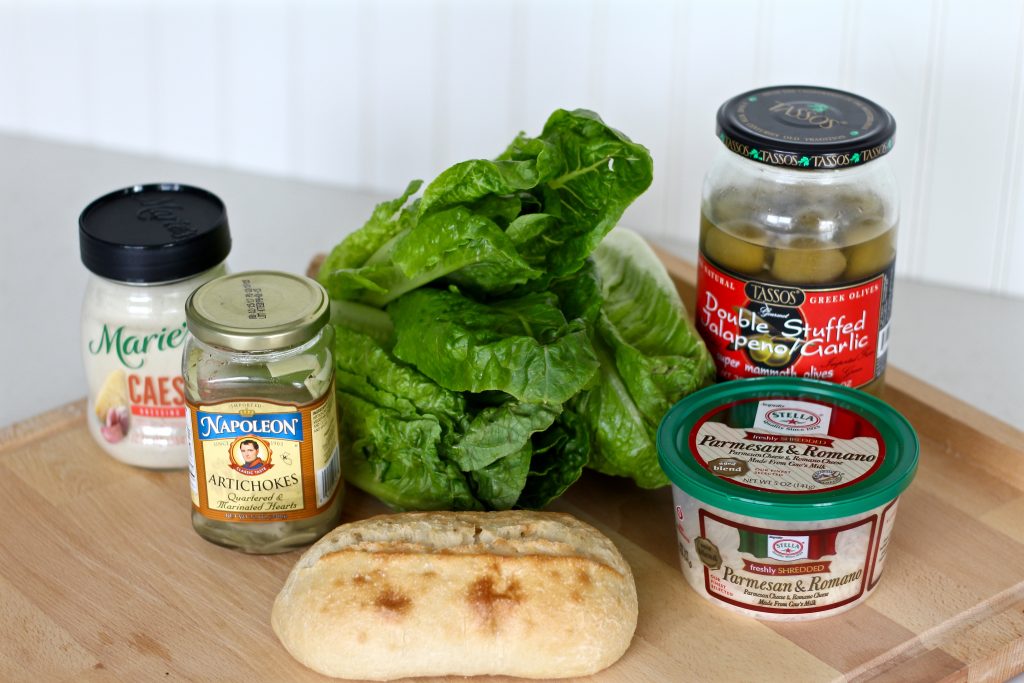 For the Pickled Red Onions:
1/2 red onion, thinly sliced
1 cup red wine or apple cider vinegar
2 tablespoons sugar
a few dashes of salt
For the Homemade Garlic Croutons:
1 mini baguette (or enough for about two cups of bread cubes)
3 tablespoons butter
1 tablespoon olive oil
salt and garlic powder to taste
For the Grilled Salmon:
1 lb salmon filet
1 tablespoon olive oil
1 tablespoon lemon juice
1 teaspoon fresh thyme or fresh herb of choice
salt, pepper, and garlic powder to taste
Directions For Upgraded Caesar Salad:
Start by pickling the red onions and making the croutons. The rest of the salad will take just a few minutes to toss together! If you are planning to make this an entree salad, prepare and grill your choice of protein (I added salmon this time) before tossing the salad. 
Make some cuts down the center of the ribs on the Romaine hearts, then cut across into perfect bite-size pieces of lettuce.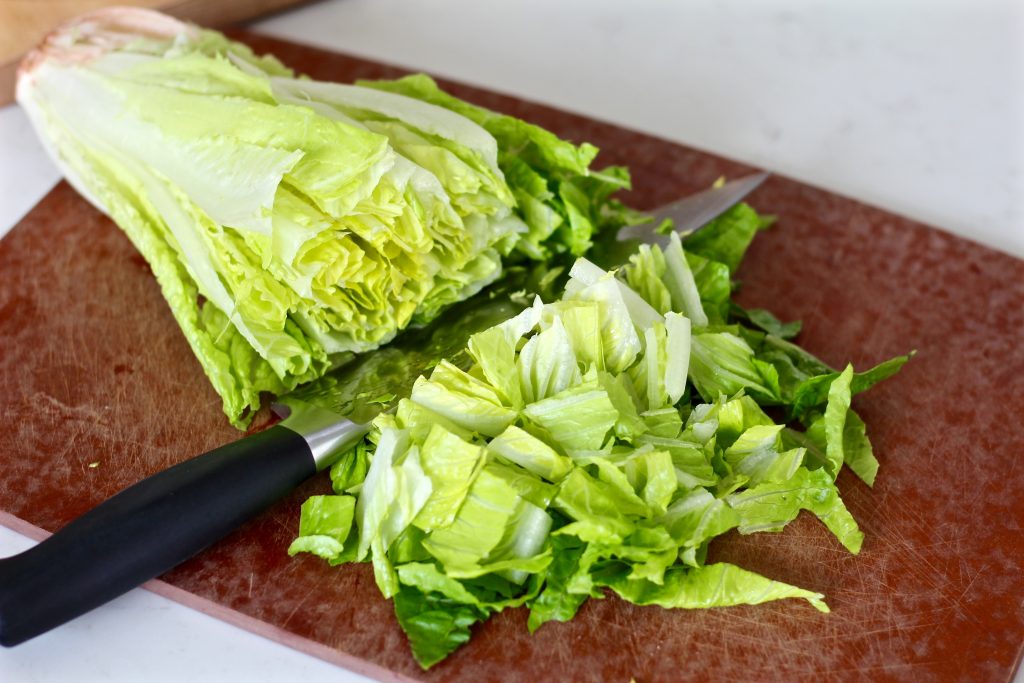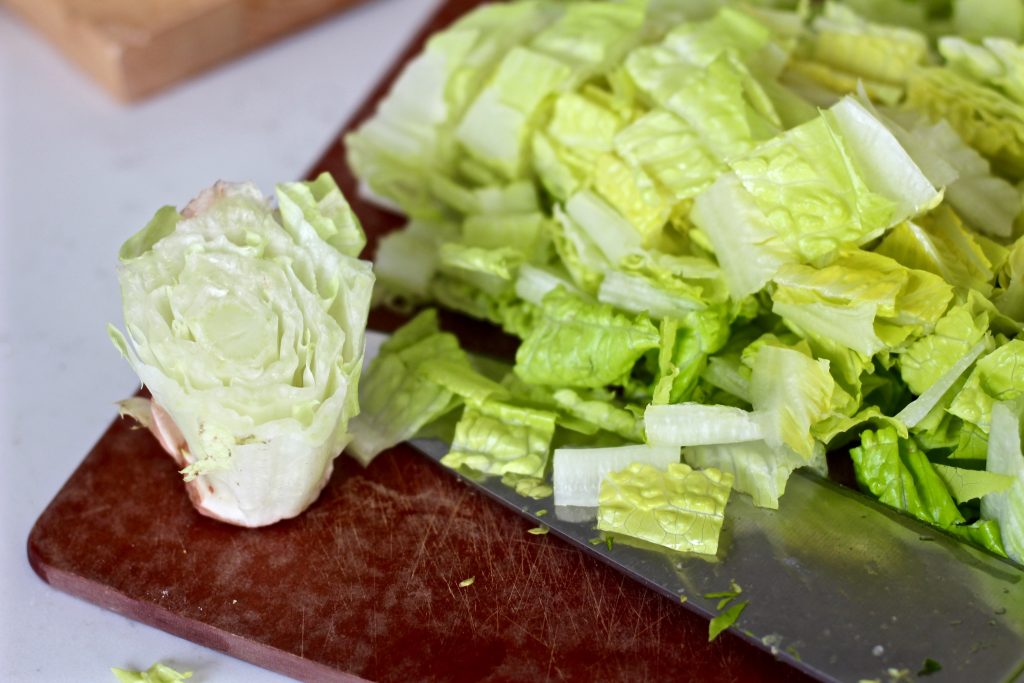 Add about 1/3 to 1/2 cup of Caesar salad dressing and toss the lettuce in a large bowl. I like a generous amount of dressing so I used 1/2 a cup.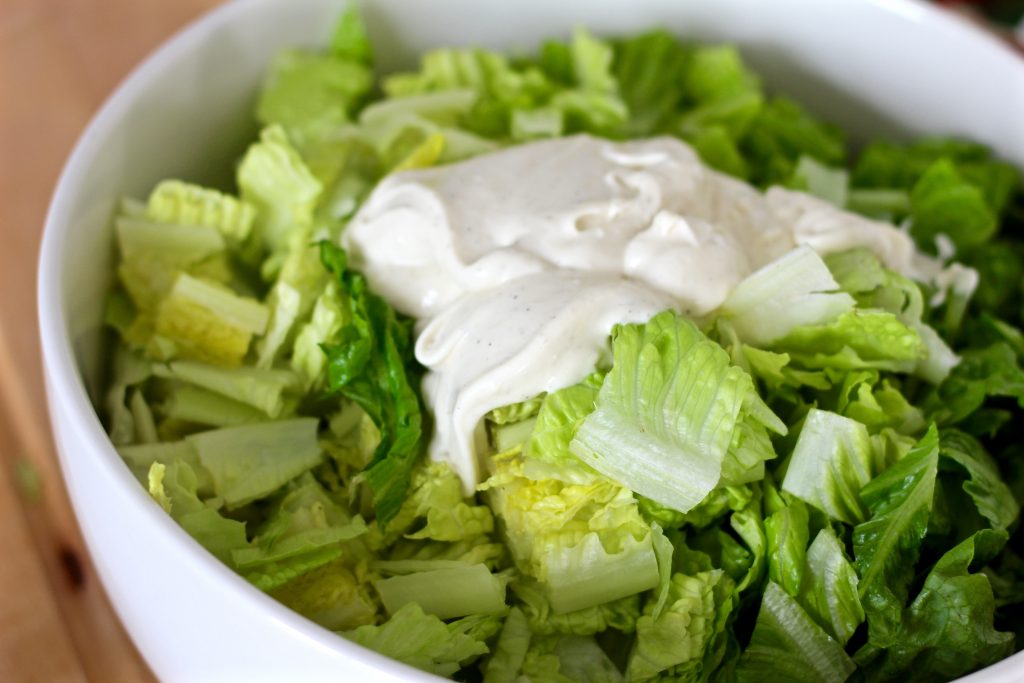 You can make your own Caesar dressing or use store bought. I used this one from Fred Meyer and really liked it. It was super thick and creamy.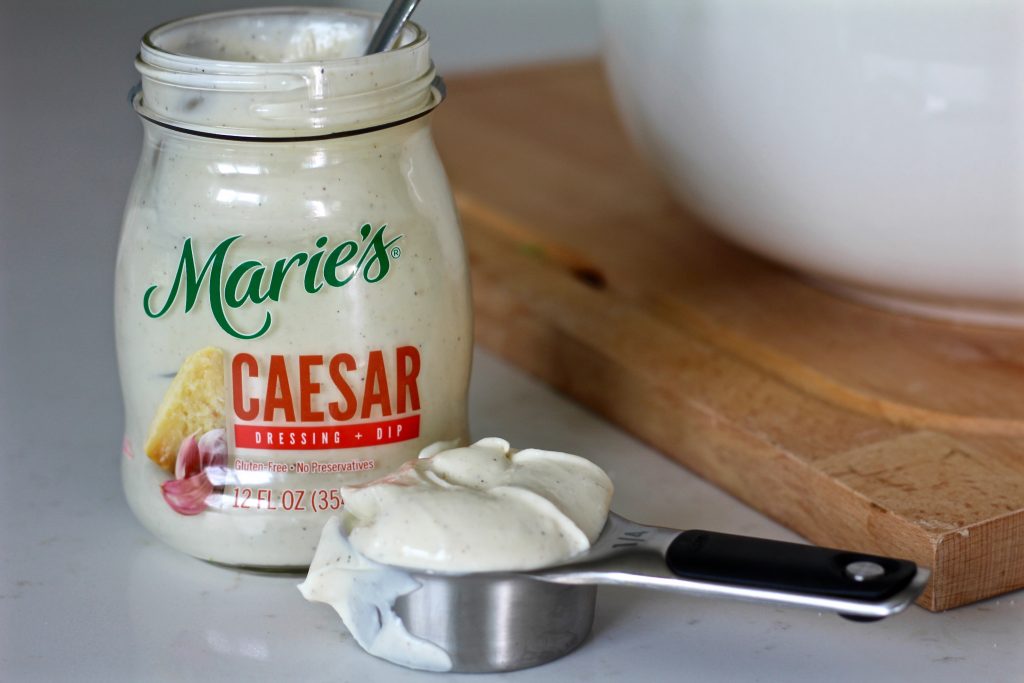 Add the Parmesan cheese and toss again.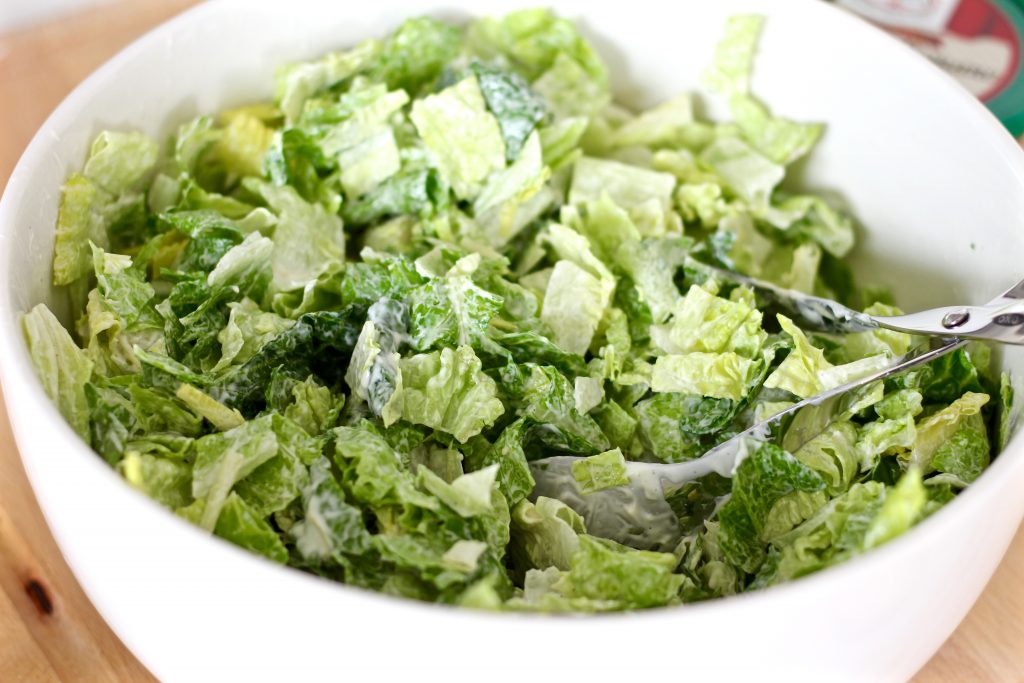 Add artichoke hearts, sliced olives, pickled red onions, and croutons then toss lightly.
My favorite olives are these double stuffed garlic & jalapeño ones from Costco. So addictively good!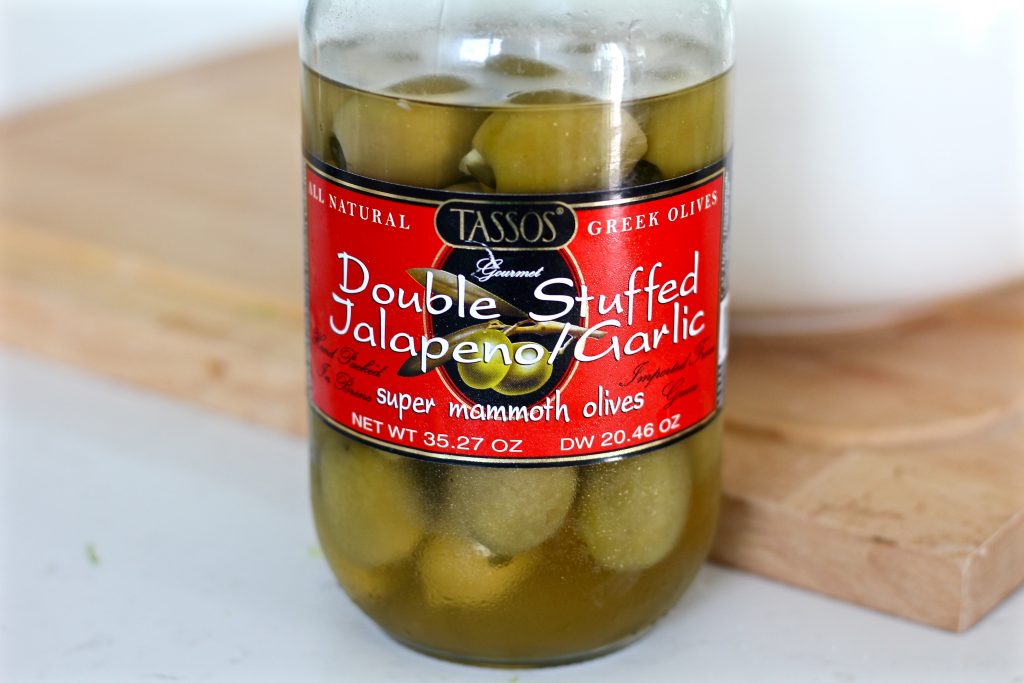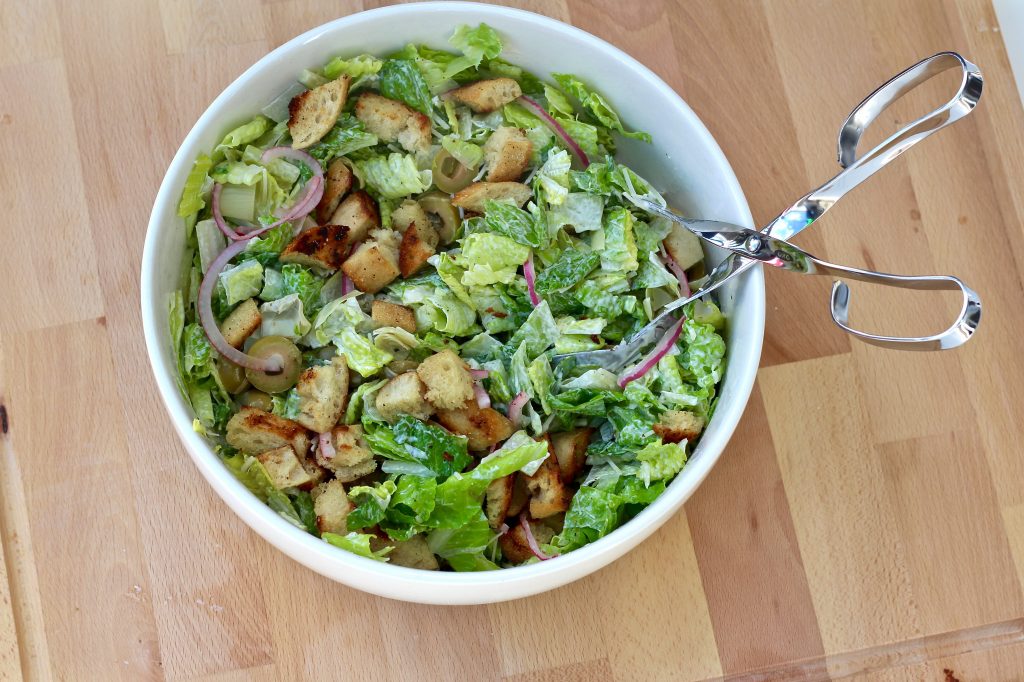 Serve with a wedge of lemon on each plate so everyone can top off their salad with some fresh lemon juice.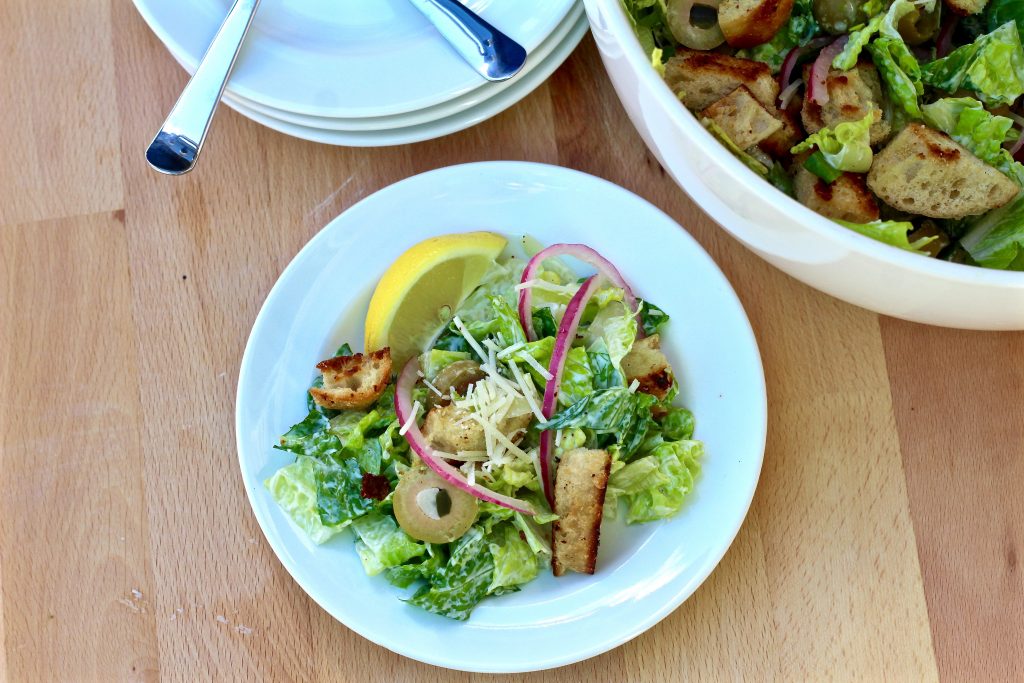 This is great as a starter salad or side salad, but my favorite way to enjoy it is to top it with grilled salmon or chicken. It's a perfect lunch or dinner on a warm summer day!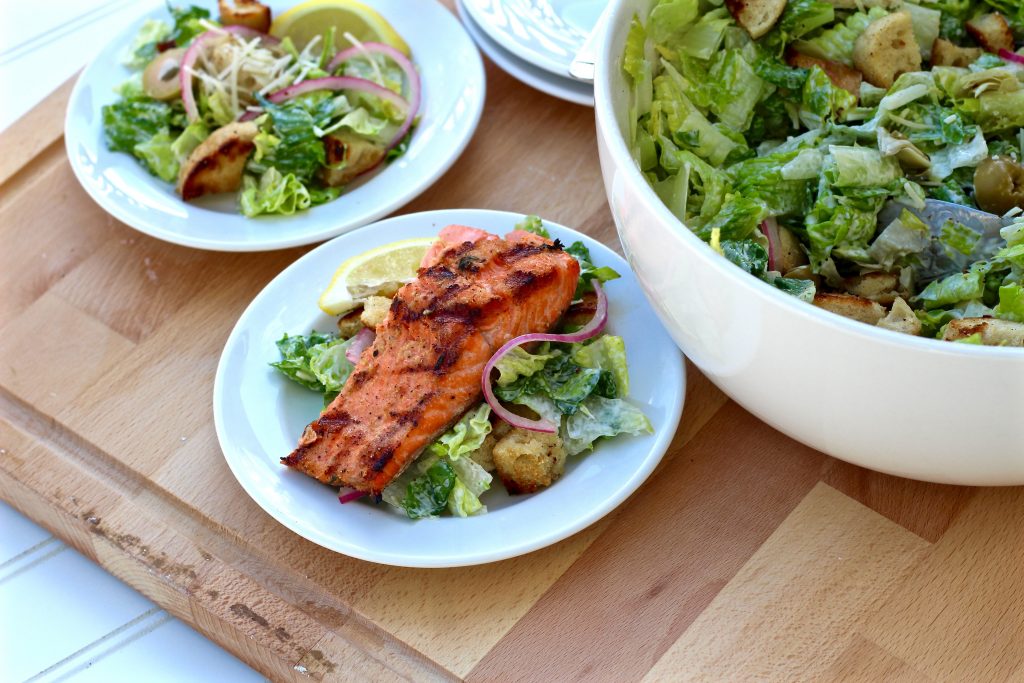 For the Pickled Red Onions:
Thinly slice half of a red onion.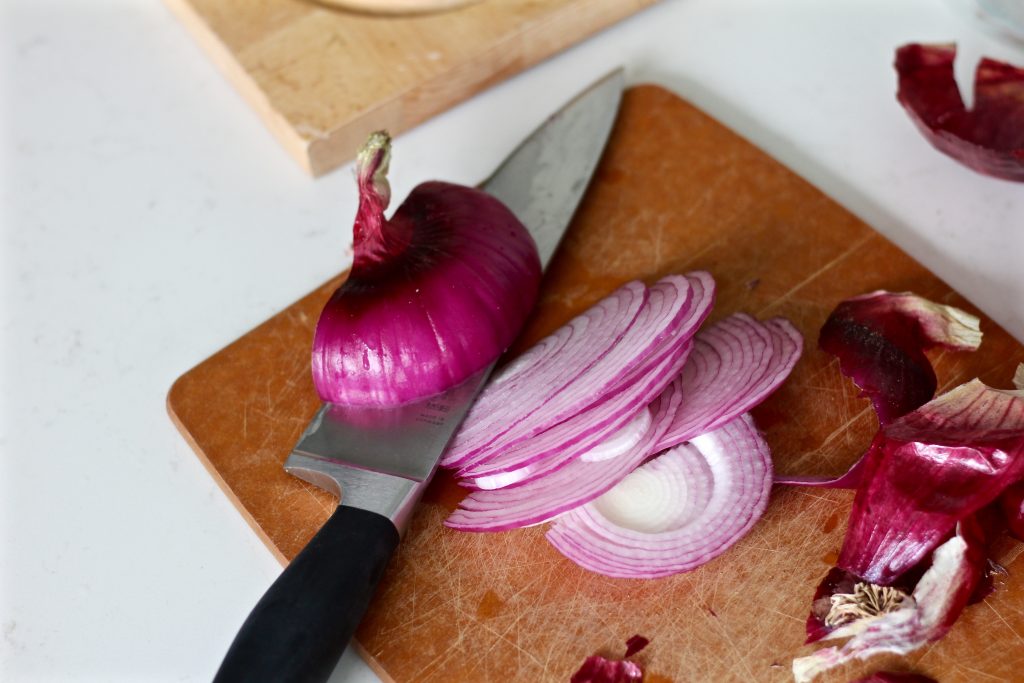 Place in a small bowl and add 1 cup of red wine vinegar or apple cider vinegar (or a mix of the two).
Add about 2 tablespoons of sugar and a few dashes of salt.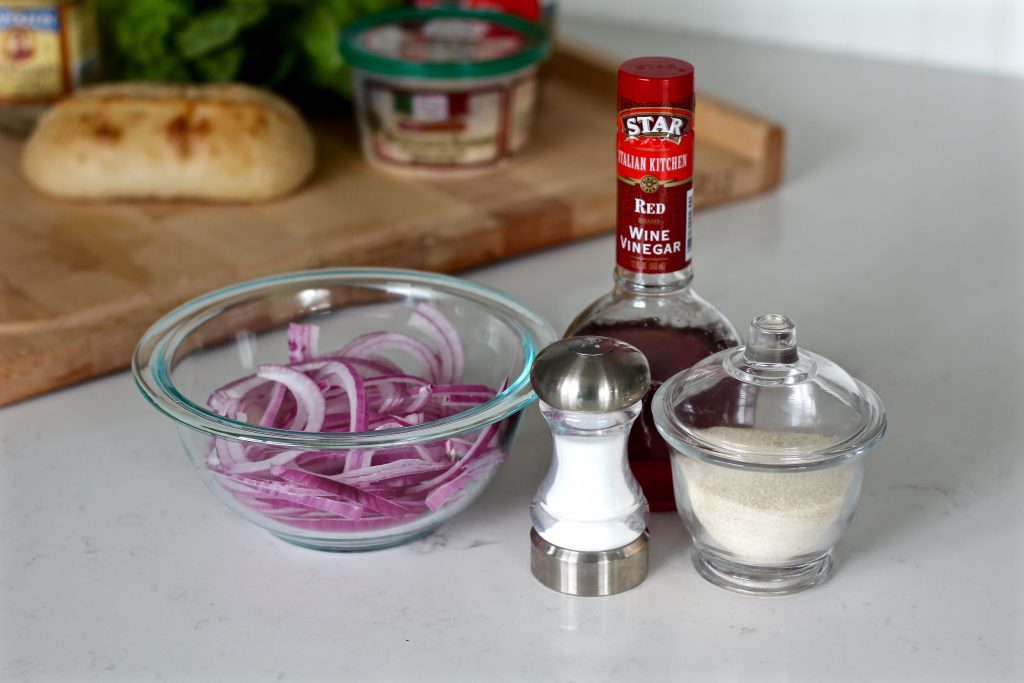 Stir to coat all onions, cover, and leave at room temperature for at least 30 minutes before using. The pickled onions can then be stored covered in the refrigerator for a week. They're a great topping for any salad, sandwich, or tacos!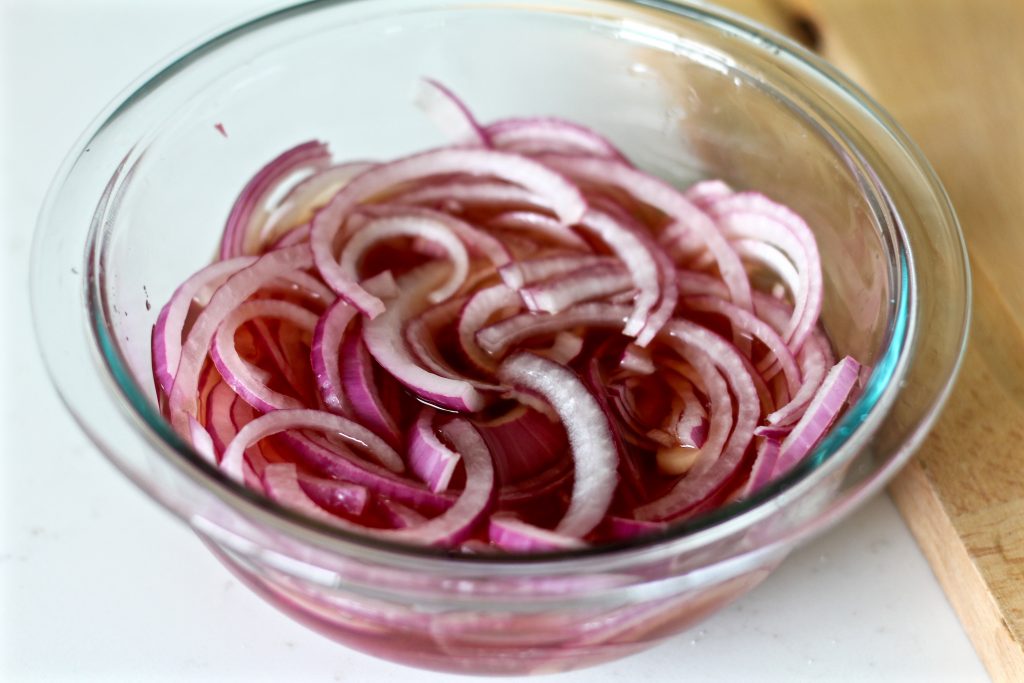 For the Homemade Garlic Croutons:
Cut one small baguette into cubes (so you have about two cups).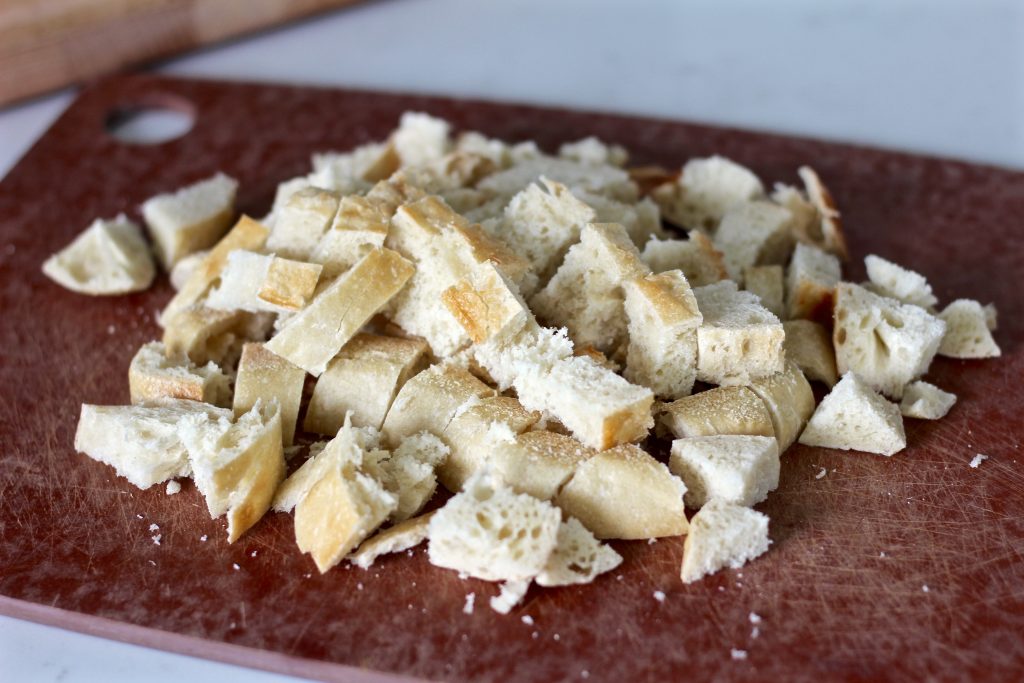 Heat a couple tablespoons of butter with a drizzle of olive oil in a non stick pan over medium heat.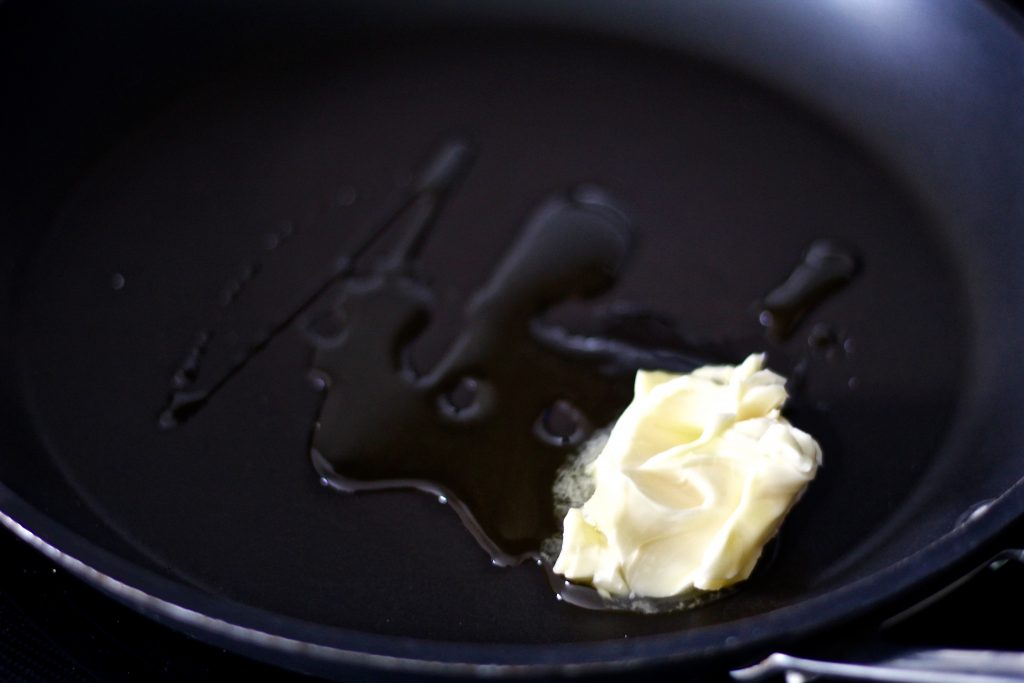 Add cubed bread and stir to coat with butter and olive oil.
Reduce heat to low.
Season with salt and garlic powder and toast on all sides until starting to turn golden brown.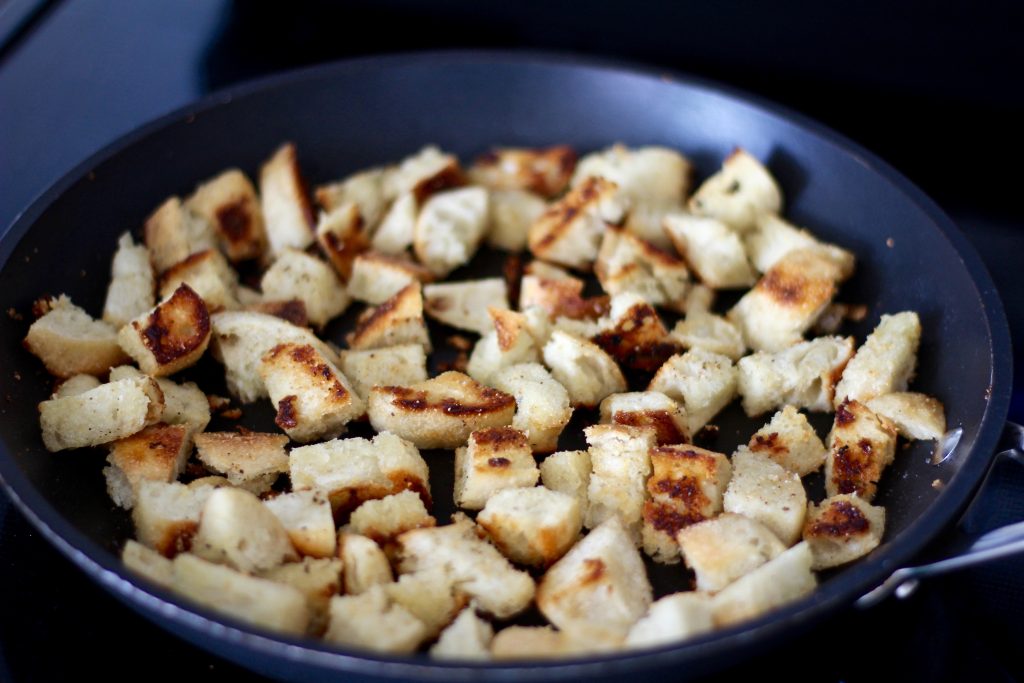 For the Grilled Salmon: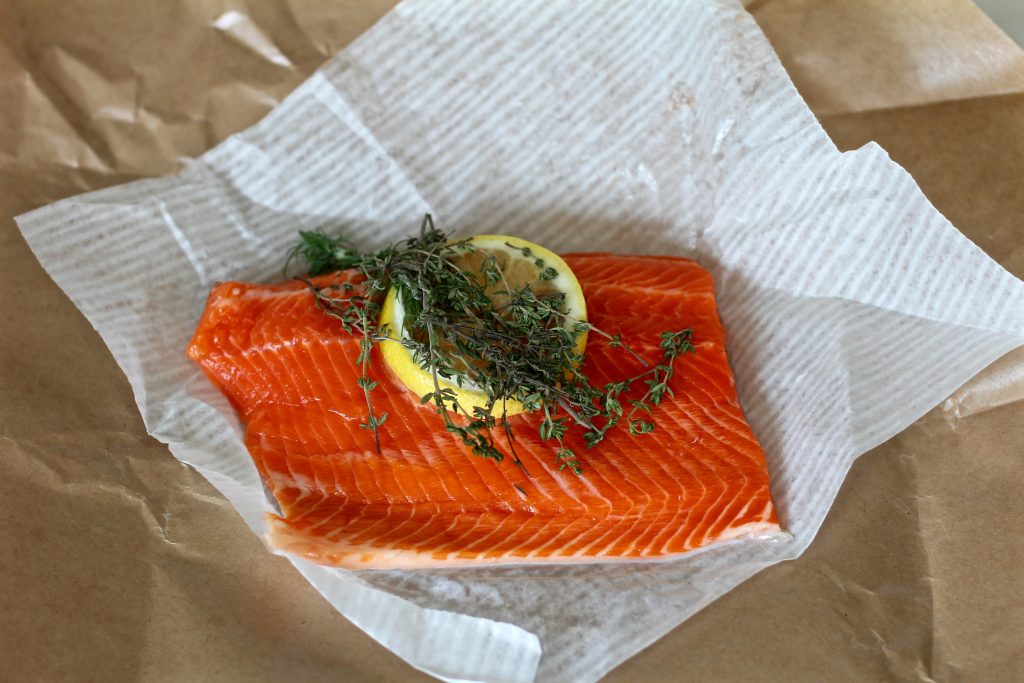 Pat dry salmon and brush with olive oil.
Season on both sides with salt, pepper, and garlic powder to taste.
Rub in fresh thyme and squeeze some fresh lemon juice on top.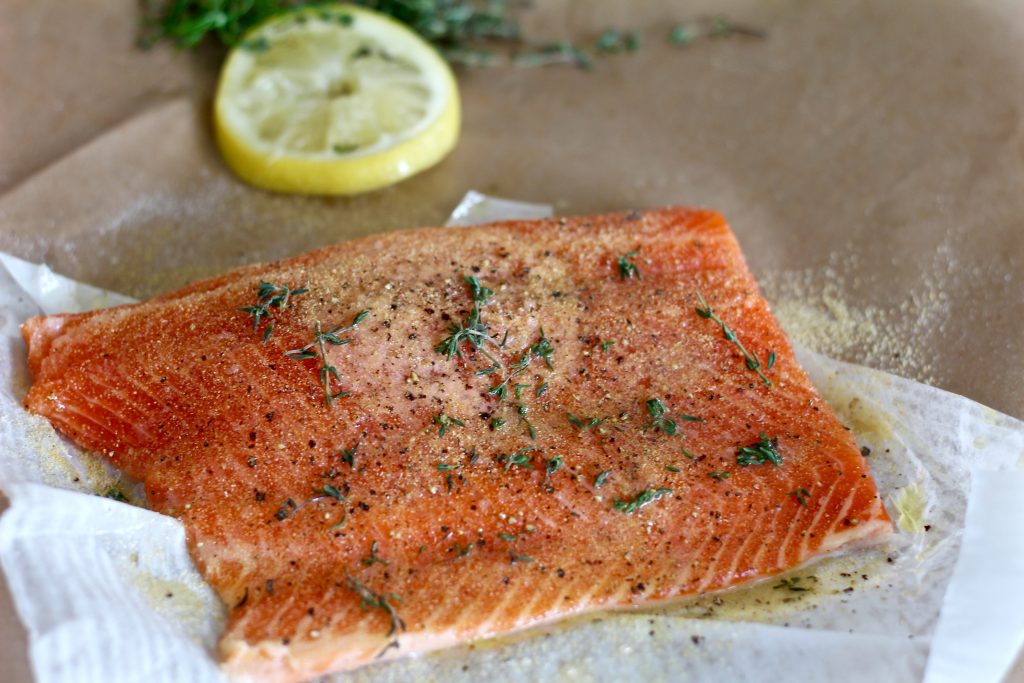 Grill skin side up on high for about 3-4 minutes then turn and grill the skin side for an additional 2-3 minutes.
The skin can be easily removed before serving.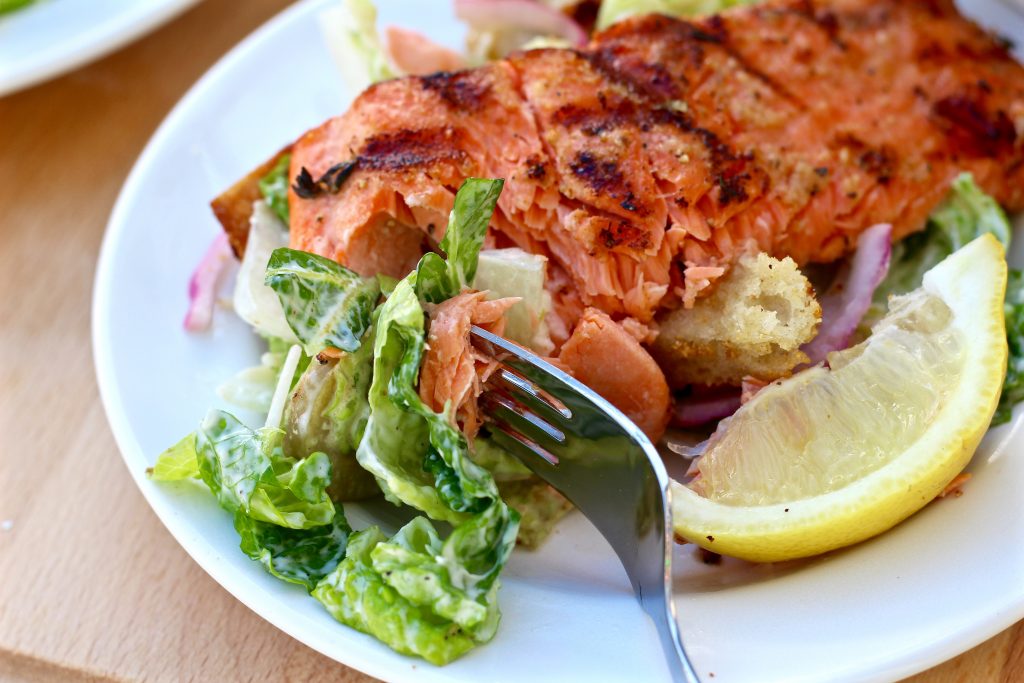 The salmon is juicy, flaky, and flavorful. The perfect topping to make this upgraded Caesar salad into an entree!
What's your favorite protein to add to Caesar salad? What are some ingredients that you like adding to your Caesar salad? I'd love to hear from you!
xoxo,
Yuli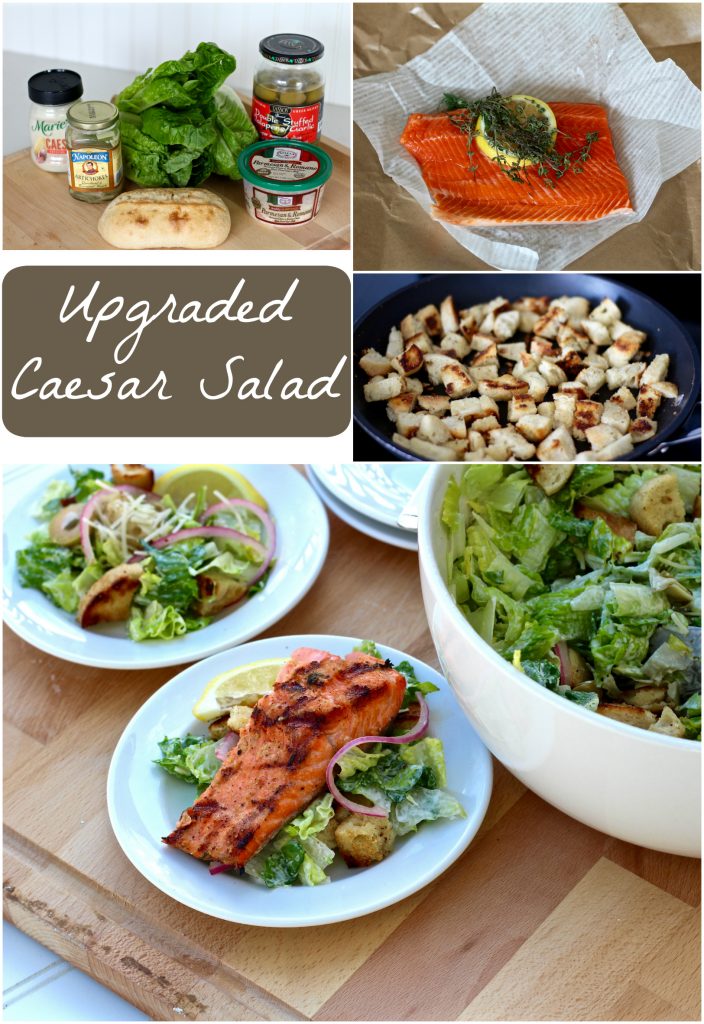 Ingredients
3 romaine hearts
1/3-1/2 cup Caesar salad dressing
1/4 cup shredded parmesan cheese
1/3 cup marinated artichoke hearts, rough chopped
1/3 cup sliced green olives
1/4 cup pickled red onions
1 lemon cut into wedges for serving
2 cups homemade garlic croutons
Optional: grilled salmon for topping
For the Pickled Red Onions
1/2 red onion, thinly sliced
1 cup red wine or apple cider vinegar
2 tablespoons sugar
a few dashes of salt
For the Homemade Garlic Croutons
1 mini baguette (or enough for about two cups of bread cubes)
3 tablespoons butter
1 tablespoon olive oil
salt and garlic powder to taste
For the Grilled Salmon
1 lb salmon filet
1 tablespoon olive oil
1 tablespoon lemon juice
1 teaspoon fresh thyme or fresh herb of choice
salt, pepper, and garlic powder to taste
Instructions
Make some cuts down the center of the ribs on the Romaine hearts, then cut across into perfect bite-size pieces of lettuce
Add about 1/3 to 1/2 cup of Caesar salad dressing and toss the lettuce in a large bowl
Add Parmesan cheese and toss again
Add artichoke hearts, sliced olives, pickled red onions, and croutons and toss lightly
Serve with a wedge of lemon
Optional: top with grilled salmon (or protein of choice) to make this an entree salad
For the Pickled Red Onions
Thinly slice half of a red onion
Place in a small bowl and add 1 cup of red wine vinegar or apple cider vinegar (or a mix of the two)
Add about 2 tablespoons of sugar and a few dashes of salt
Stir to coat all onions, cover, and leave at room temperature for at least 30 minutes before using
The pickled onions can then be stored covered in the refrigerator for a week
For the Homemade Garlic Croutons:
Cut one small baguette into cubes (about two cups)
Heat a couple tablespoons of butter with a drizzle of olive oil over medium heat
Add cubed bread and stir to coat with butter and olive oil
Reduce heat to low
Season with salt and garlic and toast on all sides until starting to turn golden brown
For the Grilled Salmon
Pat dry salmon and brush with olive oil
Season on both sides with salt, pepper, and garlic powder to taste
Rub in fresh thyme and squeeze some fresh lemon juice on top
Grill skin side up on high for about 3-4 minutes then turn and grill the skin side for an additional 2-3 minutes
Remove skin before serving