This marinated honey Sriracha chicken is becoming one of my favorite ways to cook chicken breast! The marinade is quick to put together and really livens up what would normally be a pretty bland cut of meat. Ingredients like the toasted sesame oil, lime juice and zest, fresh minced garlic, honey, and Sriracha are all packed full of flavor and go together so well. This juicy and tender honey Sriracha chicken is a perfect recipe to throw on your grill this summer. All you have to do is follow these few tips and you'll never eat dry chicken breast again!
Ingredients For Honey Sriracha Chicken:
2-3 pounds boneless skinless chicken breasts
1/ 3 cup toasted sesame oil
zest and juice of one lime
1/3 cup honey
3 to 4 cloves minced garlic
1/4 Sriracha chili sauce
kosher salt to taste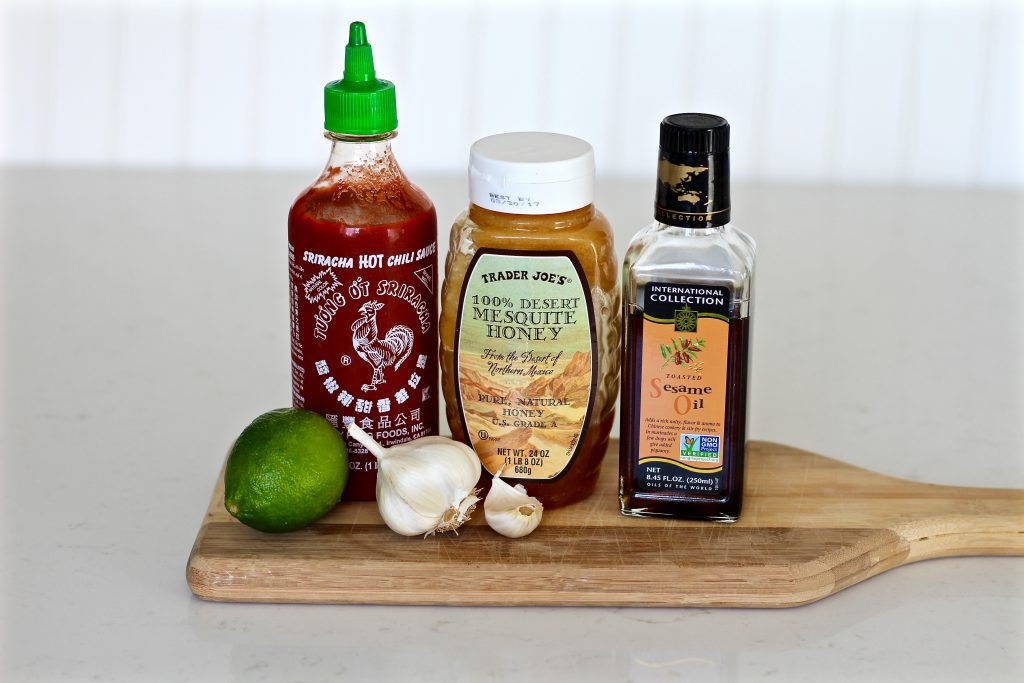 Directions for Honey Sriracha Chicken:
Zest, then juice the lime. You can use a regular cheese grater or a zester tool to remove the zest. This adds a ton of flavor to the marinade and goes much further than just the lime juice on its own.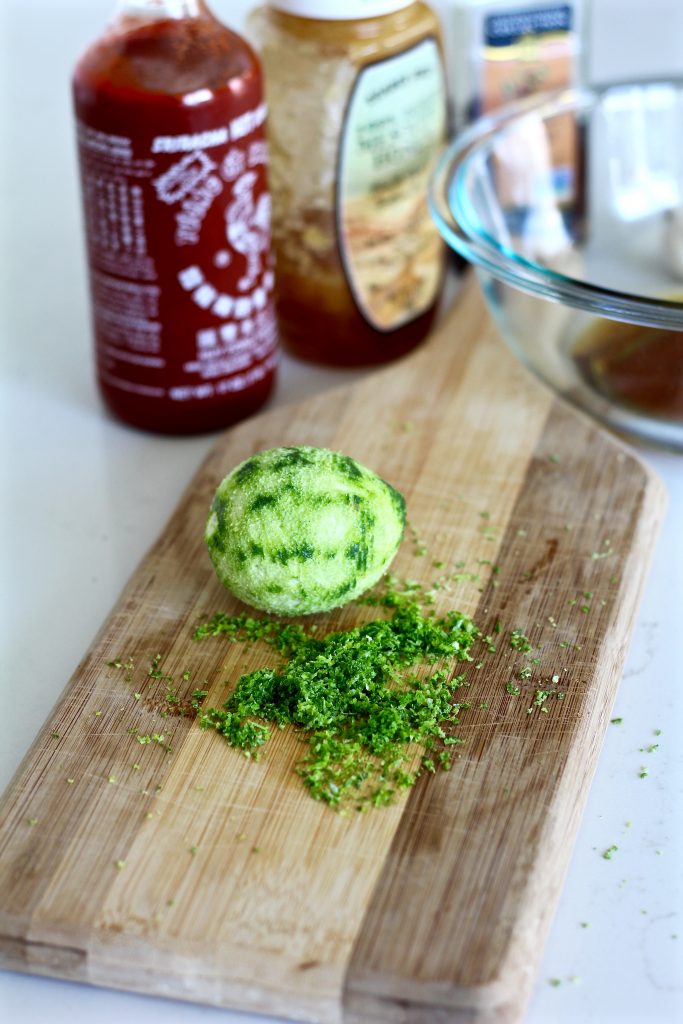 Peel and mince 3-4 garlic cloves. I used my garlic press to get extra fine pieces of garlic and save time I would have spent chopping!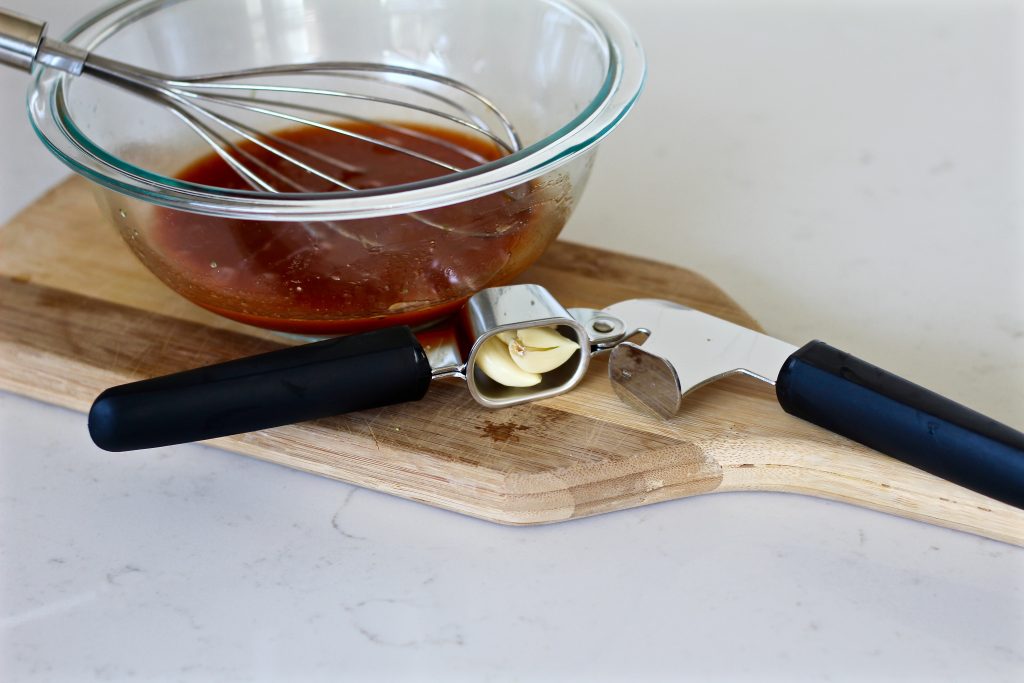 In a medium bowl, whisk together sesame oil, lime zest, lime juice, honey, minced garlic, and Sriracha chili sauce.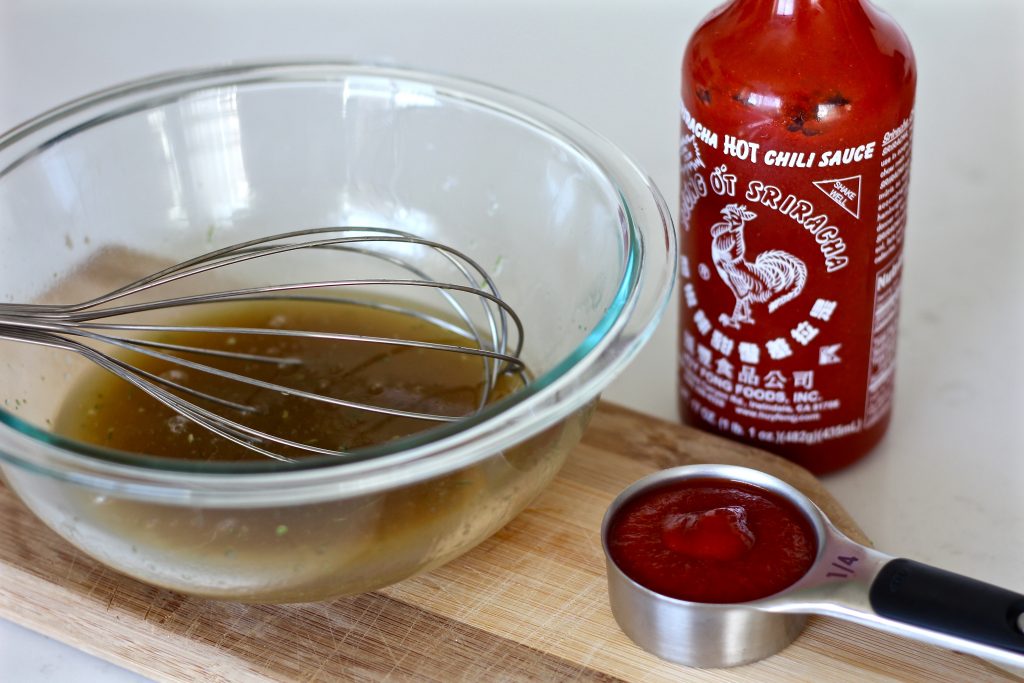 Trim chicken breasts of any excess fat or skin. I've tried the honey Sriracha chicken marinade on chicken thighs, but I prefer the breasts because they absorb the flavor a little better. And since chicken breasts tend to be a little more on the dry/bland side, they can use a marinade like this much more than the chicken thighs! 
Chicken breasts can easily come out dry and flavorless, so I take a few steps to prevent that:
marinate overnight
even out the thickness
baste with marinade while cooking
cook to the correct temperature to avoid overcooking
tent with foil and rest before serving
One of the things that make cooking whole chicken breasts a challenge is how much thicker one end is than the other. If you cook it whole, by the time the thick end is cooked, the other side is completely dry and stringy. This is why I will often times cut up chicken breasts into smaller pieces. But another great option is to use a meat tenderizer to even out the thickness. This way you get to cook the breast whole and have it cook evenly, No more dry side! Just cover the chicken breasts with plastic wrap or wax paper and use the flat side of a meat tenderizer to pound and flatten the thicker end of the breast.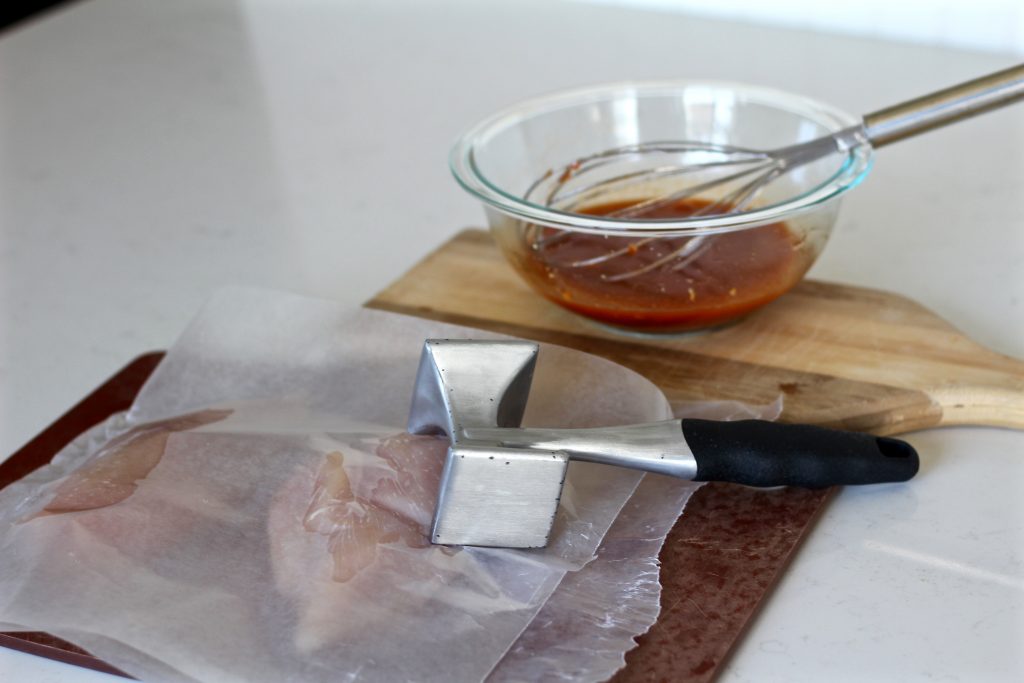 Season chicken with kosher salt to taste. The marinade doesn't have any salt in it, so don't forget to season the chicken!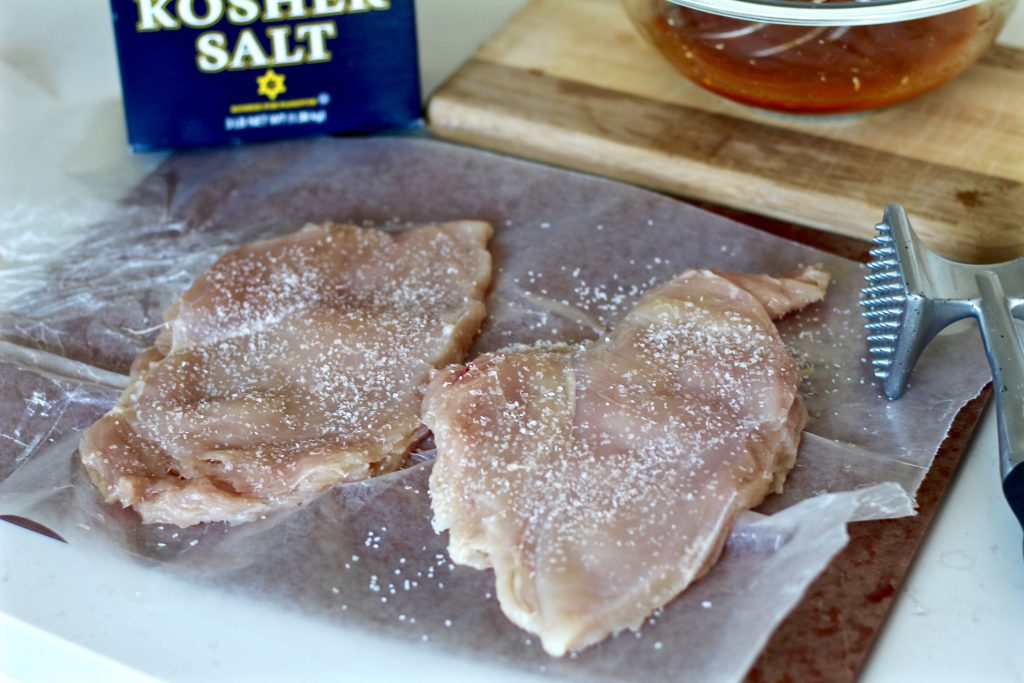 Place the chicken in a gallon sized ziplock bag and pour the marinade over it.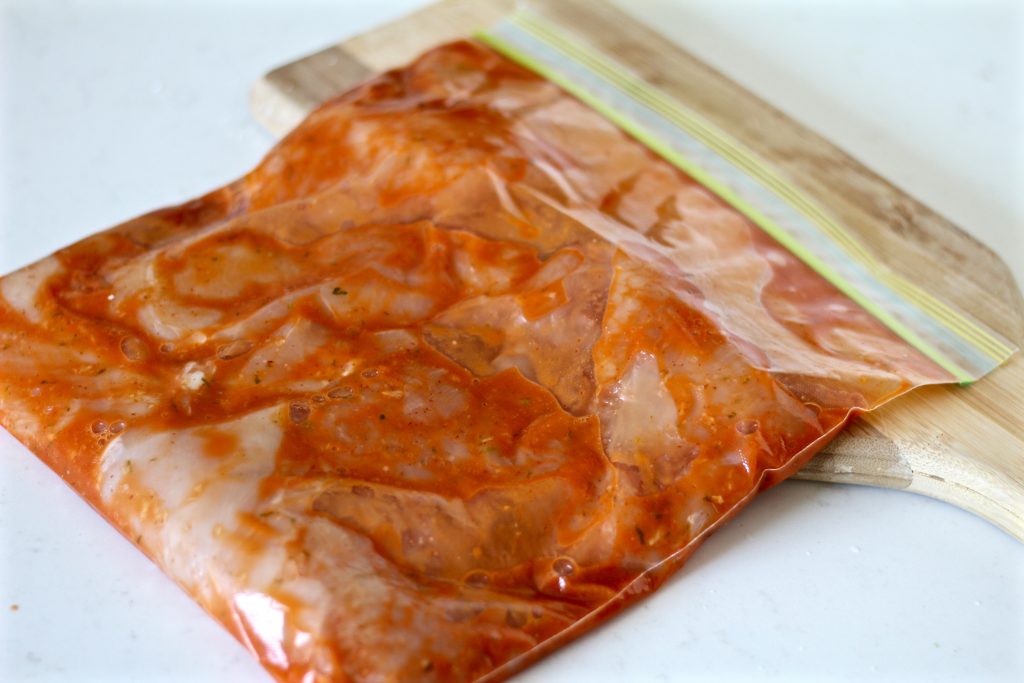 Lay flat and refrigerate overnight, turning over in the morning so that both sides get covered well. I highly recommend that you marinate overnight to get maximum amount of flavor into the chicken. If you only let it sit for an hour or so, the result won't be as juicy and tender.
Grill or bake marinated chicken until fully cooked to 165°. You can remove it from heat when it's about 5° away from the desired temperature as the the meat will continue to rise in temperature and cook even after being removed from the heat source. Making sure that you cook to the correct temperature and don't overcook it is probably the most important thing you can do to keep this honey Sriracha chicken juicy and delicious!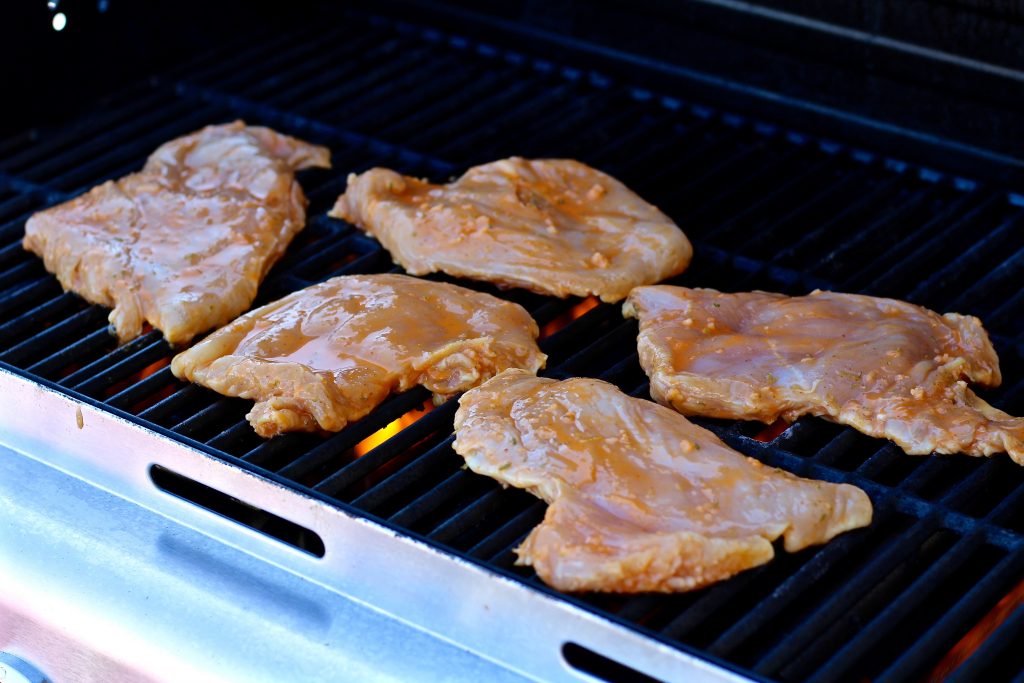 Pour out the extra marinade into a bowl and use a brush to baste the chicken with more marinade as it cooks.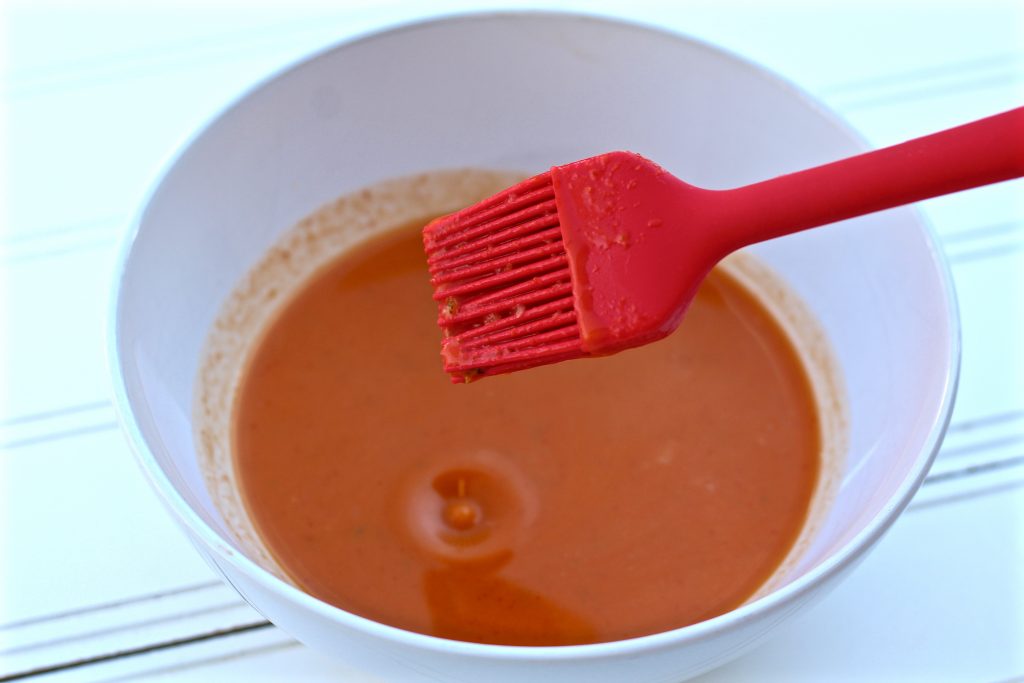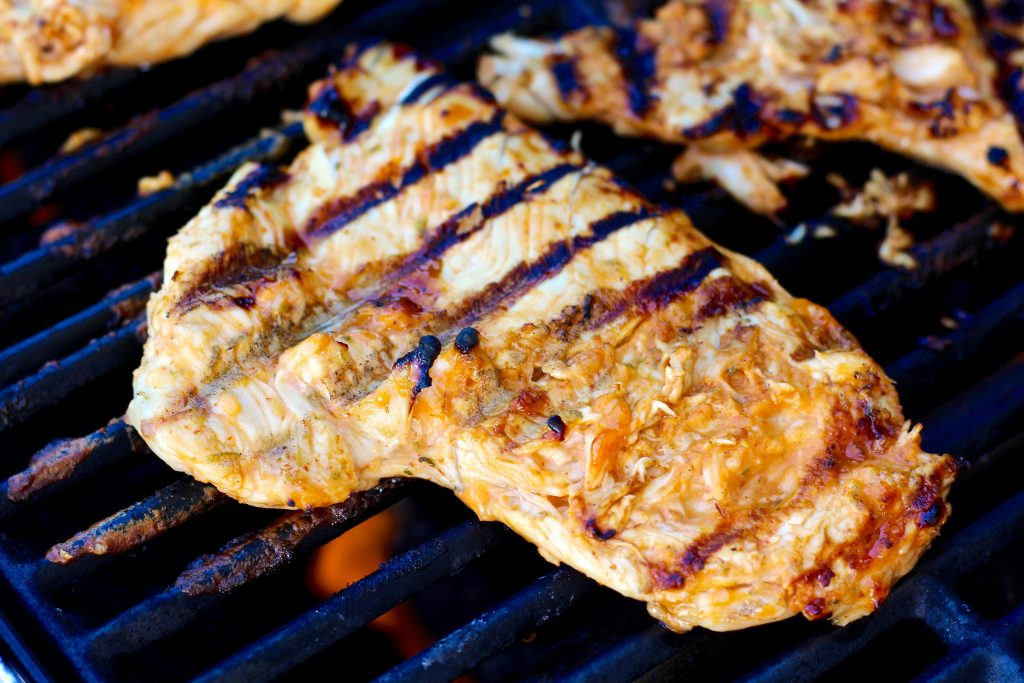 When the honey Sriracha chicken is done cooking, remove it from heat, loosely cover it with foil, and allow it to rest for about 5 minutes. This will allow for the temperature to finish rising and the juices to get sealed back into the meat rather than run out as you cut into it. Then you can slice and serve the chicken over rice (like this easy coconut brown rice),  or serve it whole. It is so tender and juicy that I almost forget I'm eating chicken breasts and not thighs!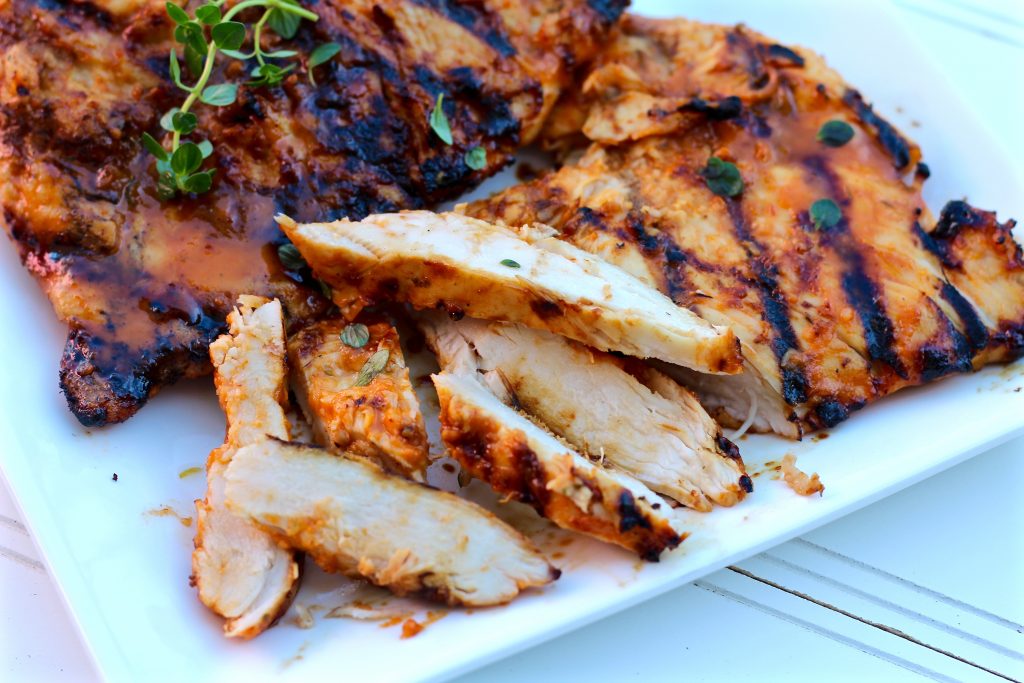 Try this recipe out next time you grill, you won't be disappointed!
xoxo,
Yuli
Sweet And Spicy Honey Sriracha Chicken Marinade

Ingredients
2-3 pounds boneless skinless chicken breasts
1/ 3 cup toasted sesame oil
zest and juice of one lime
1/3 cup honey
3 to 4 cloves minced garlic
1/4 Sriracha chili sauce
kosher salt to taste
Instructions
Zest then juice lime
Peel and mince garlic cloves
In a medium bowl, whisk together sesame oil, lime zest, lime juice, honey, minced garlic, and Sriracha chili sauce
Trim chicken breasts
Cover chicken breasts with plastic wrap or wax paper and use the flat side of a meat tenderizer to pound and flatten the thicker end of the breast
Season chicken with kosher salt
Place chicken in gallon sized ziplock bag and cover with marinade
Lay flat and refrigerate overnight, turning over in the morning
Grill or bake marinated chicken until fully cooked to 165°
Tent with foil and allow to rest for about 5 minutes then slice and serve over rice (or serve whole breasts)