Shrimp ceviche tacos make me think of vacation…and lately I've had vacation on my mind. Sadly, I don't know if we're going to make it out to the beaches of Mexico or Dominican Republic this summer. With all of our extra income going towards remodeling the new house, I just don't see it happening. But I do know that I can bring back the tastes and memories from those vacations with these zesty and fresh shrimp ceviche tacos.
When I think of ceviche I think back to our first vacation in Cancun and the little ceviche bar right on the beach. The view of the crystal-clear turquoise water was almost too beautiful to be real. The white sands of the beach were right at our toes and festive music mingled with the sounds of waves crashing. It smelled like vacation… salt air, fresh lime, cilantro, and delicious fried food. We sat with the hot sun, and sunblock on our salty skin, and ordered more food than we really needed, just so we could enjoy all of our favorite ceviche while we had the chance. I tried my first ceviche at that little restaurant and fell in love with it immediately. The citrus juices cook the delicate protein of the shrimp bringing out a rich, buttery and sweet taste. The fresh salsa with just a bit of heat from the jalapeños, scooped up with salty, crunchy tortilla chips, is the perfect companion to these shrimp ceviche tacos and the perfect thing to enjoy on a hot summer day. There is a good amount of chopping involved for this recipe, but the payoff is great– nothing beats the flavor of fresh ingredients put together in your kitchen. So if you're starting to dream of vacation and need a little glimpse into summer, turn up your favorite summer playlist and get to making these shrimp ceviche tacos. You might end up dancing around your kitchen…just remember to put the knife down first!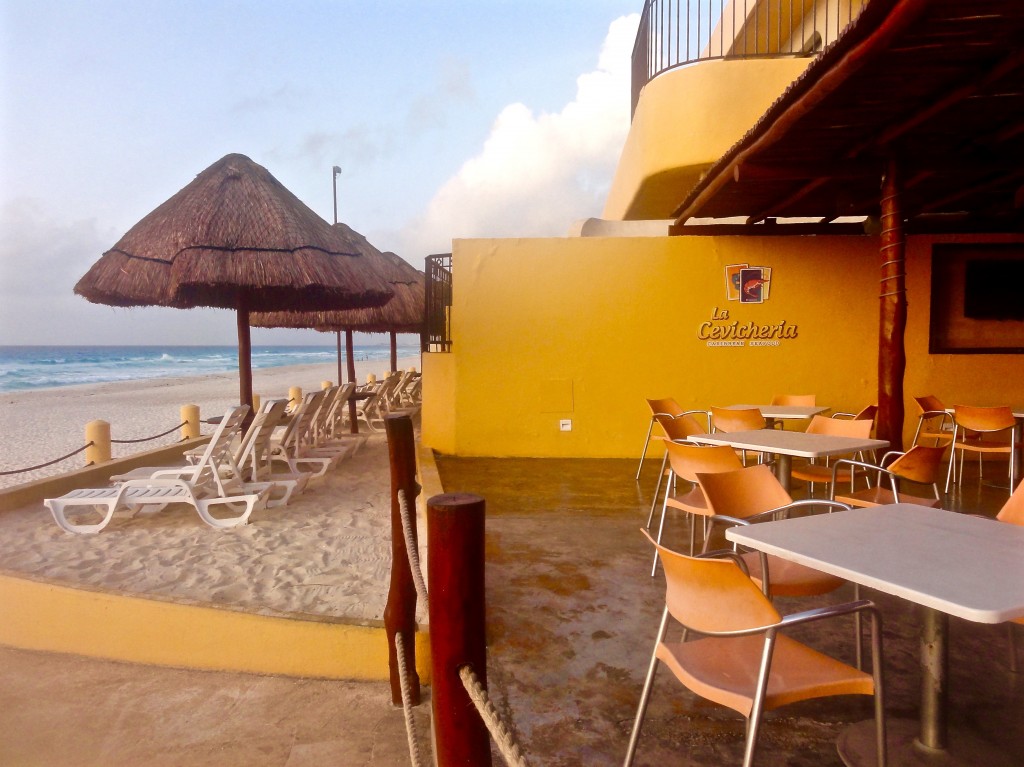 Ingredients For Shrimp Ceviche Tacos With Fresh Salsa
20 oz. raw shrimp
2 lemons
2 limes
1 english cucumber
2 tomatoes
1 red onion
2 jalapeños
1 large or 2 small avocados
1 bunch of cilantro
2 tablespoons olive oil
salt and pepper
12 flour tortillas (fajita size)
Tortilla chips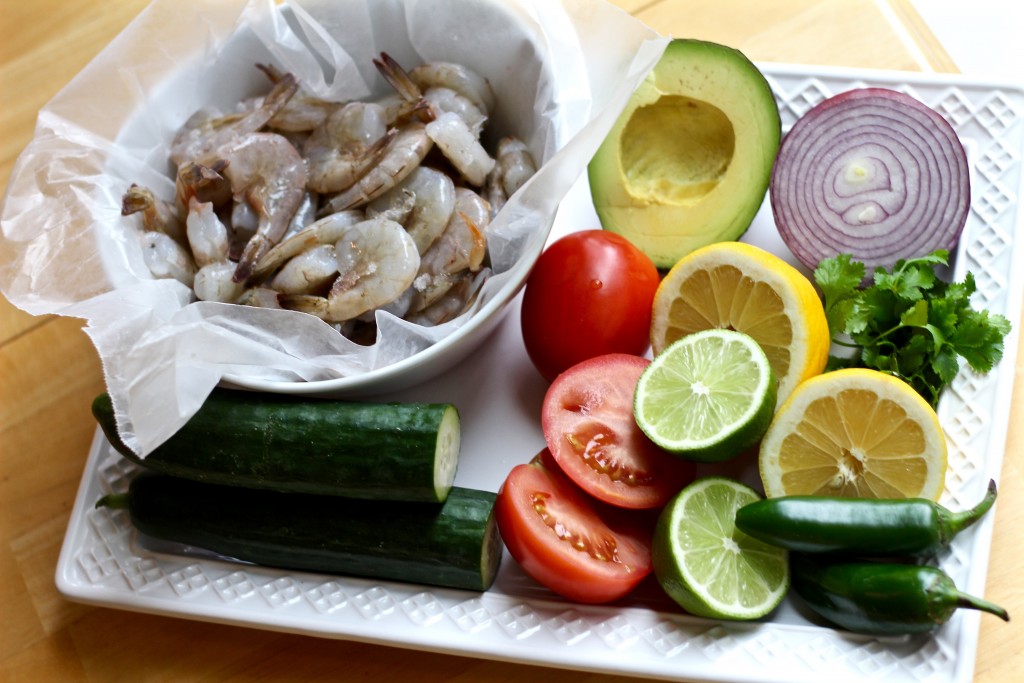 Instructions For Shrimp Ceviche Tacos With Fresh Salsa
For The Shrimp Ceviche Tacos
Zest the lemons and limes then juice them into a medium-sized bowl (big enough to fit your shrimp).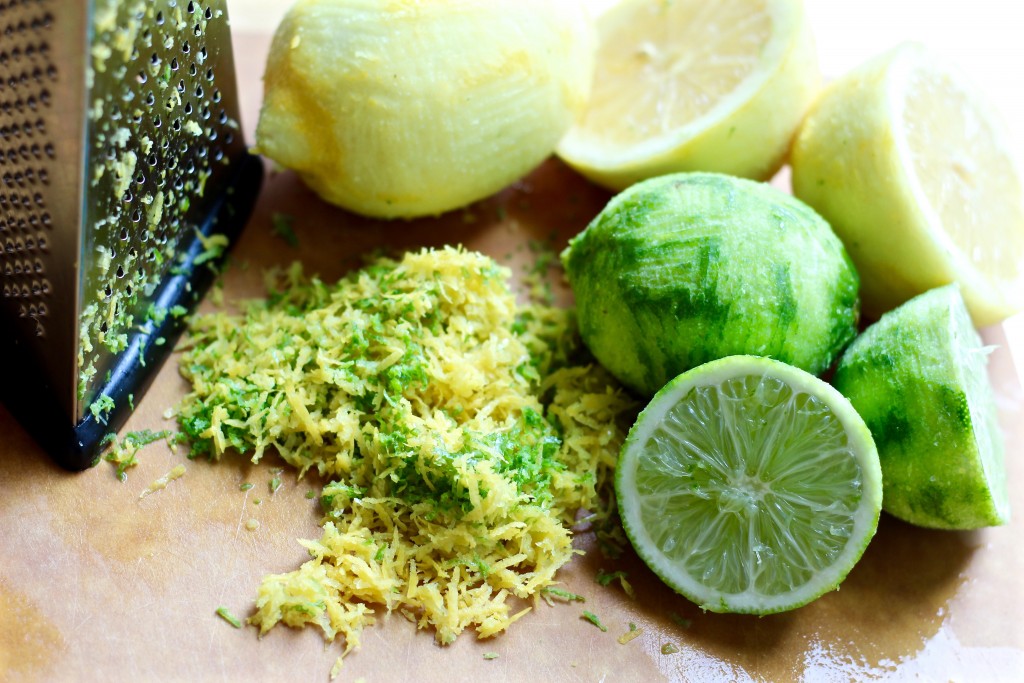 Peel the raw shrimp and cut into 1/2-inch pieces. Cutting the shrimp into smaller pieces will help it "cook" in the citrus juices faster. It also means you don't have to spend more money on the larger shrimp since you won't be eating them whole anyway and no one will know what size they started out at!
Toss the pieces of shrimp with the citrus zest and juice, making sure that all of the shrimp is covered.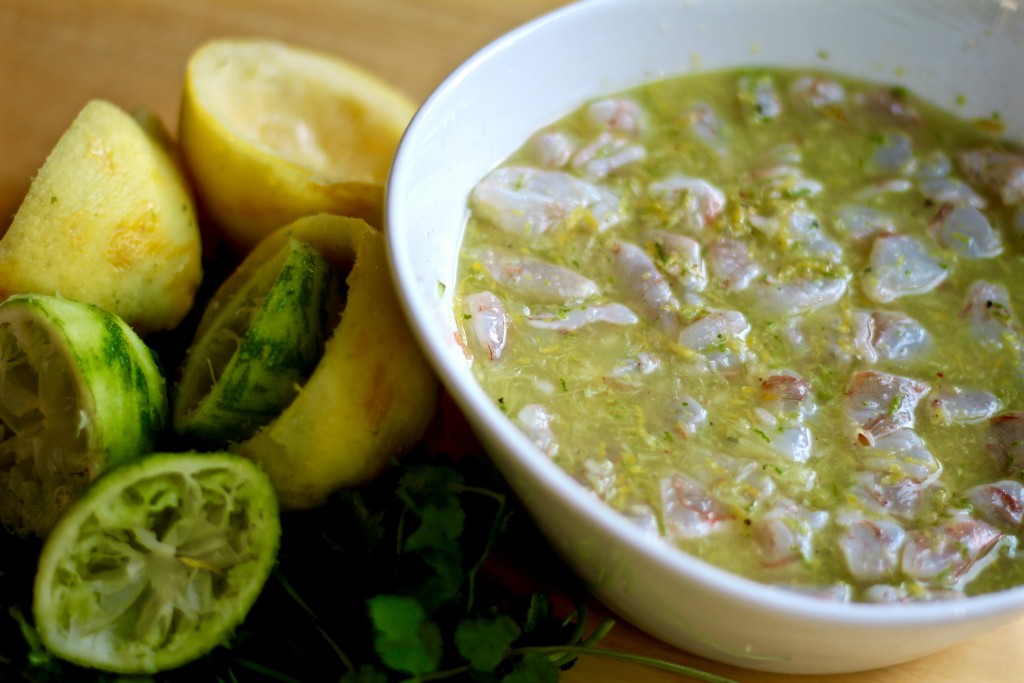 Let it marinate for 20-25 minutes at room temperature; the acid in the lemon and lime juice is enough to cook the shrimp without using any heat.
When shrimp is cooked through it will turn white and opaque.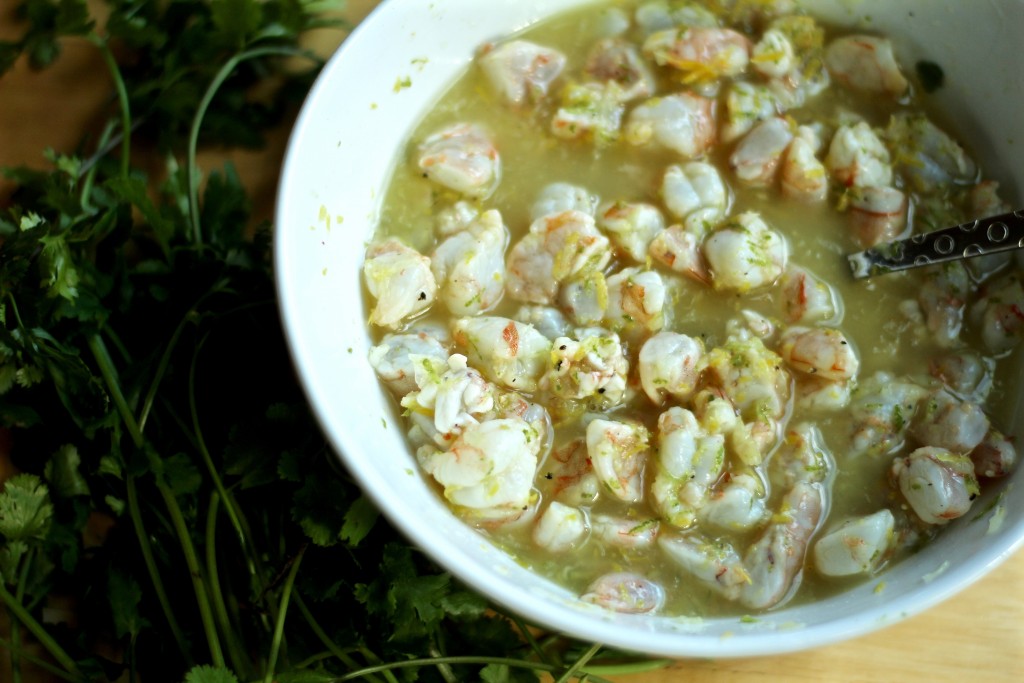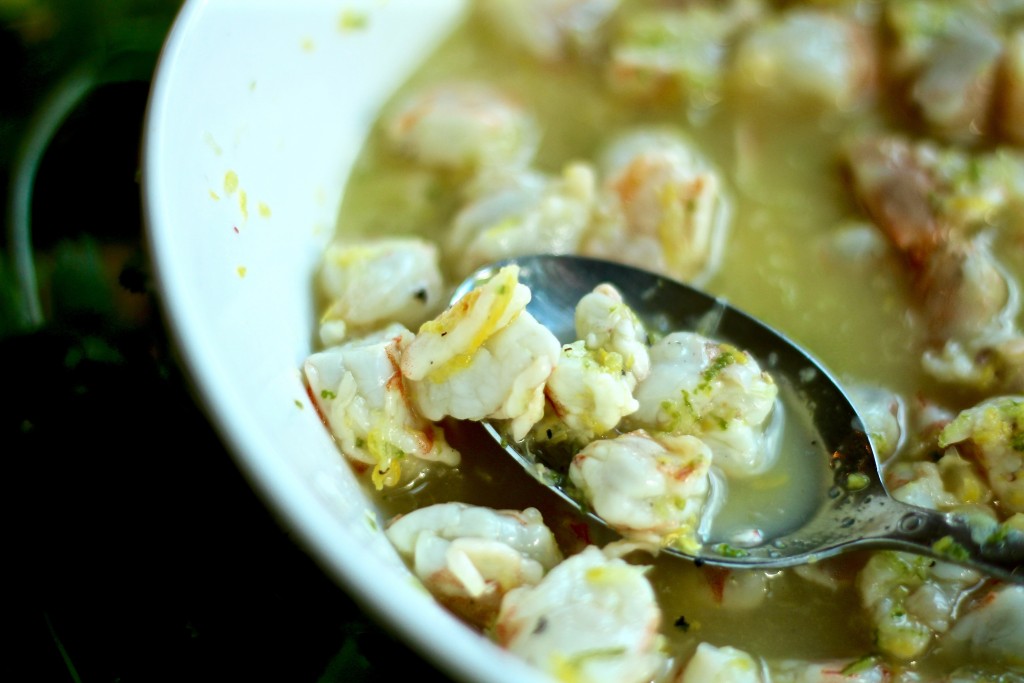 Season very generously with salt and some pepper. I say "very generously" because it takes quite a bit of salt to balance out all the acidity from the citrus. I ususally taste and add more salt a few times before I'm satisfied with the flavor.
Warm the flour tortillas wrapped in foil in the oven, or wrapped in a moist paper towel in the microwave before serving.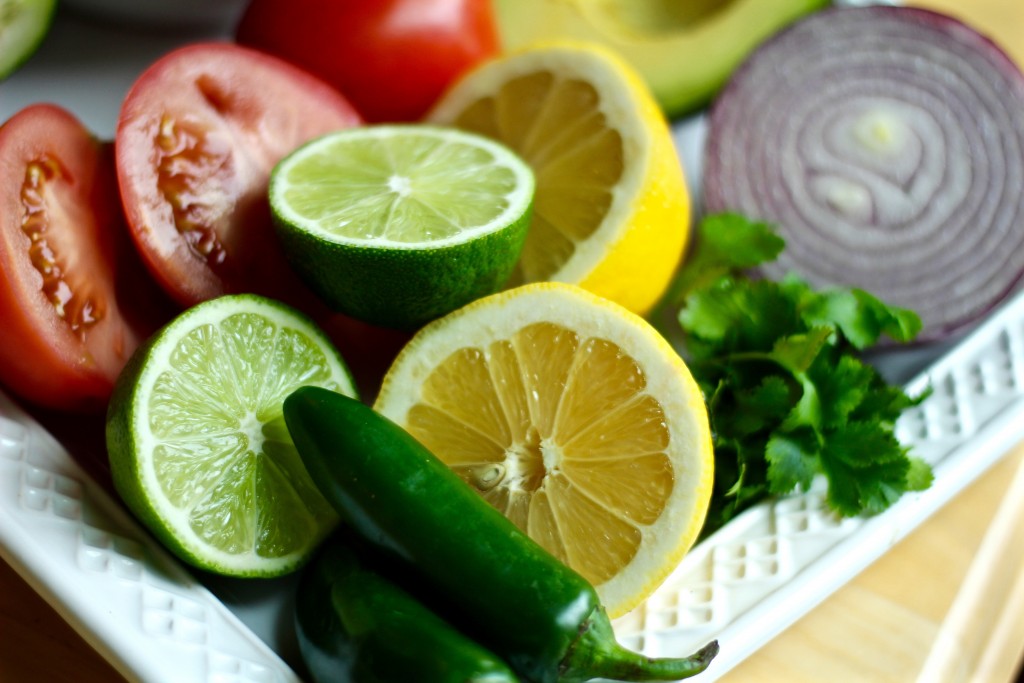 For The Fresh Salsa:
Peel and dice the English cucumber. Don't skip the peeling…it really changes the texture of the whole dish.
Core, seed, and finely dice the tomatoes. I used Roma tomatoes for this fresh salsa.
Peel and finely dice the red onion. If you aren't a huge fan of raw onion, you can use less than the whole onion. (I ended up using only half of mine for this recipe.)
Mince the jalapeños, removing the ribs and seeds first if you prefer less heat.
Halve, pit, peel, and dice the avocado. Make sure that the avocado you're using is ripe enough or else you will run into some trouble with pitting and peeling it.
Rinse, then chop the desired amount of cilantro (I used about a handful).
Combine all vegetables in a bowl and toss them in 2 tablespoons of olive oil. Then season to taste with salt and pepper. I like to add a squeeze of lemon and lime to the salsa to brighten up the flavor.
Serve alongside the shrimp ceviche tacos with tortilla chips for scooping.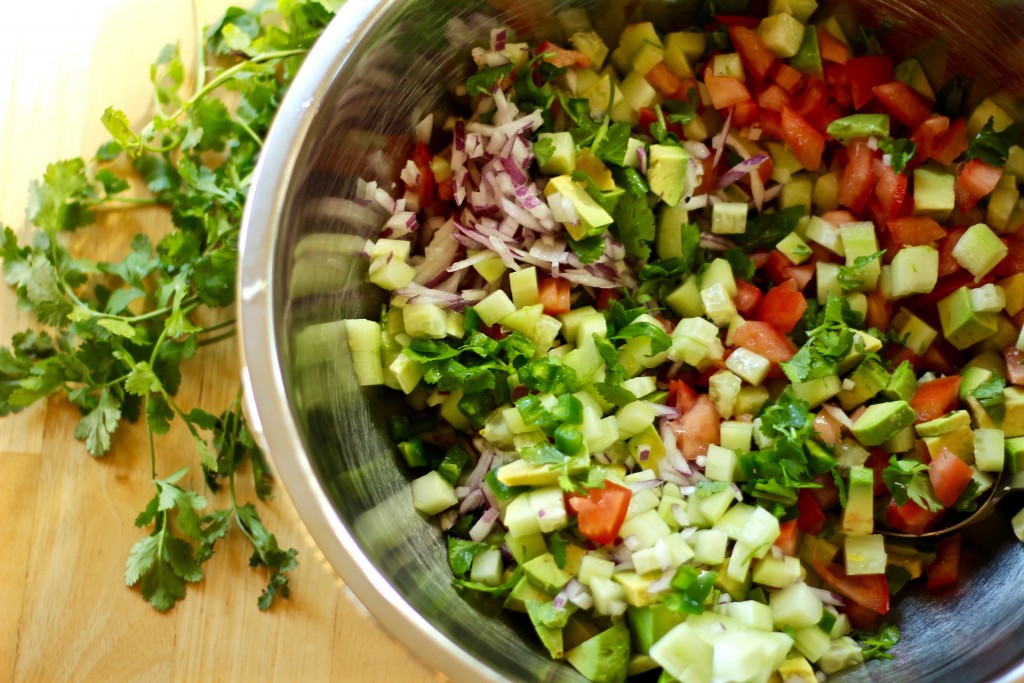 Add a few tablespoons of the fresh salsa to the bowl with shrimp ceviche before serving.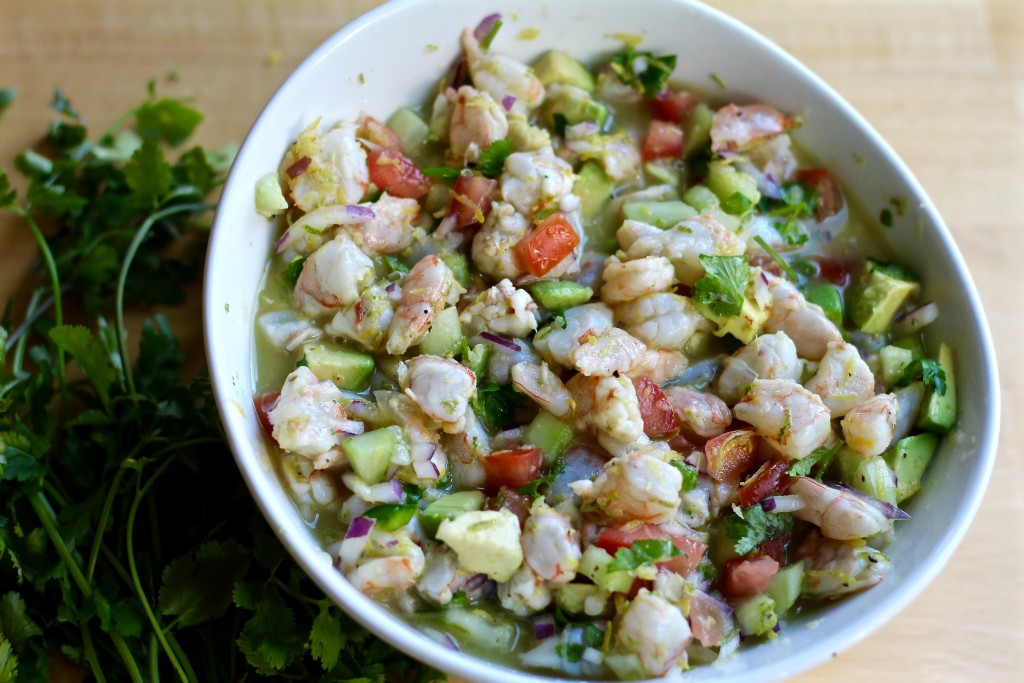 Have everyone make their own tacos at the table using the warm tortillas. Serve a giant bowl of tortilla chips to go with everything and some lemonade if you're really in a summery mood!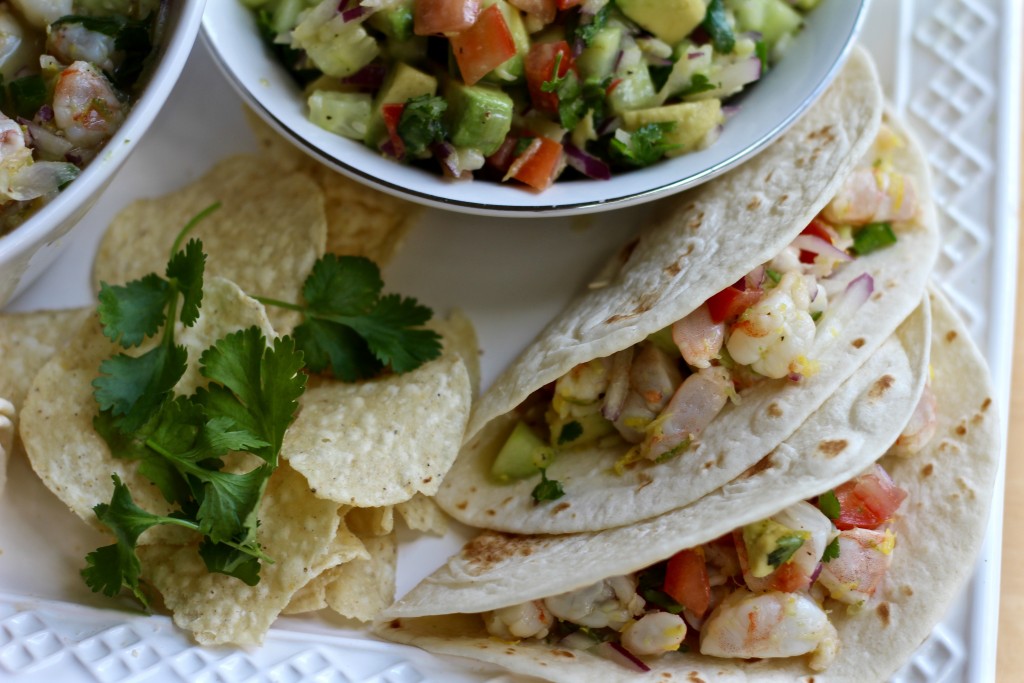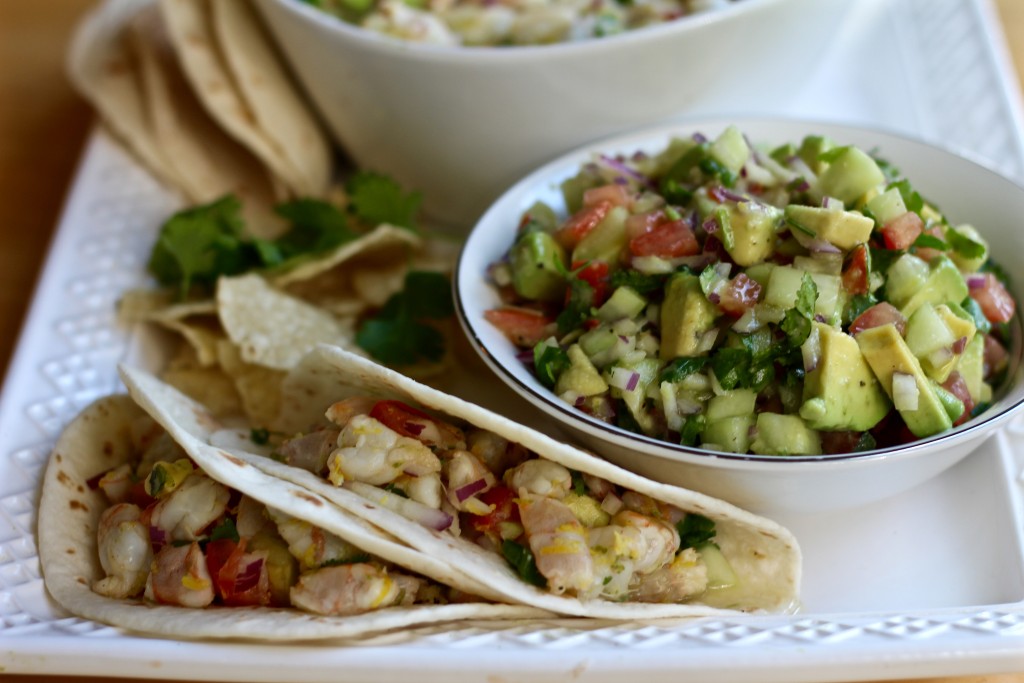 I hope that you enjoy these zesty shrimp ceviche tacos and that they can transport you to a sunny, hot, summer day in your memories.
xoxo,
Yuli
Love seafood? Try this quick and easy juicy grilled rosemary salmon.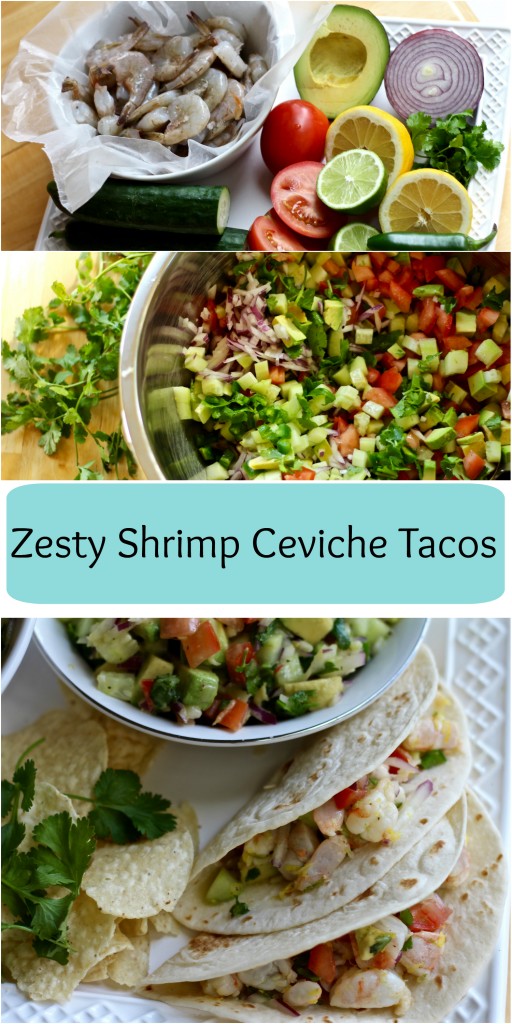 Ingredients
20 oz. raw shrimp
2 lemons
2 limes
1 english cucumber
2 tomatoes
1 red onion
2 jalapeños
1 large or 2 small avocados
1 bunch of cilantro
2 tablespoons olive oil
salt and pepper
12 flour tortillas (fajita size)
Tortilla chips
Instructions
For The Shrimp Ceviche
Zest the lemons and limes then juice into a medium bowl
Peel raw shrimp and cut into 1/2-inch pieces
Toss the pieces of shrimp into the citrus zest and juice, making sure all of the shrimp is covered
Let it marinate for 20-25 minutes; the acid in lemon and lime juice is enough to cook the shrimp without using any heat
When shrimp is cooked through and turns white and opaque, mix in a few tablespoons of the fresh salsa in the bowl
Season very generously with salt and some pepper
Warm the flour tortillas wrapped in foil in the oven, or wrapped in a moist paper towel in the microwave before serving
For The Fresh Salsa:
Peel and dice English cucumber
Core, seed, and finely dice the tomatoes
Peel and finely dice the red onion
Mince the jalapeños, first removing the ribs and seeds if you prefer less heat
Halve, pit, peel, and dice the avocado
Rinse then chop the desired amount of cilantro (I used about a handful of chopped cilantro)
Combine all vegetables in a bowl and toss in 2 tablespoons olive oil then season to taste with salt and pepper
Serve alongside shrimp ceviche tacos with tortilla chips for scooping