This BBQ chicken flatbread appetizer has quickly become my favorite to-go snack for any time, any day. It's saucy, cheesy, and meaty. If you're a big meat eater like me, you're going to love it! I almost want to call it my "Costco Appetizer" because 4/5 of these ingredients are staples from Costco that I always have on hand. So if you shop at Costco, it could easily be your new go-to as well. You'll love the tangy BBQ sauce with the smoky bacon and the crunchy-on-the-outside flatbread, but most of all, I guarantee you'll love how quick and easy it is to make!
Ingredients For BBQ Chicken Flatbread Appetizer:
4 pita flatbread rounds
2 cans chicken breast
1/2 cup bacon crumbles
1/2 cup BBQ sauce
2 cups shredded mozzarella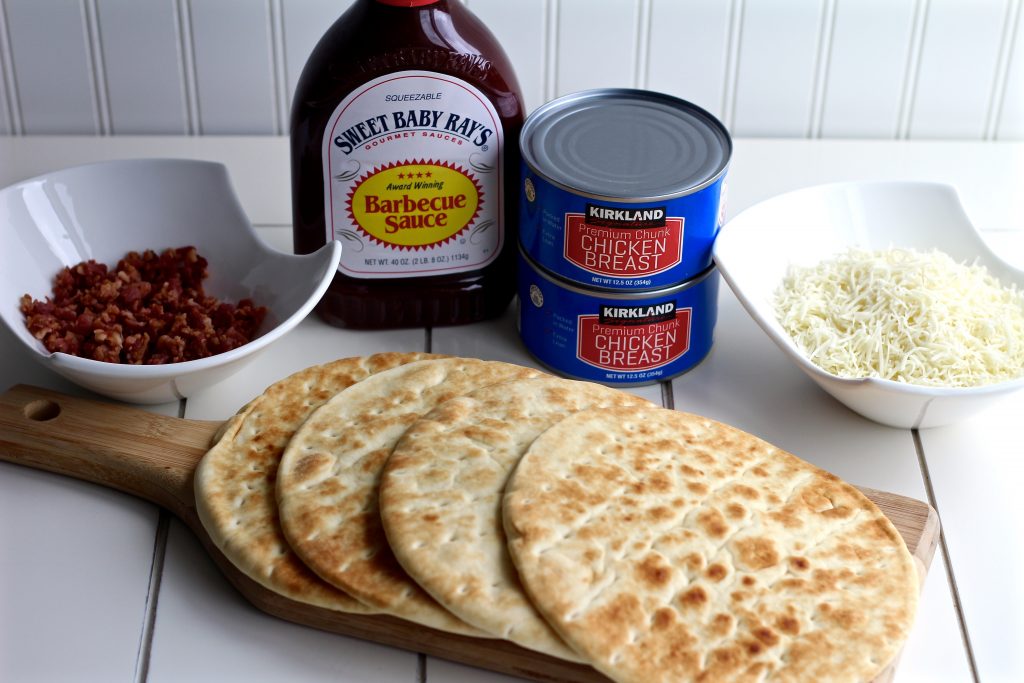 Directions For BBQ Chicken Flatbread Appetizer:
Preheat the oven to 350°.
In a medium bowl combine the drained canned chicken breast, bacon crumbles, and BBQ sauce. My favorite BBQ sauce is the Sweet Baby Ray's that's in the above photo. It's the perfect combination of sweet and smoky and compliments any dish! If you've never tried it before, you have to pick some up next time you're at the store!
(I absolutely LOVE the flavor and simplicity of using this canned chicken. I use it in a lot of my recipes including these chicken salad croissants, buffalo chicken dip and my quinoa chicken soup.)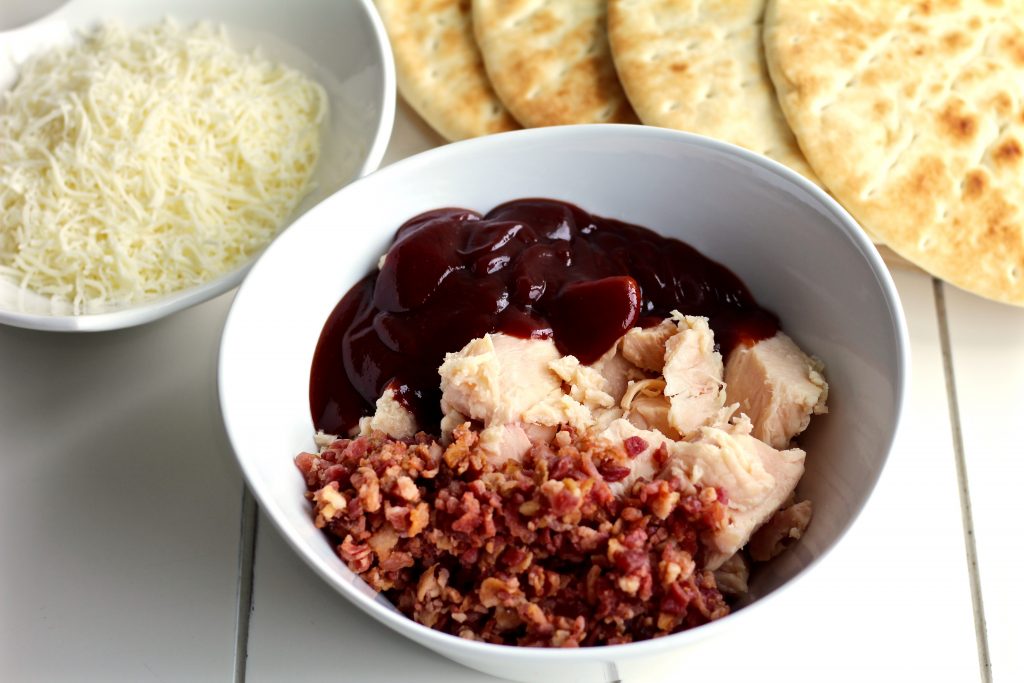 Drizzle some additional BBQ sauce on the flatbread for added flavor and moisture. The flatbread I buy from Costco is really easy to freeze and lasts a super long time so don't be discouraged by the large package! I just took out four rounds and put the rest in the freezer for later.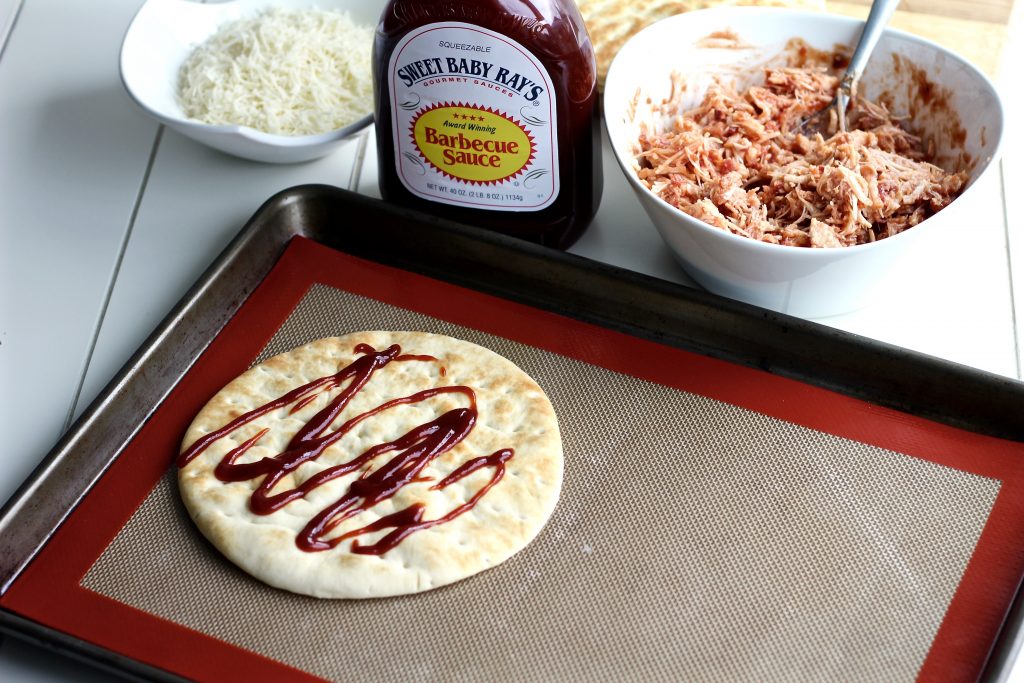 Spread the chicken/bacon mixture over the flatbread. As I mentioned earlier, I'm a big meat eater so I love tons of chicken piled up on the flatbread, but if you'd like something a little less meat-heavy, just use one can of chicken and spread it more thinly.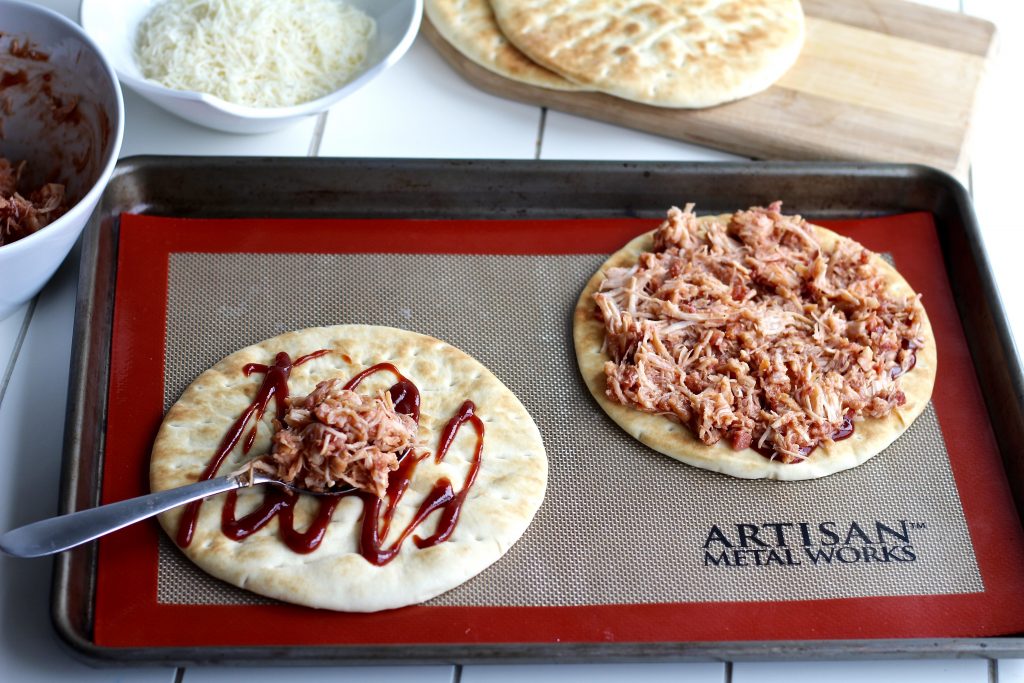 Sprinkle a generous amount of shredded mozzarella cheese on top of the flatbread. I used about half a cup of cheese for each flatbread.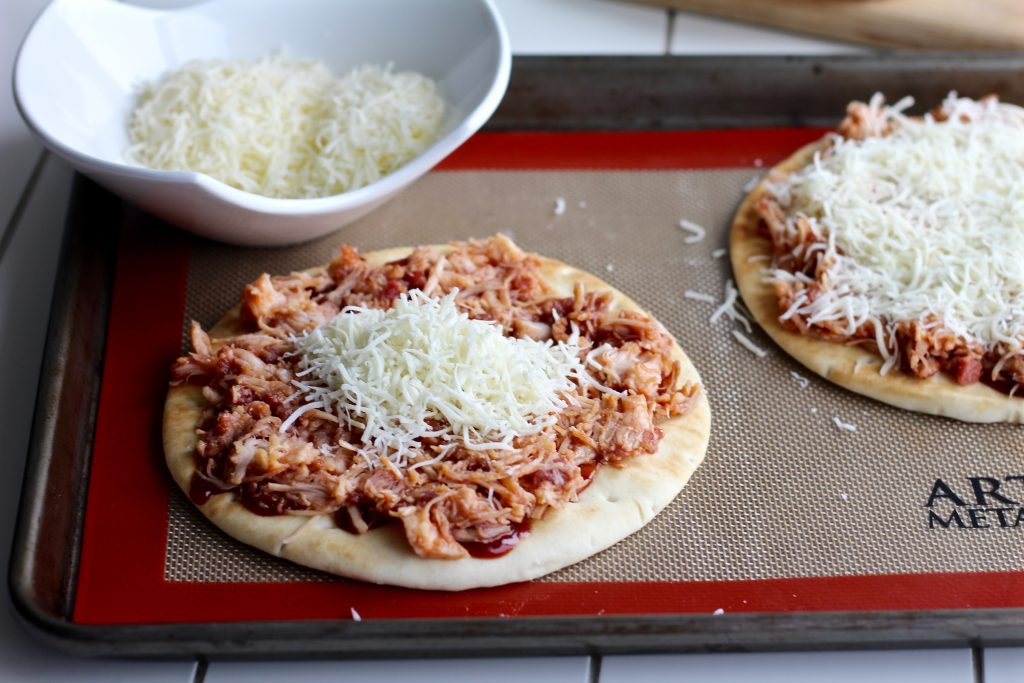 Place the flatbreads on a cookie sheet and bake at 350° for about 15 minutes until cheese is melted and starting to brown. You have to watch it carefully because if you over-bake, the flatbread will become too dry and crunchy and it's best when you still have some of that soft, chewy texture there. I kept it in the oven too long last time, so I was super cautious this time around. It's also helpful to put the BBQ chicken flatbread appetizer on parchment paper, silicone mat, or foil to make the clean up super quick and easy.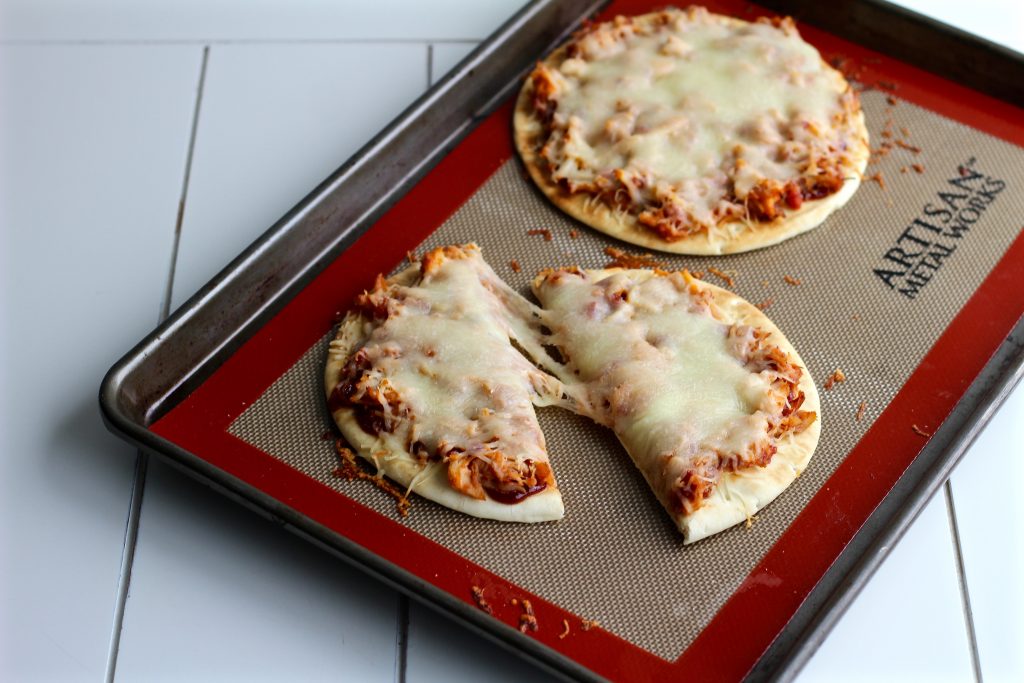 This BBQ chicken flatbread appetizer is great for a quick lunch, movie snack, last minute appetizer for surprise guests or even as an individual pizza serving for dinner! I love how filling and yummy it is with minimal effort. Keep these ingredients stocked  so you always have a delicious appetizer that can be made at a moment's notice.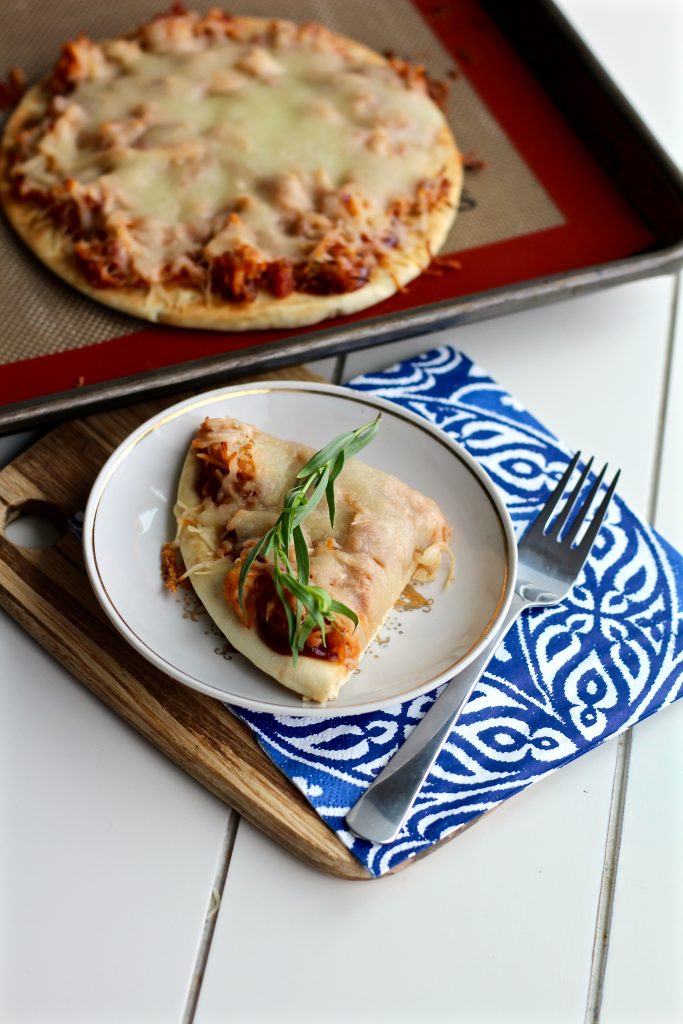 xoxo,
Yuli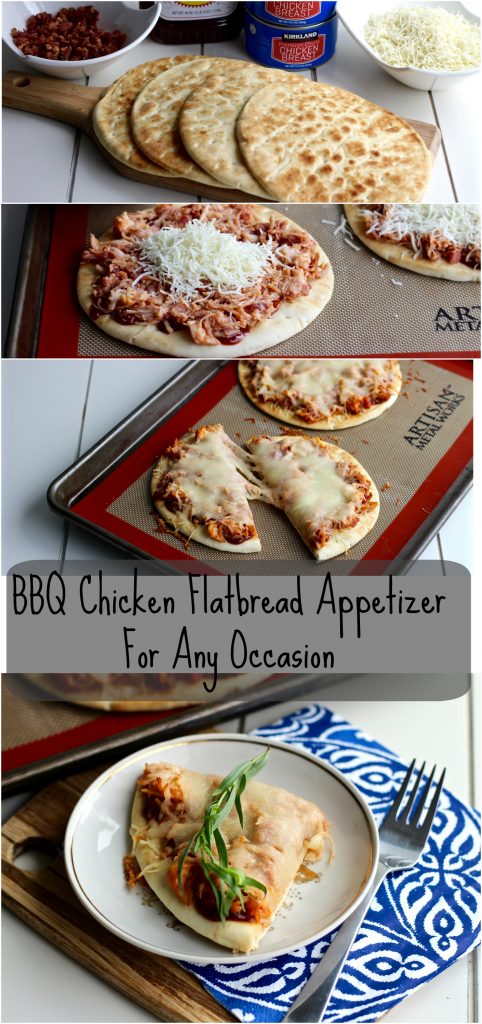 Quick BBQ Chicken Flatbread Appetizer For Any Occasion

Ingredients
4 pita flatbread rounds
2 cans chicken breast
1/2 cup bacon crumbles
1/2 cup BBQ sauce
2 cups shredded mozzarella
Instructions
Preheat oven to 350°
In a medium bowl combine drained chicken, bacon crumbles, and BBQ sauce
Drizzle additional BBQ sauce on flatbread
Spread chicken/bacon mixture over flatbread
Sprinkle a generous amount of shredded mozzarella cheese on top
Bake at 350° for 12-15 minutes until cheese is melted and starting to brown