Thanksgiving is one of my favorite holidays. It forces us to slow down before the busy month of December and reflect on all of the blessings we have in our lives. Holidays provide us with an opportunity to step out of the ordinary and look at life from a different perspective. See the big picture if you will. I am so thankful and blessed to have my family close to me and have the opportunity to celebrate Thanksgiving with them.
But for me Thanksgiving doesn't feel complete until we've celebrated with friends as well. You know that feeling that something hasn't really happened until you tell your best friend? This feeling of incompletion is what inspired us to start the tradition of Friendsgiving. With the long weekend that we get to celebrate Thanksgiving, it almost feels like a waste to do just one dinner.
Friendsgiving is an opportunity to share this holiday with the friends in our lives that are just as dear to us as family.
At first I thought the word was a little silly, but it has really grown on me and become part of my vocabulary.  As with many of my hosting traditions, this one began in my college years. My sister and I decided to get together with our group of friends the Saturday after Thanksgiving and do a formal dinner. We made personalized custom invites, planned a delicious menu, decorated the house, and got all dressed up. It was such a blast that we've done it every year since then. It has become a holiday of its own for me and makes Thanksgiving weekend so much more exciting. If you haven't done a Friendsgiving party before, you have to try it!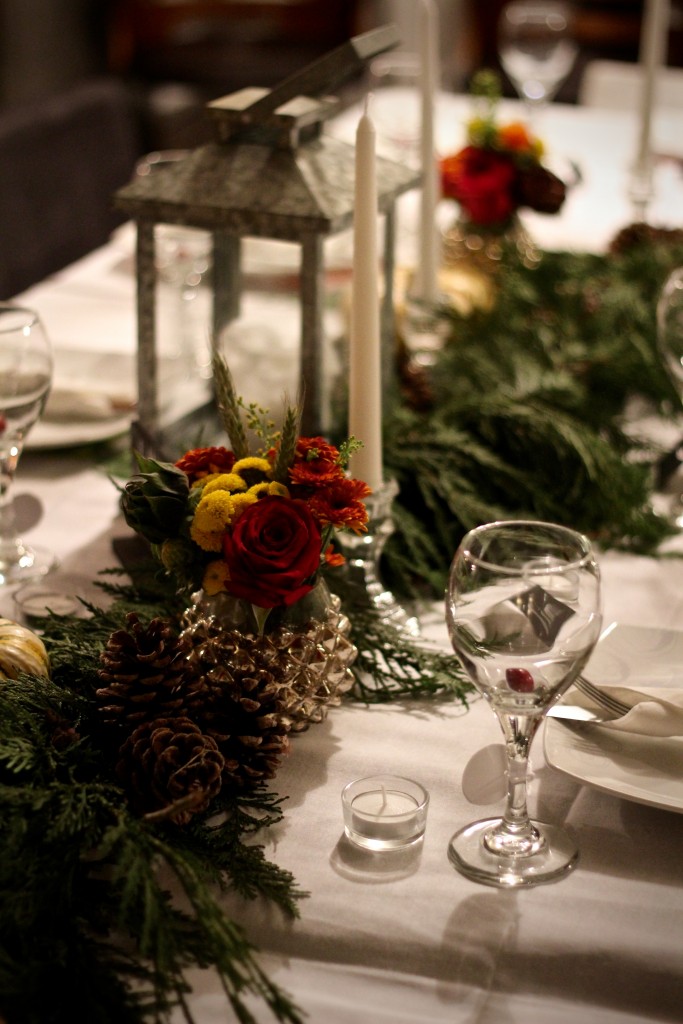 Celebrating Friendsgiving: the setting
Friendsgiving can be as fancy or laid back as you like. I personally love to cook, so I don't mind making a feast (especially if I'm co-hosting and have some help!), but you can also make it a potluck. Whatever fits your needs. You can do it during the day with all the kids, or get babysitters and make it an adults-only event, like we did. Either way, bringing together friends, good food, and a new holiday tradition is guaranteed to fill your heart with joy and give you all the more reason to be thankful.
I usually pair up with one of the girls and co-host the dinner to make it a bit easier. We like to do a formal dinner complete with personalized table settings, handmade center pieces, and a full course meal. Now that most of us are moms, an excuse to get glammed up and out of the everyday clothes is very welcome.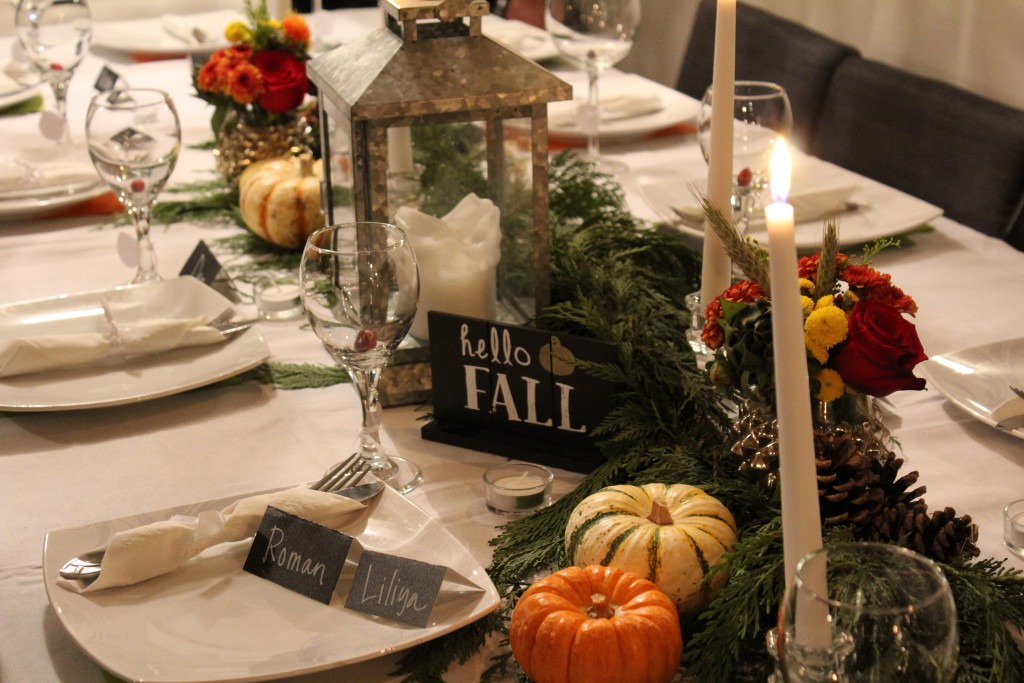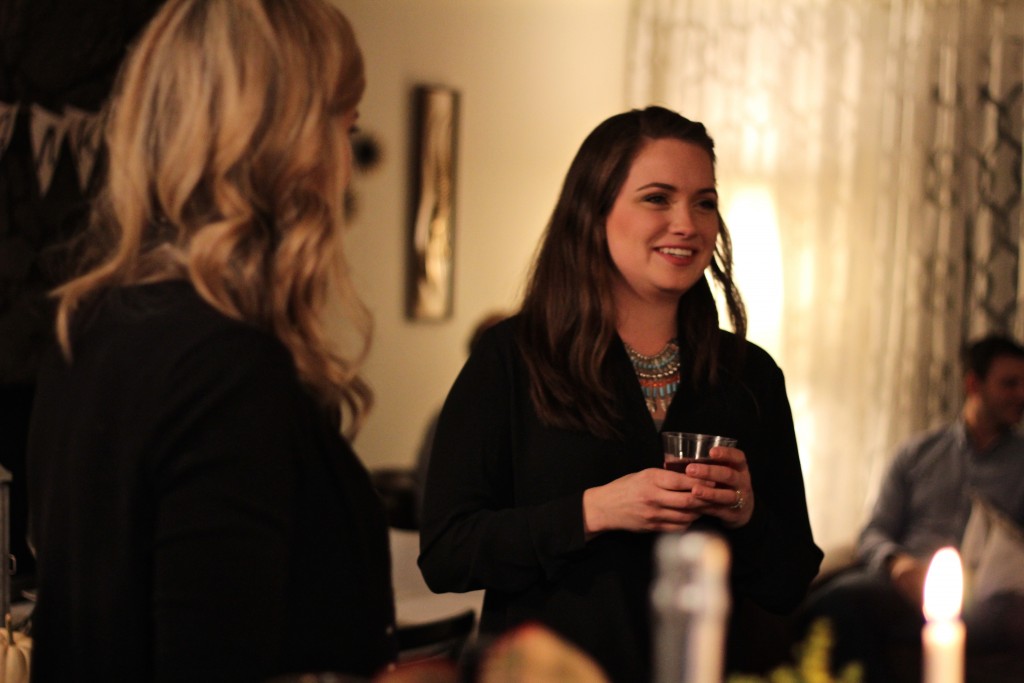 My friend Nicole offered up her house for this year and took care of all the decor. Everything turned out so beautiful; she has such a talent for making all the little details perfect and lovely!
Celebrating Friendsgiving: the meal
We served a sparkling cranberry punch with fresh cranberries and jalapeño poppers as appetizers. People mingled and caught up while we worked on the main course.
In addition to being incredibly talented in decor, Nicole is also a salad genius. Seriously, this girl comes up with the most magnificent salads I've ever tasted. She takes the time to chop up a huge variety of fresh veggies and adds all sorts of delicious extras like nuts, dried berries, assortment of olives, and crumbled cheeses that make the salad really stand out. When I'm making dinner, the salad will usually be an afterthought and I miss the opportunity to create something beautiful and unique to compliment the meal. So having Nicole put together a fresh seasonal salad and the most un-boring Caesar salad ever was a huge improvement to the meal.
We served an enormous, juicy 25 lb turkey (Bertha), garlic mashed potatoes, white wine mushroom gravy, crusty bread with herb butter, roasted rainbow carrots, homemade balsamic port reduction cranberry sauce, and the two expertly paired salads for our dinner.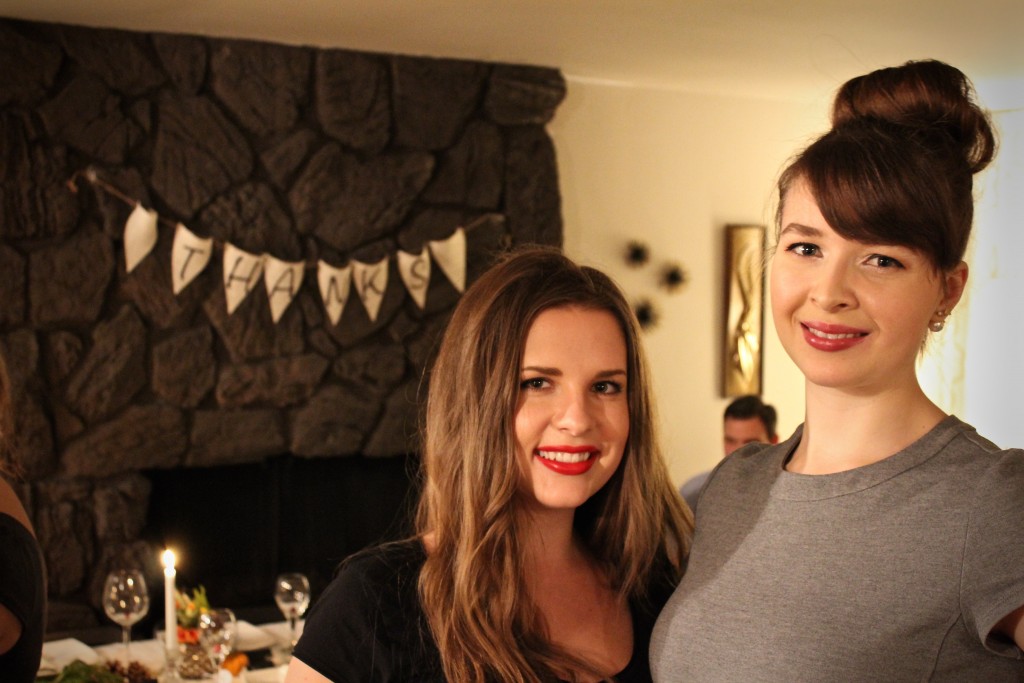 Celebrating Friendsgiving: at the table
The lights were dim and the taper candles flickered around the room. We gathered at a large table and said grace before filling up our plates and carving into the turkey. As we were enjoying the last bites of second and third helpings, Nicole had us look under our plates to find blank thank you cards. We took some time to write a good old-fashioned thank you note to a loved one and let them know how much we appreciate them. It was such a sweet idea to put it down on paper, and a great keepsake!
It does your heart wonders to stop and think about all the ways a person blesses you. And such an encouragement for them to hear it from you! We don't tell each other enough just how much we love and appreciate one another.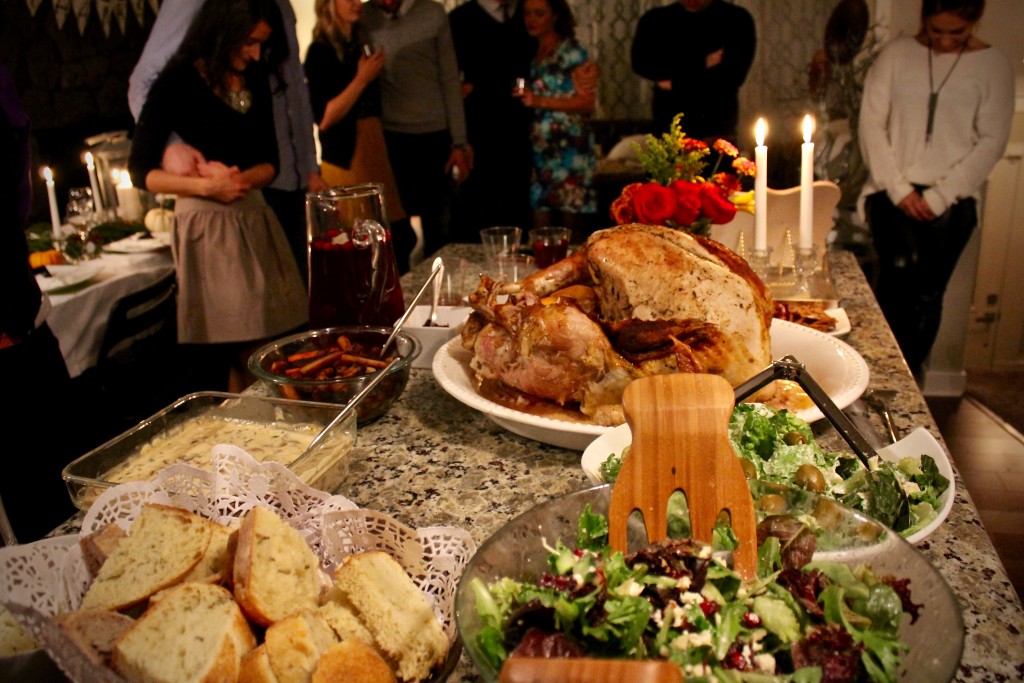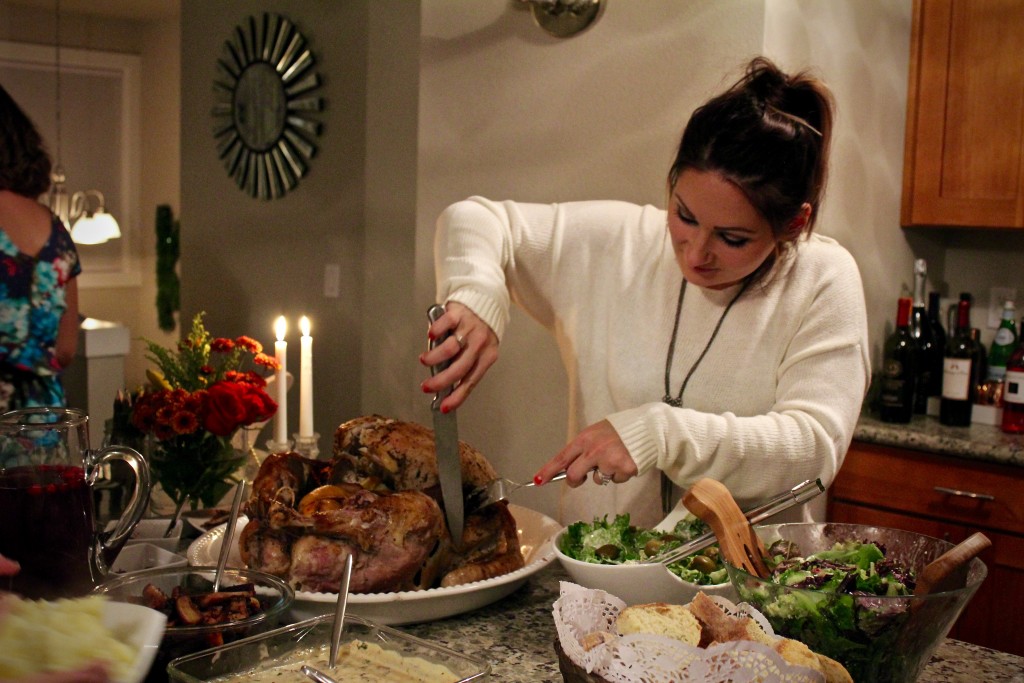 The highlight of the evening was when we went around the table and each shared what we were most grateful for.
Our spouses, our beautiful healthy babies, the family we have, the new families and in laws that welcomed us into their lives with open arms, the community we have in each other, the warm homes we have, and the joy we've found in walking through this season of life together.
It was such a beautiful experience to hear everyone share what was on their hearts and in that moment I found myself wishing that time could be frozen and we'd be able to savor the moment and the atmosphere just a bit longer. A few of our friends had family that lived out of state, and to them, this was the real Thanksgiving holiday that they looked forward to. Their friends were their new family in this state. What an incredible way to see it! I know the memories that we made will stay with us for many, many years.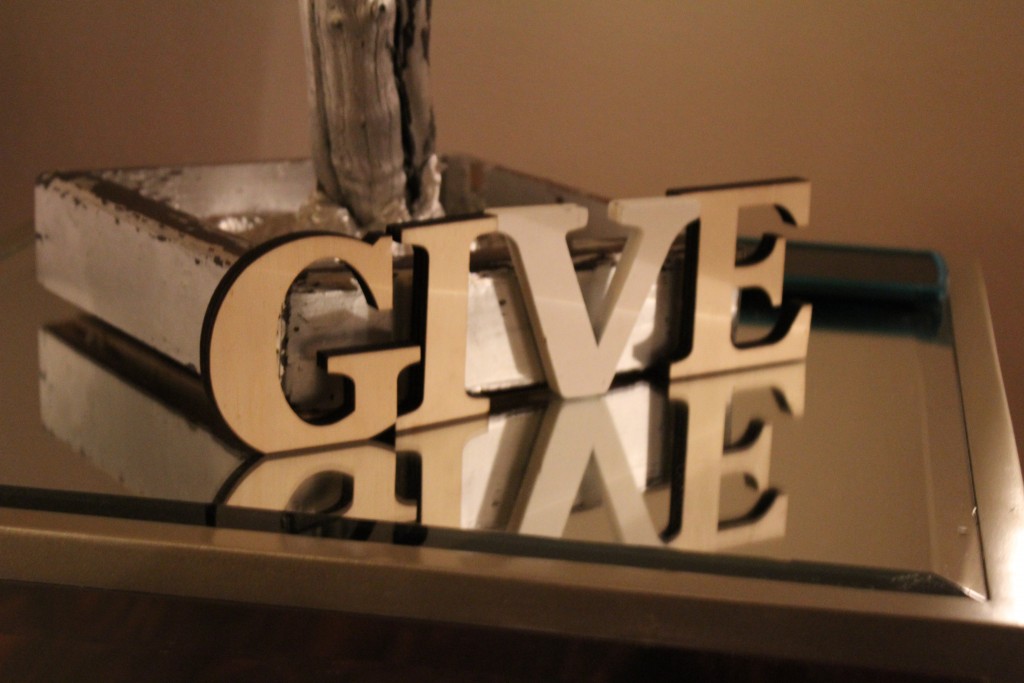 Celebrating Friendsgiving: ending on a sweet note
We took a little break before dessert and had some laughs and good conversations as the music played in the background. As always, the few musicians in the group brought out their guitars and sang their hearts out.
After getting the table cleared off we served warm apple berry pie, cream cheese pumpkin pie, homemade brownies, made-from-scratch eggnog, and hot coffee. There was enough fresh vanilla whipped cream to top off everyone's plates and cups. And enough energy and excitement to make the party last late into the night.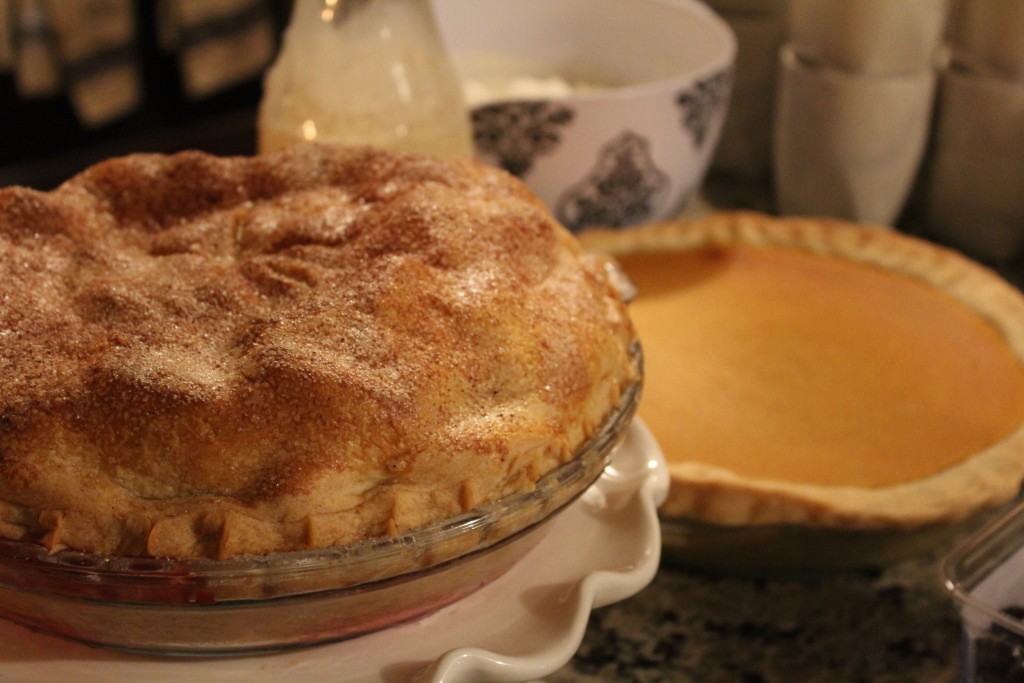 It was such a blessing to get to share this evening with our friends. I am already looking forward to next year!
Taking time to slow down, practice gratitude, and share our lives with others is what this season is all about. If you've never had a Friendsgiving before, or maybe told yourself that this season is too busy as it is; you have to start celebrating Friendsgiving! It is so worth it! The memories you make will last much longer than the everyday things that occupy us.
I hope that you take this holiday as an opportunity to create special moments and memories. If you don't feel like you have a group of friends that feel like family; this is how it's made. Take initiative and create the opportunities to connect with each other on a deeper level. Open up your heart and your home to the people that God has placed in your life. You will find many more blessings to be thankful for this season!
xoxo,
Yuli